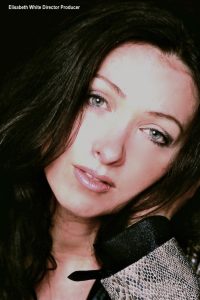 Today we'd like to introduce you to Elisabeth White.
So, before we jump into specific questions, why don't you give us some details about you and your story.
My first love was music before I transitioned into directing and producing for film, TV and music videos, meaning I've been basically an artist all my life. I grew up in Sydney Australia. From the young age of six, I would take instrumental songs and create melodies and lyrics for them. By thirteen, I was composing my own songs. And by eighteen, I moved to Europe and was signed with a major record label in Germany.
As a singer/songwriter, I sold millions of units worldwide, won several European music awards, and toured globally with artists like Lenny Kravitz, Beastie Boys, Garbage, Deep Purple and others. I always loved creative expression and found it important to infuse emotion in every song. Music wasn't my only love, though. I also did theater and acting when I was young and was obsessed with designing, painting and performing. I would
always picture my creations in my mind, letting the emotions flow. Creativity was and still is my life in this way.
I received my taste of what it meant to truly love film when I first watched The Shining. I was amazed. I watched it over and over again, analyzing the shots, the production, the acting, and asked myself: why do I love this? From that moment on, I decided I wanted to create and produce stories. I fell in love with directing and producing and was determined to tell stories in a way that could impact others like I was impacted. Films are magical in that they offer an escape, a jump into another world, another life. I wanted to create those worlds. Film has an eternal beauty in the fact that you create something, no matter what's on screen. You take words and ideas and bring them to life, from the visions in your mind to the screen. You build an entire world around you. Not to mention the wonderful sensation when you work with like-minded people! It takes a whole team to create a film, and the feeling you get from collaborating with others of similar passions is uniquely amazing. In many ways, creating film is like creating music. The industries go hand in hand and they both tell stories and invoke emotions in the audience. But that's what creativity is: it helps you feel less alone.
I started my transition into film when Universal Music approached me for composing soundtracks and 2010, I was approached by several bands to direct/produce their music videos. From there, I was hooked and went behind the camera full-time. I think something that definitely helped me execute my visions was my experience in front of the camera. I offer unique perspective on both sides, which allows me to easily communicate with actors and crew. I quickly became immersed in directing and went on to direct various shorts, pilots, and more music videos. Then, in 2016, I met my business partner and talented Director of Photography Peter Lugo. Peter is a very highly skilled
Cinematographer I've ever worked with by far. His work tells stories through beautifully dynamic visuals, and he is able to enhance my vision as a director. Peter always go above and beyond to make a show look it's absolute best. Together, we formed our Production Company, RooandKanga Inc.
I have directed and produced some amazing projects in the past years! Some of my most recent projects include a music video featuring Snoop Dogg/C-Tru, for which I won several awards for directing; a TV pilot starring Elaine Hendrix and Clement von Franckenstein; and a short film, "Who The Hell Is Annie?", which has won numerous awards including Best Short, Best Film and Best Young Actress. I am currently in production for several features, including an international foreign film in Indonesia called Unforbidden Love starring upcoming Indonesian actor Ben Eval. In collaboration with executive producer Benny Simanjuntak, we will be shooting in Indonesia in May – June this year, with myself directing and cinematographer Peter Lugo shooting. Peter and I  actually just returned a few days ago from our location scout in Indonesia. It's a beautiful country and truly looking forward to shooting this film. Unforbidden Love will be an epic foreign film. Additionally, at the end of the year we have another foreign film shooting in Austria and Italy, titled – still a working title ". It's a true story. This film will feature A- list talent which I'm not at liberty to mention currently.
Film, to me, has such a power in our modern world. I'm a storyteller at heart, and I love to create unique, captivating and cinematic worlds with every project. After all, we make films because we want to connect with our audiences through telling stories. And we do this through vital work like producing emotive performances, hiring great cast and crew to work with us, and bringing important stories to light. But in my many years working in the film industry, I've learned that one of the most important things about being a filmmaker is passion. You can see in a film that intense love and drive for the work, which is why loving your job as a filmmaker is a crucial part of working in this industry.
Overall, has it been relatively smooth? If not, what were some of the struggles along the way?
To me, being an artist is never a smooth road. It's more bittersweet. It's not a 9 to 5 job where you have a structured work schedule and consistent paychecks every week. You work and create all hours of the day and night. It's exhausting physically and mentally. There's also a lot of pressure. As a filmmaker, life becomes a hustle. As a director/producer, you're always trying to find funding for your next project. I've had projects for example have been greenlit and then fall through last minute. But, the biggest challenge that I had when I started making films was that I was just wearing too many hats, and didn't anticipate the consequences of it. You have to expect problems and curve balls. Even if you're freaking out inside you, all your energy needs to be channeled into solving the most important problems. You need to prioritize because there will be big hurdles at every stage of production as a filmmaker. For example, when you sit down to turn your idea into a script or when you try to get investment. When you're actually on set, trying to juggle both getting your day done and trying to achieve the shots you want. New challenges emerge at every stage of development, from preproduction to distribution. It can be stressful, but when you love it, what can you do? It's my passion, and I wouldn't trade it for anything else. I want to make movies everyday for the rest of my life.
RooandKanga Productions – what should we know? What do you do best? What sets you apart from the competition?
RooandKanga is the dynamic duo of creative filmmaker Elisabeth White and technical filmmaker Peter Lugo which combines into a production house with studio quality. Right now with company closings and such because of the COVID situation, the RooandKanga Post House is open and accepting new shows for editing and color grading.
We are an award-winning production company that produces Film, TV content, and music videos. You give us your story and we make it. We at R&K help with the concept, scripting, scheduling, casting and beyond, whatever you need to bring your story to life. We always make sure to use top-quality equipment and above and below-the-line crew.
Our main goal as a production company is to provide other passionate filmmakers like us professional quality productions with calm, positive, and creative atmospheres, while also keeping budgets flexible to help our fellow indie filmmakers.
We take any size project and turn it into a beautiful professional production for the US and international markets, and guarantee competitive pricing, combined with a brilliant, enjoyable production experience. We try to bridge the gap between logistics and creativity. For us, what's most important is portraying your artistic vision. From pre-production to principle photography to post-production, we're here to assist your passion in all ways possible. We keep projects on point and get it produced! We are also currently seeking funding for a slate of films including thriller and horror feature films shooting in Los Angeles.
What makes us different is that we have the expertise of Elisabeth White and Peter Lugo at the helm. RooandKanga is faster, cheaper and makes higher quality shows than a lot of production houses. We are not burdened by huge overhead, agents and unions (other than SAG). From our vetted expert crew, to our scheduling and budgeting, to our in house post production including Premiere CC and a full DaVinci Resolve Studio suite, RooandKanga has a proven streamlined production method that not many can touch in any way.
What is "success" or "successful" for you?
I think success means a lot of things. Many factors play into it. When I first heard one of my songs on the radio in the car, I stopped driving and cried with joy. When I get an email from a film festival saying my film is selected or a winner, I jump in the air. But also, success to me is mental and emotional well being, of yourself and others. Waking up in the morning and feeling happy – that is success. Following your passions – that is success. Helping others in any way you can – that is success. And loving yourself – that's success, too. Success is both an achievement, a goal and a journey. When we reach certain milestones, that is an element of success. We push higher and harder, always striving for more while still being proud of what we've achieved. Of course, there are many other forms of success. It depends from person to person. I will say though that while success does certainly relate to one's well being, winning an Oscar – Golden Globe or Cannes is another success that hopefully, I'll get to look forward to in the future!
Contact Info:
Image Credit:
Arsene Saheur; Toni Colette; Erik Fischer
Suggest a story: VoyageLA is built on recommendations from the community; it's how we uncover hidden gems, so if you or someone you know deserves recognition please let us know here.