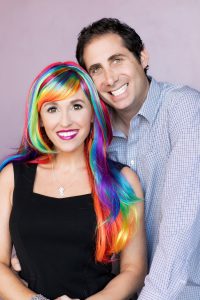 Today we'd like to introduce you to Derek Taylor Kent.
Hi Derek Taylor, thanks for joining us today. We'd love for you to start by introducing yourself.
I've been writing children's books fairly seriously since I was 15 years old. At that age, I got re-obsessed with Dr. Seuss (I loved him as a child) and thought I could incorporate his lyrical rhyming style into more epic stories. With the help of an amazing creative writing teacher in high school, who taught me about rhythm and meter, I wrote an epic tale with the intention of having my mom do the illustrations, who was a well-known artist for Disney and Warner Bros.
Unfortunately, those original stories (called The Wow Dome series) never went anywhere as my mom couldn't finish the illustrations and the stories were MUCH longer than most children's books. In retrospect, they were a bit misguided, but at the time I thought they were daring and innovative. My days at UCLA's School of Theater pushed me more toward the realms of acting, playwriting, and directing. In my early 20s, I was surviving by working at a management/production company in Hollywood, which gave me a much better grasp of the entertainment business and solidified my need to be someone on the creative end instead of an agent or executive.
Also around this time, I found a new literary obsession in Harry Potter. These books were a huge eye-opener for me as I realized that I had been too dependent on illustrations to tell my stories. But if I shifted to novels to tell the stories in my imagination so I wouldn't be reliant on anyone other than myself.
My mid-late 20s were spent acting in small theatrical productions. I even wrote and directed a well-received new musical called King Kalimari. I also formed a film production with friends called Sad Ninja. We created funny short films and music videos that went somewhat viral. Together we also wrote a screenplay that got optioned by Liberty Films and another horror script that got optioned by The Donner Company. During all of this, I was also working on my first fantasy middle-grade novel, which at the time was called Scary School: My Homework Ate My Dog! It took me about two years to finish that first novel and edit it to a place where I felt confident to make a go at securing a literary agent and publishing deal.
Back then, email submissions were still a rare thing, so all submissions to agents or publishers had be sent via snail mail, many of which required sample chapters, so committing to doing the large submission I wanted would take weeks and a large investment in shipping costs. As my 30th birthday approached, I had a brief window of free time over the Christmas holidays where I decided it was going to be now or never in trying to get my book published. I hired a great assistant to help me make all the packages, and over a span of three weeks working around the clock, we put together hundreds of packages for every literary agent who might be interested.
Getting responses back via snail mail was even more arduous. Usually 3-6 months of waiting before receiving a polite rejection letter in the mail. With the amount of packages I sent out, I would sometimes be flooded with dozens of rejections a day. But of the hundreds of packages that got sent out, several great agents expressed interest and requested a read of the full manuscript. After more rejections, I finally had one agent willing to take me on and send out the manuscript to publishers. I was so excited and eagerly awaited the publisher's responses, but after weeks and weeks of more waiting, unfortunately it was all rejections once again. However, one publisher was on the fence. They loved the title Scary School for a series but thought it should be lighter and funnier. My book was definitely more heavy and dark for what the title was promising (such was the Harry Potter influence), but this note intrigued me. Comedy writing was my forte, so turning the book into something more focused on the humor was much more in my wheelhouse. That first book took me two years, but writing the brand new Scary School book took less than a month. My agent was skeptical about this new draft that was more like a volume of thematically connected short stories as opposed to a traditional novel following a main character, but he agreed to submit it to the one publisher who asked for it–HarperCollins. A week later, I got a call from my agent that HarperCollins loved it and wanted to offer me a 3-book deal for the Scary School series. I danced around my apartment and cried tears of joy. After over ten years, it would be the first time I felt I'd gotten a break and gotten paid anything for my writing.
A few years later, I landed another book deal, this time from Holt-Macmillan for my bilingual picture book EL PERRO CON SOMBRERO, which, after over six years, has been one of the best-selling picture books on the market.
Meeting my wife, fellow children's author Sheri Fink, in 2016 led me down a slightly different path. She had formed her own publishing company and owned all the rights to her work and was never dependent on a publisher to get her work out there. After marrying, we joined our brands together and created Whimsical World. We write books for all ages, sometimes together, and release about 4-5 titles per year. In 2020, after another massive edit to bring it up to date, I released my that original first novel, now titled just: MY HOMEWORK ATE MY DOG! It went on to win a major book award for best middle-grade fiction book of 2020. And who knows? Maybe one day I'll finally release those epic Dr. Seussian books I wrote when I was just 15 years old. Anything is possible.
Alright, so let's dig a little deeper into the story – has it been an easy path overall and if not, what were the challenges you've had to overcome?
My entire 20s felt like a massive struggle looking for that big break, almost getting there several times but never quite making it over the hump.
The pandemic has been the first major challenge that our publishing company, Whimsical World, has faced. 90% of our income came from doing book signings at live events and school visits, all of which have been shut down since early 2020 and now into late 2021.
We can keep writing and creating new books and products, but it feels like we're sitting on a lot of inventory just waiting for things to return to normal, or at least when we can feel safe enough to be around children again and inspire them to fall in love with reading and writing.
Alright, so let's switch gears a bit and talk business. What should we know about your work?
Me and my wife like to say that our books are designed to inspire, delight, and educate children of all ages while planting seeds of self-esteem and high achievement. While Sheri's book focuses more on social-emotional learning, my books have always leaned more toward humor and STEM concepts.
One of the things I'm most proud of was stepping away from children's books and writing my first book for adults called KUBRICK'S GAME. It's a geeky puzzle-adventure novel, sort of like Ready Player One meets The Da Vinci Code. It was published by a small publisher called Evolved Publishing and released in 2016. It was the product of a year and a half of research and another year of writing and working with the best editors I could find to get it ready. After being released, it did much better than even I expected and twice hit #1 on Amazon, won several book awards, and it was absolutely awesome to produce the audiobook version which was narrated by two of my favorite actors, Jonathan Frakes and Yvette Nicole Brown. The audiobook ended up winning the Reader's Favorite gold medal for best fiction audiobook of 2017.
What sets me apart from other writers in the children's is my background in poetry, so that my rhyming books are always steeped inconsistent rhythm and meter, and of course, my weird sense of humor permeates everything. My main goal in life is to inspire kids to fall in love with reading through laughter.
What has been the most important lesson you've learned along your journey?
Some of the most important lessons I've actually learned from my wife, who came from the corporate world. I grew up in a household where we were running a family art business, but I saw it completely fall apart along with my parents' marriage because of that. I was always scared that could happen to me. Sheri taught me how running a business together can be wonderful when you are on the same page, everything is transparent, and you're working together to achieve the same goals.
Pricing:
$24.95 – Dinosaur Derby, The Grossest Picture Book Ever, The Leaning Tower of Pizza
$15-$20 – Doggy Claus/Perro Noel, Simon and the Solar System, El Perro con Sombrero series
$7-$17 – Books in the Scary School series
$15-$17 – Principal Mikey, My Homework Ate My Dog!
$5-$35 – various versions of Kubrick's Game
Contact Info:
Suggest a Story:
 VoyageLA is built on recommendations from the community; it's how we uncover hidden gems, so if you or someone you know deserves recognition please let us know 
here.