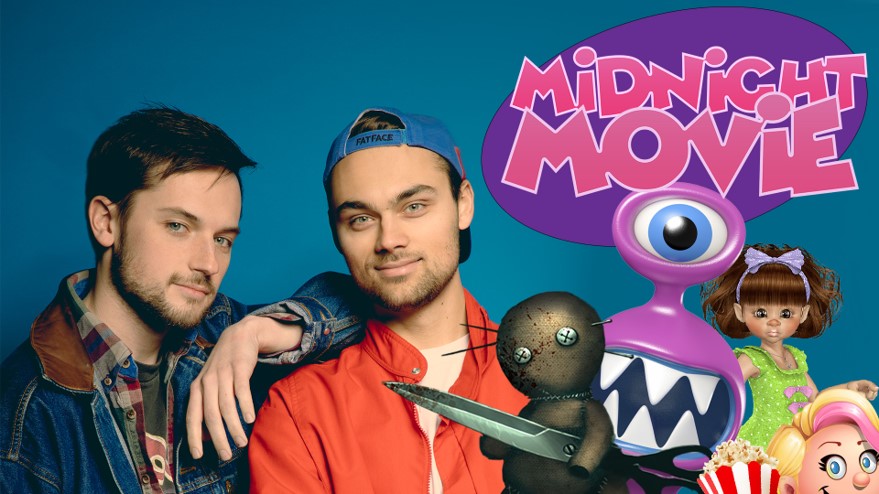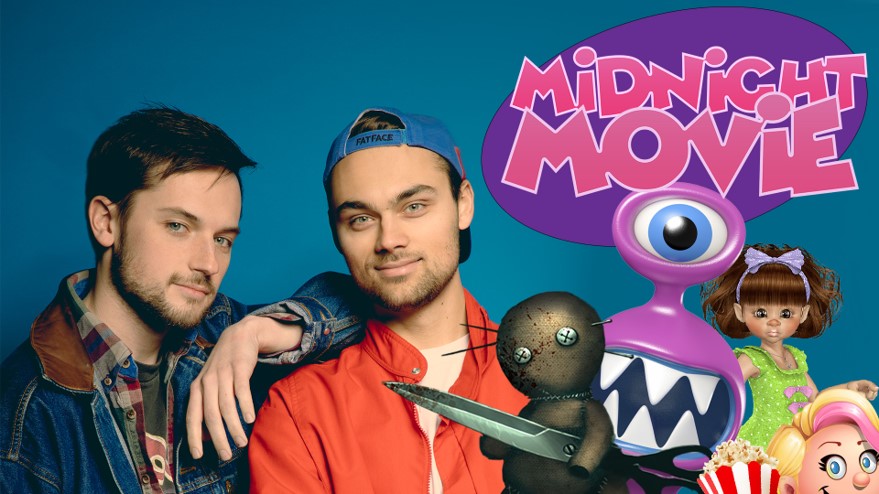 Today we'd like to introduce you to Christian Meola and Jake Hammond.
Christian and Jake, please share your story with us. How did you get to where you are today?
We are two Los Angeles-based filmmakers that didn't just wanted to go to any movie theater – we wanted to make our own!
Midnight Movie began in March 2018 as a film screening in our apartment. Now, it's a public event that takes place every few months at the Lyric Hyperion, usually sometime between 10pm and 1am on a Friday or Saturday night.
It started as an experiment, intended to capture the mystery and spontaneity of midnight movies in the 1970's at theaters like the Elgin in NYC and the Nuart here in LA. Films like "Eraserhead" and "Pink Flamingos" are cult staples now, and today can be streamed on any device at all hours. But during their original theatrical run, they were only available at midnight. You had to be there to see them. It was a phenomenon for a reason: it was an experience.
As much as we love going to the movies here in LA, we felt that the possibility of seeing something really obscure and mysterious was hard to come by. It's really hard to get people to show up. Everybody is forced to market themselves and "brand" which leaves little to be discovered. That's why we wanted to host a screening that gives our audience of cult film lovers an idea of what to expect without any clues as to what they are going to see. You have to see it for yourself!
Now we're hosting our 12th screening on June 14th at the Lyric Hyperion in Silver Lake. It's a contemporary take on the idea of the original midnight movie phenomenon. We specialize in trash films and DIY movies that we don't think you'll expect. They play with form, style, and expectations. The lineup is always a mystery, all participants are under the radar, and we always leave room for surprises!
Has it been a smooth road?
The biggest challenge with hosting Midnight Movie is describing it! It's really difficult to explain in a sentence exactly what we screen and what kind of audience it's for. It feels limiting to do this because Midnight Movie is a culmination of a lot of influences, and we're always looking to bring more into the mix. So the definition of Midnight Movie is always evolving, and it can be hard to define it if someone has never been.
That being said, it's also difficult to craft a screening for all types of personalities from a curatorial standpoint. A lot of the material explores pop imagery (there will never be a screening without an Ark Music Factory music video), but the entire event can't just be that. We embrace a lot of genres and do our best to make everything flow into one cohesive event.
Please tell us about Midnight Movie.
Midnight Movie is a film screening in Los Angeles that celebrates experimental arthouse, trash films, internet oddities, new media, and pretty much anything rejected by a film festival. Basically anything that deviates from "traditional" and "mainstream" can be a Midnight Movie in our eyes. However, we have a strong bias towards kitsch, low-brow, and DIY aesthetics, as well as camp behavior or anything considered to be bad taste.
Most of the work we present is made by people who grew up with the internet, and have an interest in using the internet and social media as a platform for constructing a film. Some of the films are Instagram stories. We believe contemporary technology can be just as much a film as one shot on a Red. The films also reflect on technology of the past – there are works shot on 8mm, camcorders, you name it!
Lately, the screening has a home at the Lyric Hyperion theater, and as a result there are always a few surprise live acts that are integrated into the event. These are not the standard stand-up comedian or DJ. They're meant to keep you wondering…what's coming next?
The lineup is also a surprise! All filmmakers involved are kept a secret until their work screens, so you really never know what you're going to see. There's also a 30-minute pre-show before the screening time of bizarre videos from around the internet. It's meant to get you ready to see whatever could possibly be put on screen.
Regardless of what we show, Midnight Movie is an event where it is possible for anyone to screen their work. We focus on inclusion and encourage all voices to participate. There are no submission fees – we just suggest a time limit of about 15 minutes, and require membership of the Midnight Movie Club.
Our mission is to empower young artists with a celebration of their work and encourage people who would normally not consider themselves "filmmakers" to give it a try. It can be a 30 second something, or a year-long endeavor. No matter what, we're proud to be an event that screens films you won't find anywhere else in the city.
Is our city a good place to do what you do?
We think Los Angeles is a great place to host an alt-film screening, performance, or anything out of the box. So many people come here to work in the film industry or be in a film-conscious environment. A lot of attention is geared towards the industry and popular films. There's not a million people here trying to do what we do, so it feels like LA is a great place to make and present work without dealing with intense competition. It's affordable and there are so many resources here, like good audiences.
We know there are plenty of people living in Los Angeles with adventurous taste that are looking for something new to sink their teeth into – we want them to sit with us!
Pricing:
$5 admission online
$10 admission at door
Contact Info:
Address:
Lyric Hyperion Theatre & Cafe
2106 Hyperion Avenue
Los Angeles, CA 90027
Email: christianofmidnightmovie@gmail.com
Instagram: @itsmidnightmovie
Image Credit:
Taylor Cohan's Dream Center; Brenda Lien's Call of Cuteness; Christian Meola's Trump Blows Trump; The Loose Teens – Episode 1: Did She Died?; Midnight Movie Intro featuring The Loose Teens, Aleksandra Hansen's Unchained Ducks, and Spencer Jezewski's Ghostblood
Getting in touch: VoyageLA is built on recommendations from the community; it's how we uncover hidden gems, so if you know someone who deserves recognition please let us know here.