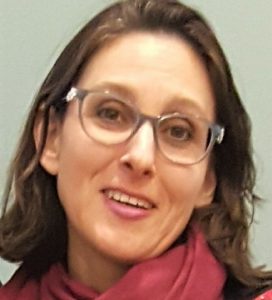 Today we'd like to introduce you to Amy Muscoplat.
Amy, let's start with your story. We'd love to hear how you got started and how the journey has been so far.
I got the idea for Joyfestival Industries and the site because of the events I was putting on for friends and others. And because I was doing workshops and programs for the public on themes of happiness, joy, positivity, crafting and writing and trying to tie these ideas together. People were enjoying it and coming back for more.
People may be wondering what exactly IS a JOYFESTIVAL and how having one or attending one could benefit their life. A JOYFESTIVAL, in any of its iterations, can happen in a large space, a public event venue, an office meeting room, but it can also start right in your own living room. That's where JFI (Joyfestival Industries) comes in. The goal is to try to increase one's own and others' happiness through simple types of gatherings that can serve to facilitate "upping" one's joy quotient!
JFI was created as a way to "manufacture more joy in the world" and help people to construct their own happy place, gathering space or house of happiness and joy. When I say we help "manufacture," I am not referring to physical products, squishy toys or magical widgets. My goal is to help all people manufacture their "happy" from within themselves and live a better life. In our busy lives, we often don't have much time or space for the real authentic connections with our friends and family. The kind of connection that doesn't involve a computer screen or a Smartphone or any type of social media. Creatively connecting through either one-on-one encounters or social gatherings is an art that we are all capable of and one which can put a smile on our faces and help to brighten the lives of all who participate.
Growing up, I joked that I'd inherited my mother's "hostess gene." I loved to orchestrate get-togethers with families and friends that included more than delicious food to eat. As much as I enjoyed facilitating these special fun and conversation filled-gatherings and later, planning large-scale family programming and events as a librarian and program presenter, I knew these events and gatherings were teaching me something too. One of the lessons I reaped from my early event and party-planning days was that building, growing and nurturing one's own joy-quotient is a full-time and lifetime job. Since happiness can be a choice and real joy a daily endeavor, JFI's focus is to manufacture ideas that help you keep up the daily "work" of having fun, making real meaning and enjoying your life with those you care about.
JOYFESTIVAL Industries is a grass-roots way to reconnect with friends and loved ones in a way that brings color, light and meaning into their lives while inspiring creativity and laughter. My mission in achieving this is to produce do-it-yourself kits that help you have joy-filled theme parties and happiness inducing soirees that people can use to take ho-hum gatherings and transform them into gatherings that allow people to take an active role in celebrating and bringing joy into their own lives. People also contact us to help them plan their own events that will connect over themes of gratitude, compassion, noticing the good in your life more often and more.
Lastly, we do workshops and programs around Greater LA on these themes and also teach writing workshops on mindful journaling for health and healing, crafting your way towards gratitude and other crafting, writing and meaning-making types of programs and events. And we work with employers to create workplace wellness programs for their employees that incorporate science of happiness, mindfulness and emotional intelligence concepts that may contribute to a healthier life.
Has it been a smooth road?
I don't really have a person I know who has done this exact type of thing before, so in the beginning, I was just out there doing these events and programs and then making DIY downloadable kits because I thought the world needed more joy and positive connection in good ways. Because I believed in it and had good models of people who had done quality programming in libraries, educational institutions and people who had won successful grants or managed large scale public programs, I learned from them and got good experience in my other work throughout the years.
Honestly, sometimes I've been compelled to have parties because the worst case scenario at that time actually happened and it wasn't so bad. And thank goodness for that. A party is born. Whether I've lost a fiance or a job, had any kind of health scare, I've gotten back up, brushed the dust off my knees, called up my friends and my inner making-lemonade-from-lemons sense of self and decided to have a gathering, a shindig, a party, or a soiree. Sometimes that's meant having friends over for meaningful conversation and a cause to celebrate or to be grateful for "dodging a bullet," and sometimes it's meant wearing a fancy party dress to the doctor's office to await unknown results. Sometimes it's meant cultivating gatherings specifically to bring more and more light and joy into my world and the internal and external worlds of my loved ones. I've hosted or organized and marketed events, programs, gatherings and parties to thank the world, God, my friends, supporters at work, in gratitude and as a quest for meaning. Parties have been held to get friends together to bring up a theme of positivity that would help light up our little corner of the world and bring out the hooray for the day.
And that concept has appealed to other people as well. There's plenty that we can all gripe about, but why not build on what IS working and grow that?!
So let's switch gears a bit and go into the Joyfestival Industries story. Tell us more about the business.
We help you to host your gathering or party or workshop using Joyfestivalindustries DIY kits to organize and plan events where people will jump for joy! We specialize in gatherings for gratitude, joy, coming together for crafting (for self or to make for others,) happiness rooms that speak to a variety of your senses and ways to increase laughter and good-hearted fun. Prepare to have a wonderful time with ease as these themed party kits are filled with creative ideas to assist in making a wonderful event or program come to life. OR we can do consulting or in-house gathering planning, prepping and host/hostess-helping!
Included in these kits are theme-specific detailed supplies and materials checklists, planning timelines for dates leading up to having your joyful event, as well as sample food and beverage menu ideas, invitation and wording templates, clever, fun and unique things to do with your guests and great agenda items for the day. These kits also include speech or toast or program description components and wording, inexpensive prop ideas that will help you pull your party together successfully and sample checklists and signs and posters to be used for different elements of the day. Included are fabulous resources that showcase theme-specific interactive exhibits to vividly draw people into experiencing a happy program. Have a delightful time and find ease in mapping your way to getting organized and setting the scene for a beautiful and joyful themed gathering or party of your own. https://www.joyfestivalindustries.com is happy to help assist!
We also do themed programs large and small, sometimes for public nonprofits, sometimes private events, programs or workshops on these wellness themes and helping people find healthy outlets through gratitude themed crafting and expressive writing programs.
I'm most proud that at this time in our world I'm trying to shed a little more light in people's lives.
How do you think the industry will change over the next decade?
Life has many hectic, frantic seasons and if you live in a big city, even more so if you add in your commute time.
I think we all crave more meaning and a break from negativity. Joyfestival Industries is trying to counteract how we may feel more disconnected from each other in our daily lives by teaching workshops, having gatherings and parties with themes and practical ideas and ways to help us connect to each other in real time (i.e., not only virtually.) This is a healthy antidote to stress and disconnection. And if JFI can help people to reinforce friendships and family relationships, or help people craft or write something that allows them to feel joy in the making of that item or the giving back to others, than even better!
There will never be a lack of need for meaningful and joyful connections with our fellow human beings…so in that sense, Joyfestival Industries mission of helping people have gatherings that promote the themes and ideas of connection and joy will continue to be on point.
Contact Info:
Phone: 310-339-4124
Email: amy@joyfestivalindustries.com
Instagram: @joyfestivalindustries
Image Credit:
Joyfestivalindustries.com
Suggest a story: VoyageLA is built on recommendations from the community; it's how we uncover hidden gems, so if you or someone you know deserves recognition please let us know here.