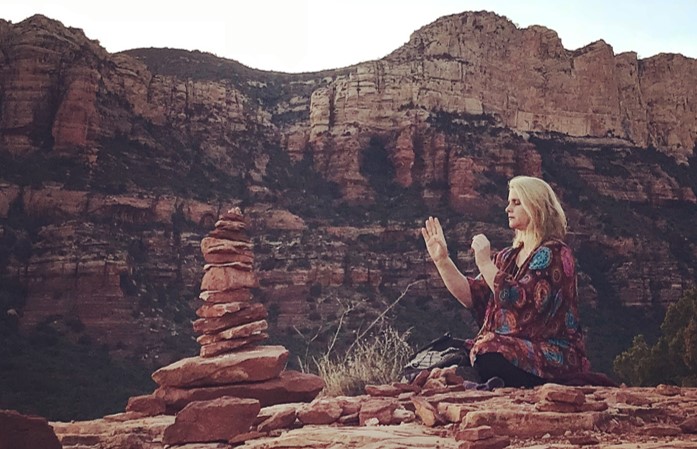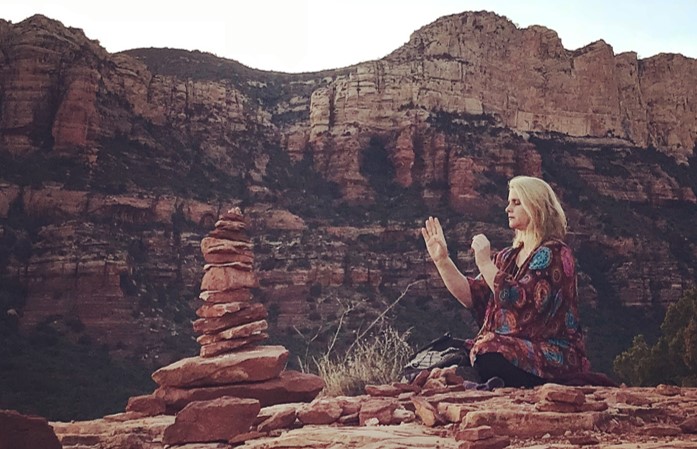 Today we'd like to introduce you to Alicia McNaughton.
So, before we jump into specific questions, why don't you give us some details about you and your story.
We are Ashra, I am a collective energy made up of my multidimensional selves with multiple generations of seers, mystics, witches, shamans, priests, ministers, high priestess and many more lifetimes than I care to have in my current reality. It's potent when you tune into them. We all have an easier time with just one present in our day to day consciousness at a time. However as I channel I see them all, the multiple life times that I have gone through to get me here. My past lives fill my thoughts as easy as closing my eyes and tuning into a different time or dimension. I travel there in my dreams where waves of energy share visions of the past and that of many other lives I've led. I walk with the Goddess in my human body, DNA and strong energy that I bring forward through channeled medicine in song language with a healing effect otherwise known as Light Language. I work well with my team of 5th dimensional energy songbirds in Light Language with Aria my Andromeda teacher and songwriter spirit who works with and through me as a healer in groups as a professional Psychic/Empath, Trance Vocal Channel and Mystical Seer.
We have fun working with an energy I call in known as Clair-essence. I have had many lives of working with DNA since the days of ancient times told about in legends we call Lemuria. I have lived many more lifetimes on the Earth plane since then. These spirit guides work with me in multiple dimensions as well as frequency and time. As I sleep and we travel to my homeland through mystic portals where I can see them. We offer more synergy with Earth waves healing the magnetic pull underground as we see into the eyes of our future selves we manifest our dreams into reality. That Navajo Pleiadian Star being is known to me as Dream Weaver. He and I go way back into our connection as land healers and portal makers with an energy from our source and many more guides from the 7th dimension. I know it's a lot. I wasn't always this way. I had a future as a massage therapist working with Blizzard Entertainment and owning my own business after many years with Burke Williams Day Spa, Synergy Chiropractic and many more "normal" career based choices. I was quite successful in my ability to find a way to be accepted in society as a Healer.
I knew how to tone it down, so I could fit into a more exercise and fitness community by studying many fields of medicine and working as a Holistic Health Practitioner/Reiki Master Teacher. I always knew there was a bigger picture beyond the more common & structural fields of medicine. I could see into the body with my Clairvoyance and allow this sense to find the root cause of disease or injury in their tissue. Because I've been open to spirit since I was born, I could also see their passed over loved ones and spirit guides asking me to share with them messages from beyond the veil. It was a challenge to obey societal rules and just work on the physical end of the medicine spectrum. I would see arrows shot into them from lifetimes ago stored in their energy body holding their patterns of distorted thinking and loosening it would be easy when I would begin using energy work as a modality instead.
As I began to invite in more of that type of energy I began to notice how many healing beings I was working with. I had so much information and healing rushing through me I could barely hold it all in so I quit being a massage therapist and started to give readings for a living in a little Metaphysical store in town called Awakenings. I'll never forget the day I began to work without having to hold back anything. I could finally step into my power as a full-fledged psychic /empath and spirit medium, trance channel, and energy healer. I was ecstatic to breath in the meaning of my life. To heal other people and let them start connecting to their very own divine inspiration while using their own divinity from their Higher Self-energy. Asking the Akashic Records to find out where their soul's purpose lies and what they most needed to know today. Always asking each time for all information to be from their highest source in alignment with their highest good and for the highest good of all.
I sat there in awe as the floodgates of their own history unveiled and I could see into their lessons and understand what spirit has in store for them. How these lessons could shift them in each environment. I learned more than you can imagine in those three years. I really enjoyed it with all of my heart. Feeling the love your spirit guides have for all of humanity and even beyond. It's mesmerizing really. I want more than anything for all beings to find their truth and live a life that makes them happy. It is work though. Now I teach how to evolve spiritually as humans not in a body but as a spirit inside opening up to all the love of the universe. It's what I want more for people more than to give them advice on which job to take or who their next date will be. I can offer suggestions on how one might affect them versus the other. However their choice always must come from them or else what's the point really. I do this as a full-time career because it's who I am.
Living a life in harmony with my Spirit Team of Ancestors and Guides is the foundation of my life purpose, to help bring harmony and happiness back into the hearts of mankind a little at a time. We as healers are a positive energy of change for the people. I can look with-in and let them see their own lives with more clarity and then choose our own directions based on that insight. I love that about this work. Free will and spiritual evolution in all our answers. I call them "spirit bread crumbs" we grow when we pick up our piece of the puzzle and read it. I mean really look. Just listen to the answers we each have for one another beyond the "small talk". That`s what people see me for. They are dying for some meaning behind it all. Who am I and why am I here. I can help bring in something more through each activation as well. There are spiritual healings with wisdom in my music. It's beyond words. It's a vibration that carries away the power of old energy that used to be stagnate. We fluidly heal the planet with our enlightenment of mankind. Without that we would never get to the answer of how we as a collective can heal. Spirit has always had our answer. We just must open up and receive it. I am here to share and to be here in this time of a massive evolutionary leap in consciousness. Helping people embrace the process of shifting our 3D reality into the 5th dimension.
As I heal myself every day with my Light Language activations, Trance Vocal Channeling and real evolutionary healing in my own DNA I see my own bloodline as ancestors come in then receive medicine in spirit from my team of elders from Andromeda, Sirius, Pleiades, and Arcturus. It's a lovely voice all coming down with intention to channel the very best healers I can at this time from my lineage to give back to my community, bloodline and myself. I have traveled multi-dimensionally into my many lifetimes with the Akashic Library of future outcomes. I see beyond what happens here in our 3D world and go into my Light-beings truths and bring down new energies to use and find out how we can evolve as a species. How we can heal the many distorted ideas and psychical dysfunctions caused by our own individual stories, all unique in spiritual separation. Let's all reconnect now and remember who we are as spirit beings living in a human body.
I live in a comfy townhome by the beach with my husband Ryan McNaughton and our animals. We offer weekly sound and energy healings, Monday nights at 7:30pm at a quaint local spot called Dharma Yoga House in Dana Point. Dharma is a donation-based studio whose owner I love whole hardheartedly. She creates with local healers and yogis in the community and welcomes in new faces all of the time. It is a really welcoming, friendly, holistic, artsy, soulful conscious community here. I have been blessed to have a husband who is also gifted as a healer and Yoga instructor. We create together in many of the local Studios here in Orange County. Together we love traveling to sacred sites all over the world, reminding ourselves of the bigger picture. He is my greatest healer although I can say my teachers have been many over the years. It is so true what they say "When the student is ready the teacher appears." I have led a very challenging yet serendipitous life.
Has it been a smooth road?
My mother never made it to her healing journey and relied solely on Western Medicine and organized strict Fear based religion. She didn't made it past the age 52 after an overdose of psychotropic drugs. My father died from addiction at the age of 42. I myself have been sober for 16 years and have dedicated my life to assisting some of the most complex people back from the edge. I spent years volunteering my time in low-bottom recovery houses and jails helping women heal from drug addiction and trauma. My life journey started when I was born into a long stretch of conditions. I knew needed different answers than the ones we had readily available to us like drugs and alcohol. I was a ward of the court at a young age after running away from an orphanage called Orangewood and becoming a go-go dancer in the rave scene in the 1990's.
Since then, I worked as a waitress and paid my way through energy school with every cent I made barley making ends meet. It wasn't easy but I have had amazing teachers and downloads of help from the greatest healers I could ever ask for. Truly gifted people I have been so blessed to learn from. I am honored to be asked to share what I have learned and am privileged to be an overcomer myself. We are exposed to so much through our life journey. We all need to have an experienced healer to turn to who knows what it's like. Someone to help us remember and bring back our inner nature while allowing us to purge the past. Helping us return the light to ourselves. It's so hopeful for me to see all the beauty return in someone's face as they are revived from being torn apart inside. Missing pieces can always be returned home, put back together again. I feel very fortunate to facilitate this healings.
Please tell us about The Holistic Mystic.
I created The Holistic Mystic back in 2006 as a way to help integrate all the work I was doing to become more spiritual. It is way of honoring my spirit guide Ashra, whose name means "bridge". To me the name bridges the healing communities together as I have always hoped we would bridge both Eastern & Western Medicine. I work as a healer, intuitive coach and mentor. I also guide group workshops and events in Sound Healing, Light Language and Trance Vocal Channeling with my very talented awesome husband Ryan.
We create healing vibrations using our symphonic gong, moon gong, crystal singing bowls, buffalo drums, Peruvian ancestral karmic cleansing rattles, chimes and rain sticks. The ceremonies include crystal grids, singing from my spirit guide Aria as well as Light Language, words of wisdom and trance meditation clearing with Ashra. I enjoy sharing this so very much. I am honored to be a part of the healing community at Dharma Yoga House and in Orange County. I also work as a mystic seer in sessions and with my light language oracle readings. With activations used in readings we can help clear a path for a future blessings and wake up specific gifts lying dormant beneath the surface. I offer awakening healings, ancestral cleansing, spirit cross over with mediumship healing and work in your Akashic records to heal your lineage as well. I design medicine with candle magic, essential oils, crystals and herbs. These are offered inside of potion bottles, alter oils and aromatherapy sprays. Each session I offer comes with a prescription for an energy medicine product. These sessions are recorded for the client and sent out via email. My husband and I also create altar boxes and custom designed sacred geometry shelves. We run a crystal selling business and host workshops facilitating the use of these tools made by Mother Nature.   
I offer a variety courses about energy and healing modalities at Collective Energy Yoga, located at 215 Avenida Del Mar, Suite L. San Clemente, Ca. 92672. I adore meeting and encouraging other healers and I love how we all share our various talents. It takes a tribe.  My work is particular to activating and healing deeply as well as guiding people into their deepest selves for reconciliation and development on a soul level.
Is our city a good place to do what you do?
Yes, we are growing as a spiritual community every day. I have always known this is my "station". I know that I am needed here and that I am not alone on this journey. The water is warm come on in and join me.
Pricing:
Yoga & Sound Healing:
Sound and Energy Healing
Monday 7:30pm Dharma Yoga House
Yin with Sound Bath Savasana
Tuesday 4:30pm Pure Love Yoga
Restorative with Sound Bath Savasana
Sunday 7:15 EPIC Yoga
Yoga Retreats/ Events
Healings:
30 minute Amethyst Bio Mat Session &
1 card pull (10 minute reading) $55
60 minute Reiki Session, Chakra Crystal layout, Aromatherapy & Bio Mat session $111
90 minute Channeled Energy Work $222
Readings:
30 minute Channeled Oracle Reading $111,
60 minute Channeled Oracle Reading $155
120 minute Psychic Parties $333
House Clearing:
90 minute House Clearing/Blessings $233
School for Healers:
Reiki Classes,Munay Ki Rites
Psychic Development Training
Contact Info:
Address: 34207 Pch, Dana Point , CA 92929
Website: www.theholisticmystic.com
Phone: 7146255457
Email: dragonfly71403@yahoo.com
Instagram: the_holistic_mystic
Facebook: Alicia Manfredi-McNaughton
Image Credit:
Michelle Montgomery, Ryan McNaughton
Getting in touch: VoyageLA is built on recommendations from the community; it's how we uncover hidden gems, so if you know someone who deserves recognition please let us know here.