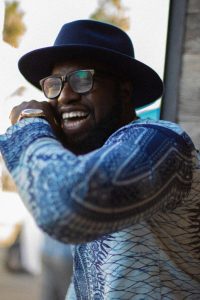 Today we'd like to introduce you to Sean Addo.
Hi Sean, we're thrilled to have a chance to learn your story today. So, before we get into specifics, maybe you can briefly walk us through how you got to where you are today?
I use to draw a lot when I was a kid, flipbooks, and sketches, those sort of things. I'd record my favorite anime with our VCR and pause it on the coolest frame I could find and then draw it into my sketch pad. I was convinced I was going to be a cartoonist. I think my mom was, too, until my dad brought home a JVC Handy Cam, the one with the trigger zoom.
I remember convincing every teacher I had that I could make a movie instead of doing a writing assignment. It worked a couple of times, and then I just got hooked. I'd get all the kids in the neighborhood to help make movies. We'd use action figures for stunt doubles and smashed cherries for gore. We even did a parody of the Blair Witch Project. Ours was called the Ghetto Bish Project. I know it sounds terrible, but we were kids from different hoods that somehow ended up in a quite Cincinnati township. So we were super tight and did everything together, which either kept us out of trouble or got us into trouble we could manage. I even collaborate with some of them to this day. I ended up going to school at the University of Cincinnati. I played football for the Bearcats but eventually had to trade in my cleats to focus on school. I had got into design school at the time, and it was my best shot at finding my way back to animation. It's crazy because every other school I applied to was for engineering. I'm a first-generation Ghanaian-American, so I had three options; law school, med-school, or engineering. My mom has always bent a little and found a way to support her kids' wild American dreams.
Still, it took me playing football and getting into one of the top design programs in the world for my dad to come around a bit. But It probably wasn't until after undergrad when everything changed. Toward the end of college, I did a bit of traveling. I went back to Ghana for the first time since I was eight. I was there for a couple of months, and being back just made me realize how important culture was. I remember my Grandfather, this old 6'4" 250 lbs man, sat me down. He gave me this custom-made black and white kente cloth and told me to never to forget who I was. Then he asked me when I was coming home for good. It shook me. I hadn't seen this man since I was eight. Between him and my other Grandfather, who was a chief, I had some serious male figures to live up to. When I came back to the states, my dreams just got refueled with a sense of purpose. Everything else felt too small. I quit my 9-5 as a designer for Proctor and Gamble and left to pursue a master's in Film. I had this burning desire to impact people in the same way I had, through culture, identity, and experience.
I ended up making this personal doc about my journey of understanding who I was as a Ghanaian born in America. It echoed the inner monologue of anyone searching for identity, especially those in the diaspora. I'll never forget my dad being at the jampacked premiere and how proud he was, "My son, the filmmaker." If you can convince your Ghanaian parents that movie making is a serious profession, chalé, you've done something. After that, the rest was history. I've been pushing to break African centered stories in mainstream genre film the same way Bollywood or Kungfu movies have done for Asian cultures for decades. It's close, and I just want to be at the center of it.
Can you talk to us a bit about the challenges and lessons you've learned along the way. Looking back would you say it's been easy or smooth in retrospect?
Smooth? Ha! A film career isn't for the faint of heart. I can honestly say I've never hit more obstacles in anything else I've ever done. A few of my former classmates would joke around and say we suffer from film school PTSD. You go through this gauntlet of making movies, and if you don't hit right when you get out of school, it's a major shot to your confidence. Then you spend years trying to get back to your roots of who you are as a storyteller and why you wanted to do this in the first place. The industry can be a bit of a calculated crapshoot with tons of gatekeepers, and at times it can feel a bit isolating. Especially when you are trying to push for something new. Then there's the financial hustle, which is a whole thing in itself. I've done everything from couch surfing to home sitting, car washing, rideshare driving, you name it.
I remember this one time a few months out of grad school, I was in-between places and most of my stuff was in my car. I went to visit my buddy and parked on his street. Well, it turned out he wasn't home, so I was going to go to another friend's house to sleep. Unfortunately, my car was out of gas and wouldn't start. I had to walk about a mile and a half to the nearest gas station only to realize I didn't have enough money to even purchase the gas can to put the gas in. My phone was dead, so I basically spent the night in the car until my friend pulled up early in the AM. That was a pretty low point for someone who had an excellent salary just a few years prior. But my friend helped me out, and now he's doing major things in the industry. Shout out to "They Cloned Tyrone". It's people like him, my family, my wife, and especially my faith that kept me going. Those are the reasons why I can look back and laugh at some of the other craziness that's happened on this long journey.
Appreciate you sharing that. What else should we know about what you do?
I am a writer-director. I specialize in telling stories that explore the African diasporic experience in genre film and TV. Whether it's Afro-thiller/horror, historical epics, or comedic coming of age, most of my projects deal with the identity of African narrative in an entertaining way. My work aims to bridge audiences to cultures they rarely experience and allow those disconnected from the African continent to imagine home. I'm known for my personal film Deeper Than Black, mainly for its honest depiction of "Third Cultured Kid Syndrome." But also largely for its candid discourse on the relationship between African-Americans and Africans. I'm proud of this film because I am not a spotlight type of person. I have no desire to be famous. I enjoy my privacy, and I'd much rather hide behind the camera than stand in front of it. In the film's case, it seemed to subconsciously become my own story, and as an artist, I believe in serving the film in a way that brings out the best possible work. My proudest work is yet to come.
I'm currently developing a few original projects that I can't wait to bring to life. I can promise that they'll push the industry in ways we have yet to see. I think that's what sets me apart. I always prefer to take the road less traveled and push the envelope as a visual storyteller, asking why not instead of why. I've never been interested in making a culturally different version of preexisting material. My instincts force me to explore the unknown and challenge the traditional Hollywood ideas of what kinds of stories black filmmakers can tell. It's a shoot for the moon and even if you miss, you might just hit a couple of stars kind of philosophy. Being true to my raw imaginative voice is what's made me unique. I'm confident that no matter how difficult the journey gets, I will always be me.
Are there any important lessons you've learned that you can share with us?
Go for it! Fear of failure is a real thing. It's terrifying and traumatic as hell, but unfortunately, it's inescapable. You will run into something that you do not know how to do even though the opportunity presents itself. There will be things on the line, and you will feel unprepared or unqualified. But you have to accept failure as a painful but necessary part of the process. Eventually, you'll figure it out when it matters most. I had a project that didn't turn out as well I thought it would. It took a lot of time, effort, and other people's investment, and I felt horrible for it. It made me really cautious about my next film, so much so that I became afraid to fail people. That's crippling as a filmmaker. I had to find a way to let that go because a film results from the collaborative fearlessness of its creators. It's a pipe dream made into reality. Find your source. I'm going to be straight up with you. For me, it's God, and you need something constant, or this journey may break you. I have to add this last bit, know your worth and stand by it. Because If it's for you, then it's for you. And if it's not, well then it's not. 
Contact Info:
Image Credits
Ketsia Vedrine (personal photo), Adwoa Kessie, Brad Stark
Suggest a Story:
 VoyageLA is built on recommendations from the community; it's how we uncover hidden gems, so if you or someone you know deserves recognition please let us know 
here.