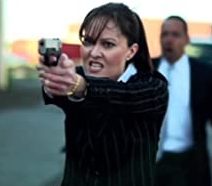 Today we'd like to introduce you to Patricia Mizen.
Hi Patricia, so excited to have you on the platform. So before we get into questions about your work-life, maybe you can bring our readers up to speed on your story and how you got to where you are today?
At four years old, my mom used to tell me that I would make up songs while swinging on the swing set in our backyard. When I was about eight, I danced on bus benches, singing and dancing with no fear or care in the world to anyone who walked by. Looking back, yes, the acting bug was definitely showing itself at a very early age. After spending four years in Seoul, Korea, my father, who was in the armed forces, was notified that we would be returning to Fayetteville, NC. By this time, I was going into the seventh grade and I was apprehensive. I knew no one and I was no longer in the safe space that I was used to in my little "fish bowl" environment. I became insecure and didn't know how to fit in. I had no fashion sense and was even told by a fellow student to "go back to where I came from." I will never forget my father yelling, "YOU GOTTA HAVE SISU!" Sisu is the Finnish word meaning 'GUTS' and he also yelled, "DON'T BE A QUITTER!" I don't quite remember how I found out about cheerleading auditions, but I remember practicing over and over in my bedroom until I nailed each choreographed move. I guess I can say that I already had developed an innate determination for rehearsal. I auditioned and became a cheerleader and even earned the ranks of team captain.

Thanks to my dad, I overcame my insecurity by facing that fear which would have prevented me from experiencing some of the greatest memories I had in high school. Senior year, in terms of the craft, was a milestone for me. It was then that I recognized my passion for the arts. For the first time, I experienced the euphoric feeling actors strive for by embodying different lives, living under imaginary circumstances. By participating in an extracurricular activity, called 'Forensics', particularly in the dramatic Interpretation category; I won my first competition at Elon College, N.C., in my rendition of 'Morning Becomes Electra' by Eugene O'Neil and from then on, I was hooked. After high school, I earned a B.S. Degree in Biology and a Minor in Education. After my final performance in "Cat on a Hot Tin Roof" by Tennessee Williams as Maggie the Cat; Ms. Pascal, my acting teacher, wrote on my final evaluation that "I could go professional." At that time, I was clueless on what exactly that entailed; but nevertheless, she believed in me and I needed that reassurance at the time. This was the pivotal moment in my decision to follow my passion. My life took me to Boston and while there, with the advice of my mentor, my Aunt Beverley, who has a master's in Dramatic Arts; I enrolled in a two-year program at, The Actors Workshop Institute in Boston, Ma, and studied, The Meisner Technique. Toward the end of the program, I landed an agent in N.Y. I ended up driving there for auditions, sometimes leaving at midnight and driving 3 to 4 hours, depending on road construction and traffic. I crashed at my aunt's apartment and hit the pavement to the auditions the next day. Auditioning in New York was thrilling but very brutal.
I remember a time when I had several commercial auditions back to back and so I would change clothes inside a stall in the Levi store on Broadway and off I went. I quickly learned to always take tennis shoes in between pounding the pavement after having bloody heels from walking all day. Beginners luck allowed me to book my first industrial from a massive cattle-open call that consisted of standing and waiting in the hot, humid summer heat. It didn't even phase me at the time because I did it! And I was in 'The Big Apple!' That taste of victory continued to feed my hunger and I was physically in motion. My journey came to a halt when my mom called to tell me my father was in intensive care. He was diagnosed with stage 4 lung cancer and just came out of surgery after the doctors removed a large tumor from his lung. Unfortunately, the cancer metastasized to his brain, then all over. I left Boston and my rendezvous in N.Y. to become my father's full-time caretaker. Since English was my mother's second language, I filled in the gaps between my mom and health professionals. After eight months, my father lost his fight against cancer and passed at the VA hospital in Fayetteville, NC. After two years, I was in LA and hitting the ground running. I knew I needed my SAG card to be considered a professional. At that time, working background was the sure ticket in. So I hired a booker and after three months, I became a member of SAG. I got my first agent and started booking work, such as Boston Legal, commercials and other gigs. Then the strike hit and the industry stopped. At the same time, while my husband was stationed at El Segundo, LAFB; he received an assignment to move.
In addition, we were also raising our beautiful little girl; I didn't want my family to be separated, so I told myself, "Hollywood will always be there." We left together and moved to Alabama. Don't get me wrong! I cried! If I had tiger claws, there would still be deep grooves in the highway all the way down the 405. And I didn't give in that easily either, for I kept my agent and made an agreement with my husband that when Hollywood would call; I'd fly back to L.A. to audition. I immediately put my personal training certification to use and trained clients full time to save money for those unexpected flights. Thankfully, my brother lived in California and so I always had a safe place to crash, which was literally on the floor. I stayed for a week or so to earn back the money I spent on airfare, my rental car and other expenditures. But, after a couple of trips, I needed a sign to keep going and that's when I booked a network Day Player role on 'Passions'. After a year, another assignment came in. This time it was closer to my hometown in N.C. and I was thankful for it because my mom needed my support at the time. Even though I wasn't auditioning for television anymore; my passion for the craft continued to thrive and while at Goldsboro, NC; I taught young children drama for the county's after-school program. After that assignment, we moved to D.C. which turned out to be one of the best assignments because the independent film community was large and active in the Baltimore, D.C. area. I worked a lot in film and by living there; it granted me great opportunities which unknowingly was preparing me for what would happen next.

In 2015, our last and final assignment came through. Low and behold, it was to L.A.! You can imagine the tears. But, this time, these tears were tears of humility. I was completely grateful to be able to have a 'third go', so to speak. I hit the ground running, again, auditioning and booking work. In 2017, I was selected into UCLA's Professional Program: Acting for the Camera. In 2018, because I was seeking a challenge, a friend and I signed up and entered 'AT&T's SHAPE Create-A-Thon,' a competition that challenges actors and content creators to produce a short film over a single weekend. After creating a great team to help carry out the vision I had, we won first place in our short film, 'Fly Right' which I wrote, directed and acted in. Since then, 'Fly Right' has premiered in California's Women Festival in Santa Monica. In 2019, 'Fly Right' had its World Wide Premiere at the Laemmle Theatre in Burbank, CA where we received the award for 'Best Family Short Film.' I earned a Best Actress Award. By reflecting back on my journey, I learned so many great lessons: 1. Never give up on yourself, your passions, your aspirations. 2. Empower yourself to lean into your own creativity and build strong supporting relationships. 3. Be kind to your soul and take care of your mental health. I'm still hustling and grinding, that will never stop! But right now, I'm enjoying this ride… the good, the bad and the ugly! Persistence, dedication, hard work, faith, passion and drive brought me to where I am today and I am very grateful!
Special Thank you to my Manager: Cylence Media Management Mike Williams 
mfw@cylencemedia.com
and Agent:  Pinnacle Talent:  Danita Florance 323-939-5440
Would you say it's been a smooth road, and if not what are some of the biggest challenges you've faced along the way?
Life in my opinion is never a smooth ride. In fact, as humans we would never grow to understand our awareness that lies deep within our souls if we didn't undergo and overcome our trials and tribulations. Last year 2020, I caught that nasty virus, Covid-19 in New York City. During that time, when I was sick for five weeks and living alone in a studio apartment for two months; I heard gut-wrenching sounds: helicopters, gun shots, break-ins, yelling, screaming, and sirens, from the riots and ambulances speeding to the hospital, which kept me up every night. And needless to say, the symptoms of the virus definitely took its toll. However, during that time in my loneliness and darkest moments, I had an epiphany. An epiphany that changed my whole perspective on life; who I am and my purpose. My Uncle Ishimoto told me when I was sick, "You haven't really lived unless you've faced death." Well, when I was fighting off that virus, at night especially; I thought I was going to die. I'm thankful that I survived and my heart goes out to all the people who lost their loved ones. I finished writing my very first feature film in that studio apartment during the good days that I had. It was something that I didn't even expect. And now something of which I am very proud.
Can you tell our readers more about what you do and what you think sets you apart from others?
Through my experiences of being on set, observing great actors and director's work; I took it upon myself to challenge my abilities as an artist and to create my own content: encompassing writing, directing, producing and collaborating is an empowering experience that I will continue to nurture. So, not only am I known for my strong improvisational skills and my ability to create a character, using my imagination and my own experiences to draw from; I am also known as an award-winning actor and independent filmmaker. As an actor, I continue to train and hone my craft in order to stay ready and prepared for auditions. Some characteristics that set me apart from others is my strong work ethic: motivation, passion, drive and trusting the Universal Laws of Attraction. However, these strong characteristics also connect me to other like-minded individuals and when we collaborate, we develop great concepts and ideas. Here are some awards that I am truly grateful for. 2020: Festival International Du Film Panafricain Cannes Nominated, Dikalo Award Best Short Film for Illville 2020: Fort Worth Indie Film Showcase, US Nominated, FWIFS Award Best Domestic Webisode for Judgment Call (2019) (web series) 2019: Direct Monthly Online Film Festival Nominated, DMOFF Award Short Film -Short for Judgment Call (2019) (web series) 2019: Hollywood Just4Shorts Won, November Award Best TV Episode for Judgment Call (2019) (web series) 2019: Independent Shorts Awards Won, October Award Best Acting Ensemble for Judgment Call (2019) (web series) Won, Honorable Mention Best Web Series/TV Pilot for Judgment Call (2019) 2019: Indie Short Fest Nominated, October Award Best Web Series/TV Pilot for Judgment Call (2019) 2019: International Independent Film Awards Won, Gold Award Webisode for Judgment Call (2019) (web series) 2019: Love International Film Festival Nominated, Jury Award Best US Film for Fly Right (2018) (short film) 2019: Maverick Movie Awards Nominated, Maverick Movie Award Best Ensemble Performance – Webseries for Judgment Call (2019) 2019: Olympus Film Festival Won, Grand Jury Prize Best Family Short for Fly Right (2018) Won, June – Apollo Best Actress for Fly Right (2018) 2018: AT&T Create-a-thon Won, AT&T Create-A-Thon Award Best Film for Fly Right (2018) (short film) 2015: Indie Gathering International Film Festival Won, Honorable Mention Short Film for Who's Both Sexy and Smart? (2015) 2015: Winter Film Awards Nominated, Award of Excellence Best Picture Feature Film, "Assumption of Risk" Nominated, Award of Excellence Best Picture.
Contact Info:
Suggest a Story:
 VoyageLA is built on recommendations from the community; it's how we uncover hidden gems, so if you or someone you know deserves recognition please let us know 
here.
What to check out next:
Aleasha Bahr is a sales & marketing strategist known for showing introverts and ambiverts the Secret Art of Subtle Selling.  She personally sold millions in revenue while discovering introverts are usually top sales people – as soon as they stop trying to act like extroverts.  We've partnered with her to produce Introverted Entrepreneur Success Stories. Check out episode 1 below: