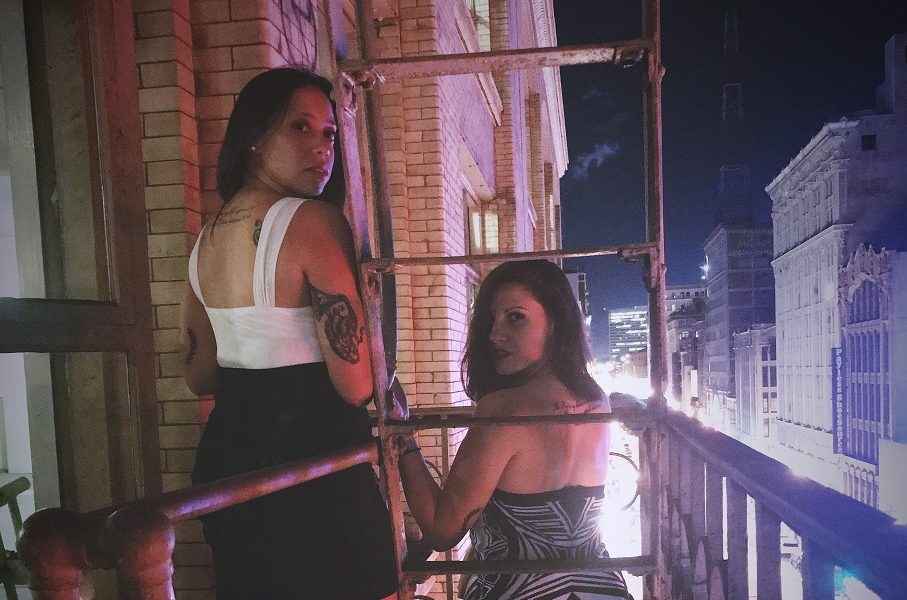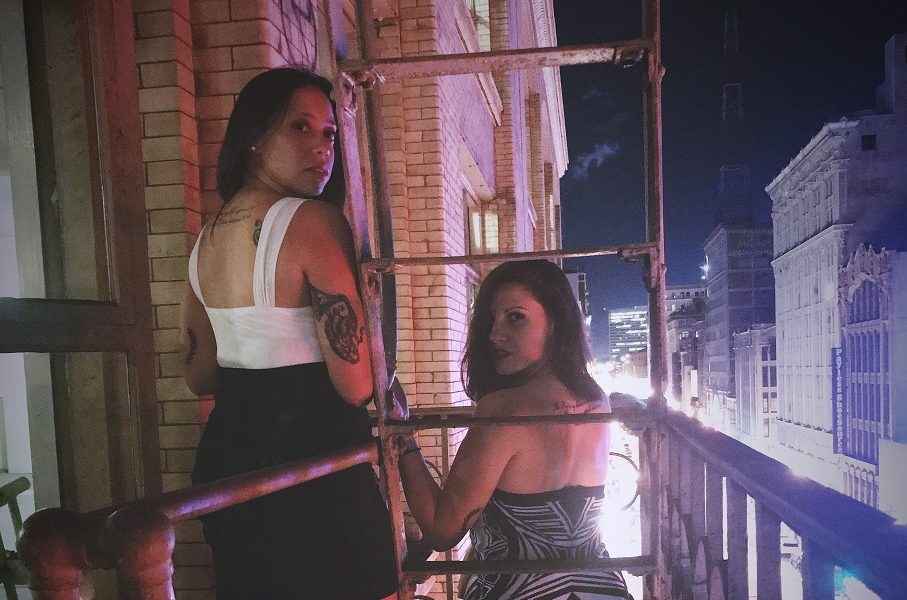 Today we'd like to introduce you to Courtney & Ashleigh.
We never imagined our lives would lead us to create art professionally in Los Angeles. Courtney, having grown up performing & touring as the lead singer in numerous bands, thought after graduating high school her life would be spent professionally capturing the happiest moments in others' lives. Ashleigh, having grown up filling her life with storytelling, reasoned to spend her life studying psychology to help others with mental health challenges. In 2013 when these Maryland ladies' lives collided, nothing would be the same. Since 2013, Courtney and Ashleigh, CA in LA, have created over 100 films and covered hundreds of songs together. We've toured the world with our work screening in film festivals internationally. Now, we're moving to conquer our next challenge, creating original music together. With our first original album complete, our lyrics & harmonies create a tragic blend of heartbreak. Find us, Courtney & Ashleigh, best friends, filmmakers & musicians, performing live over at Twitch.tv/ca_in_la.
Alright, so let's dig a little deeper into the story – has it been an easy path overall and if not, what were the challenges you've had to overcome?
Funding has been one of the biggest hurdles we've faced. When we first started creating films, crowdfunding websites were the lifeblood and only means of resources for indie filmmakers. We weren't fortunate to have a large following nor have the budget to create even the smallest feature film to compete at film festivals. Since finding Twitch, our community has been remarkable at helping us fund short films and equipment goals. We've leveled up as filmmakers, musicians, and artists through the kindness and support of our incredible Twitch Ohana. The Ohana is Everything. As indie filmmakers, live streamers, and musicians, the work/life balance has always been a struggle. You always hear the quotes and motivational speeches about how someone else is working harder than you. It makes it difficult to give yourself a break, even when you know you need it.
Even while making breakfast, you feel like you need to be listening to a creative podcast to learn something new, and after, take a photo of your breakfast with some witty comment for content. For us, recognizing burnout and creating habits to help us avoid overworking has been crucial for our longevity. Finally, a constant struggle has been imposter syndrome. It's been helpful to steer clear of comparing ourselves to other creatives and focus that energy on our roadmap to achieve goals we've set for ourselves. When we greet that energy of imposter syndrome head-on, we've realized so much of that feeling is rooted in fear. Since gaining that understanding, it has helped us take a step back to remember the stories we want to tell and keep moving forward. Ps, if you are reading this, you ARE enough. You are doing great!
Appreciate you sharing that. What else should we know about what you do?
We are full-time content creators in every sense of the term. We specialize as filmmakers, musicians, artists, and Twitch streamers. We both manage individual aspects to help build and maintain our brand. On Twitch, we perform covers and original music as well as have witty banter, fun overlays, in-depth mental health conversations, and strong community support. Unlike any other platform, we get to blend all aspects of ourselves to create CA in LA, Courtney and Ashleigh in Los Angeles, best friends, filmmakers, and musicians. Plus, have we told you about our amazing community? Ohana love has changed our lives and the lives of many humans around the world. Stop by and check it out for yourselves! With our music, we blend harmonies with ethereal guitar to create a dreamlike experience. We typically stream later at night on Twitch, which provides a perfect wind down and chill space for our community to relax. Our films mostly center around character-driven stories with themes of identity, relationships, and psychology. We pride ourselves on strong visual artistry, powerful sound design, and dynamic performances.
As Courtney is an extremely gifted actress, almost more impressive is her ability to be present while cameras are rolling and immediately switch into a production role when we call cut. Since we are strongly proficient in all aspects script to screen, we are able to cut down on turnaround time and resources necessary to create films. We're most proud of paving a way for ourselves in the world of content creation. 8-10 years ago, there were nowhere near as many resources available to indie filmmakers. No matter how hard things got, we never gave up. We didn't realize with every film we made, we were learning more about ourselves and continuing to expand our quick turn around skills, which have been pivotal for our content creation with Twitch. Our friendship and collaboration set us apart from others. Above and beyond everything we do, we're creating art, living life, and making insane memories with our best friend. When things get rough, it's a blessing to take a step back and remember our beginnings. In 2013, so many of our memories consisted of sitting on a back porch in Maryland, dreaming of a fulfilling life full of filmmaking and storytelling. Little did we know that we'd be making those girls proud less than a decade later.
What was your favorite childhood memory?
Courtney: One of my favorite childhood memories is when I would get together with my friends and make home movies. It was then that I knew I really loved to act. Not only knew how much I loved it but how terrible I was at it. That knowledge immediately gave me the drive to be better. Every other weekend, we would all come up with a storyline, using my dad's huge camcorder to tell our crazy stories. Back then if we messed up, we had to put the tape in the VCR, rewind, and re-tape over all of our mistakes. It certainly made for an interesting "edit" when we were done. When we finished filming, we would make the credits in PowerPoint, pointing the camcorder at the computer to film those too. The process of making those movies was so much different than what it is now. What I remember most is the first time I watched a completed film. I remember the smell of the popcorn, the snacks, the laughter, and the glow of the tv that showed the credits of everything we just created. I found my passion that day, but little did I know that one day I would turn it into my career.
Ashleigh: Each summer before our family beach vacation, my parents would take my siblings and me to the library. We would each take out the library limit of 15 books, sometimes fighting over who borrowed which books. Over the course of the week, we were all nose deep in worn pages to the point we raced to be the first to complete our stack of books. Even as we all grew up, this tradition remained until the last summer we all went to the beach together. As an adult, I still link getting lost in a great book to sun-kissed skin and the sound of the ocean waves. The strong visceral memories of getting lost in stories at the beach have shaped my storytelling style to help create fully immersive experiences with my audiences.
Contact Info:

Image Credits
Courtney Birk, Ashleigh Coffelt.
Suggest a Story:
 VoyageLA is built on recommendations from the community; it's how we uncover hidden gems, so if you or someone you know deserves recognition please let us know 
here.