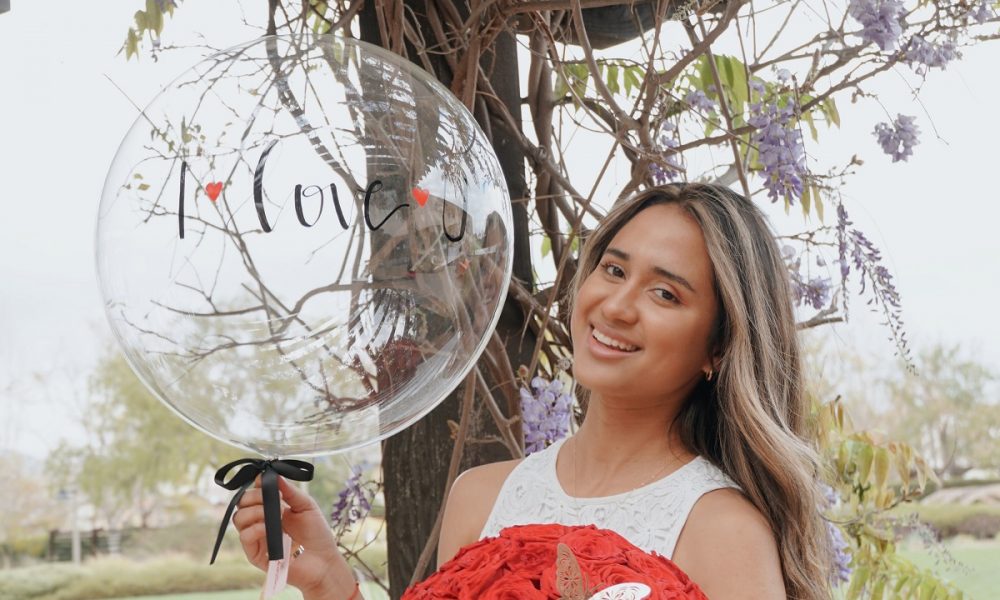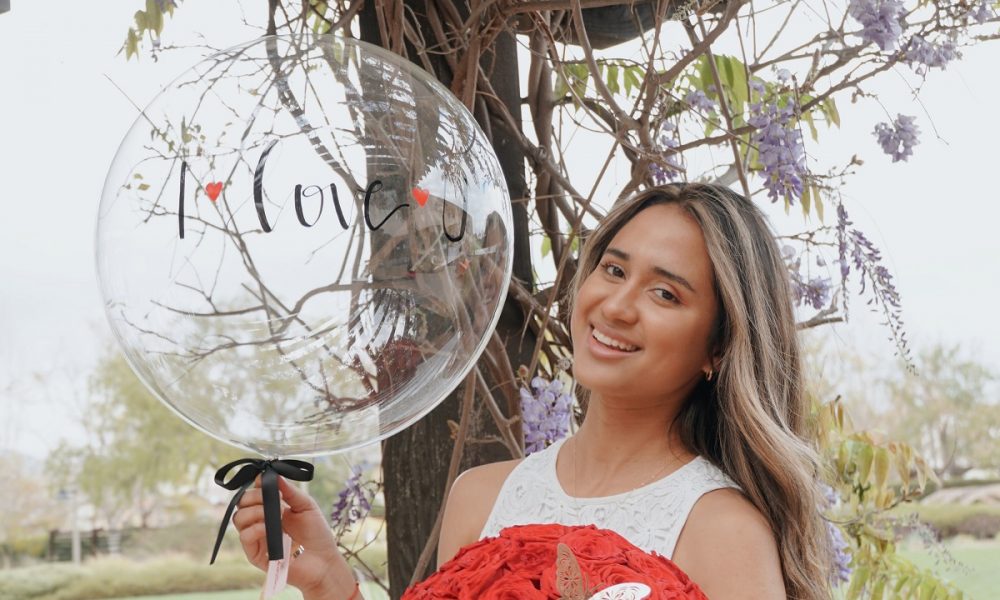 Today we'd like to introduce you to Jesymar Claro.
Hi Jesymar, thanks for joining us today. We'd love for you to start by introducing yourself.
My name is Jesymar Claro, but I love when people call me Jesy. I was born in Venezuela but I live in the city of Orange, California, US. I am 21 years old and I am currently a junior at The California State University of Fullerton pursuing a BFA on Graphic and Interactive Design. I am passionate about art in all its shapes, specially in music, so that I am taking classes to be a professional singer in the future.
Since I was young, it was a tradition for me and my cousins to give personalized handmade gifts to each other on our birthdays. Time passed, we grew and I moved out to the United States from Venezuela in 2016(I was 16 years old by the time). I had to adapt to a new life with a different language and traditions. One day, my mom told her friend that I could make a huge custom gift box for her daughter's birthday and for some reason, my mom saved all the videos and pictures of it.
Later, in 2020, after almost a year of babysitting an eight years old boy, I was asked to take vacations that later resulted in unemployment. I was not too worried because I have saved up for the worst case scenario, and I knew I would find something better that would adapt to my college schedule as well. After months of brainstorming and job searching, my mom, who is a Digital consultant, told me to publish those pictures that she once took of the box on Marketplace(Facebook) and offer those types of services. After almost a month of not getting a single response from anyone interested in my services, finally a lady wanted me to decorate a candy table with a Mexican theme for her husband's birthday. Because of my lack of knowledge on how to communicate with a customer, I remember giving my mom my phone so that the lady could say yes. The day came. Of course, my mom helped to set everything up. But although the lady was happy, I figured that decorating events like that type was not something I was interested in. At the time, I did not have a car. Instead, I would ride the bus everywhere! Besides, I did not like the part of investing time to contact vendors, create a budget and then having clients to either approve it or not. And I am not underestimating the job of event decorators or planners, but my reality did not allow me to do that type of job. I remember that a few days after, from the same posts from Marketplace, people would ask me if I had anything for Valentine's day, which I did not. But I immediately went online to find ideas for gifts that I could make. I knew the box that I was advertising originally (valued at $300 by the time )was too big( over 40 in tall) and demanded a lot of working hours. I needed something more commercial, easy to ship and carry. So I came up with the idea of making small box versions, about 4 by 4 in, still decorated with custom phrases, pictures and some candies.
Valentine's day came and I had about 15 different orders! (I even shipped some to San Diego and LA). I could not believe it!
Little by little, I was getting more clients with new ideas, for example balloons, then arrangements with artificial and real flowers and so forth. Life and clients have traced the path of Jesy Decorations.
After a few months, I opened my Instagram account. I remember even designing my first logo. But then, my uncle who is a professional graphic designer surprised me one day with a more commercial one. Nowadays, I have done classes, and because I have been improving my English (thanks to my boyfriend for being the best teacher) I have been able to offer my services in general to both the English and Spanish speaking communities.
I know the story is not over yet. When I started, I did not want anything else than to create gifts for people and make them feel good. Today, I want to impact the community, I want to teach them how custom gifts can change their life, I want to guide other colleagues that are starting and moreover, to prove that dreams can always come true with mindful work.
We all face challenges, but looking back would you describe it as a relatively smooth road?
I do not like the work struggle, I see everything as a lesson. Each "struggle" opens a new door for me. At the beginning, I was focused more on the quantity than the quality, so that for my first mother's day, I had really strong back pains and little monetary reward. Little by little, I have been able to educate myself with professionals to avoid those situations. When I started selling balloons, I would have to walk 30 minutes to the store to inflate the balloon and then come back home to personalize it. Sometimes, they would pop up. So imagine the time I would spend only picking up supplies. Thank goodness I was able to buy a car and do the entire process from home since I own the equipment. At that point, finding helium was more and more complicated. Helium is a non-renewable natural source. My best seller was the single helium customized balloon with confetti. So that led me to start creating arrangements with natural air balloons.
There is another aspect that not a lot of people understand about entrepreneurs. It is true that I don't work an 8-5 type of job, but I work even more. I shower thinking about JesyD, I eat thinking about JesyD, I even dream about it as well. And I have to be honest, sometimes I barely have time to keep connected with friends or family. I have lost a few friendships because of focussing too much on this and also the lack of empathy towards this project from other people. Still, I know this situation will not be forever, the first years are always the most challenging. I have to thank and recognize, on the other hand, family, friends and even instafriends for the support and love. Everything I do is because of me and them.
Another challenge has been building trust in people so that they value my work. Customized gifts are exclusive, unique. They are not something that you find at the store and that has both a spiritual and monetary value. The reality is that creating personalized and handmade gifts cannot be cheap, so I have had a lot of no's in the past due to the lack of empathy towards the industry. With time, I figured no's meant a new opportunity.
Appreciate you sharing that. What should we know about Jesy Decorations?
JesyDecorations is where I create everlasting moments through customized gifts for different occasions. I have three main categories: custom explosion boxes(with pictures, text, balloons, flowers, candies, personalized decoration and more), arrangements (mainly with balloons and flowers) and single customized helium balloons. I do not sell gifts, I sell emotions. Something I want to highlight from my culture is that we are not ashamed of expressing our feelings openly when giving something. It is more common for an American person to give a gift card on a birthday for example. And I do not undervalue that because there is still intention and time invested. However, my gifts have a part of myself and the person who receives them. Before designing, I take time to speak with the client and ask them questions so that the gift can be a representation of the person who will receive it.
One of the things that makes people remember me is the fact that I speak both English and Spanish on social media. My audience appreciates the fact that I serve both communities. For me speaking English is a way to say thank you for all the opportunities this country has given me. And Spanish is a way to never forget where I come from
JesyD has allowed me to help other people. It is satisfactory to see clients smiling because of my creations and how other colleagues improve their techniques thanks to my classes and tips. When I started, I never imagined the impact that this type of business can have among others.
I am unsure about the time at which this interview will be published but currently, I have the Halloween collection available. It consists of creative candy baskets with balloons and custom decoration for this spooky season. Besides this, I do have the recording of my last class: the" 2in1 Class: two arrangements, one technique" available to purchase and includes a PDF with information about materials, vendors and supplies.
And currently, I am working on my new class, where I will teach about cutting machines and how to create projects with them. Details will be announced shortly through my social media.
If you had to, what characteristic of yours would you give the most credit to?
I love watching podcasts and videos about people that I consider successful, and there is no single one that has made it without persistence. The other aspect is passion because when you are passionate, it is easy to be consistent. The last one is education, and I don't necessarily refer to a degree or master. Passion makes you ambitious; however, knowledge would bring your feet down to earth so there will be balance. Success is an uneven road but will prepare you for the most challenging circumstances.
Contact Info:

Image Credits:
Personal picture: Edward Valenzuela Picture of myself looking down at the balloon on the table: Amado Claro
Suggest a Story:
 VoyageLA is built on recommendations from the community; it's how we uncover hidden gems, so if you or someone you know deserves recognition please let us know 
here.