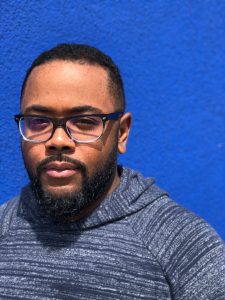 Today we'd like to introduce you to Razzaaq Boykin.
Hi Razzaaq, we'd love for you to start by introducing yourself.
I was born and raised in New York where grew up in Elmont, Long Island. My parents are first-generation college graduates who worked to make sure their children had a better life. My father is a semi – retired medical doctor who has a small family practice in his community of Jamaica, Queens. My mother is a retired educator. My older brothers were hardcore comic book collectors.
I looked at these comics just amazed by the artwork. I grew up in a house of music and movies. The first film that I loved was Conan the Barbarian but I was exposed to all kinds of movies and television. Whether animated or rated R, I consumed it all. The biggest influence however was anything science fiction. Everyone in my family loves Star Trek. The stories explored on Star Trek and Twilight Zone taught me to continually push the boundaries of my imagination, to always question and think outside the box. As a child I sketched, all the time. If I wasn't watching a movie, I was drawing. For elementary school career day, I wanted to be an animator. My biggest influences were Duck Tales, Batman the Animated Series and Disney's Gargoyles. Bottom line, everything around me was movies or cartoons. I attended the University of Michigan and majored in film. I took to the classes naturally and loved being exposed to classic movies. I loved learning about them and appreciating their influence on the larger world; I found my passion. Even a film that I shot in college, 'The Game of Death…Part II' received Honorable Mention at our department film festival. When I graduated in 2005, I returned home to New York where I PAed for six months before becoming a bank teller at Chase Bank for a year and a half.
One day, I woke up and decided that I didn't want to have a degree but never use it. I had larger aspirations for myself. It was that very day I put in my two weeks notice and quit my job. Within two weeks time, I packed my suitcases and move to Los Angeles…a week into the Writer's Strike. After six months of PAing, I landed a job at a Post Production company based in Culver City as a tape courier and quality control technician where I worked for three years. From there, I transitioned into a content operations position at TiVo (formerly Rovi Corporation) and ultimately landed at Sony Pictures where I was content provider for Eastern Europe for just under six years. In all that time, my eyes were always focused on pursuing my dream of being a director. Every day I spent working a day job, I remained motivated to develop scripts or teach myself the fundamentals of editing. I would be working and I'd say to myself 'Your time is gonna come, just keep going.' With the support of my wife, I realized that if I wanted to pursue my dreams, it required letting go of a life of security, take a risk and stepping out on faith. I'll always remember the day that I was accepted to AFI, March 15th, 2019.
Would you say it's been a smooth road, and if not what are some of the biggest challenges you've faced along the way?
Has it been a smooth road – not at all. I don't believe that the journey will ever be smooth, despite how much I would love it to be. I moved to California on my own apart from my family, my future wife and my entire network to pursue my dreams at 25. I slept on the floor of a friend's apartment in Culver City for six months and was driving a Chevy Cavalier that I bought off Craigslist because that's what had to happen. My first apartment was a single room in Encino with roaches and bed bugs. The two years spent there, I was reading comic books, learning to edit and P90x – this was one of the best times in my life. I recognized how much I'm willing to go through for my goals. At that time in 2008, I didn't have much, but I never was unemployed and I could pay my rent. I had everything I needed. The obstacles and challenges that I experienced taught me that everything that we go through has value. You may not know when it will come in handy but eventually it will. These experiences taught me that any obstacle has a solution. Challenges make us strong, they build our character. Which explains why every time there is a challenge on set, I say to myself 'God, I love this game'; I take every moment to appreciate that it is where I want to be and it's all I ever wanted. As Tom Hanks says in 'A League of Their Own', "It's supposed to be hard, if it wasn't hard everyone would do it. The hard…is what makes it great."
At AFI, I'm encountering a whole new set of challenges – becoming a fully formed artist. I grew up in a family of art appreciators, but not creators. The journey to get to this point in my life has been one of the hardest things I've experienced. Even now, some days are more challenging than others because my teachers and collaborators are continually pushing me to embrace my emotional vulnerability and understand that this is where my true strength resides. I wouldn't change this experience for anything. Every day I acknowledge how blessed I am. Blessed to have a wife, family and friends that support me 100% as I grow into a better human being to tell stories for audiences that both do and do not look like me. With everything going on in the world with COVID – 19 and the state of our country, I recognize that I have an obligation to use my art to inspire hope, as well as the next generation so that they can aspire to become more than where they come from. There isn't an obstacle that can stop you. As my mother always tells me, "Just keep going."
Can you tell our readers more about what you do and what you think sets you apart from others?
I am a Director that focuses on stories that are psychological thrillers and science fiction. I enjoy telling stories of dysfunctional characters that eventually have catharsis and healing. Stories that provoke audiences emotionally and feel they've just had an experience. By exploring dark themes, I believe we can understand the complexities of the human condition and relate to each other better.
Can you talk to us about how you think about risk?
I don't really see myself as a risk taker, rather someone that rolls with what's given; I'm comfortable being uncomfortable. I recognized while at Sony that to pursue your dreams, you have to step out on faith, and that is what I chose to do. Nothing is guaranteed in life, but everything is possible and for the taking. You have to manifest what you want and put it out into the universe; dream it, believe it, achieve it. We cannot control everything and at some point, we're going to have to let go and let things play out. If it doesn't work out, that's alright; as long as someone didn't die nothing was lost. As Yoda famously said, "Do or do not, there is no try." This world is full of too many people that are just 'talkers' and never do anything – I refuse to live my life that way. I have two experiences of taking big risks. First was when I quit Chase Bank and moved to LA without a job. The second was when I left Sony Pictures to attend AFI. My time there had run its course and I had to step into my purpose. Deep down, I probably wasn't afraid because I'm blessed to have a network that will pick me up when I fall. Ultimately I bear the responsibility of what I do with my life whether I succeed or fail. I choose to be happy so might as well do what I really want with my life.
Contact Info:
Suggest a Story:
 VoyageLA is built on recommendations from the community; it's how we uncover hidden gems, so if you or someone you know deserves recognition please let us know 
here.