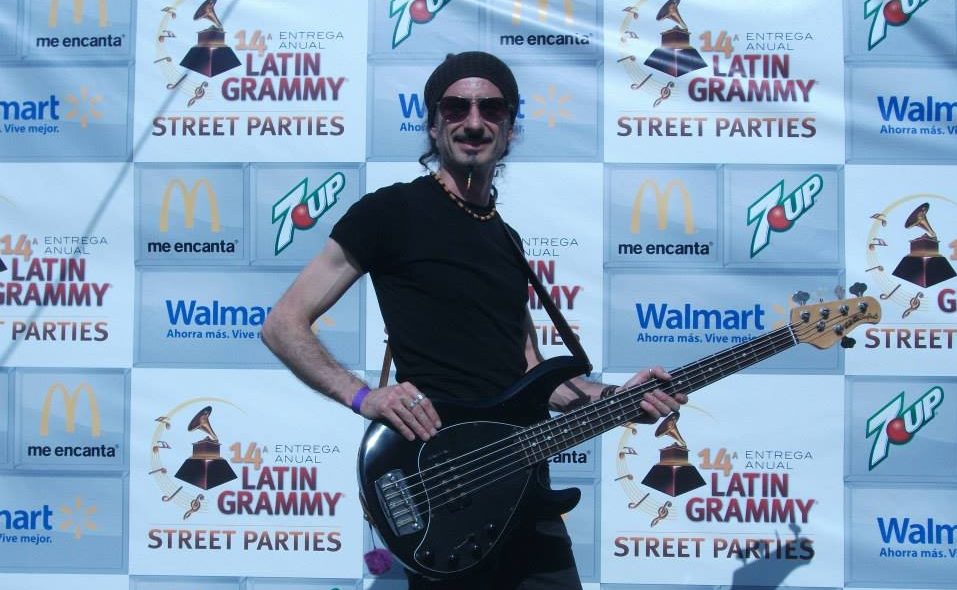 Today we'd like to introduce you to Daniele De Cario.
Hi Daniele, thanks for sharing your story with us. To start, maybe you can tell our readers some of your backstory.
I was born and raised in Napoli (Italy), a city among the most charming in the world, featuring an extraordinary cultural heritage. However, I have enjoyed my hometown not so much because my professional career as "globe trotter musician" started when I was very young. Napoli, my city, as it is, full of many contradictions, so rich of beauty and history, helped me develop a strong feeling for music at an early age. My first music instrument was piano. My passion for music has always been strong and I feel that it expands everyday more. I knew that through music, I could travel not just in my dreams, I also knew that through music I could meet people from different cultures, and so I could also evolve as a person as well as a musician. 
At 13 years old, besides my piano studies, I choose bass guitar as main instrument. In fact, I fell in love with its power of adding texture and soul to the music. Since then, I began playing and exploring different music genres like rock, pop, funk, jazz, electronic, orchestral. I went even deeper into world/ethnic music, focusing on Mediterranean, Middle Eastern, African, and Latin music. I experience that playing and absorbing different music genres gives me the knowledge to better express and compose my own music. And I believe that contamination and open mind makes a musician complete. At 15, I got my first paid gig! I have played recorded and toured France, Switzerland, Czech Republic, UK, Israel, South Africa, Namibia, Australia. I was very young when I played as part of a 54-piece orchestra on " Festival of Napoli" which was broadcast for Mediaset Italian television. During the years, I made other appearances, as bass player as well as bandleader, on Italian national televisions RAIUNO and RAI SAT. In 2002 I released my first album "Intorno a noi" (around us) which was followed by a tour in Italy and UK. Soon after, with my band "Elettrosimbiosi", I released the homonymous CD which was selected on "Demo Rai" radio show who broadcasted my song entitled "Su un filo di Pazzia"(on the thread of madness). 
The same song has seen its American version under the title "Lies and Flames" that you can listen to and watch the video at https://www.youtube.com/watch?v=GqJi-yPrWzI. During those years, I have collaborated, on stage and in studio, with national and international artists such as Evan Schoombie, Scott Alan, Albino Montisci, Michael W. Smith, Eddy Napoli, Benzina, Federico Salvatore, and many others. Maybe because I have recorded several albums or might be because the many television appearances, however I started to be noticed as a bass player and I got many requests as bass teacher from several music academies in Napoli. I have always enjoyed sharing my knowledge with those who want to get into the extraordinary journey of music through the low vibrations, so I was happy to teach. Few years later, I opened my Music Lab: "Laboratorio Zero dB"(Zero dB Lab) where I also worked as composer and producer for artists, bands, for theater shows and dance shows. Zero dB Lab is the place that opened me a way toward the business of music productions. Until that time, I wouldn't think about it. It was a success. I was busy and happy touring, producing and teaching. About 12 years ago, I went to Los Angeles for honeymoon and I had my first music experience in United States. It happened that my brother in law, who is also a musician, suggested me to participate to an audition. I did it just for fun, without any expectation. The band that I did the audition for was "Kelli & The Shadowmen", a country/blues band that, at that time, was in need of a bass player. They were impressed, as they said, by my energy, by my technique and by my rapidity in learning the songs. So I got the gig in the band. And I've got sponsored and I moved in Los Angeles. After one rehearsal only, my first U.S. experience began with "Kelli & The Shadowmen".
Since then, I have played with several other artists and bands such as: Alejandra Guzman, Alejandro Fernandez, David Bisbal, Ivan Cantante, Sami Beigi, Karmandan, Juanes, Diego Torres, Christopher Ukermann, Jenny Rivera, Christian Chavez, Anai, Diego Verdaguer, Jose' Nieves (RKM) & Kenny Vasquets (KEN-Y) Sofia Reyes, Reyli Barba, Ignacio Val, Fernanda Avedel, Norman Brown, Natalia Jimenez, Fey, Samo (Camila Band), Rana Mansour, Sepideh, 25band, Siavash Sham, Karmandan, Niaz Nawab, Rana Farhan, Leila Forouhar, Aristotle and many others. I have toured all United States (but Hawaii) and also Canada, playing at events such as Sturgis Festival, Sundance Festival, LGBT San Diego, LGBT Long Beach, Jimmy Kimmel Live Show, Cinco de Mayo (Univision), Telethon, ViVe Tu Musica With 5 Talent, Nowruz Festival, Nowruz Gala, Let Her Sing, Tirgan Festival, Tabestoon Festival, Latin Grammy's Street Parties, Persia Pelooza. I have also make television appearances as bassist for the house band for Univision, Estrella TV, Estudio2, Telemundo, BBC London, Monoto TV, Bravo TV. One night in October, in 2010, during an after show party at the Standard Hotel on Sunset, I've got involved in an exciting project that was born right there, right then. It was Low Pulse Project. Low Pulse Project is a collective of artists who convey their creativity and their talent to make music and art in general and to spread it worldwide.
With low Pulse Project, I have toured Italy and for Low Pulse Project, I have produced: Low Pulse Project|Reverse (single) you can listen to and watch the video at https://www.youtube.com/watch?v=Kp14FEcrkkk Low Pulse Project|Lies and Flames (single) Associazione Teatrale Raggio di Sole (Rome)|Rugantino (soundtrack) Associazione Teatrale Raggio di Sole (Rome)|Quei Figuri…(soundtrack) Aqquarela Band|Camaleoncistiko (album) Low Pulse Project|various artists (original video background music) Aristotle| Hurts All Over (single) Aristotle|Angel Of Soul (album) Tino and The Untuned Elephants|I Miei Primi 10 Passi (my first ten steps) (album) Gracon Productions|Blue Zones Projects (original video soundtrack) Napulitanamente Magazine| Napulitanamente (Jingle) Napulitanamente Magazine| Aug. 2020 Issue (original video soundtracks) Napulitanamente Magazine| March. 2021 Issue (video soundtracks).
Until 2019 I've been very busy touring, recording with various artists and bands and also I have made music production for other artists at Low Pulse Project. Due to the pandemic, we have all been forced to stay at home and I am taking advantage of staying home by focusing more on my next album that I want to release soon. I am currently working on an instrumental album entitled "Jumping on the Groove" in which there is the participation of international guests that I don't want anticipate yet. The only thing I can say is that this album embraces different music genres.
Can you talk to us a bit about the challenges and lessons you've learned along the way. Looking back would you say it's been easy or smooth in retrospect?
I am Neapolitan and I'm used to any kind of obstacle ;). I would say that this even amuses me. I have always been in touch with foreign musicians since I was a child so not even language has been an obstacle to me. About music, I am an open mind as producer and very versatile musician. This, supported by my music background helps me to live always a positive experience. Furthermore, the musicians I play with, the artists I produce and also my fans and friends always say that as a musician as well as a person, I send out good vibrations. They say I am a peaceful nice genius.
Appreciate you sharing that. What else should we know about what you do?
Producer, bassist, pianist, singer, music director, composer, songwriter.
What matters most to you? Why?
Life, health, love and good music always matter. About my music business in general, surely matters time and final result. Particularly as producer, what matters to me is "tailoring the perfect dress to any kind of naked song by enhancing its strengths while smoothing out its defects." As a musician matters music itself. Now what matters is live music that I really miss.
Contact Info:

Image Credits:
Low Pulse Project
Suggest a Story:
 VoyageLA is built on recommendations from the community; it's how we uncover hidden gems, so if you or someone you know deserves recognition please let us know 
here.