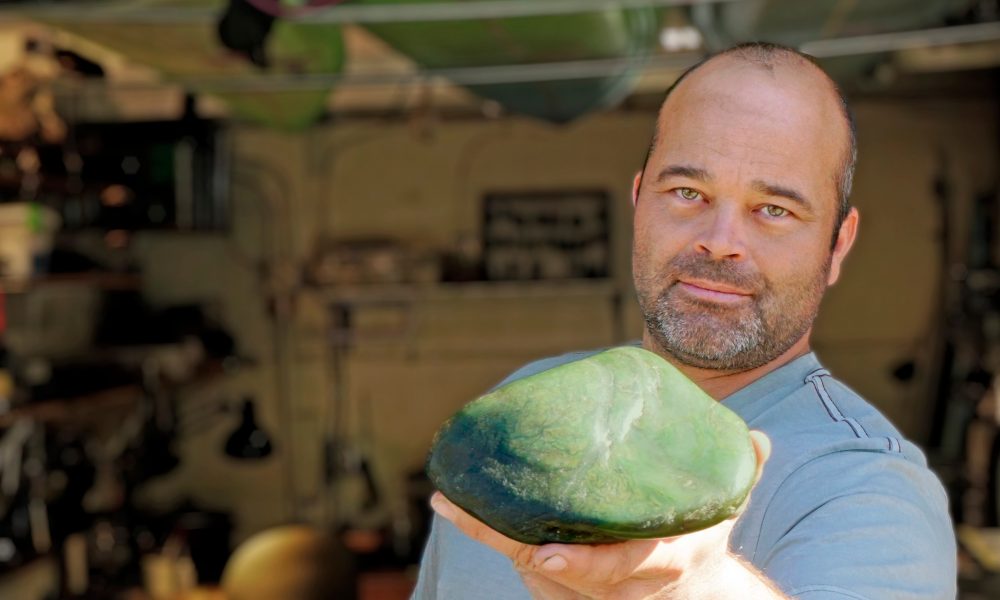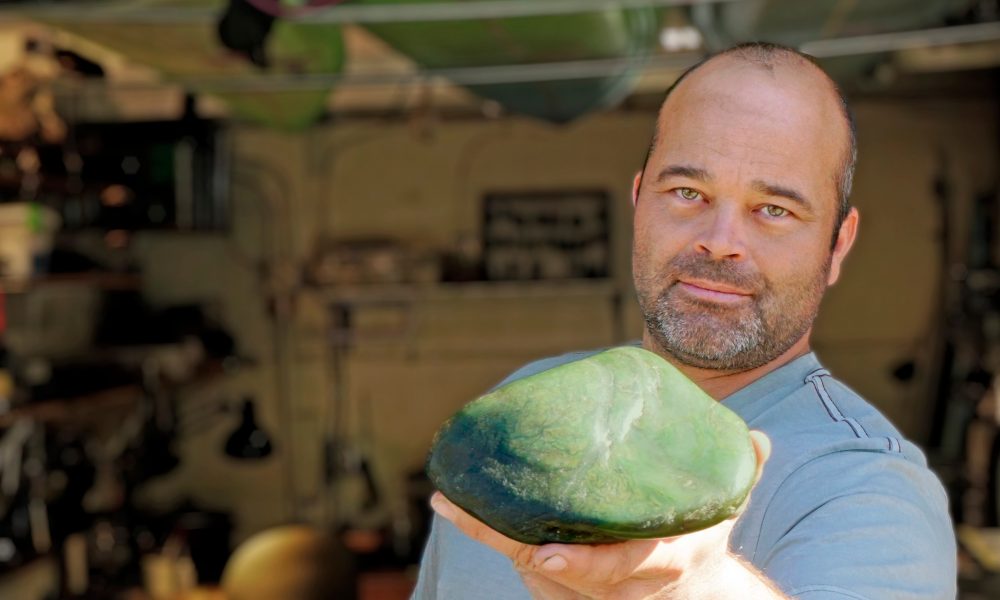 Can you briefly walk us through your story – how you started and how you got to where you are today. You can include as little or as much detail as you'd like.
My name is Justin Barrett.
For more than 20 years I have been a jade diver and jade carver on the Central Coast. I take pride in offering meticulously crafted one of a kind jade jewelry and sculpture.
As a boy I was always connected to the ocean and constantly collecting treasures from it. I enjoyed working with my hands, so making art from seashells and driftwood were commonplace for me. I was introduced to Big Sur jade by a family friend at a time when I was restless and lacking direction. They gave me some small scraps to attempt carving and took me to hunt for the stone in Big Sur, I found the challenges and discipline required by this medium to be rewarding in many ways . After finding my first small pieces that day, a seed was planted that would grow to become a life-long passion and lifestyle.
Living on the California Coast, I spent countess hours in the ocean surfing, exploring, and freediving which came naturally to me. Big Sur Jade being the only known under-sea jade deposit in the world, I became enamored with holding my breath to search the ocean floor for stones that had been flawlessly sculpted by nature. As my collection of stones grew, I started to realize that some of them would yield high quality material to use for my newfound interest in carving stone.
Jade carving, was an art form that was uncommon at the time, it was hard earned by trial and error, with little more than some old books and the odd grumbling from an old rockhound every so often. Mostly self-taught, this journey has presented many lessons in self exploration and given me the experience to reveal what I see in the stones. There is not much that makes me happier than seeing a person connect with a pair of my jade earrings or a sculptural pendant.
Through the years I have fallen more deeply in love with jade. As I furthered my passion for artistic expression and beautiful stones, I have had the opportunity to study with some of the worlds finest contemporary jade artists and source high quality jades from all over the world. I have also acquired jade mining claims in the Sierra foothills and offer rough stone from the claims and the Big Sur coast to other carvers and collectors, through my mining company Verdant Valley Mining Inc.
Due to current conditions, most of the galleries I work with are uncertain about their futures, so I am currently taking commissions and online orders through my website, social media and online stores.
Has it been a smooth road? If not, what were some of the struggles along the way?
Aside from the typical hurdles that an artist faces when starting out, Western jade carvers have been tasked with creating a culture and mentorship around their craft. Carving jade in California is a fairly recent endeavor unlike in other places such as New Zealand or Asia, where it has been engrained in the culture for centuries.
In addition to creating a diverse conversation about jade carving, the actual carving process is a challenging job. I have had to be fairly mechanically inclined, as there are no tools designed for contemporary stone carving. The traditional lapidary equipment that is on the market is very expensive and somewhat limiting. Therefore, fabrication and modification of the available resources are a must.
In the beginning, I fashioned my first rock saw out of a blower fan from a house furnace, pieces of a weight bench and a pile of nuts and bolts.
It was primitive but served its purpose, until I was able to upgrade to a more modern tool.
Ongoing environmental challenges of living in rural California and access to the coastal and rural jade areas include, being at the mercy of nature when it brings its own set of obstacles such as fires, landslides etc. The fire danger was especially present this year when I had to protect my home form the flames.
The current state of the economy due to the pandemic, in addition to the already inconsistent nature of selling art for a living, has me feeling a little uneasy. However I am hopeful for the future as the vibrant community and passionate culture around the stone have continued to support myself and the other local artists during this downturn.
We'd love to learn more about your work. What do you do, what do you specialize in, what are you known for, etc. What are you most proud of? What sets you apart from others?
I take pride in the fact that I am one of very few contemporary jade artists that dive in the Pacific Ocean for my material.
I specialize in creating one-of-a-kind hand made jade jewelry and wearable sculptures that are pursued by collectors.
One of the things that I am known for are my meticulously crafted jade carvings and earrings that are unique down to the signature hand-forged ear wires.
I operate a complete source-to-sale jade mining business. I offer ocean sculpted jade stones and rough carving material from my mining claims. Rough stones range in weight from one pound to several thousand pounds. That can be used for large scale production and sculpture or garden monuments.
What is something surprising that most people who know you or your work/brand might not know about you?
I guess you could say that something surprising about me is that I know my way around a kitchen. I like to forage for things like wild mushrooms and cook meals from what I have harvested for my friends.
Pricing:
Jade Earrings $100-$500
Jade Carvings – $100 and above
Jade Jewelry $50-$1000
Rough Stone $5-$500 per lb.
Contact Info:
Email: bsjade@gmail.com
Website: www.justinjade.com
Instagram: @just_in_jade & @verdantvalleymining
Phone: (831)-238-7122

Image Credits
Adrienne Gammiere
Suggest a Story:
 VoyageLA is built on recommendations from the community; it's how we uncover hidden gems, so if you or someone you know deserves recognition please let us know 
here.