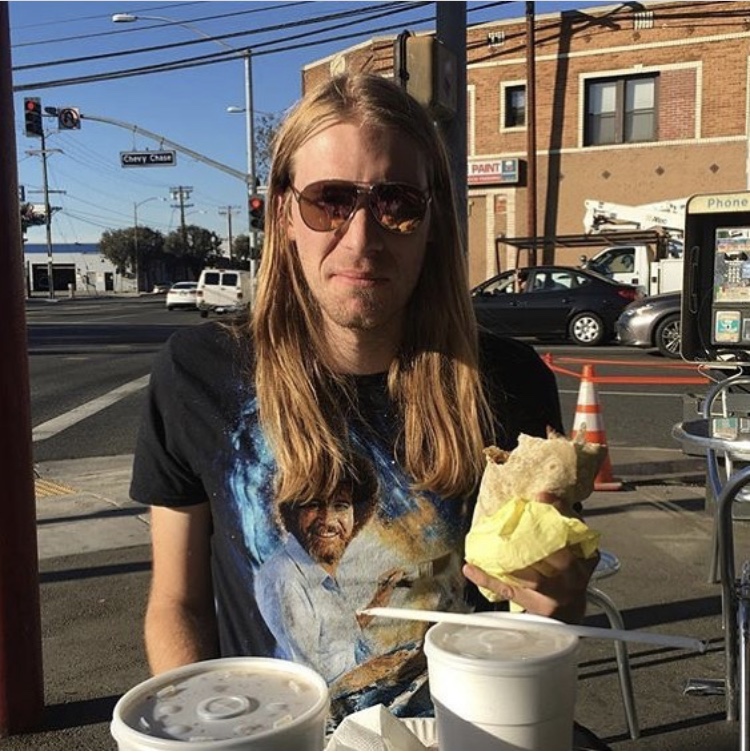 Today we'd like to introduce you to Jesse Davidson.
Jesse, we'd love to hear your story and how you got to where you are today both personally and as an artist.
I was born in the Antelope Valley area of Southern California in 1992. It's where I was raised and continue to reside. Throughout my entire life, I've always wanted to be some sort of performer/creative person. From middle school onward, I found two passions that have become my purpose for being on this planet. Music, first and foremost, and writing which is a close second.
Music has always been apart of my life since I can remember. My dad is a guitarist and his father was an upright bass player. Although, my grandfather passed before I was born, he was a working musician playing jazz standards in bars and lodges across SoCal back in the '40s and '50s. My dad was always practicing every day and sang all the time in the house. He would play every weekend in our church band and travel occasionally playing at various prisons including San Quentin and Folsom. Looking back on it, I guess it's in my blood.
Fast forward to my junior-senior of high school, I was introduced to my mentor and jumpstart to my career, Toby Francis. In the sound engineering world, he is a legend. He has mixed ZZ Top, Aerosmith, Guns and Roses, which only scratching the surface. It was like getting pulled out of the Matrix and getting introduced into what the music world actually is. After school, I would drive literally a minute down the road to his house, past the "Smokers Lane" where the stoners would be putting out their vibe. I would then enter a whole other world. He would tell stories, pass on wisdom and teach me valuable life lessons I still use today. He was the first person to show me a career in the music business would be realistically possible.
Due to his influence, I attended Antelope Valley College in the Commercial Music Program which gave me the foundation for who I am today. My career path and current friends began there. I started doing sound in a performance ensemble class called Test Flight. From there, I began doing sound at local punk shows at our local Moose Lodge through another mentor, Nate Dillion. I worked with bands like the UK Subs, Voodoo Glow Skulls, and The Garden as they were coming up. Most of my music professors were incredible mentors and we are still friends to this day.
 From there, I got hired at the Lancaster Performing Arts Center and became a stagehand getting to work with legendary acts like Willie Nelson, Chubby Checker, Jane Lynch, George Thorogood, Tower of Power and Alan Parsons. While working, I was also actively playing in usually 2-3 bands at a time. Ultimately, this led to me working for the Rock and Roll Fantasy Camp as tech, guitar teching for Last In Line and getting to work with some of my musical heroes from childhood. I must thank one of my other mentors Kevin "Dugie" Dugan for also being an incredible guiding force in my life for the last two years. The fact that an artist like Vinny Appice (Last In Line, DIO) who I saw live when I was 15, is now my boss is still mind-boggling to me.
My whole life has been a stepping stone one after the other. I can trace everything back to a few key decisions that changed my life. If I was not encouraged to attend my college auditions for a performance ensemble class, I wouldn't have the career or any of the friends I do today. It was only possible because other people believed in me more than I ever did. Nothing is more powerful than having a strong network of support at a young age. From my parents to wonderful college professors and having great people my life, I have had the courage and support to be who I am.

We'd love to hear more about your music. What do you do and why and what do you hope others will take away from your work?
It has taken me a long time to consider myself an artist. I've always been afraid of the pretentious associated that word. Even though I love performing, my role has never been front and center. Until this year, I always just considered myself a bass player/musician.
I consider it art that can change a tire. It is a functional art designed to support a bigger machine with periodic pockets to shine in. The foundation of any band starts with the drums followed by the bass. I'm inspired by the great rhythm sections in music: James Jameson with Motown, James Brown's backing band The JB's, Parliament-Funkadelic, Rage Against the Machine, Red Hot Chili Peppers, TOOL, Black Sabbath, Pantera, Iggy and the Stooges, and the list goes on. The transference of energy that happens when listening to those records or watching/attending a live performance is unrivaled. My goal is to channel the spirit of these greats and bring that to an audience.
As a person and with writing music in my band Rogue!, my goal is to live my life dedicated to art and to impact people the way that art and music has in my life. I'd like to be a position one day to be a sensei to someone. If I can help create something that can bring a person to tears or change someone's life, I've made it.
The stereotype of a starving artist scares away many potentially talented artists from pursuing art – any advice or thoughts about how to deal with the financial concerns an aspiring artist might be concerned about?
I can only speak from a band perspective because that's the only medium I've ever worked in.
Part of why I got into stagehand work is the flexible hours for musicians depending on who you work for. I can easily plan a tour and not worry about losing my job because of it. That is a huge blessing.
Finding a group of people who is willing to put their blood, sweat, tears and wallets together is crucial. That doesn't mean everyone has to be wealthy either. It will take some creativity but you'd be surprised what 4-5 people grouping there physical and mental resources can do.
Know a cousin with a van you can borrow? Ask him! Will your great aunt in Phoenix let you crash in her living room for the night on the way to El Paso? Do it! Thinking outside the box never hurts.
Don't be afraid to be uncomfortable: There will be moments that will challenge you. As I write this, I will have just finished driving from Portland straight back to LA from a short run with Rogue!. We left at 7:30 am and got back into the Antelope Valley at 1:30 am. Would I change any of it? No. Most of the defining moments of my career required me to step out of my comfort zone. With pursuing your dream, you'll stay up later and lose sleep. You'll probably put more money into making it happen then what you'll gain in the first few years. It can strain your personal relationships even with a very supportive partner. Somedays you will wake up and wonder what the hell you are doing with your life. Finding a way to calm your mind during the storms you will face. If you truly believe in your dream, do whatever it takes to make it happen without compromising your morals. Keep showing up.
Do you have any events or exhibitions coming up? Where would one go to see more of your work? How can people support you and your artwork?
Rogue! will be playing on November 23rd at MeowMeowz in Pasadena. We'll also be releasing our debut EP for streaming on December 13th and doing a physical EP release on January 5th.
I also have a weekly column in the Antelope Valley Press in the Showcase section. It is online every Friday.
@rogueexclaimationpoint on Instagram.
And @goforrogue on Facebook for more details.
Contact Info:
Image Credit:
Band shots are by Amy Bullock, the playing photo in color is by Christopher Ball, JW Adams, and the rest are courtesy photos
Suggest a story: VoyageLA is built on recommendations from the community; it's how we uncover hidden gems, so if you or someone you know deserves recognition please let us know here.