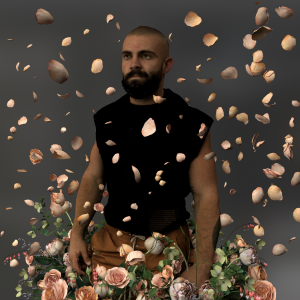 Today we'd like to introduce you to Enrique Agudo.
Enrique, we'd love to hear your story and how you got to where you are today both personally and as an artist.
I was born and raised in Madrid, Spain. Coming from a conservative background, I swiftly became attracted to art and fashion as a means to channel my creativity at a young age. At 17, I moved to London in the UK and began taking nighttime photography as a way to tell the stories of the club kids and performers I met in places like Boombox or Circus. I studied architecture at the Architectural Association and continued to develop art using photography and 3d Modelling as my program developed. My work in school always dealt with the narrative. Even in the practice of architecture, the work I developed always portrayed fictions drawn from research, and anthropological explorations in spatial forms. In 2012 I moved back to Spain to get sober, my life had become unmanagable and decided to halt the chaos and address my issues. I have been sober since.
In Spain, I developed a strong working relationship with Daniel Canogar, a New Media Artist who took me under his wing and taught me about the intertwining relationship between technology and art, which became central to my work. The tools I had used in architecture school I was now using for a much more artistic end, and the use of technology to produce artwork allowed me to further explore those anthropological narratives. After three years in Spain, I applied for a Master's program at SCIArc in Los Angeles and moved to California. At SCIArc I was able to hone in on mastering techniques that I hadn´t been able to tap into before, such as coding for visual production, animation, interactive installation or virtual reality. Having become much more proficient in skill, and has developed a strong sense of self through my sobriety, the subjects my work started to deal with became much more personal, and the relationship between my spirituality and my sexuality, the politics of personal identity and culture production and became central to my work.
I have been developing for the past year and a half a series called The Pantheon of Queer Mythology, a part virtual reality experience, part installation, printed artworks and media sculptures that are narrative capsules that represent Queer identities in contemporary culture, a window into what it means to be queer today while referencing the heritage left by Queer History. My work today frames these complex anthropological narratives of these subjects in the same way I portrayed those club kids when I was 17 in London.
We'd love to hear more about your art. What do you do and why and what do you hope others will take away from your work?
Whether it is through media sculptures, short animations or digital imagery, my work explores the relationship between technology and its impact on our perception, My work explores the limits of digital media. I make technological interventions in physical sculpture form, digital animation idents for cinematic or performative ends, and virtual reality orchestrations for the ultimate immersion into the narratives I develop.
Contemporary culture is infused with digital imagery, I focus on the pattern recognition of these digital indexes and shed light on how they affect the way we behave. This feedback loop is never ending and constantly evolving, we see the world through digital interfaces and by extension, that is how we unavoidably understand ourselves. Then, through speculative worldbuilding, I develop research-driven fictional narratives. I try to look through a technological lens at anthropological issues and develop allegoric representations of social trends.
My most recent work reflects on mythologies in contemporary culture. Understanding mythology as allegoric representations of societal norms, conflicts, structures and systems, I´ve tried to place my own identity in the context of these existing mythologies, and by doing so, I´ve attempted to develop new iterations to formalize new forms of societal norms such as gender identity, sexuality, race or broader intersectionality.
The stereotype of a starving artist scares away many potentially talented artists from pursuing art – any advice or thoughts about how to deal with the financial concerns an aspiring artist might be concerned about?
I have struggled to self-promote and ask for what I have wanted to achieve in the past, I have always thought that my art was a side hustle that if I were to show someone, I would feel inclined to apologize for the use of their time. I have slowly been making the effort to take less of an apologetic approach and begin rationalizing myself into logically placing value in the time, effort and resources I have put into making my work happen. That has come by me stopping myself from being self deprecating when talking about my work and addressing it in the same way as I would anybody else´, including masters that I admire. By doing so I have come to realize that the people that see my work take me far more seriously and place more value in my work than they have ever before because the way I address my work defines a great part of the way it is received.
Doing this has been a game changer because the commitment to my work has suddenly taken several steps forward because if you are talking about your work with the solemnity I mention, the goods better are there and speak for themselves. Therefore, when I speak to colleagues or potential investors or clients, rehearsals to avoid undervaluing the work have turned into me genuinely believing the work I make is of value, and, although I keep a critical eye and a sense of humor turned on, addressing my work more seriously has opened more financial (and other) opportunities.
Do you have any events or exhibitions coming up? Where would one go to see more of your work? How can people support you and your artwork?
www.enriqueagudo.com is my website. I am developing a solo show for mid 2020 with POP Fine Art LA that is expected to show in LA, New York and a few places to be confirmed in Europe. You can follow me @enagudo to stay tuned!
Contact Info:

Image Credit:
Enrique Agudo – The Pantheon of Queer Mythology – 2020
Suggest a story:VoyageLA is built on recommendations from the community; it's how we uncover hidden gems, so if you or someone you know deserves recognition please let us know here.