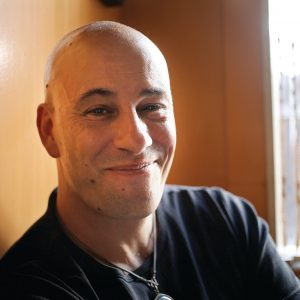 Today we'd like to introduce you to Edem Elesh.
Hi Edem, please kick things off for us with an introduction to yourself and your story.
I am a Los Angeles native, surfer, locally and internationally known artist, designer (56design), musician, and father. I was raised in Los Feliz, schooled under the Shakespeare Bridge (then Midtown school), and at the age of eight, I was shipped off to boarding school in Great Britain.
The schools I attended there were Lockers Park and Harrow. Holidays were spent with my lifelong friend Ron Russell (from my Los Feliz kindergarten/Midtown years) at the then private Topanga beach. Here is where I learned to surf. I came home to California after my ten years abroad and studied briefly at UCSD and UCI. I next moved up to Newport Beach to pursue my music career. I had friends there who had been members of my music projects while in San Diego. As a feather, it is worth mentioning that my band at that time, Landscape of Sound, was practically a house band at the now vanished but historic Golden Bear in Huntington Beach. After this, around 1984, I formed a new music project called Drowning Pool Music. My professional art career began as a supporting role to my music. Starting in 1984. while my band Drowning Pool Music was enjoying some significant critical musical success in Los Angeles (opening for acts such as The Fall and Cocteau Twins), my cassette artwork was also being featured repeatedly in the music magazines of Los Angeles, such as the prestigious Option Magazine. This exposure, both visually and aurally, garnered interest in us by the respected Independent Project Records (located in the historic Nate Starkman & Son building on 6th and Mateo). Thus began a partnership with IPR head Bruce Licher which continues to this day.
Most importantly, my fascination with pop culture iconography, and visuals as metaphor, was sparked. But soon, feeling more creativiely rewarded by my cover and poster art interpretations of music than the music business itself, I applied to Art Center College of Design and was accepted in 1991. The impact of Art Center on my then turbulent life can not be understated. I had found home. After graduating with a Bachelor of Arts with Distinction in 1995, my first footsteps in the art world were taken as an illustrator. My work was featured in many publications, and in 1998 I was awarded a Gold Medal by the Society of Illustrators, Los Angeles. Importantly, this path was to prove a stepping stone in my shifting of focus to Fine Art, where I found one's individual voice could be better heard. I had been busy experimenting with my fine art since my graduation and was becoming increasingly inspired by the creative possibilities this field presented. In 1997, I was offered my first show in a postumous exhibition of Keith Haring's work at the Kantor Gallery in West Hollywood. This led to several shows in the West Hollywood and Venice areas and resulted in my being introduced to Don O'Melveny's Gallery in 1999. My first group show exhibit with the Don O'Melveny Gallery came in 2000.
Due to its success, I was offered my first solo show in 2001. What followed was a five years partnership with the Don O'Melveny Gallery (and through Don, I was to meet Gloria Delson and Petra Wright of Gloria Delson Contemporary Art, but more about that later). Through these shows, I became great friends with Stephen Robert Johns, a Modernist painter, who then introduced me to Lydia Takeshita of LA Artcore in Little Tokyo. Lydia was very excited about my work, and in 2006 awarded me my first solo exhibition with her. This was to be a pivotal point in my art career as not only did I exhibit in numerous group and solo shows thereafter, but in 2008 I was offered a chance to be part of my first International Art Exchange with Japanese artists in Fukuoka Japan. This honor resulted in expanding my artistic vision beyond the cultural and physical horizons of my journey in the Los Angeles art scene. My eyes were opened to the possibilities of creating art that would resonate globally. What was to follow was the germination of a lasting friendship (and his championing of my art) with Thai National Artist Dr Kamol Tassananchalee. I had met Dr Kamol in 2009 at an LA Artcore Exhibit and was intrigued to find out it was he and Lydia who had begun the concept of International Exchange Shows back in the late 1980s. I was subsequently invited by him and Lydia to my first Thailand/LA Artcore International Exchange and Workshop in Bangkok in 2010. What was truly fascinating about this exchange was the Workshop aspect of it; I was introduced to the concept of creating art, in a given space and with limited time, alongside other international artists, and leaving the created art as barter/currency to cover the expenses of the trip. The in situ created art ending up in the prestigious collections of the organizations sponsoring the Workshops. A true interaction of art, commerce, and culture. My role as Art Ambassador had begun.
As a direct result of these exchanges, I was celebrating life, creating art, and sharing cultural insights with numerous artists from around the globe. These interactions bore fruit in the form of ongoing invitations to exhibit and work in their individual countries. Thus far, my art has taken me to not only Japan and Thailand (where I have been exhibiting for over ten years in numerous art events), but to Communist China and Vietnam, where I discovered that despite political differences imposed on us by governmental agencies, we are, and remain, individual human beings creating art as a universal language that transcends media spawned divisionary dialog, regardless of the country of destination. Further, I have had the honor of participating in 3 Asian Art Biennales in Bangladesh, where I was offered the role of Source Curator, and experienced the true hospitality of these wonderful organizers, whose generosity and culture has left its mark on me to this day. Recently, and again, as a direct result of my association with LA Artcore and other international artists, I have become very close friends with Carla Viperelli, a monumental and influential Italian artist.
In 2018, Carla invited me to Italy to exhibit in her stunning home town of Maratea and to participate as the first invited American artist to an exclusive workshop in Montemurro in Graffito Art. Graffito Art is a process of working in wet cement, an art form particular to the region, and employing the uniquely fine sand found around the town of Montemurro. This was not only a chance to enjoy a complimentary residency in a most picturesque hilltop Southern Italian town but to work in a completely new medium. The experience was thrilling and resulted in my piece being permanently installed in the town square; the social hub of the town. Carla has continued to invite me to Italy to participate in three workshops in various regions, but due to the current Covid paradigm, these events, due to travel restrictions, sadly remain uncertain. As a footnote to these travels, alongside Carla, and other international artists I was instrumental in selecting as Board Member of LA Artcore, I am truly fortunate to say I was a proud participant in the last (and to me the best to date) LA Artcore/Thailand Exchange and Workshop in February 2020. We were all lucky to have celebrated the events together and were able to return to our home countries just prior to the global lockdowns. To this day, I am still represented by LA Artcore, though our beloved Director Lydia Takeshita passed away in 2019, and where I served as a Board Member, on her behest, from 2019 to 2020.
I am honored to have helped in arranging her most fitting Memorial in 2019, alongside beloved colleagues of many years standing. This was a true example of, in part, giving back to her for all the years of support she offered me and my art. I am also currently represented by Petra Wright of Gloria Delson Contemporary Arts in Downtown Los Angeles. Petra has given my Fine Art an ongoing port, and it is a privilege and honor to be part of her stable. Through Petra, I was offered the role of Board Member of the IAA/USA (International Association of Artists) Chapter of the International Organization IAA, a position which I currently hold. My design business, 56design.com, continues to draw fantastic clients from all fields. There are so many people who have played a crucial role in my ongoing art career and getting me to where I am now. To all, I offer my most profound gratitude. I truly walk, in the words of Joseph Campbell, a Path of Bliss. I continue to create art in many forms, including music composition under the moniker KinderCrowdControl. With the advent of digital recording, I am now able to compose music as I create art; whenever and wherever the spirit takes me, without the need of initial physical collaboration or investing in expensive studio time. Music requires no physical space to exist.
As we are moved into a new paradigm of ongoing isolation and travel bans, though physical geographical movement is prohibited, I carry with me the many experiences and lessons learned as a lucky international artbassador; an artist, and man, who has come to know the crucial importance of celebrating physical human interaction, and cultural exchange, with others. I have come to realize that through the universal language of art, we can create a better world of universal understanding and global community. Together we perform our individual roles in the ongoing play of transcending the illusions of geographical and political boundaries. After all, our art is our humanity passport. I continue to surf as often as I can and have had the privilege of knowing several venerables names in the LA surf community. I spent many Topanga mornings surfing with Ron Jay, of Dog Town fame, before he passed away; had boards built by the master of surf craft Scott Anderson, who also recently passed away; have continued dialogs with Skip Engblom, also of Dog Town fame; surfed with Andy Moses, the great artist; and Stephen Robert Johns who remains a steadfast art and surf friend to this day. My love to all in my life, especially Louise. I dedicate this article to my beloved son Griffen who has taught me patience, the ability to listen and, above all, gratitude and humility. It's all about attitude, and despite the current paradigm, I find my glass is indeed more than half full.
We all face challenges, but looking back would you describe it as a relatively smooth road?
I have said in the past that "art comes to me". Whenever I create my Fine Art, luck knocks on the door. My biggest obstacle has always been myself. Understanding my unique situation, and acting on it, is all I ever need. Belief in oneself is crucial. The poem by Rudyard Kipling "If" comes to mind. All energies spent doing "what you're meant to/what you love" are always rewarded. I constantly have to remind myself of this.
Thanks – so what else should our readers know about your work and what you're currently focused on?
I am known for creating very unique and original art. "Like no other" I am always told. This includes my music. It's quite hard to explain, but I've found that I know when an artwork is "right". It hits me "behind my eyes". I've also found that my work is in many ways prophetic. For instance, I have pieces that are now more pertinent to our times and the current zeitgeist than when I created them. Some are over ten years old! I know in my heart that I am "meant to be" doing what I do. I've always felt a calling to the arts. It's the path that is lighted for me. When I walk it with confidence, life smiles. I am most proud of being recognized by my peers. Nothing that I keep I am uncertain about. If and when a piece ceases to "speak to me", I re-purpose it. I am currently doing that now. But nevertheless, per my statements above, some pieces are "waiting for their time". Luckily the media I use on my paintings, oil, tar, and aluminum, are hardy and I am able to rework the pieces into my current state of mind/zeitgeist or concept. In other words, much of what I do "comes to me"; it's then only a matter of me recognizing what I have created for what it is and what it's saying.
Also, my pieces speak to people differently; everybody takes from them something from their personal experiences. This also the beauty of visual art. Music has different qualifiers. With the current technology of home recording, I am able to create when the spirit takes me. I can sketch recordings and ideas, then share these with my music partner of 30+ years, Brett Smith. I am only limited by my technical knowledge of the software need to create music. But every piece teaches me more, and my ears become more refined. I am not limited by the marketplace but am always aware of what's current. I do not need to earn an income from music, but I'm always ready for that too! I guess you can say I am free-ish from the restraints of the music business and can create music (always with an enjoyable listening experience in mind) that satisfies me and my music partner first and foremost. Plus, in the new social distancing paradigm, music can travel the airwaves unrestricted. Everything that I do now is part of my art.
Where we are in life is often partly because of others. Who/what else deserves credit for how your story turned out?
My mom and dad for sending me to school in Great Britain. They worked so hard to afford this. An invaluable experience for me and my brother. It has truly helped shape who I am and my arts today. We are our history. Brett Smith, music partner in many bands, including our current KinderCrowdControl, and friend of 41 years. Our music continues to grow. Our biggest success, despite the ones on paper, is creating our unique music and pushing our boundaries without music business constraints. i.e., current marketplace, etc. Roland Young, a mentor at Art Center College of Design, who urged me to keep making my music. It was my music artwork, covers, etc., that got me into Art Center in the first place. Bruce Licher, of Bruce Licher Art & Design and Independent Project Records for his support of my music through the years. Ron Jay who inspired me to keep surfing and pushing my abilities. David Pu'u, unparalled surf photographer, who gave me the "hand off" to Scott Hulet of The Surfer's Journal and to Scott Hulet and Jeff Divine of The Surfer's Journal for bumping my art feature in their magazine to the front of the line. Very proud of this.
Vadim Grinberg, great Russian artist, who introduced me to Don O'Melveny. Don O'Melveny who believed in my art and gave me my first "Home" in the L.A. art scene as a represented artist. Stephen Robert Johns, my art and surfing friend, who introduced me to Lydia Takeshita of LA Artcore. Lydia Takeshita, LA Artcore Director, who gave me my next "port" after Don O'Melveny closed his doors in 2005. She awarded me innumerable shows and introduced me to the International Exchange and Workshop programs in 2008-2020. Words can not suffice in saying what I owe her. She changed my life in so many ways. Dr Kamol Tassananchalee, Thai National Artist, friend of Lydia Takeshita, who believed in me and my art enough to constantly make sure I was on the list for Thailand Exchanges and Workshops. Wattanotchot Tungateja, right-hand man of Dr Kamol and fantastic artist, who made sure to invite me to many events in Thailand and globally. Dac Dao, Vietnamese artist and Curator who invited me to Vietnam. Li Yushi, Chinese artist and Curator, who invited me to China on several occasions.
Mehmud Al Bashar, Curator of the Asian Art Biennales, Bangladesh for my repeated invitations to his events and friendship since 2016. Shinmin Katsu, great Japanese artist and Curator, for repeated invitations to participate in art events in Japan. Poh Chang University in Thailand, and the event organizers thereof (Banlu, Yok, etc.), for repeatedly inviting me to Workshops at their prestigious University in Bangkok and hosting me; I send profound love and thanks to them. I miss these events and the Chao Phraya River so much. Gloria Delson and Petra Wright of Gloria Delson Contemporary Arts, for representing me since 2005, and also for Petra's ongoing confidence in me as an artist and Board Member of the IAA/USA. PTP Marketing for employing my design skills for 20+ years- the best client one could ask for. Patti Marshall for the same, and being a supporter of my fine art to boot. Sandra Ban, great Croatian artist who not only adds her brilliant vocal musings to KinderCrowdControl's music but also for inviting me for a residency in Croatia in 2020. She is a star. Carla Viperelli, fantastic and important Italian artist, who hosted me for a show and Residency in Italy in 2018. We have become wonderful family. Also, to thank her for her ongoing invitations to Workshops in Italy in the future, despite travel restrictions.
All my collectors, too many to name, who have supported my art over the years. To all my artist friends the world over for their presence in my life and influence on my art. Pfundt, my cat, for all the years of companionship. My brother Hugh for keeping me company and grounded. My son Griffen for his love, feedback, support, and teaching me patience and humility. Ron Russell for his lifelong friendship; truly "my brother from another mother". Carlos Guitarlos and Cheryl who foster my cats while I travel; the best neighbors you could ask for. Louise for her love. To all, I send my profound and heartfelt thanks and love. If I have failed to thank you here, please forgive me. Wouldn't be here without you.
Contact Info:
Suggest a Story:
 VoyageLA is built on recommendations from the community; it's how we uncover hidden gems, so if you or someone you know deserves recognition please let us know 
here.