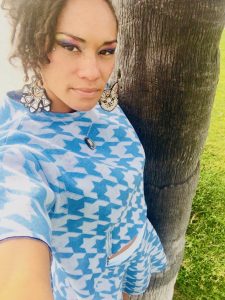 Today we'd like to introduce you to Alicia Piller.
Alicia, please kick things off for us by telling us about yourself and your journey so far.
At the moment, I am finishing my MFA (Art) at Calarts. The journey to get to this moment: I lived in Brooklyn, NY for 10 years making smaller works of art while designing within the fashion world. Then moving west, I lived in Santa Fe, NM for three years. There I began to refine my voice materially while naturally progressing into larger scale works.
Born and raised in Chicago, IL by my African-American mother and Jewish-American father, I definitely grew up with an expanded world view. Not to mention that I started working part-time as a clown with my mother at a very young age while my father was in medical school. This foundation led me to study not only art (painting) but anthropology in undergrad at Rutgers. My passion for learning about human culture and nature has brought me to over twenty countries in 19 years, collecting objects and ideas.
Can you give our readers some background on your art?
Mimicking forms of cellular biology as a method to locate the root of human histories; my mixed media practice is as much about materiality as it is about content. Over the past 14 years, I have engaged in obsessive experimentation; allowing my former painting and 'functional' art practices to fade out and fold into current sculptural ad installation work. This absorption of practices is at the heart of my distinctive language with material. Enveloping biomorphic forms expand out to create singular systems; the construction of each work becoming a biological unfolding of time. Using this distinct language, I begin to actualize the unseen energy around an object or event; most recently examining the 'wounds' left by historical traumas.
I work on a macro/micro level, manipulating unconventional and often marginalized materials (human teeth, latex balloon, found objects, etc.). Questioning the current state of our times, I look back to history and the capitalist economic system responsible for where humanity is today. Further exploring these ideas and my own implication within that history, I have begun to use my own body (and others) to activate a sculptural work; documenting these moments with digital photography and video.
What would you recommend to an artist new to the city, or to art, in terms of meeting and connecting with other artists and creatives?
Rather than just going to an art opening and hoping for the best, be more decisive, choose some aspect of art that really excites you and pick a public program (a reading/lecture at the Hammer or a more hands-on activity at the Women's Center for Creative work, etc.). I feel like that could be a great start to finding your people.
What's the best way for someone to check out your work and provide support?
Currently: I have a smaller work in the show, MICROCOSM at Form and Concept Gallery in Santa Fe, NM (Nov 30-Dec 31 2018). **My next BIG Solo Show: MFA Thesis, April 7-13 2019 at CalArts (L-shape Gallery) Remnants of my old jewelry design life still for sale: https://www.etsy.com/shop/DesignsByAliciaP.
Contact Info:
 Image Credit:
(ALL work from 2018)
ROW 1: Both images are progress shoots of my Spring Thesis show. (Alicia Piller Photo credit)
ROW2: (left to right)
*Monumental Loss (DETAIL), 84" X 35" X 111"
Mixed Media: (Vinyl, latex balloons, leather, photos on paper, enamel, welded steel, fabric, plastic straws, glass, broken pipe) (Alicia Piller Photo credit)
*Extinctions (DETAIL), 65" X 44" X 44"
Mixed Media (Vinyl, wooden colonial gun (replica), real sharks mouth, real and fake human teeth, latex balloons, leather, resin slag, watercolor, acrylic). (Alicia Piller Photo credit)
ROW 3: (left to right)
* 'Its Our Political Circus' (DETAIL), 8.5ft x 7ft x 3ft
Mixed Media (Vinyl, latex balloons, leather, vintage cake decorations, recycled green screen, world maps, chain, photographs (destruction of a previous work: 'The Golden Cage'). (Alicia Piller Photo credit)
*Indirect Victim. Rape.Culture
Photo series of the sculpture 'Rape.Culture', 44" X 50" X 83"
Mixed Media (wood, latex balloons, canvas, vinyl, photos of my prom Dress circa 2000: 'Sexy Native-American' style) (Alicia Piller Photo credit)
ROW 4: (left to right)
*Colonial Panspermia (Formation 3)
Photo series of the sculpture Colonial Panspermia (Formation 1)
58" X 22" X 38", latex balloons, vinyl. (photographer: Bradley Thompson)
*BIRTH of the Rac_es_ist (installation), 20' X 7.5' X 15'
Mixed media (oil paint, latex balloons, steel) (Alicia Piller Photo credit)
Getting in touch: VoyageLA is built on recommendations from the community; it's how we uncover hidden gems, so if you know someone who deserves recognition please let us know here.