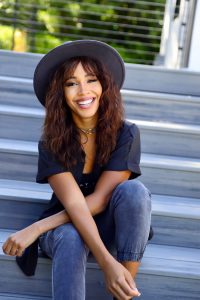 Today we'd like to introduce you to Kara Duncan.
Hi Kara, thanks for sharing your story with us. To start, maybe you can tell our readers some of your backstory.
Originally from Toronto, Canada, I started dancing competitively at age four after watching my sister at the dance studio. I am trained in Ballet, Tap, Jazz, Lyrical, Moden, Contemporary, Hip-Hop and Acrobatics. I wasn't very good technically at first but I was always a performer and I loved performing on stage and I always attracted the audience's attention. I trained hard to hone my craft taking every dance exam and workshop possible and my technique was soon developed to the point where I was receiving various scholarships to dance camps in Canada and the USA. I always had a knack for theatrics and had good comedic timing. I then became known for my stage presence. Because of this parents put me in Musical Theatre. At 10-years old, I got signed with an agent that saw me performing. I did commercials and guest-starred in TV sitcoms all while still dancing competitively throughout high school. Between acting, dancing and singing, Let's just say my social life was close to non-existent. But my passion for performing never felt like work and always felt rewarding.
After I graduated from high school, I wanted to go straight to New York City to begin auditioning for Broadway shows. However, my parents insisted that I get a University degree. So I went to Ryerson University in Toronto and majored in Theatre Dance. In my last year of school, I started making frequent trips to New York City on the Megabus to begin auditioning for musicals. I remember taking a 12-hour bus ride, getting off the bus to go and audition and leave the next morning back to Toronto. I would do this often when I saw there were open calls I was right for. The moment I graduated, I immediately moved to New York City to pursue musical theatre. I was there for eight months before booking the international tour of West Side Story! It was a New York production that toured Europe. For a year, we traveled to Germany: Berlin, Hamburg, Cologne, Leipzig, Essen and also lived in Paris for five months. The production was an amazing experience and one I will never forget. To be able to work and travel is one of my favorite things to do. After I finished the tour, I shipped my things from my New York Apartment to sunny California where I wanted to continue with TV and Film. It was a struggle in the beginning dealing with immigration process and things that were out of my control. But I continued to keep my goals in mind and stayed positive. I also choreographed and taught at a dance studio in Woodland Hills while continuing to pursue my acting. Choreographing and training at the dance studio not only kept me busy when it was slow but also kept me artistically fulfilled. The students and the owners are like family to me and I enjoy seeing the progress of students and young performers and giving back the knowledge I learnt when I was their age.
In the beginning of my LA journey, It took a lot of countless auditions, networking, callbacks, sleepless nights, personal trials and tribulations, lots of adversity. But I always remembered why that little girl loved what she did. She was a performer and loved to create. So it took some time but I now have a great team working with me with the same vision and goals I have set for myself. I signed with a great theatrical and commercial agency along with a manager. My commercial bookings started increasing dramatically which kept me very busy.  I was shooting about 2-3 commercials a month. Some of my TV/FILM credits include: "Young and the Restless", "Full Out" on Netflix and I also performed in Mamma Mia at the Hollywood Bowl.  Most recently you can catch me on "Christmas on 5th Avenue " which is currently airing on UPTV and Vizio in the U.S and on Superchannel in Canada Dec 23rd 2021.  "Candy Cane Candidate" on Lifetime TV airing Dec. 20th, 2021. You can also find me guest-starring on "Letterkenny" on December 26th, 2021 on Hulu.  I am playing a recurring role on the new FOX comedy "Pivoting" airing January 9th, 2022! I also just wrapped a romantic comedy called For the Love of Pasta that will be airing next spring.  It's been a journey but there is still so much more to strive for. I will continue to work hard and be open to opportunities that allow me to stretch my skills and show my versatility. For there is more work to be done, but I am enjoying the ride.
I'm sure you wouldn't say it's been obstacle free, but so far would you say the journey have been a fairly smooth road?
It most certainly has not been a smooth ride. I was faced with a ton of adversity. Being a Canadian citizen not only was the immigration process difficult as there was a period where I couldn't work until I received my permanent resident card. I also am the only person in my family that lives in the West Coast. So I had to sacrifice a lot for my dreams and goals. I had to sacrifice not seeing or spending time with my family, not watching my nephews grow up, missing out on birthdays, holidays or special occasions. My family and I are extremely close and not having them physically there was a challenge. But they have constantly been a great support system and continue to encourage me in all my endeavors. I also had to learn that life is not a race but a journey. To be in the moment and to trust the process and the timing of everything that life will unfold. I feel like we as humans set such a high expectation for ourselves where we expect our careers and/or life to be a certain way at a specific time or age. However, that is not realistic. While we are focusing on where we "think" we should be, we are missing out on where we currently are. And relishing in all the progress, we have made thus far. We are not being in the moment but rather focused on the thought of what we perceive to be a "failure" if you have not reached your goal YET. I say yet because it will always happen with perseverance, hard work, passion and dedication. We just have to trust the timing. So while you're aiming for whatever goals and ambition you have set, remember to enjoy the in between moments because thats where the magic happens. Stay in the present, stay humble and stay grounded.
Thanks – so what else should our readers know about your work and what you're currently focused on?
I specialize and am known for Acting, Dancing and Singing.  But currently focused on TV/FILM work. I have done hundreds of national commercials such as: Apple, Verizon, Toyota, Nike, Adidas, Panera Bread to name a few. I also toured with the International production of West Side Story all across Europe. I am guest starred and starred in numerous TV shows and Movies such as "Young and the Restless", "Pivoting" (a new comedy series coming out January 9th, 2022 on Fox where I play the recurring role of Tanzy), Candy Cane Candidate on Lifetime (Dec 23rd, 2021) Letterkenny (Hulu Dec, 26th 2021) Christmas on 5th ave (UpTv Dec 21st 2021) and just wrapped a Hallmark movie called For the Love of Pasta). I have always been a triple threat but have also had a business mind.  I am aware of the importance of looking for opportunities that you are not only passionate about but that could also align with your career to broaden your mindset.  Therefore, I have not only started writing a feature film along with other pilots, but I am in the process of starting my own activewear clothing line called Kikiwear.  Starting my own business is something I have always wanted to do and his venture aligns well with my extensive background in dance.  I  have always practically lived in activewear. So this was definitely something I am knowledgeable about.  Kikiwear's mission statement is: with these clothes, you should feel comfortable, powerful and confident. She's graceful, she's beautiful, she's elegant and spicy. She can soar far and conquer whatever she has her mindset on. She'd every woman and every girl majestically soaring through this world. She's you. An undefinable mystical presence. Let your inner bird fly. The logo of the bird represents flying and a sense of being truly free. I am excited to launch this new endeavor to the world. Look out for these projects!
What's next?
My plan for the future is to continue to do what feeds my soul creatively. I will continue to act and I hope to land major roles that will propel my career even further. I will finish writing my feature film and pilots and look to get it produced eventually. I will also launch Kikiwear and watch that bloom. I am looking forward to watching all the films and shows I have worked on that will be released this year and in 2022. Finally, I am looking forward to bonding and spending more time with my family. Winston Churchill once said "Success consist of going from failure to failure without loss of enthusiasm". So color outside the lines and live outside the box. Always live your life full out with feeling. Thank you for reading my story please follow me on social platforms to see how the rest of my novel unfolds.
Contact Info:
Suggest a Story:
 VoyageLA is built on recommendations from the community; it's how we uncover hidden gems, so if you or someone you know deserves recognition please let us know 
here.