Today we'd like to introduce you to Starla Frequency.
Hi Starla, so excited to have you with us today. What can you tell us about your story?
I'm a sound healer and keeper of ceremonies.
I like to start off by explaining that a sound bath is a deeply meditative experience where the attendees hear (and if in person, also feel) the vibration of instruments tuned to healing frequencies. Crystal singing bowls are often used in a sound healing journey, along with drums, gongs, and other instruments.
Sound baths facilitate shifts in our brains and bodies through something called the law of entrainment, which means that two vibrating bodies tend to operate in tune with each other. So the tones you hear during a sound bath help to shift your vibration from a lower to a higher frequency. It's science, but when you experience it, a sound bath feels like magic.
I attended my first sound bath in 2015 here in Los Angeles. At the time, I was traveling extensively with my job, and the relentless pace and never-ending jet lag were taking a toll on my spiritual, emotional, and physical health. I was struggling with insomnia, anxiety, chronic shoulder pain and digestive issues.
As the sound healing started, and I was sonically "bathed" in soothing frequencies, I was taken on the most powerful inward journey. I connected with a place of wisdom within my consciousness, I encountered a spirit animal who took me under its wing, and I revisited childhood memories that I hadn't realized were impacting me as an adult.
From that night, attending sound baths became a regular part of my spiritual growth and how I care for my mental and physical health.
A few years later, during a shamanic healing journey, I encountered an ancestor from my Italian lineage, Annatonia, who shared her healing powers– what she called "Il Regalo", which is Italian for the gift. In a deep state of meditation, I felt her transfer these powers to me. My hands and arms felt like they were on fire, and I understood that I was meant to help others with my hands in some way.
It took some time and more introspection, but eventually I realized my love of sound baths was a connection to this ancestral gift. With incredible synchronicity, the universe brought me to a wonderful sound healing teacher. I loved learning about the history of this healing medicine, as well as delving into an understanding of the physical laws of vibration and how we can channel these to help people experience release and renewal.
I began to offer sacred sound healing, first for family and friends and then growing to offer this vibrational medicine at events and in private sessions both in-person and remotely. Right away, I felt a sense of familiarity and ease that made it clear I was on the right path.
Would you say it's been a smooth road, and if not what are some of the biggest challenges you've faced along the way?
Studying sound healing and working with the energy of vibration has taught me so much. Where in the past, I felt the drive to push, hustle, and struggle my way to success, my experience as a sound healer is teaching me to take a different approach, informed by an understanding of how energy truly works! I learned that the more I struggle, the more struggle I call in.
Sound healing taught me that I am deeply connected to powers that are greater than me: vibrational energy; the rhythms of the natural world; cosmic energy. I feel no need to force anything on my journey as a sound healer. Instead, I take the approach of remaining open to what is meant for me and to welcome aligned opportunities to flow to me.
Through that energy, I've called in many wonderful ways to share sound healing with amazing humans, including large events which have brought together the rich and diverse community of Highland Park, where I live and work, as well as private sessions in my healing space, where I serve as a guide and keeper of ceremonies for people doing transformational inner work.
If I *had* to choose a struggle, the aspect of my offerings I've spent the most time on is my technical setup for virtual sound healing. I wanted to get that just right, so the experience looks and– most importantly– sounds great for those who work with me remotely. This is important these days when some people aren't able to attend sound baths in person. It also opened up opportunities for me to offer sound baths to people all across the country and even as far away as England and Indonesia.
Appreciate you sharing that. What else should we know about what you do?
I take people on transformational sound healing journeys, using crystal bowls, a range of drums, a sacred gong, and my voice among other instruments. I love offering large group sound baths via events, but my favorite way to work with people is via private sound bath journeys in my dedicated healing space in Highland Park. A private sound healing is powerful because I tailor the experience to exactly what a client wants to focus on, so they can access deep places in their consciousness.
I've had clients tell me they experienced past lives, saw their future homes, or finally let go of a lingering pain that felt stuck for years.
My sound healing journeys are connected to the rhythms of nature and I draw inspiration from the elements of air, earth, water and fire. My crystal singing bowls are attuned to the seven chakras to help people connect with and cleanse each of these major energy centers. I love to bring astrology into my sound baths, whether it's turning into the current cycle of the moon or working with the energies of my clients' natal charts.
I worked in creative industries for years, so I find many creative individuals like filmmakers, artists, and entrepreneurs are drawn to work with me as a way to move through any blocks to unleash the full power of their creative energy. I've also done so much personal work healing from toxic patriarchy and reclaiming my divine feminine wisdom, and I find many women are drawn to work with me as they heal their own wounded feminine. I love the opportunity to support people and share some of the insight that I was lucky to receive from my own teachers and guides.
I know some sound healers are concerned about coming across as too "woo"– and it's true that there is a huge amount of scientific data about why sound healing is impactful. With that said, I believe in the connection between science and spirit and my sound baths are designed to help people remember that we are all part of something bigger than ourselves, that joy is our birthright, and that we don't need to hold on to pain.
Is there something surprising that you feel even people who know you might not know about?
For a long time, I used to wear all-black everything with no color!
These days, my brand is extremely colorful, and so is my wardrobe. I take visual inspiration from late 70s/early 80s disco, the rainbow colors of the chakras, the movie Xanadu, the cartoon Jem and The Holograms, tie dye, late 1960s Italian films, and Mother Nature. As in color, color and more color. Oh, and then add some more color.
So when people see old pictures of me wearing dark clothing, they don't recognize me. At the time that looks fit lifestyle, but it's been so freeing and fun to open myself up to color. And within the sound bath experience, people often connect with vivid colors so I love to reflect that in my healing space, my brand, and in my clothing.
Contact Info:
Email: starlafrequency@gmail.com
Website: starlafrequency.com
Instagram: @starlafrequency
Facebook: @starlafrequency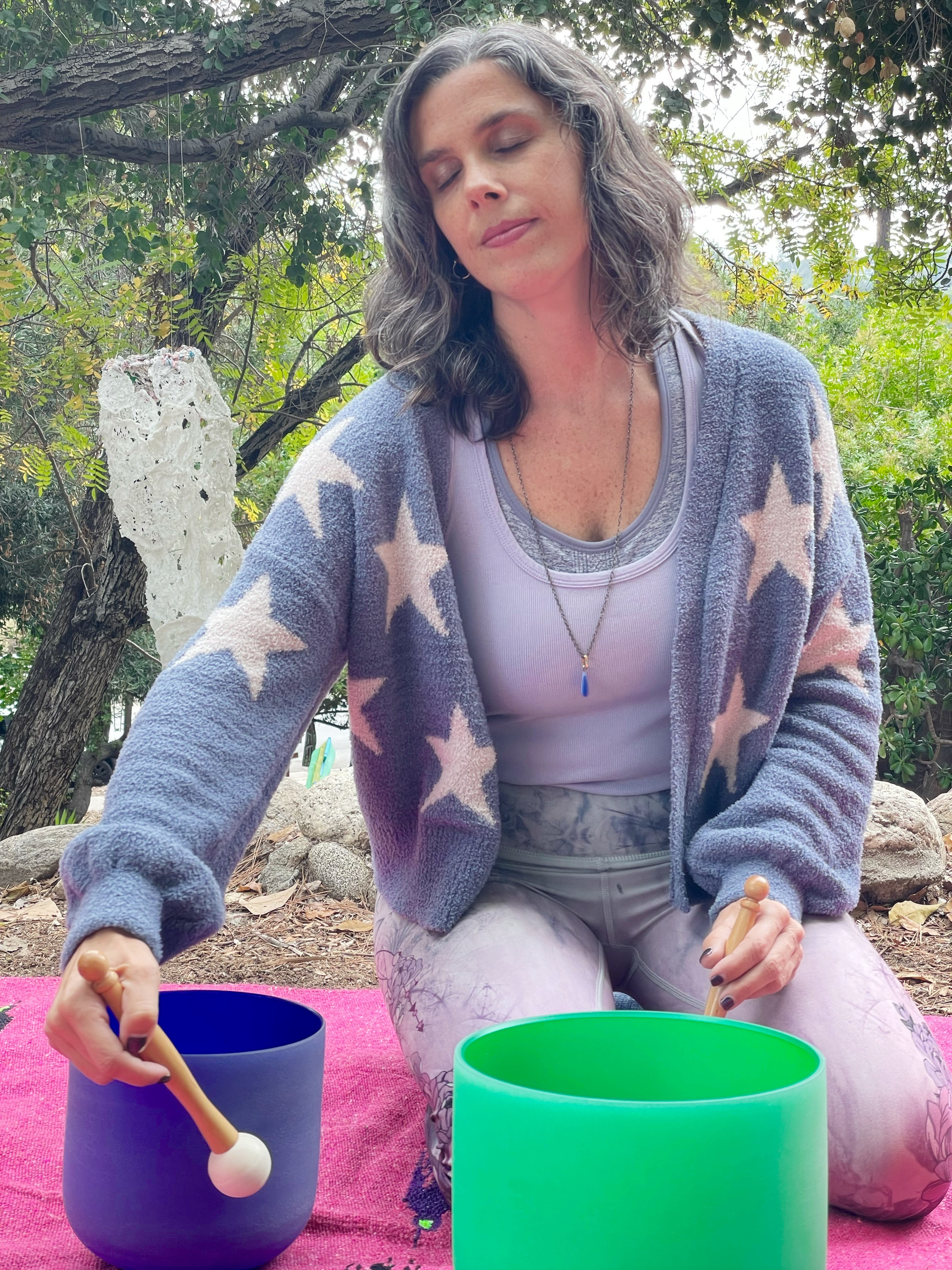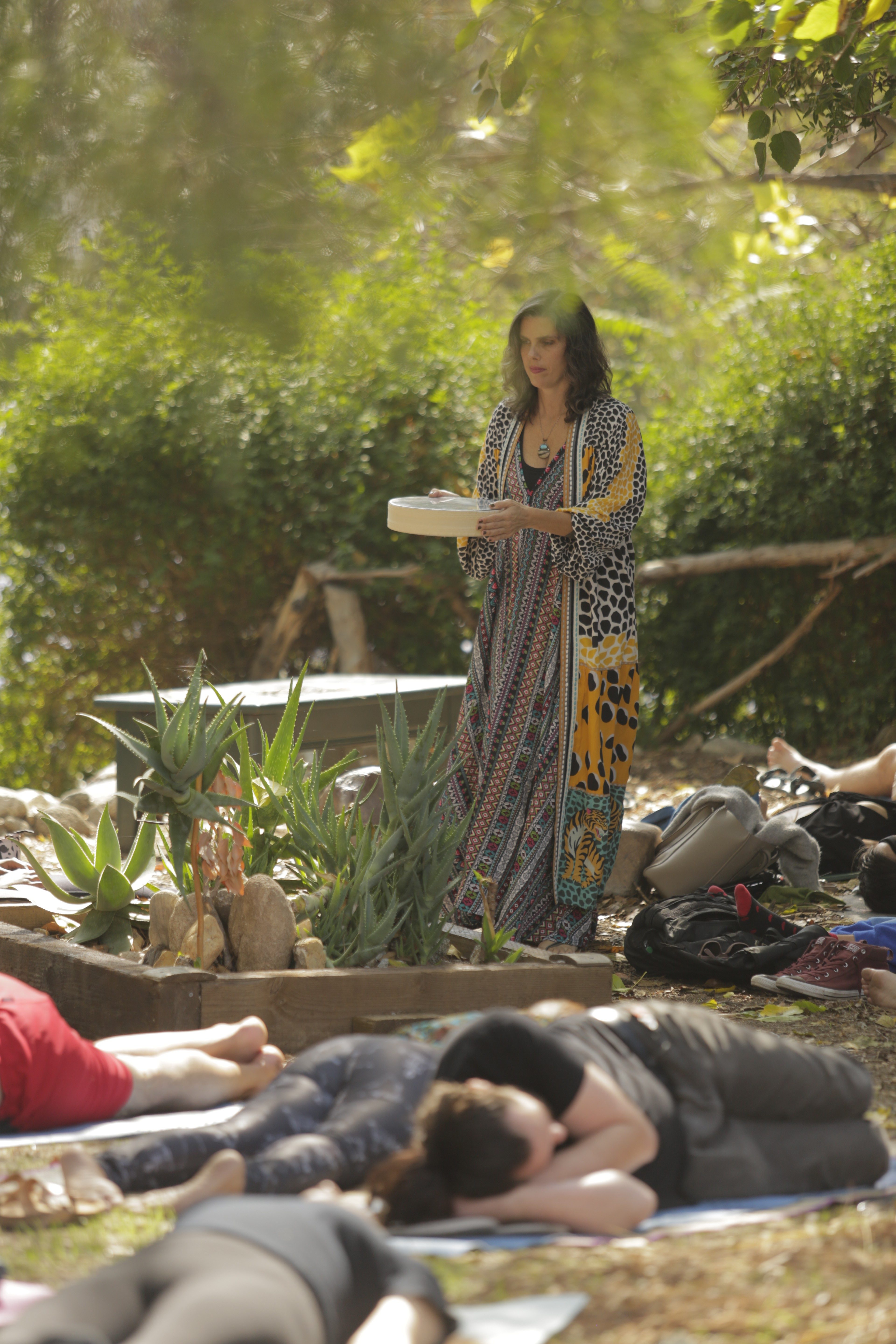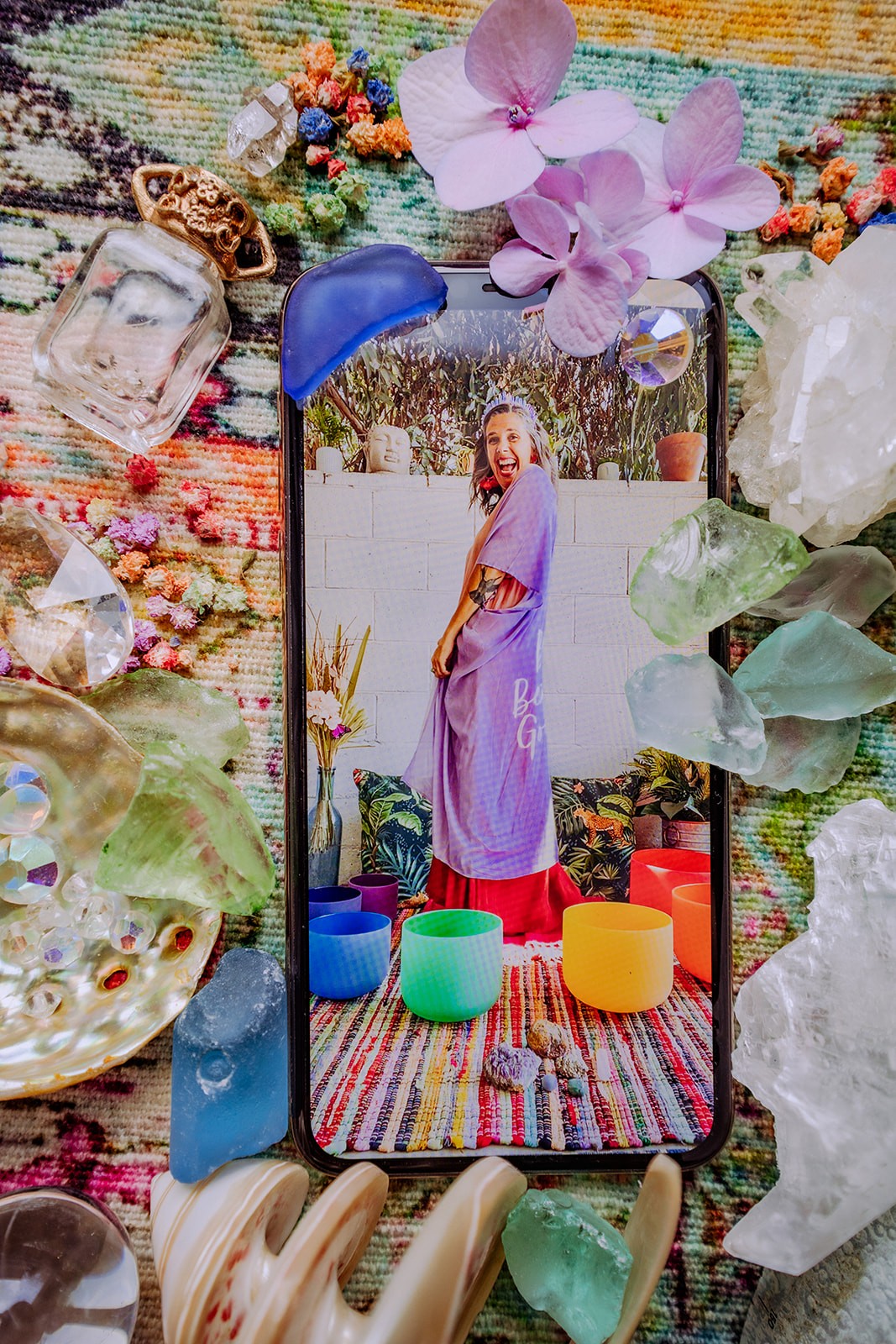 Image Credits
Fourth photo credit is Angela Fortin Studio
Suggest a Story:
 VoyageLA is built on recommendations from the community; it's how we uncover hidden gems, so if you or someone you know deserves recognition please let us know 
here.