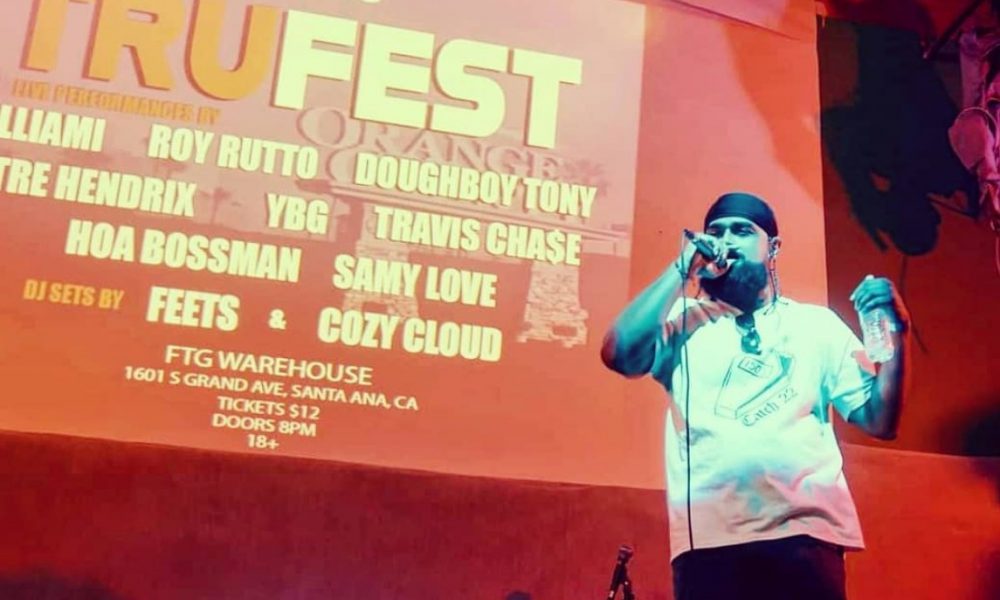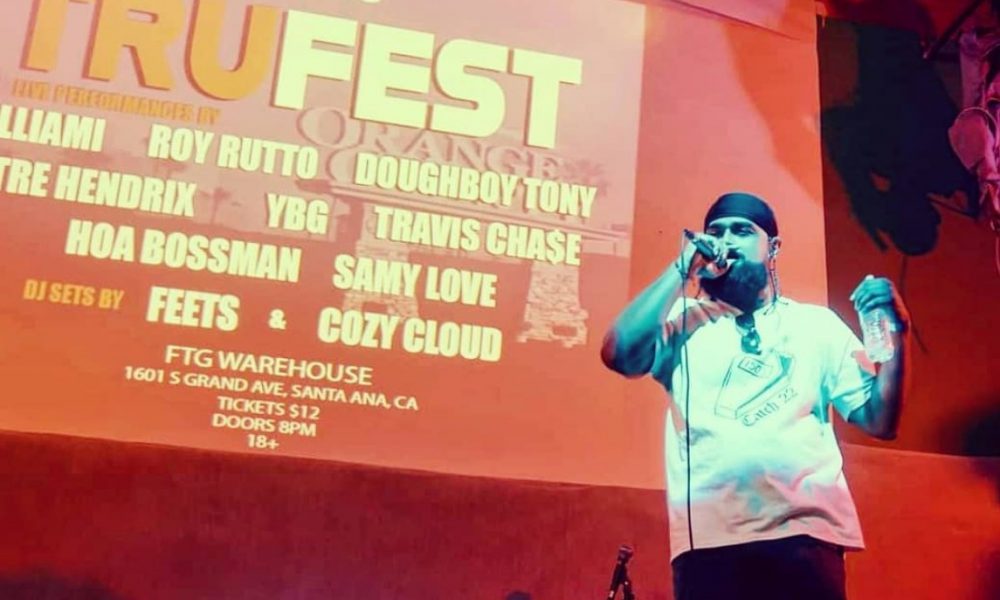 Today we'd like to introduce you to Kenny Villiami.
Hi Kenny, we'd love for you to start by introducing yourself.
I started writing poetry in high school then began songwriting after I had graduated. Around 2012 I was in a group called Overcast Ent. with some of my friends from the neighborhood who also did music. The year after that the group disbanded and I was part of a West Coast duo called Dino Circle with my best friend Tony. I began recording music at my friend Savi Waves (Alex Nejera) house in Anaheim, CA. Shortly after dropping our first full-length project, we started performing a lot around our local area and all over Orange County. Spent the next 2 to 3 years opening up for major artists such as Dj Quik, Suga Free, Dogg Pound, Snoop Dogg, Honey Cocaine, The Game, Westside Connection, RZA of The Wu Tang Clan, KRS On, The Pharcyde, Too Short, Bone Thugs n Harmony, just to name a few. During this time, my music career was going through a lot of different transitions. Dino Circle was no longer putting out any music and I had become part of a collective called Stay Blessed which I started with my friends Savi Waves, Dom and Tony and a few others. We also had A-F-R-O as a new up and coming member before he got signed to RA The Rugged Man. The group disbanded in 2017 due to business reasons but by this time, I already had been putting out solo projects.
I dropped my first EP around 2013 called "The Peoples Champion" under the name M.U.T. T which I created the acronym "Most Underestimate True Talent". In 2015 I dropped my first mixtape called "South Paw" which gained me a little more of a local presence in the scene. My last project under the Stay Blessed Collective was the "Yung, Gifted and Broke" EP in 2017. During this time, I was also offered a major recording situation in Atlanta but turned it down due to personal reasons.
During that time, all the way until the release of one of my biggest songs "Ferris Wheel" in 2018, I was not releasing too much music. Instead, I was working on building a presence on social media by releasing freestyles on IGTV. To be honest earlier that year, I thought Ferris Wheel would be my last song. I had been doing music for a long time and was considering hanging up the towel. Before Ferris wheel, I had received my first big check for a performance that my former management had lined up for me with the Latino Caucus of USC. I had to learn the politics of show biz the hard way shortly after that. I had written Ferris Wheel and rode it out for two years because I felt I didn't have any creative energy left. However, the song hit better than I had expected and it lead to me write and record what I consider to be my strongest bounce back EP "The Heights" part I in 2020.
Shortly after that, I linked up with one of my good friends and mentors Mavi who was filming music videos under the name GhostHouse FX. He had also given me my first couple of shows after not performing for a couple of months at these local cannabis vendor events called Blurred Vision. With that momentum, I kept pushing my music and released The Heights EP before the pandemic hit.
I had also formed good relationships with other local artists as well as show promoters and was trying to figure out the networking part of the business. During this time, I released and completed a video series to go with my EP The Heights with Mavi and Savi Waves, who was now also filming as well as being one of my main producers.
Then the pandemic hit and all hell broke loose. However, during the early stages of it, I decided to stay consistent with my music and content. Especially since I felt again like The Heights EP was most likely my last effort. Instead, I took advantage and gathered up some new songs as well as joints I still had sitting in the vault and put out my second mixtape ever "Early Bird". It did well but not to my expectations. I was dropping videos consistently but it felt like nothing was creating a dent.
Shortly after that, I linked up with my friend George (YBG) who is also a recording artist from Anaheim and was part of the Tru1hundred Radio camp. We had a few recording sessions together and put out our first collab called "Pioneers". Since then, he and the good people at Tru1hundred have been opening up doors for me and other very talented artists in the OC. Through him, I met my friend and engineer Andy Acosta who I worked with on my follow up EP "The Heights" Part II.
I also met CRO who is one of the most talented producers and musical geniuses I have met. Near the end of 2020, we recorded the project and finalized it before I dropped it on May 22nd, 2021.
How I feel I got to this point is my will to endure. I was given every reason under the sun to give up and never did. I was doubted multiple times by the local scene, friends and even family members, but I still kept at it. Even the times I doubted myself, my personal connection with music never gave up on me.
My ability to recognize that some relationships are worth more than money and that building with others that are like-minded and just as ambitious as I am has allowed the pieces to fall not only where they belong but when they need to.
If you take a look at my catalogue, it has been a growing process. None of this was easy and to this day, it still isn't. My ability and willingness to keep learning even after I have reached a certain level in my career has kept me motivated.
The people I have inspired along the way has definitely played a big part. What started out as a hobby became my passion. I learned to love what I was doing and that passion lead to my purpose which I believe to is to keep inspiring and making Orange County the next Mecca of music.
I had been part of so many things but I strongly believe with all my spirit, body and mind that Tru1hundred is the movement I have always dreamed of being a part of. The trials and tribulations made me realize that maybe I was not ready for what comes with this at the time that I thought I wanted it the most.
Music was there for me even before I started creating it. Now I feel like I am just paying it back.
I'm sure you wouldn't say it's been obstacle free, but so far would you say the journey have been a fairly smooth road?
Far from it. There is good and bad times like everything else. I feel like the smooth or fun part of it was creating the music itself. Even helping others and mentoring some of my younger homies to pursue it. That is just off the strength and love I have for this.
Obstacles you face on this journey are never ending and tend to repeat a lot in this business. However, the more you venture into it, the better you get and the more it builds for this type of life.
Some struggles obviously might be financing your career. The money don't just fall in your lap or grow on trees. I remember I had to work three jobs just to keep up with rent and bills while at the same time fund my music career. It got so bad to where I started selling weed out of the trunk of my car and stealing cigarettes from my gas station job just to have gas money to make it to shows and studio sessions.
All I can say is when you love something so bad, you will risk anything and everything for it.
Another struggle is finding the right people to build with, I had to go through 3 or 4 groups and collectives just to finally say that everybody I have around me right now as of today is my regular network and also my very good friends. Friends and business do not always mix in this game and I had to learn that multiple times. It really comes down to everybody wanting the same thing no matter what role you play. They gotta enjoy the journey just as much as finally reaching the end goal just the same way as you do. Time is the biggest currency in this business. If you ain't thinking like that then you're gonna spend a lot of that time bumping your head.
Self Belief as corny as it sounds is a major key factor in all of this. The only REAL obstacle in this game is yourself. If you can win the war going on inside of you? There ain't nothing you cannot face and overcome on the outside.
Appreciate you sharing that. What else should we know about what you do?
I am a recording artist first and foremost. I also like to think of myself as a music mogul and mentor for the next generation of Orange County artists.
I specialize in connecting the dots and bridging the gap. I enjoy bringing people together and expanding the network that Orange County music has been lacking for so long. I feel like I am more known for my music but I also know that you cannot rap forever… unless you're Jay Z.
I have also been trying my hand at acting and directing as well as music marketing.
I believe strongly in building a solid portfolio and encourage every up and coming artist to think the same. Otherwise, it is just one hit wonderland for you.
Some proud moments of mine are when I had a conversation with DJ Quik and he encouraged me to keep going and stay true to myself in this music game. Another would be when I met both members of The Pharcyde and got the stamp from them. To be real, I was geeking when they had told me backstage I was dope and to keep going.
More recent moment was the completion of my project "The Heights" EP Part II. The energy and effort that was put into that from the new people I have met and been working with made it stand out to me and made it my favorite project of mine.
What sets me apart from others is that I do and say what I want. My whole approach to this music is different. I was different before the music. I am the only Tongan / Samoan / Mexican artist in OC. My rap name is my real name, I'm not no character or made up image. Villiami is me and nobody can be that better than I can.
Do you have recommendations for books, apps, blogs, etc?
As far as apps shout outs to distrokid for treating the artist good and allowing us to create and put out music how we see fit.
Shout outs to Webull and Robinhood for keeping me on point and smart with my money.
Coin base too because it's the only place that let me purchase XRP.
FL Studio for all the years of work since I was recording at Savi Waves house on a guitar hero mic with a sock over it.
I read a lot of books to be honest but the more recent ones I have just completed
– Now Discover Your Strengths by Marcus Buckingham
– The Way of the Wolf by Jordan Belfort
– Let Fury have the Hour / Punk Rock Politics of Joe Strummer by Antonino D Ambrosi
– Jay Z "Made in America" by Michael Eric Dyson
The two books I am currently reading at the moment
– The Perfect Day to Boss Up / Hustlers guide to building your Empire by Rick Ross
– How to Survive America by D.L Hughley
If I have not said it enough… Tru1hundred radio for being the most genuine and authentic platform in Orange County. Providing artists like myself with fun workspace and becoming like my 2nd home. These people are truly amazing at what they do and they really do care about the future of Juice County music. Number one radio in the OC! Big facts.
Contact Info:
Suggest a Story:
 VoyageLA is built on recommendations from the community; it's how we uncover hidden gems, so if you or someone you know deserves recognition please let us know 
here.