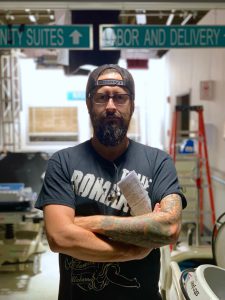 Today we'd like to introduce you to David McAbee.
Hi David, thanks for sharing your story with us. To start, maybe you can tell our readers some of your backstory.
I moved to Los Angeles in 2009 with the hopes of becoming an editor. I grew up San Luis Obispo county before that and had a wedding video business that I was hoping to continue down here while pursuing narrative editing work. I quickly learned that I do not like editing for other people and didn't want to be stuck in a cubical for 12 hours a day. I wanted to be on set. I wanted to be where the action is. I was hired as an office PA for a small reality production company and they quickly asked if I wanted to 'coordinate' their new show. Of course, I said YES (having zero experience on set and even less experience as a coordinator). Needless to say, I failed quite often at the gig, but after many failed attempts, I learned what a coordinator did and quickly learned the jobs and responsibilities of everyone else.
I knew working on the logistics side of production was NOT for me. I wanted to create. I wanted to behind the camera. Not making call sheets. Not being berated by PMs about how I spelled the local hospital wrong on the call sheet. Being at that production company, as strenuous as it was, was my film school.
In 2015, I thought to myself, why aren't you making something for yourself. So I wrote and directed my first short, Night Terrors. I am still so proud of that and what it did. I had a great cast and crew who were all there for the love of film (I guarantee it wasn't for the paycheck–or lack thereof). That lead to getting my first real writing gig that leads to my first feature directing gig.
Since then, I have been producing/directing for all kinds of docu-reality programs and in my downtime, I write and direct horror shorts. My new short, NOVA, is my version of a 1-take transformation horror that is currently killing it at film festivals. I hope the world turns back on soon so I can get behind the camera for reality shows and hit all the film festivals in person.
We all face challenges, but looking back would you describe it as a relatively smooth road?
I'm not the first to say, and I definitely won't be the last–the entertainment industry is BRUTAL. There's little to no stability, the pay is all over the place and there's always a new crop of people who will do it for cheaper just to get the credit. The endless power-hungry, ego-driven executives who would rather yell than find answers in the art.  
After completing the script, our EPs gave it someone to review (this someone had never read a script and is not in the industry–I still don't know why they valued their opinion…). This person not only HATED the script but felt like they hated me. Their notes were far too personal and seemed less about the script and about me as a person. Our EPs took the review and said, "Well, the movie is off. You can keep the script, good luck".
So I turned that buttheads scathing review to the dumpster and started entering the script into writing festivals all over the country. And wouldn't you know, it started winning awards. I started getting HELPFUL notes that actually made the script better. I went back to the EPs, showed them the awards and BAM, just like that they had faith again. The movie was off and running.
But this isn't about how smooth the film went. Another struggle, you ask? Well, weeks before production was set to begin, my good friend and lead actor, Blake Heron, passed away tragically and suddenly. So I was left without my friend and the pressure of having to continue without him. So, I once again rewrote the script so I could cast someone completely different.
WAIT, THERE'S MORE! After his sudden passing, I suffered a pretty bad motorcycle accident (those Uber drivers just jump outta nowhere). Nothing too horrible, a few broken bones and some cuts/bruises. Either way, not fun.
With that said, once it was boots on the ground and time to shoot, it couldn't have been a more smooth process.
Thanks for sharing that. So, maybe next you can tell us a bit more about your work?
I'm a writer/director (yes, another Los Angeles writer/director). I'm a horror guy. I love horror. I'm a child of 90s and spent all of my free time at my local mom n pop video store (Cayucos Video). I would wonder up and down the isles for hours on end. Picking up boxes, looking at the art, reading the back– over and over and over. Funny side note. My favorite VHS covers were 'It's Alive' directed by Larry Cohen and Trancers, produced by Full Moon Ent. My first internship when I moved out here was for Full Moon and I was in charge of their DVD room. And my first review for Night Terrors was from Larry Cohen.
Without knowing it, I wanted to create art for as long as I can remember. It's basically how I got out of writing in papers in high school. I'd just ask if I could make a video instead. Worked like a charm.
What am I most proud of though? At the moment, my new short Nova. But if I'm being honest, I'm proud of it all. Is it all good? Probably not. Has it reached millions of people that's resulted in getting a big agent that got me a big movie? That's a negative ghost rider. But each gig has lead to the next exciting gig. And each one of my scripts has lead to another. My first short, Night Terrors, lead to getting hired to write a 'Lifetime' style drama. How that math works? I don't know. But when they ask, can you write a love story, you say YES.
And now, even though Los Angeles and most of the country is still locked down, I get to watch Nova play at virtual festivals (urhg I can't wait for real festivals to start again) all over the world. I get emails from other fans of the genre saying how much they dig it. And that's awesome because I'm still that fan that watches new stuff and wants to see what's out there.
I'm not sure what makes me stand out. I'm not trying to reinvent the wheel when it comes to filmmaking. I'm just trying to make stuff that I think is cool and that I would. Maybe, just a little, I'd love to bring back the excitement of watching movies again. Where you don't need to play on your phone or computer while watching something new. Just sit, watch, enjoy and take the ride.
The crisis has affected us all in different ways. How has it affected you and any important lessons or epiphanies you can share with us?
First lesson, don't get pregnant and have a baby during a global lockdown. 1 star, do not recommend. But one thing that keeps coming back to me is this. All of our jobs were taken away from us. Some of us got to work from home. Some didn't. Some of us liked our jobs, like a lot. Some, not so much.
So if we can lose our jobs that fast, why not try your damnedest to work on something you love to do. I mean, at the end of the day if some joker in a suit can tell us not to work, then why would I want to try and work on anything that I'm not passionate about or in love with. YES, I know it's easier said than done. BUT it can be done.
During this lockdown, I've written multiple scripts and produced two award-winning shorts. (Don't get your feathers in a bunch, all shorts were COVID compliant).
Contact Info:
Suggest a Story:
 VoyageLA is built on recommendations from the community; it's how we uncover hidden gems, so if you or someone you know deserves recognition please let us know 
here.