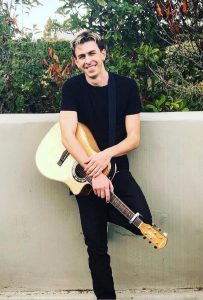 Today we'd like to introduce you to Trevan McClure.
Trevan, can you briefly walk us through your story – how you started and how you got to where you are today.
First of all, thank you so much for this opportunity! Really appreciate your vibe and mission!
Music truly is the foundation of my life. Even before I was born, my mom would go to my dad's concerts while she was pregnant with me. My dad's song 'Spring' was played in the delivery room while I was being born. I was beat-boxing before I was a year old and mimicking my dad's guitar playing with a toy rake by the time I was two or three. From as young as I can remember, I carried my tape-deck and headphones on me religiously; my favorite tape being one of my dad's that he wrote, produced, and sang on himself. Meanwhile, my mom used to make these amazing and eclectic mixtapes that spanned the likes of Alice in Chains, Macy Gray, Alanis Morisette, John Mayer, Earth Wind and Fire, Moby and Oasis (to name a few). Before I ever played any 'real' instruments, I would listen and visualize being on stage with all my friends in front of thousands of people, getting these incredible goose bumps. Soundtracks like Space Jam, Mortal Kombat, and others also had a huge influence on me.
Rhythm came first. When I was probably four or five, my parents bought me a couple of toy drum sets that both didn't last more than a week. When I was about ten, I got to explore drums for real at a friend's house whose family had a garage full of instruments. Shortly after, my parents got me drum lessons; I still didn't have a kit of my own and had to practice on the couch or my make-shift drum sets of tin cans, bins and pans. I joined my first band the summer after seventh grade and thankfully one of the members had a drum set I could play until my parents bought me my own the following Christmas. All throughout high-school, I was in two to three bands at a time; mostly Metal and Alternative.
By fifteen, I started playing guitar and writing my own songs and by seventeen I recorded a five-song demo; playing the majority of the instruments myself. I used that demo to start my own band, '36 Alterations.' From eighteen to twenty, almost all of my time was spent with 36, as well as a metal band I played drums in called 'Erathma.' Both groups enjoyed their share of high-points; playing at most of the historic venues on the sunset strip (like The Whisky), opening for some of our favorite local bands, and recording a few EPs.
In late 2010, I decided to quit both bands and focus on songwriting/producing. Together with a couple of other friends, countless days were spent experimenting and creating in my minimal bedroom studio. This went on through the majority of 2011, when I was unexpectedly recommended me as a paid producer for someone. Originally, my plan was to take the project to other friends of mine but my dad encouraged me to do the project myself. Though I doubted my skills as an engineer, I went for it and for the first time in my life, I was going to actually be making money through music. Other artists also started asking if I could produce them and my paying client, Doug, offered to pay me an advance for working with him so I could build a more proper studio of my own. I quit my day job and began producing others full-time. Also during this time, I was asked to play drums in an amazing Hip-Hop/Rock group 36 Alterations had opened for; The Sound of Ugly. The guitarist and producer for them was a long time friend who had recorded all of my bands throughout high-school, including all of the 36 Alterations material. Some really wonderful experiences happened during this time from 2012 – 2015. Ugly released a full-length album, leading to a management deal with Randy Jackson, along with a couple of music videos. I had also co-produced an EP and some singles for my girlfriend at the time, produced a full mixtape for a young hip-hop artist, an album and a half for Doug along with a little over twenty songs we wrote together, and a collection of Dark-Electronic songs I later released under the project title, 'InsecuriT.' Looking back now, it's incredible to see how many things I was a part of at that time, though I remember feeling so inadequate and unsure of myself every step of the way.
In early 2015, The Sound of Ugly released a new music video called 'Home Again' under a new band name, 'Isles.' But creative differences arose, leading to my parting ways with them. Meanwhile, Doug and I started a publishing company, 'Modern Classix,' for the songs we had written together and in hopes of exploring the world of licensing. I also felt a stronger urge to focus on myself as a solo artist. With Doug's backing, I shot a music video for my song 'Above It All,' produced and released a seven-song EP, and did a handful of shows. The video didn't gain much momentum, nor the EP, and fear once again crept in, making me doubt myself and my abilities.
When my parents decided to separate in 2017, I minimized my belongings and chose to live out of my car while I pursued becoming part of the 'professional' songwriting world. Within a couple weeks, I was invited to working under a production company as what is called a 'top liner;' basically, someone who comes up with vocal melodies and lyrics for other artists. I was so excited and worked as hard as I possibly could to prove myself. Some high points were when I got to do a session at Ray Parker Jr's studio in North Hollywood and a meet with an A&R at Republic/Universal Records; but I couldn't shake a constant underlying feeling of anxiety. I got firsthand experience of what so many artists and writers go through when trying to break into 'the industry.' I hadn't realized until then the good fortune I had being on the outside, in my own world, away from the 'politics' of the industry.
In spring of 2018, after moving to live with my mom in Simi Valley, a dear friend and fellow singer/songwriter miraculously mentioned my name to a promoter booking cover artists at a high-end hotel in Newport. Though I never considered myself a cover-artist per say, I was so grateful for the chance to be making money from music again. The gig escalated quickly and I was doing multiple three hour performances a week. It also opened doors for private events, which lead to my first 'west coast tour' through Napa, Portland, and Seattle in the fall of 2018.
In early February of this year (2019), a producer friend recommended me as a drummer to someone. The gig ended up being at a studio in Thousand Oaks: 'Revolver.' At the end of the gig, I got to play some of my demos for the owner and head producer. He invited me to come in and start working with some of his artists as a writer/producer. The following weeks have yielded countless 'serendipities' around people I've known outside of the studio being connected one way or another with people at the studio. It has also been the ultimate culmination of everything I have experienced up until this point; the bands, the home-studios, the false starts, seeming dead ends, close but no cigars, and a growing appreciation for the business side. It's clear everything up until now has prepared me for this moment. Now, I get to work regularly with phenomenally talented people, in an environment that feels comfortable, exploring what it's like to be part of a studio environment, and most importantly getting to just be myself and use my gifts in ways that are truly fulfilling. I still do private events and session gigs when available and feel more ready than ever for everything that is to come: both as an artist, a songwriter/producer, and beyond.
Great, so let's dig a little deeper into the story – has it been an easy path overall and if not, what were the challenges you've had to overcome?
It's been such a blend of both. So many things seemed to happen as if by magic, while other moments were filled with complete confusion, doubt, and hopelessness. The biggest struggle for me has always been trusting whatever is happening around me and knowing what my role is within it.
In the bands, I wanted to be a leader but felt so scrutinized by the other members for being a 'dictator' of sorts. Really, I was just passionate about making a career in music. As I started producing, I would be in the middle of sessions and get this deep wrenching in my stomach that made me doubt whatever I was working on. I'd think, "Am I not doing what I'm supposed to be doing? Am I not supposed to be working with this person? What if this is a distraction or an excuse I'm using to not do what I really should be doing?" Now, I look back at those times of feeling lost or inadequate with such a fascination and appreciation for what I was doing, learning and creating.
And of course, when I started venturing into the professional songwriting world, I was constantly confronted with the possibility that my style of writing just wouldn't work in the contemporary music world. Even though I've always considered myself a pop lover (I was heavily bullied by 'friends' in middle school for having Backstreet Boys and Nsync CDs), I'd throw out ideas and have people either completely ignore them, or say things like "that's not what's in," or "too 90s," etc.
I also remember when my dad first told me I should learn how to produce, I resisted, insisting I worked better with other people. Even when I started dabbling with it out of necessity because I couldn't afford to keep paying for studio time, it was so challenging to listen to my crappy demos against professional recordings, thinking "how the hell am I ever going to make stuff that sounds that good?"
To this day, I have to keep my inner critic in check when I'm exploring a new challenge and not jump to conclusions about myself, my abilities, or situations.
Alright – so let's talk business. Tell us about Trevan – what should we know?
Artist, Songwriter, Producer, and Multi-Instrumentalist. Adding to my 'challenges,' I've never really had a specific 'specialty.' I've always been a bit of a utility man and slapped with that "jack of all trades, master of none" saying. But I would say my true specialty is the amount of energy and attention I bring to something; being able to feel what might be missing in a song or project, or what could be added to enhance it. Whether it's changing the beat, tweaking a lyric, rearranging the song to make it more concise or catchy, coming up with melodies, recommending another producer or musician, or simply encouraging an artist to embrace a part of themselves they don't show in their music, I love solving the puzzle of whatever project is in front of me. While I have studied and incorporate many models of operation, my being privy to so many different scenes and genres has given me the ability to embrace the conventional and the unconventional equally.
Is there a characteristic or quality that you feel is essential to success?
Authenticity and a willingness to be vulnerable with others. The hard truth I've had to face time and time again is that success is impossible as one person, and it's short-lived when it's achieved in-authentically. We need others and true teams only come about when there's space for vulnerability and honesty. Being able to set that tone from the jump has proven to be a tremendous asset for me and opened a lot of doors.
I'd also say joy. Success is inevitable when we are doing something purely for the enjoyment of it, versus doing it with ulterior motives.
Pricing:
$100/hour for private events
$100/hour for songwriting/production
Contact Info:
Image Credit:
Photos by Flip Cassidy and Monty Pollack
Getting in touch: VoyageLA is built on recommendations from the community; it's how we uncover hidden gems, so if you know someone who deserves recognition please let us know here.