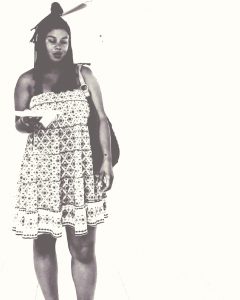 Today we'd like to introduce you to Tiffany Hobbs.
Tiffany, please share your story with us. How did you get to where you are today?
My mother, Connie, allowed me to play with a Kodak polaroid camera when I was around three years old. The joy was real. We'd just moved to 29th and Normandie in L.A. from Queens, NY, where I was born (kisses imaginary Timbs).
She respected my Capricorn maturity and had the foresight to appreciate my need for self-expression, and express I did, taking as many lopsided, out of focus pictures as were possible with the film she and my aunt kept on hand. I knew that I loved capturing life as I saw it- whimsical, gritty, surprising, and beautiful, even when others didn't see the same. I loved the empty space in photos- it told just as much of a story. Now, at 37, I'm fortunate to still possess the same enthusiasm and love for the camera, creating a visual time capsule for the intricacies of the places I respect. My store, Tiffography.Threadless.Com and photography hashtag, #thPhotography, help me do that. I've been fortunate to have my work displayed in Ebony Magazine- that was a highlight. I grew up thumbing through Ebony. I've been compared to my favorites, which gives me amazing anxiety, but energizes, too.
My photos are usually filled with, and focused on, black folks. Along the way, I have been entrusted with using writing (Gawker, WearYourVoice, LA Times, etc) to supplement my reverence for, and protection of, the communities that provide the inspiration for all that has been and all that will ever be. I spent years as a ghostwriter for a prominent comedian, and through his voice, I was able to give back in ways that celeb status should be used. Now, I get to share me. This is a black-owned business with a black-as-hell objective and will continue to celebrate black people, and other people of color, no matter how much this world wants to erase our place from it. That's in my blood.
Overall, has it been relatively smooth? If not, what were some of the struggles along the way?
That's hilarious. Smooth? Nah. And that's ok because things had to happen to get me to this point. Faith without works borders on futility. Maintaining a 9-5 in education (I've been a teacher for over 10 years) has been a loving distraction to keep my life afloat, but my dream is to gain my socioeconomic freedom. But the need for security and safety dances with fear. The fear that being my own employer might get my apartment snatched for lack of financial security? I'm wrestling with that one as I type. But, if there's anything that Kobe's life taught me, it's to not flinch when something tries to scare you from your purpose. My artist, Buggsy Capri, gives me continuous wisdom on faith. Oh, I also have a record label called 1 and 1 Records. I come from a musically inclined family first. My grandfather, Riney Bryson, is in the Black Radio Hall of Fame. If you've ever heard me hosting a radio show, that's where that comes from. Photography, journalism, and music/radio. Balance is a struggle but you make time for what's important. I'd neglected to make time before. Can't do that. That's spiritual suicide.
We'd love to hear more about your work.
TH Photography, 1 and 1 Records (shout out Buggsy Capri, New Dinosaurs, and Mo County- go get all their music), journalism under my government name, being kind to animals, and representing black folks in the light that we deserve is my business. From street and commissioned photography, articles, developing and promoting musicians, and navigating an ever-changing city in a troubled-ass country, I'm all about movement. Movement is life. Just move. Try. I specialize in trying, and if it doesn't work, try something else. You are not a tree- move.
Do what makes you happy. I started a store for my photography. That was a hell of a try, and it's working so far. I'm proud of that. Seeing people with my photography on their merchandise sometimes renders me speechless. I'm proud to show cornrows with gold cuffs, street signs, Crenshaw pre-metro rail when it still had trees in the middle, black people smiling because Lord knows that's an act of resistance if there ever was one, pieces of New Orleans- any and everything that makes me feel good in hopes of doing the same for those looking at my stuff. I've never been like anyone I know. I'm me as hell and I like it that way. So does my camera. My dad is a Leo, my mom is a Gemini- I have to be me and with assurance, every day. I can't be Kanye. Stop trying to be other people. That's as much a plea is it is a personal goal.
What is "success" or "successful" for you?
Success is on a continuum. It's water. Too much, too fast, is a problem. Not finding it in anything is a spiritual drought. Success is everywhere if you allow it to be. Creating space is successful. Having the ability to express myself is successful. Making someone feel strong and worthy is a huge success. Finding beauty in the unconventional proves to me that my heart is still successful. Having mentors (Kiese, dream, Mitch) and *framily who both champion and critique my work is a success. When I sold my first piece of merchandise and made $4, that was success. My mom was proud of me – you couldn't tell me nothing. I hope I always have that feeling. I know that sounds all crystals-and-sage, but it's true. Get you some sage. Sage yourself. And shop Tiffography.Threadless.Com.
*all y'all who love on me: Thank you from the bottom of my heart.
Contact Info:
Suggest a story: VoyageLA is built on recommendations from the community; it's how we uncover hidden gems, so if you or someone you know deserves recognition please let us know here.