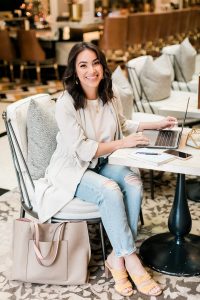 Today we'd like to introduce you to Tata Tickaradze.
Tata, please share your story with us. How did you get to where you are today?
I moved to Los Angeles five years ago — February 14th, to be exact — from Atlanta, Georgia. I was really looking for a change of scenery, and five of my closest friends lived in LA, so I figured why not move and start something new. I studied fashion design and marketing in school, and I've always worked in the corporate world since I was 15-years-old.
My friends that know me to know that I've been on a career journey through the course of my life. I've worked for in almost every industry imaginable, probably 40 different jobs in total. When I moved to California I'd only applied to one job — a social media marketing director gig in Costa Mesa for an eyewear manufacturer — and I got the job. I loved the OC but it just wasn't for me, I was so far away from my friends in LA that I decided to quit the job and I moved in with my two of my best guy friends in Santa Monica.
So here I am, with no job but a head full of dreams and passion. All my friends at the time worked in production so they said I should take some commercial classes and go out for commercials – so I got what they call, "The LA Starter Pack." I got a waitressing job and signed up for acting classes at Lesly Kahn. You learn a lot about yourself very quickly when living with two guys, waiting tables and taking acting classes. I was in a place of growth, and I knew it, it was hard and not pretty at times, but in those moments I knew magic was happening.
In that space is when the idea of Barter + Be popped in my head. I told the concept to my most cynical friends and family members when I got their positive feedback I was ready to take on the world with my big ambitious idea. This was 2015; I didn't launch the business until February 13th, 2018. I received a call from my recruiter saying he had a full-time position for me at a talent agency, I didn't want to wait tables anymore, so I said yes!
After six months as a media director at a talent agency I had a mentor tell me, "You should really branch off on your own and start your own company." She didn't know about my idea to launch Barter + Be. I took the mentors advice, and I got myself fired — severance! — and launched my digital agency, To The Moon Social.
Look, having a great idea isn't hard, executing the idea and bring it to life is the hard part – and with no money. I wanted to make sure I was authentic to the core values of Barter + Be, so it was very important I could prove the concept that building a business completely by bartering and not spending money was possible… so that's what I did.
I slowly started to offer my services to other creatives to get the things I needed to build Barter + Be. Things like brand identity, website, the how-to video, the music on the video, the voiceover for the video, legal advice… everything was built by trading with other creatives. This was the birth of Barter + Be. After we launched in 2018, the members and the happy barter stories started flowing in.
Each story makes me so happy and pushes me to keep growing this incredible authentic community of talented female entrepreneurs. We are creating and making long-lasting relationships that go beyond just a barter, trade or a collaboration.
Has it been a smooth road?
Of course not and if anyone tells you launching a business was a smooth road, there a liar! Each mistake, each tear lead to more knowledge, more experience and ways to improve both business.
I've learned so much in the last five years with both my businesses and I'm still learning so much every day. You have to wear so many hats when running your own business, things you would never have even thought of! My advice to you is to find a creative community like Barter + Be so that you can share your good and bad stories with people who are going through exactly what you are going through.
That sense of community is priceless in my eyes, I've learned so much from our members, and I know that their learning from each other. If you don't know something, ASK someone. Own up to the fact that you don't know everything and you don't have to know everything… nobody but YOU expects that. I think as female entrepreneurs we need to be nicer to ourselves and to each other.
It's crazy how so many people preach female support but when it's time to actually show action to those words they bail or disappoint you. If we help each other, we all come up together, trust me there is plenty of room for all of us to have success! The world is small but it's made bigger by dreamers and believers.
So, as you know, we're impressed with Barter + Be – tell our readers more, for example, what are you known for, what you're most proud of as a company and what sets you apart from others.
Barter + Be is a curated community of female entrepreneurs exchanging essential goods and services without utilizing capital. I do it all! I review the applications, I build profiles for members, I host and throw all of our events, I run our social media! I don't let that overwhelm me though, I love it! Any second I get to work on my dream company is one I take very seriously, and I do it with a sense of joy, honesty, and belief to make a difference. I think that this idea and this concept will grow and shift naturally to help the members grow their businesses.
We're known for connecting you to other like-minded female creatives in a very transparent way. I mean it's in the name, "Barter" + Be – nothing to hide here. If you've landed on our social or website you know right off the bat we're a community of females who are open to the idea of Bartering. But it doesn't stop there, we've had so many amazing stories were members have hired people off our website or after one barter they've referred work to another member.
I'm looking for a specific creative, one who takes their business very seriously, even if it's a side hustle – they understand the value in bartering, and they're not scared to hear the word NO! If I ran off fear, I would have never launched my two businesses if I stopped working on both businesses because someone told me NO I would not be writing this right now. No to me is a MOTIVATOR, I welcome it! No pushes me, drives me to work harder and to believe in myself more, so it's all in how you hear and see No. Know your relationship with both fear and hearing no. Once you determine what that is you'll be ready to take on the world.
I would say my most proud moments are for sure hearing our happy barter stories or seeing the connections made at our events. Our last event was at Biz Babez in downtown LA, and I literally cried after — tears of joy, of course! But I love and thrive off creating moments, experience and seeing how it benefits others. Connecting people has been something that I've been doing my entire life and honestly feel it's something I'm amazing at because I do it with a sense of goodness and honesty! Not what will I get out of this but what will they get out of this!
Oh, man, that's a tough question. What sets me apart from others? I think I'm pretty fearless, not all the time but most of the time. I will throw myself into any situation because I know growth will come from it. I'm drawn to things that scare me, and I'm also drawn to the relationships I've worked so hard for in my life. If you know me you know that I always put family and friends first, it's the foreigner in me I think and how I was raised. There will always be more work but the memories we make with our family and friends are priceless.
Look making money and having a successful business is great but if you have no one to share that with what's the point! I live for life, those magical moments are what I'm after and sometimes those lie where fear lives.
Let's touch on your thoughts about our city – what do you like the most and the least?
I love: The weather, food, the ocean, sense of culture, meeting people from all walks of life, the opportunities and dreams that are possible and endless to us all.
I could live without: Traffic and tourists. Lol!
Contact Info:
Image Credit:
Valorie Darling – https://www.instagram.com/valoriedarling/
Getting in touch: VoyageLA is built on recommendations from the community; it's how we uncover hidden gems, so if you know someone who deserves recognition please let us know here.