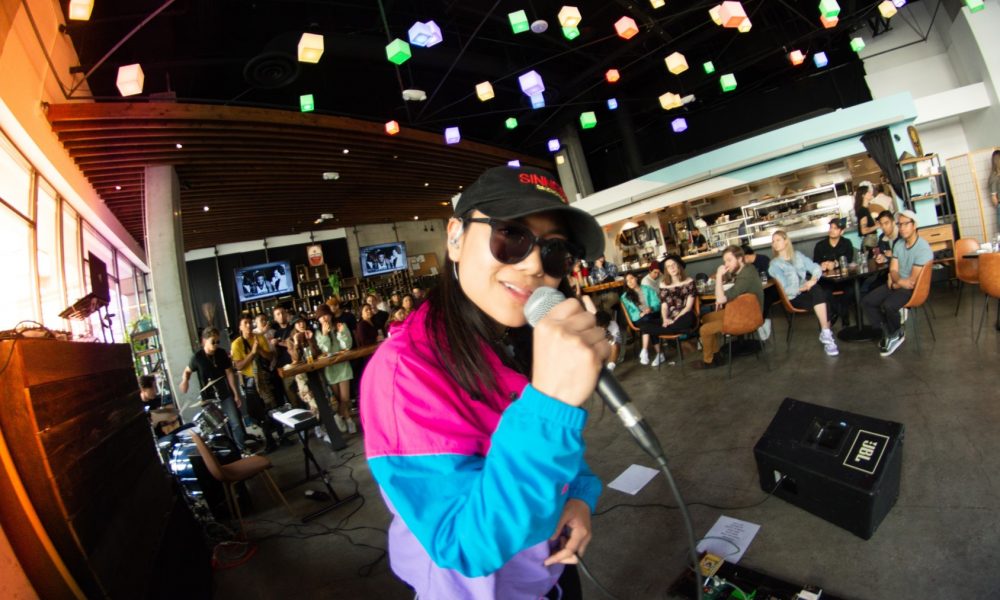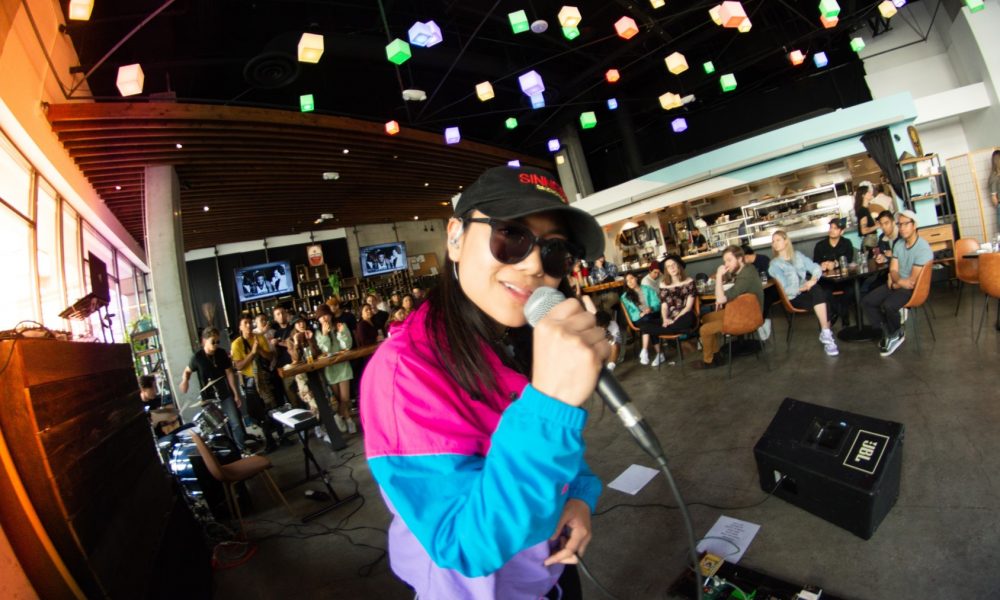 Today we'd like to introduce you to Stephanie Floresca.
So, before we jump into specific questions, why don't you give us some details about you and your story.
I was born and raised in a part of Los Angeles called Mt. Washington. I was an absolute tomboy, noting paintball, basketball, skateboarding, and snowboarding as my favorite hobbies before finding my true passion in music. My mom would roll her eyes as I'd smile and hold up flame t-shirts and zip off pants, but she taught me to never stifle my authenticity. My dad would tell me fascinating stories in the car on the way to school about working in the ER on graveyard shifts, never sparing the gory details. He's the reason that I developed an affinity for the medical field and am never afraid to get my hands dirty. "Do it yourself, or it won't be done right," is a mentality that greatly pushed me to be who I am today- but it is also a mentality I had to unlearn in order to collaborate with others as an artist and as a member of my emergency medical team.
I started my first band during sophomore year at Immaculate Heart High School, playing gigs in backyards and Hollywood venues until senior year. Despite being nervous about my ambitious dreams of being a rockstar, my parents never missed a single show. I was undecided for two quarters at Cal Poly Pomona before I decided to transfer for a bachelor's degree in nursing instead of pursuing music and, miraculously, I wasn't forced by my Filipino parents to do so. I had two reasons:
1. I wanted to reassure them that I'd support myself after all of their investment in me
2. I really had to know if my favorite medical shows were accurate (they aren't).
The day I chose my artist name (SVCCHARINE), I had been fitted for the N95 mask at work. During the test, a large hood is placed over your head and a chemical called saccharin is sprayed into it multiple times. If you don't smell or taste anything sweet through your mask, it's the correct size to protect yourself when taking care of patients with airborne diseases. Nursing has shaped who I am as a person and as a creative. The medical field satiates both my left and right brain by forcing me to navigate through critical thinking and intense emotions at the same time. I try my best to leave work at work, but there are moments I take home. I remember seeing a mother at the end of the gurney, crying and praying for her 16 year old son to live while we were performing CPR; family members in full evening gown attire grabbing my arm, begging me to save the groom's brother as I pushed the last round of epinephrine without success; being cornered and almost getting choked to death by a man on methamphetamine.
I've learned how to gracefully intertwine music and medicine, and every day I fall on a different part of the spectrum. I write songs in my head to the cadence of heart monitors at work. I unintentionally write medical terminology into my lyrics when I'm at home on the couch. The artist name I chose for myself means so much to me because it is an authentic reflection of myself and, most importantly, it was earned.
I work tirelessly at the hospital in the ER three nights a week and work on writing music as SVCCHARINE on my days off.
Overall, has it been relatively smooth? If not, what were some of the struggles along the way?
One of my biggest struggles has been networking. The large majority of my friends and family aren't in the industry, and I have no mentor or guidance. Meeting other creatives online is convenient, but often disingenuous. Unfortunately, it feels as though many in the community are only looking for opportunities to take for themselves instead of support, inspire, and contribute. I want to work with those who create art because they truly love it instead of creating to sell it, but I understand the reality of music as a business. Therefore, on one hand I'm glad that my passion and my career are separate, but on the other, my career takes a lot of time and energy away from my passion and has caused inner conflict and stress that has taken me to very dark places. I believe perspective is everything, and in the end, at least I never run out of writing material.
The road could always be rockier, and I'm thankful for what I've learned from the speed bumps thus far.
We'd love to hear more about your work and what you are currently focused on. What else should we know?
I'm an RN and I'm a musician.
I specialize in emergency medicine. The career requires skills that can only be learned naturally and overtime throughout the profession. Knowing how to remain calm under intense pressure, how to disregard insults from rude patients, how to compartmentalize throughout the shift, how to empathize without making a problem your own, and forming your own ideas of ethics and morality about life itself were all things that nursing school could never teach me. There's no class to teach you how to eat your lunch after zipping up a body bag.
The healthiest and most efficient way that I cope with stressors from both my personal and work life is through writing and sharing music.
I'm living my life with each foot in two worlds. In the ER, showing weakness is not an option. I try my best to remain unwavering in difficult times for the sake of my team. We all have to act this way for each other; this is the culture of the workplace. In music, I can show my vulnerability and do so wholeheartedly. Though I'm very in tune with my emotions, it's conflicting for me to have to create a switch to turn them on/off only during times in which I'm "allowed."
Despite this conflict, I'm proud to be able to both excel in my profession and pursue my passion for music all in one lifetime.
What is "success" or "successful" for you?
Success is simply happiness. That's why there are so many different ways that people define it: people derive their happiness from different things. Writing music is a self-derived happiness that I've never experienced from anything else before. My songs come from a deeply personal place, and when others relate to them, they relate to me. I humanize myself because acknowledging flaws helps you forgive, empathize, understand, and heal. Hopefully through showing mine, it inspires people to be more kind to themselves and to others.
My success really comes from knowing that I contribute to making the world a more beautiful place, regardless of the amount of people who listen to my music. I have no criteria, no benchmarks, and no markers for success. I don't have to be famous, perform in front of millions, or have my music on the radio/TV. None of the glory that comes with being a musician is important to me. I'd only want to share with a wider audience to find those who truly relate; those who listen vs hear. I'm already successful and will continue to be because I have an ongoing desire to do what I love without stepping on anyone else, as well as a desire to inspire others to do the same. Whether it's through music or medicine, I'm supporting the greater good.
Contact Info:
Image Credit:
Dion Bagaporo, Eddie Soto, Rigo Martinez
Suggest a story: VoyageLA is built on recommendations from the community; it's how we uncover hidden gems, so if you or someone you know deserves recognition please let us know here.