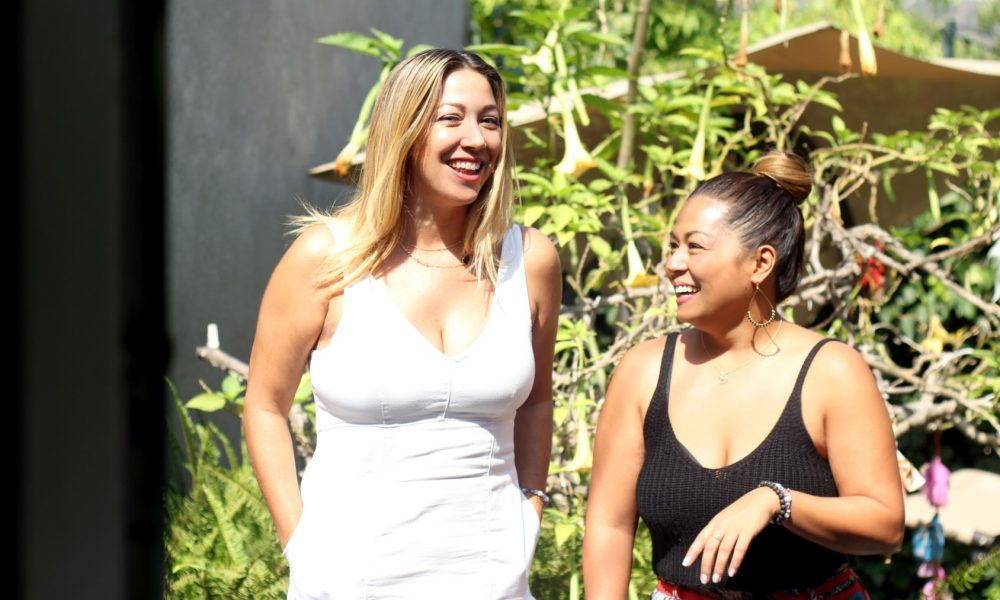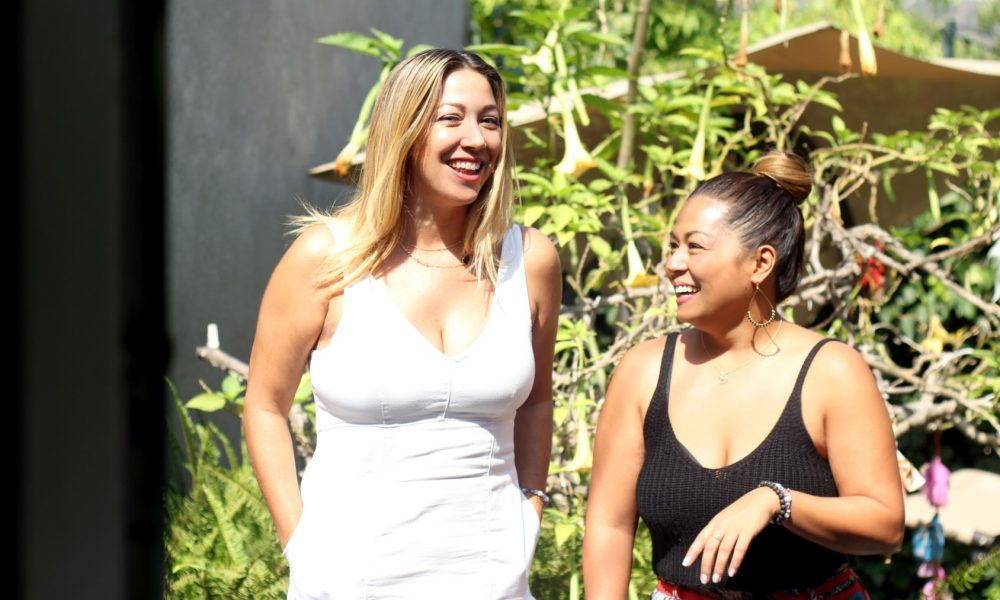 Today we'd like to introduce you to Rheena Bartolome and Heidi Linnebach.
Rheena and Heidi, can you briefly walk us through your story – how you started and how you got to where you are today.
Rheena Mae: In 2011, I was lost, scared and confused. My marriage was falling apart, I was down to my last dollar and the roller coaster of emotions I faced on a daily basis was getting to be unbearable. I wanted off the ride. I wanted to be free.
In my attempt to escape, I started focusing on other people and their problems, it made me feel better about myself (shrug…). One person in particular who held my hand through it all was my older sister Rhea. She too was going through a shitty breakup so one day, I decided to make her a necklace – mind you, I've never made jewelry and never had the desire to, but my spirit told me to do it (shrug again…). So I put a charm that said the word trust on a piece of string and gave it to her with a little note. She loved it and told me to sell it at a Farmer's Market. First reaction, who the F does that???
So here in starts the journey of MaeMae (aka little sister in Chinese)… What I thought was helping people was really a way of healing. From the first collection with pieces called Forgive and Surrender to pieces from today called You're Dope and I Am Ready for Love. Each MaeMae represents a part of the emotional journey. Here's a glimpse of ours and trust me lots of tears accompanied each year ;-).
2011 – 2015: beast mode at shows, street festivals and pop-up shops
Feelings created – Believe, Let it Go, You're Perfectly Imperfect
2016: manifested flagship store on one of the coolest streets in Los Angeles (shoutout to Atwater Village!)
Feelings created – Everything Happens for A Reason, Just Breathe, I Am Limitless
2017: Went ham on wholesale and got into over 300+ retailers around the world. Co-created Boss Lady line with future business partner, Heidi Linnebach. Feelings created – We All Start Somewhere, I Love Us, Balance.
2018: Life-changing year as I was blessed on this journey with Panda aka the Romy to my Michelle aka Heidi Linnebach aka business partner who is the yang to my yin
Feelings created: I Got You, Acceptance, She Believed She Could so She Did
Heidi: Don't forget now!
2019 – 2020: Opened the Pandora's Box that is Amazon Retailing, trademarked our brand, trimmed fat and buttoned up our business, oh, and got a little obsessed with Crystals. Feelings created: You're Dope, Dare Greatly, I Am Ready for Love.
Rheena: That's right. What's awesome is Heidi's also a MaeMae (aka a little sister) and she has the same love + empathy for humanity. She brings so many gifts and talents to our world and understands not only business but people. With her guidance and leadership, we're tackling the world of online and Amazon like a boss, feng shui'ing our lives and creating new "key thriving indicators" around what it means to be successful in business!
Together, we are committed to making the world a sweeter place through love, kindness, encouragement and obvi, our beautiful jewelry pieces. Our dream is to help people love & accept themselves and their feelings. MaeMae is that little sister energy that keeps us on our toes and loves unconditionally.
It's interesting what magic pops up when you follow your intuition and go with the flow. It really takes a Village to make all of this happen and Heidi and I are so thankful to have an amazing team of angels that work at MaeMae. We create all the designs, hand make all the jewelry, manage all fulfillment and customer service, and we're a retailer… So what I'm really saying is that our tiny team is hugely dope.
We're always bombarded by how great it is to pursue your passion, etc – but we've spoken with enough people to know that it's not always easy. Overall, would you say things have been easy for you?
Rheena: Over the last nine years, we've been through a gamut of emotions. From divorce to death to terminally ill children – the kind of tragedies that make you question everything.
Some days we cried at work all day, some days we made jewelry in the waiting room of a hospital and some days we just didn't get up.
The struggle is real, was real and still is real. Not everyday feels good and not everyday are we inspired, but the days we are make up for the others because we create with such love + passion thinking beyond ourselves and the ripple effect we have on this world.
Heidi: We allow all these heartbreaks and great joys of life to inspire the messages in our jewelry though, so it's all part of the beauty of MaeMae. As business owners, our struggles are probably similar to what most other small businesses face as they work to grow into a "not-so-small" biz…funding, marketing, technology, staffing, etc., but most importantly for us, is that we never lose sight of our Purpose in this business. Finding that balance – between generosity and sustainability, flow and drive, feeling and doing – is probably one of our most important challenges.
So let's switch gears a bit and go into the MaeMae Jewelry story. Tell us more about the business.
Rheena: We're not a jewelry company. We're alchemists, we turn gold into feelings…
The first question asked when you walk into MaeMae is "How are you feeling?" Usually the answer is "good". Good for you, but we like to know more. As you saunter around you end up finding yourself in front of the wall of messages, aka MaeMae pieces on cards. Your eyes can't help but see words that your heart yearns to hear; This Too Shall Pass, I Am Worthy, I Thank God Every Time I Remember You… Messages that give you warm fuzzies with a dainty piece of jewelry attached.
Our dream is that you wear the piece and feel the energy with which we created it. Our mission is to co-create an experience with you where you feel loved, seen and accepted.
We're different. We're weird. We actually care… We're MaeMae, jewelry that loves you back.
Heidi: What I'm most proud of is the authenticity and integrity we have as a voice. There are many companies out there selling great products – ours happens to be high-quality, great value and absolutely beautiful. But, the thing that really makes us tick is tapping into hearts. The products we curate in our gift shop (in addition to our own jewelry) are carefully selected for that purpose. We want people to find new love for themselves, and a deeper connection to others through renewed strength in their own spirit. We want them to know they Belong.
But, we're also practical. We offer custom sizing, personalized designs, free repairs and easy returns. We believe people are generally thoughtful and kind, but they're busy, and sometimes need help expressing themselves. So, we try to make gift-giving easier by allowing you to shop based on feelings or on the type of relationship.
Has luck played a meaningful role in your life and business?
We don't really believe in luck. We believe we have the power to choose our perspective on the things that happen in our lives. Those that are difficult are not necessarily "bad" or "unlucky".
We trust that everything happens for a reason, and allow the pain to break us so we can learn more deeply.
By seeing the grace in each circumstance and being grateful for each moment, we can see them as positive experiences. So, in that way, we feel that we have what some may call "good luck".
We feel super lucky to be alive, to have each other, and most importantly, to have passion and a purpose.
Pricing:
All are made with 14k gold-filled or sterling silver materials, so they're high quality
98% of our jewelry pieces are still under $50!
We do free repairs on our pieces and have a 100% satisfaction guarantee
Contact Info:
Suggest a story: VoyageLA is built on recommendations from the community; it's how we uncover hidden gems, so if you or someone you know deserves recognition please let us know here.