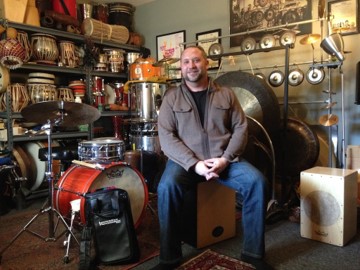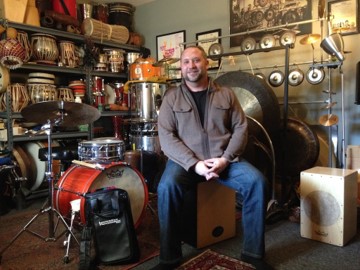 Today we'd like to introduce you to Randy Gloss.
Every artist has a unique story. Can you briefly walk us through yours?
I was born and raised in and around the Philadelphia area by primarily a single mother who was a dancer, choreographer, teacher, and business owner. It wouldn't be unrealistic to say that I grew up in the back of dance studios. Due to extenuating circumstances (and there always seem to be), my childhood and upbringing exposed me to many life-altering events at an early age(s), and perhaps I grew up faster than most. For the purpose of this interview, I'll leave it at that regarding those aspects of my "unique" story. I only bring it up to make the point that throughout I had an incredible role model who taught me how to find the positive, the meaning in everything and through example showed me how to learn and grow from it, always taught to follow my heart and to use my head. She's courageous to the point of fearlessness and has boundless determination. My mother was and still is an unstoppable force.
From an early age, I began studying music. First, with the guitar around five, but soon after by age six, I had already started on my path with drums. Actually, my mother and I took drum lessons together for the first year of my studies, but that surely is a whole other story. No doubt, though, a huge part of my pursuit as a musician, directly and indirectly, came from her.
From the beginning, my musical root was the drum set. Then it branched out to include concert, classical, and contemporary western percussion, and also jazz vibraphone. Around that time also gaining exposure to Latin, Caribbean, Brazilian styles, which in turn further blossomed to include other world music traditions from Ghana, India, and later and continually ongoing, much much more such as Persian and Arabic traditions. It quickly became apparent that it was just all about drumming. Over the past two, three decades, and in some cases more than four decades, I've gone quite deep into many areas of drumming from around the world, and it seems I've never met a drum I didn't like.
It was this passion for learning about the world of drums and percussion that first led me to dual majoring during my undergrad in both Percussion Performance and Jazz Studies. An incredibly important percussion teacher and mentor during that time, Dan Kennedy (who recently just retired from a long tenure at Sacramento State, but at that time was just a young doctoral student at SUNY Stonybrook) had planted the seeds of my one day going to CalArts (as an alumni himself), and unknowingly towards what eventually would become my future. Within a handful of years, I moved to California to attend CalArts for an MFA degree in a program that was at the time called Multi-Focus Percussion, under the direction of percussion vanguard John Bergamo, and my life was forever changed.
By the time I reached CalArts, I was voracious in my pursuits to learn and study and perform as much as possible. I took advantage of every available resource at the institute, squeezing every drop. After all, it was to be just for the two-year program, and then I would go back east. However, I never went back. My work with my mentor John Bergamo transitioned seamlessly into our work with Hands On'Semble, what would become an award-winning internationally acclaimed percussion group. Also, almost immediately, I began teaching at CalArts as well. John did so much for me, not just as a teacher, mentor, and friend, but as a colleague starting Hands On'Semble together and grooming me for CalArts, referring me for gigs, caring for me like family, I could go on and on without stopping but it still wouldn't fully do justice the blessings he bestowed upon me.
Flash-forward twenty plus years, and I've been incredibly fortunate to get to do what I love, and parlay it into a fruitful career as a professional musician and as an educator. I've worked with an incredible and extensive array of esteemed artists from around the world in concert and recording numerous albums (including a Grammy winner), several movie soundtracks, television shows, video games, software programs and sample libraries, theater productions, and much more. As an educator, I am the Director of the World Music Performance Programs at the Herb Alpert School of Music at CalArts, where I also oversee the MFA World Percussion Program, teach as faculty in the North Indian Music Program, and currently hold the Michele Colombier Performer-Composer Chair position. I have also been on faculty at numerous other institutions and have been a visiting artist and clinician at music schools all over the world.
Lastly, I just want to say in regard to the initial question of "briefly walking you through my unique story," and specifically the word "unique": Interestingly, I repeatedly discuss this particular word with my students, often in the context that I am not unique or special. Whatever I've accomplished, they can as well, and more. Yes, of course, it takes a lot of work, constant work, persistence, the ability to recognize opportunity, and much more, but understand that music is not elitist or exclusive… It is truly a community-based art form…it really is for everyone. I feel this especially with something as fundamental as the act of drumming, historically and globally I am surely not unique…I did not invent the wheel but instead represent a miniscule link in a very long chain (at best). My uniqueness (beyond my own trials and tribulations, which we all have our own) is based in following my heart, my path, doing what I love, and just being me and staying true to myself, pursuing music and the world of percussion in my own way with as few compromises and concessions along my journey.
Please tell us about your art.
I'm a percussionist who draws extensively on a global scale from the instruments, techniques, timbres, rhythmic languages, and structures from music from around the world. However, I feel less akin to the heavily used moniker of "world percussion," as from my perspective, I see it in a completely different manner. I am simply and solely an "American percussionist" open to the sounds, ideas, and possibilities that surround me, like colors on an artist's palette as a means of expression. With Los Angeles being one of the most multi-cultural cities in the world, and CalArts as a truly diverse, creative environment to experiment, explore, and share, this has for many years and decades been an organic path for finding and developing my voice as a percussion artist. Pursuing the world of percussion and the related music cultures around me, not to become something I'm not and can never be, but the opposite, to better find out who am I, through an ever-increasing appreciation for (and understanding of) the world around me.
As far projects representative of my work, most notable would surely be my percussion group Hands On'Semble; and more recently my solo percussion work as well; I'm also really excited about a new percussion duo project and forthcoming album with Pete Lockett. This heavy percussion focused work in addition to my other collaborative projects or even contracted work as a percussionist with numerous musical artists across a very wide spectrum of styles, genres, and settings cumulatively gives a clear picture of my overall work. To find out more, people can visit: http://www.randygloss.com/
What do you think about the conditions for artists today? Has life become easier or harder for artists in recent years? What can cities like ours do to encourage and help art and artists thrive?
In many ways, it's an increasingly challenging time. Music as an entity or commodity has never been more devalued (to the point of worthlessness), and many past traditional pathways have been reduced or closed altogether, if not in total ruin. It can prove to be a confusing, frustrating, and desperate time trying to navigate a music business after it's apocalypse in a total free-for-all.
On a positive note, the artist has never been more empowered or in control. Everyone is their own cottage industry. For starters, everyone has the ability to record and release their own music with global reach. So everyone is their own record company, then thusly their own PR firm, marketing, their own booking agent, their own brand… and it goes and grows from there. In this and many other ways, musicians are actually more in control of their career and destiny than ever before.
However, it can be concerning that this self-serve, entrepreneurial climate can easily draw attention away (often far away) from the main subject (focusing on your music). Then, of course, not everyone is entrepreneurial and business-savvy, and are those skills essential, exclusive, or even needed for being a great musician or artist? Obviously not, but increasingly becoming more important if not essential for building and sustaining a career as a musician in this age of self-promotion.
I think the most important thing is to stay focused on your music… just make your music. If you focus your energy there, put your love into it, surrender to it, you will excel, and this will radiate and attract. Everything comes from this, don't lose sight of that in all the confusion and complexity of the times. A painter paints, (usually regardless of having a buyer)… so as a musician, just make music. Let it out.
When the sh*t hits the fan, people usually scatter, and it's a bit of a free for all. Everyone for themselves. However, one really wonderful thing I'm seeing a tremendous amount of, is generations deep of musicians building, bridging, and connecting more than ever. Rather than small independent "islands," there are "more co-ops" and "island nations," with certain places, venues, organizers, series, musicians, audience, etc. Being great catalysts for bringing people together and bridging communities.
The reality is emerging musicians out of necessity are becoming increasingly resourceful, no longer out of desperation though, they are more focused on community and sustainability, and all of their efforts are rippling outward in an extremely positive and varied way.
Los Angeles has been going through an amazing cultural renaissance across many modalities for some time now, this has made certain things more flexible, fluid, possible, and given attention and rise to some of those things.
Los Angeles has been my home and home-base for the past quarter century, it is a city that continues to amaze as both one of the most multi-cultural cities in the world, with seemingly limitless opportunity to pursue (listening and/or studying with regard to music) anything and everything from around the world; as well offering seemingly limitless possibilities and opportunities for a creative, skilled, and motivated individual with an adventurous spirit.
As far as what can cities like ours do to encourage and help art and artists thrive.
I think it's about continuing to build community. Simply put, a musician needs musicians to play with, and an audience to play for. The more musical communities are built on these pillars, the more solid they become. Therefore, more support for existing series, festivals, and venues that serve and build our communities, as well as further opportunity for expansion and growth in these areas, including more appropriate places to play, for all ages. In that regard, more music programs for youth and opportunities to study and explore music. For as long as I've been in LA, I've always been involved in summer programs for young musicians. Programs like CSSSA, ACE at Oakwood, CAPSA…especially CAPSA which I did for about 12 years in a row was an amazing if not transformative experience for young musicians to gain invaluable information and tools…tuition free!!! I've been noticing of late these programs are drying up and going away, so continued or in some cases reinvigorated efforts are needed. By in large though, Los Angeles is very fortunate to have so many organizations that support the arts and arts education, especially when compared to many other cities.
With regard to the title which read: "Encouraging Artists":
For me, learning music, playing music, teaching music, in spite of all of the evolution of ideas, advancements in technology, particulars of the instrument, relevance of the age, etc…has at the core essentially been the same around the world for all times…older musicians informing and passing it along (one way or another) to younger musicians. I absolutely love sharing whatever I know and whatever I can offer to my students.
Beyond solely teaching rhythmic and technique based information (of which I do a lot), I am also actively involved as a mentor to many and committed to the idea that their success IS my success. I teach with the idea that we can all stand taller on the shoulders of those that came before, and therefore they should be able to, and I want them to able to exceed whatever I've done. I have been the product of amazing teachers and mentors and hope to be able to give at least some of what I've received. When I read the title of "Encouraging Artists," I thought, wow that could be on my business card. The reality though, is I don't even have a business card!!!
How or where can people see your work? How can people support your work?
I perform in and around LA with some regularity, so I'm fairly easy to find. Gigs come and go, and admittedly I'm not always the best at staying on top of promoting myself, so it's best to check local listings, LA Weekly, metaljazz.com, even Google, as well as going to my website (randygloss.com), Hands On'Semble's website, or visiting us on Facebook, checking us out Bandcamp, CDbaby, Pandora, Spotify, iTunes, Amazon, and any other usual suspects, to see, hear, stream, purchase, and generally check out more.
Right now I'm getting ready to leave to Patagonia for the 17th Annual Festival International de Percussion, and then to Buenos Aires with Hands On'Semble for concerts and workshops. When I return, I have immediate plans to dive deep into my studio to resume and finish some projects (particularly, finishing the duo album with Pete Lockett, and continuing work on what will be my second solo album). Then I'm quite sure gigs will pop up along the way, so stay tuned.
Contact Info:

Image Credit:
B&W photos by Eron Rausch.
Getting in touch: VoyageLA is built on recommendations from the community; it's how we uncover hidden gems, so if you know someone who deserves recognition, please let us know here.