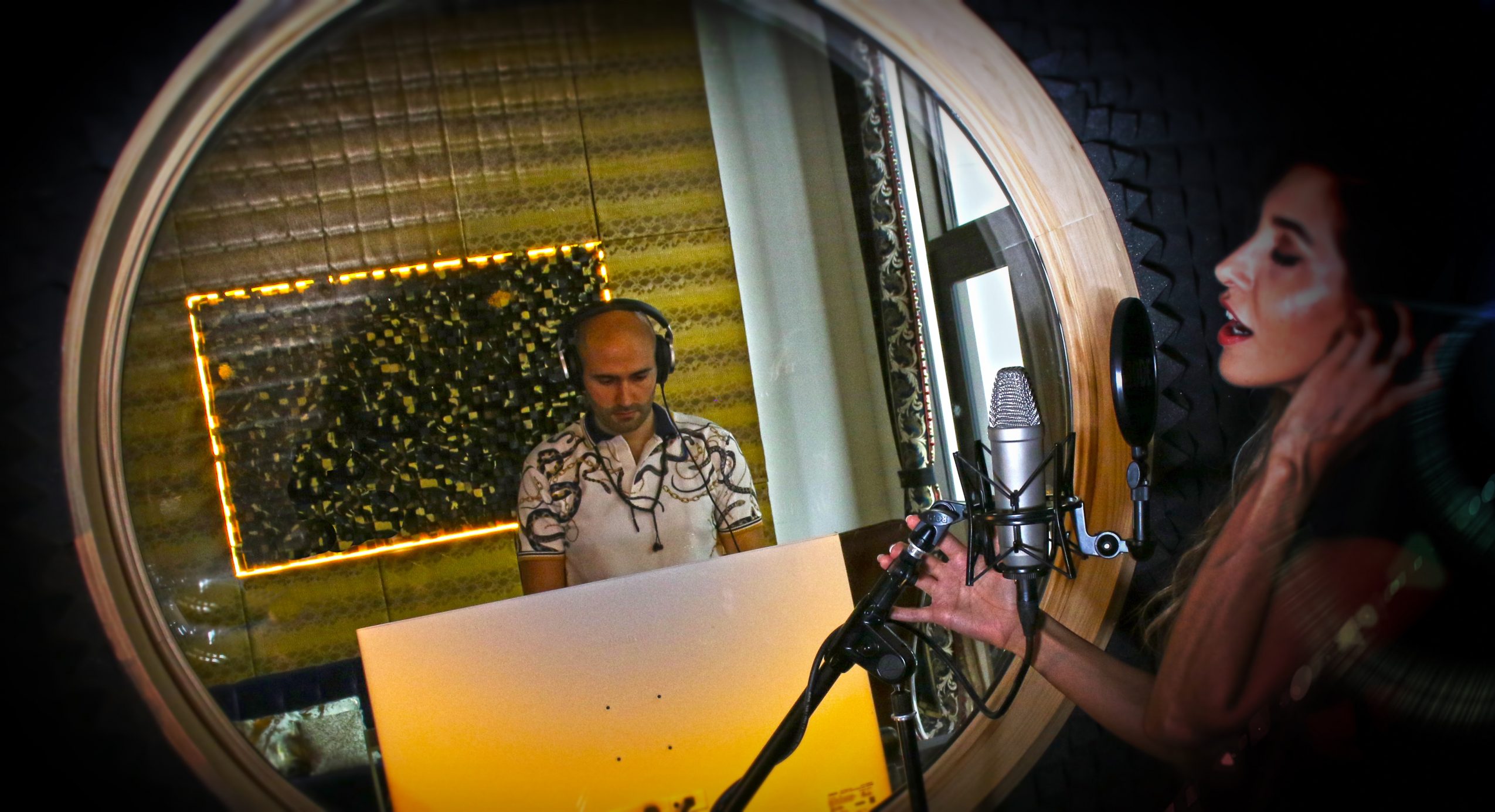 Today we'd like to introduce you to Ramin Sokouty.
Ramin, let's start with your story. We'd love to hear how you got started and how the journey has been so far.
I'm the founder of The Silent Note recording studio and music Production Company which is a result of music and architecture making love. I was born and raised in a musician family in Tehran, Iran. My father is a setar player and sound of Setar was my first and forever lullaby. I remember most of my childhood traveling around Europe for my father's concert. Every soundcheck and stage set up was my childhood playground. From a very young age, I learned about the artist's frustrations, stresses, and hard work. I was involved with music from the day I was born. I started music with a drum at the age of 6. After all the neighbors complained my dad took away the drum and bought me a guitar. My dad never let me touch his instruments. Persian instruments are so delicate and my father treats his instruments like a God. Like every curious kid that sneak peek to the parent's room, my childhood hobby was to play with my dad instruments with fear while he wasn't home… Well, just like all the other moms, my mom caught my hand and told my dad that I was actually a good setar player. As a result, my dad bought me my first setar, still, he didn't let me touch his instruments!
In high school, a friend of mine handles a Pink Floyd concert CD and that CD made me a true performer. I bought an electric guitar and watched the CD a million times and practiced to play exactly like David Gilmour. As a teenager, I also wanted to impress girls. I remember to run so fast after school back to our home, took my guitar and started to play in our balcony to impress girls who were passing by our balcony after school. Every person who pass the street would stop for a while and cheer for me, and I was feeling I'm a rock star on stage! I wanted to be a performing artist. Gathering a band wasn't a big deal as all my cousins and family members are musicians. I led them to play all Pink Floyd songs and I started to sing as the lead singer of the band. We gathered people at a small party and play for them. Next time a bigger party and our parties turn to crowded concerts by passing time. Did I mention that I was living in Iran? People usually ask us why you immigrate to the United State and work hard and live harder while you had a good life in Iran? It's mainly because the government doesn't let you do what you are good at. Doesn't let you do what you want!
Our last concert ended super dramatically by police officers. They took us to the detention center including all the fans and people who came to watch us. Rock concert? American songs? That's a sin. That's against the law, and they called us treason for society! They even took my father to detention as a supporter and ban him from his music. The government could stop the show and ban me from performing but couldn't stop my passion. This is how a new phase started in my music career and I started music production. My music didn't follow the government standards as my standards are different from them. All the surrounding people including my family pushed me to pursue another business beside music and have my music as a passion and hobby. I started a profitable business with my brother to distract myself but can't stop the production as I enjoy the process.
I felt crushed and depressed inside for a while until I met a girl at a party. In my eyes, she is perfect in all aspects and most importantly she is the believer, the dreamer, the courageous, the cheerful, the planner, the doer a successful person with her head in the cloud and her feet on the ground. She worked hard to build her successful career in architecture, she won architecture competitions, and she was a faculty member. Yet, she was tired and hopeless, but she wanted to change the situation. She shared her stories with me about all the limitation, frustration and discrimination the society imposed on her because she is a FEMALE. She told me that just because the society pushes me back I'm not going backward, I'm not going to live the way they choose for me, I'm going to live my life to the fullest the way I choose for myself! I can move! I'm not a tree to have my base in the ground, my base is inside me…. She became my motivation, she moved to United Estate and I joined her two months later than I couldn't lose a dream anymore. She truly pushes all my dreams to come true. Now I'm a music producer, composer, and founder of a recording studio in the heart of Los Angeles working with so many talented and professional artists. I'm a dream catcher….
Great, so let's dig a little deeper into the story – has it been an easy path overall and if not, what were the challenges you've had to overcome?
Of course not! Challenges are part of the road… This road, I mean the road of success has no end. There is no destination as your goals, your level of success, your standards and your lifestyle that you are looking for, move with you along the way. They grow with you. If someone had been told me while I was a 15-year teenager that by the age of 32 I would have my own recording studio in the heart of Los Angeles with the best type of equipment working with best artists and Hollywood media; I probably laughed at him and couldn't believe it. It was just like a dream and a wish that came true but now my dreams are growing and I want more. I want that Grammy award that Oscar award I want to work with best of bests.
The key to success is you need to enjoy the road. Every twist, every turn, every bump, every puddle, every up and every down along the road is a challenge that makes the road less boring. I personally love to take challenges in my life as I believe it can boost you to do incredible things that you never think of. Even if I want to choose a traveling road I always choose the road with many turns around the mountains or ocean view rather than highways….
For both of us, immigration was our biggest struggle. I can't explain how hard can be saying goodbye to your family, friends, to all the history and hard work, abandon your business and starting a new life again from nothing! I don't know where to start, from a new language, no US degree, no job, knowing no one, No family and no friend, no connection, no support, new lifestyle, completely different economy, no money or let's say our money doesn't worth that much! (Due to changing currency)….. I let you guess the rest.
Luckily we have each other and we are dreamers. When you make a decision and you believe in what you are doing you need to surrender yourself to your dream. Whatever we do, we need to enter into the process with our whole hearts. When we do, we taste the sweetness of love. It is in surrendering that we commune with our own deeper nature. It reveals the kind of truth that can become a faith. When you have faith in what you are doing then instead of focusing on the challenges you will focus on your points. I am a musician, a music producer, a person who has a vast knowledge of world music and Niloofar is an architect and designer. We as a team, combine our powers and our knowledge to create a unique space to set the mood for artists in a creative mood. Because every good artist needs an equally great production to become the world-best. ONLY TEAMWORK MAKES THE DREAM WORK. The silent note studio is in the business of making 'a dream' work.
Alright – so let's talk business. Tell us about The Silent Note – what should we know?
"The Silent Note" Recording studio provides the best & purest sound quality with the help of innovative materials & creative designs. It's all about the performance. We do our setup so that the artist is immersed in the piece and isn't distracted by anything. As a professional, you may have written that song, rehearsed it several times, but your dreams of getting the world to hear it and making it an award-winning song requires one more step. You may have designed your game with the latest of technology; you may have placed all the effects in all the right places, yet something is missing: something very vital. You may have the best script for your radio or television adverts, all excellently written and primed for delivery, but one vital aspect is missing, and it is the recording or production process that will turn your lines on paper into vocals that are well-edited and beautiful to listen to.
Most recording studios and production companies are either too archaic or have producers who are not experienced enough, which becomes the major challenge for their clients. Theft of intellectual property due to studios that are not secure or staff that are not trustworthy, to the production team that does not understand the client's needs to technology or equipment that are not up to date. These are just a few of the challenges most musicians, singers, and artists suffer at the hands of other production companies. We are proud to say such challenges are familiar with these companies and not with the silent note recording studio and music Production Company.
Is there a characteristic or quality that you feel is essential to success?
I can say essential qualities or characteristics are: Passion and love for what we are doing as we surrender ourselves and dedicated all of our hours (24/7). Exceptional services, support and help our clients to major success and powerful network.
In the silent note studio, excellence defines the way music is produced, and services are rendered. Past clients always come back because they know that they can trust the silent note for doing the exceptional always. From vocals which are crystal clear and extremely audible to the perfect infusion of different kinds of drums, harmonica, guitars and other stringed instruments, all depending on the genre of music you want to produce and the amount of instrumental you want to include.
Services rendered by the silent note company extend to much more than music production alone; The Company also provide consultancy services which range from music video directing, music genre selection, film scoring, voice-overs for radio and television adverts, soundtracks for radio and television adverts, music production, video production, and photography.
We have a trusted network of professional individuals and entrepreneurs that we can create art and new projects together. If we climb that mountain together, we might just make it to the top.
Art is our way of expressing ourselves to the world. Whether you are in the visual or performing arts, your art should make people feel something. That is the difference between artists who have a staying power and those who don't.
Our intention is to expand the creative power of those who have similar beliefs to present their creativity and to generate public support and interest in areas that affect the larger world. We are dedicated to providing a forum for creative dialogue between artists and the public on both local and international levels. You are also welcome to be a part of it in our future journey.
Pricing:
STUDIO TIME: starting from $75 per hour (Engineer incl.) Special Adds-on such as catering, drink, gathering friends, etc available…
LEASING BEATS: starting from $30
CUSTOM MUSIC PRODUCTION: starting from $1500
Contact Info:

Image Credit:
Photo credit: Mohtadi Mirak
Suggest a story: VoyageLA is built on recommendations from the community; it's how we uncover hidden gems, so if you or someone you know deserves recognition please let us know here.