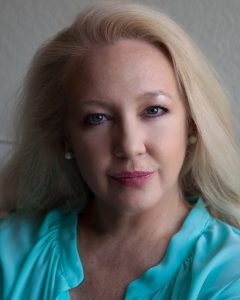 Today we'd like to introduce you to Michelle Arthur.
Michelle, please share your story with us. How did you get to where you are today?
When I was a little girl, I threw a blanket over the clothesline in the backyard to make the backdrop for a stage and gathered some neighbors to watch my play. I had no script, just a couple of actors — my younger sister, our Pomeranian, and myself. It was then, age six, that I realized I had the desire within me to orchestrate entertaining productions.
Other than a second cousin on my father's side who was a Tap Dancer and Background Artist in a few films, including a couple of Doris Day productions like "The West Point Story," no one else in my family had pursued Hollywood. Growing up in the Midwest with blue-collar parents, it seemed like such a far-fetched dream.
The bridge that really connected me to the biz came from my uncle on my mother's side. He was a newspaper Reporter then Columnist for years and now a teacher at Chapman University. It is from watching his career as a storyteller that I decided to research and share findings for my own writings and first pursued an editorial then advertising career with print media.
One day, while going to a meeting for magazine advertising in Los Angeles, I had to step into a set for a commercial. I met a man who was going to a shoot for the TV series "Family Law" the next day as a Background Artist and he invited me to attend. I wasn't on the Assistant Director's list when I arrived but, fortunately, he let me stay, put me through the Wardrobe department, and in the show. I'll always remember how the A.D. watched me from afar and later said, "I think you're going to like this kind of work." He was so right.
There were hints over the years that Hollywood was calling — synchronicities that kept lining up to those shining lights, such as all of the overlaps I kept experiencing in the luxury celebrity-driven magazine field, or even with famous actors who'd left their mark somehow in Indiana. But when you grow up feeling removed from that world, it took a lot to convince me to go for it. As a Producer, Writer, Director, Actress today, I see how all of the pieces of my life puzzle have come together to bring me to this point. It has shaped what I present in other TV shows or films or with the ones I am creating with my own casts and crews.
We're always bombarded by how great it is to pursue your passion, etc – but we've spoken with enough people to know that it's not always easy. Overall, would you say things have been easy for you?
In some ways, the entertainment industry has provided a very smooth road. Once I was registered with this or that particular casting agency, they continued to call if I was in the area and available, to connect me to this well-known TV show or that big film, and I will be forever grateful. The rockiest roads, however, I've chosen to drive down myself and that is due to my own personal growth. So many people along the way have tried to derail my journey with their negativity. I've had to develop the strength to withstand the naysayers who have been so adamant that this life is not real.
In addition, I have always taken small steps that have helped me develop gradually. For example, making four teasers and a short before producing the feature film "Fate's Shadow." I could have just jumped into the feature, but I needed the experience of making each video to give me the confidence I needed for the steps ahead. The benefit is I have built a stronger foundation. The disadvantage is that it has taken me a much longer time to get where I need to be. But some people never make any films, so there are the facts.
Another example, I met Actor Chris Pine at a red carpet event. We'd been Facebook friends and that was the perfect opportunity to discuss our connection and projects. Instead, I just clammed up nervous in his presence. It felt as though someone poured cement in my mouth and I could not utter one word. I later wrote to him apologizing for being star struck. Haha. That was just a few years ago. If I met him today, I'm sure I'd be able to handle a small conversation at least, but that is due to my own confidence level and how it's changed.
Please tell us about Princess Arthur Productions.
My official company is Princess Arthur Productions. The name stems from the legends of King Arthur. Having ancestry from the United Kingdom, it seemed like a significant way to tie in the realness of my bloodline to Arthurian literature which is still popular today from all the adaptations in theatre, films, and other platforms. Always the question prevails if King Arthur was a real man or fictitious. When making film sometimes, you are altering true events to make a story work on the big screen and that comes from the gray area between the writing side and what's logistically possible from the producing side. For me personally, in essence, the name ties my father's side to my mother's side to bring out my innate abilities as the offspring of their union.
Our company is producing the film "Fate's Shadow" and "Rings of the Unpromised" with another story idea that has yet to be registered. These are films based on true stories from events in my life. Not being 20-something has its advantages when you have more life experiences to pull from both as an actress and as part of the crew. I produce, I write, I edit, I act, I direct, etc. There probably is not one stone that I have not overturned as far as positions go in the process of creating these movies and that is the fun of it.
Even if I'm hiring someone to handle an aspect that I know nothing about, such as composing music, I'm still listening to every sound they create and determining the fit for our films. So I've had to stretch my abilities in areas which I never imagined in order to sign off on the final product. It's been overwhelming at times. But I've embraced the challenges by taking them step by step and it's been worth it.
Outside of the work from Princess Arthur Productions, I've been involved in about 100 other films, TV shows, commercials, or industrials over the last several years. Some of that work is showcased on my IMDb and all of it has been rewarding to me emotionally, mentally, and spiritually. I'm really passionate about being on set, whether it is in front of or behind the lens of a camera.
Although I've been involved with many other projects, enjoying every one of them, at this time I am most known for the short film version of "Fate's Shadow." It is still in the festival circuit and has received numerous awards. That recognition for the short gives us momentum as we move into the feature.
What sets me apart from others is my determination to succeed in this field. The list of obstacles that you encounter to make a film is long, and I'd say we've seen a longer list than the norm. Regardless, I simply won't give up on my film projects nor this Hollywood career. I might get derailed or have to be on standby for a while, as so many others are during this global health scare, for example, yet I always hope to return to the path that will take me to more work in the biz.
What were you like growing up?
When people think of growing up it usually reminds them of school. I am thankful to have a Bachelor of Arts degree from IU in Bloomington, IN, to have studied at UCLA, and to have taken classes at 3 other schools devoted to acting and filmmaking. One of those was James Franco's Studio 4. Through Franco's school not only did I learn how to be a better actor and filmmaker, but I was given tremendous opportunities to be in several noteworthy films of his. My first ever speaking part came through Franco. It was a special time, and I am forever grateful.
Contact Info:
Image Credit:
Photography by Magali Widmer-Brown and Andrea Costa Lima of Frame 12 Productions
Suggest a story: VoyageLA is built on recommendations from the community; it's how we uncover hidden gems, so if you or someone you know deserves recognition please let us know here.