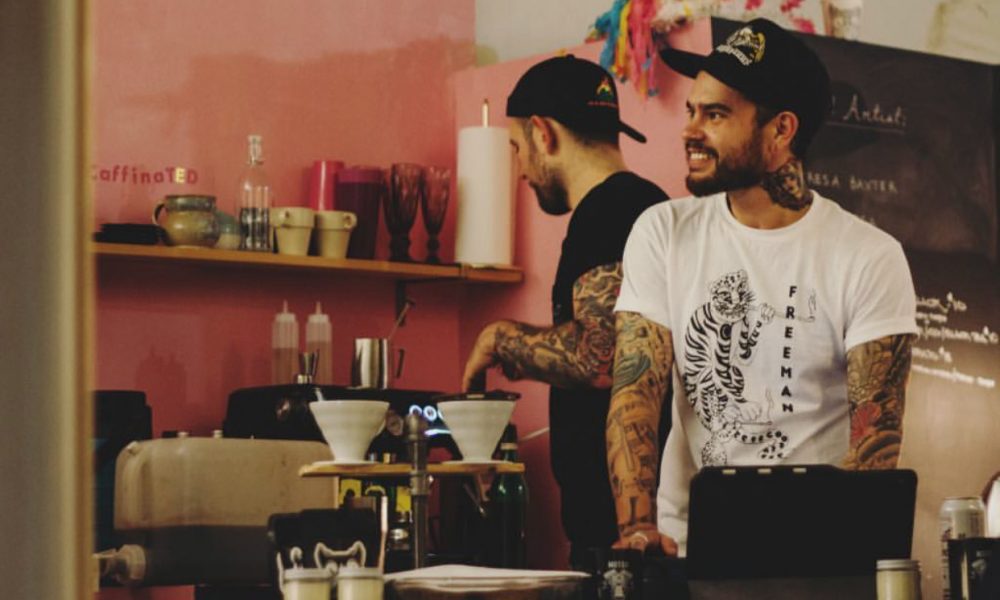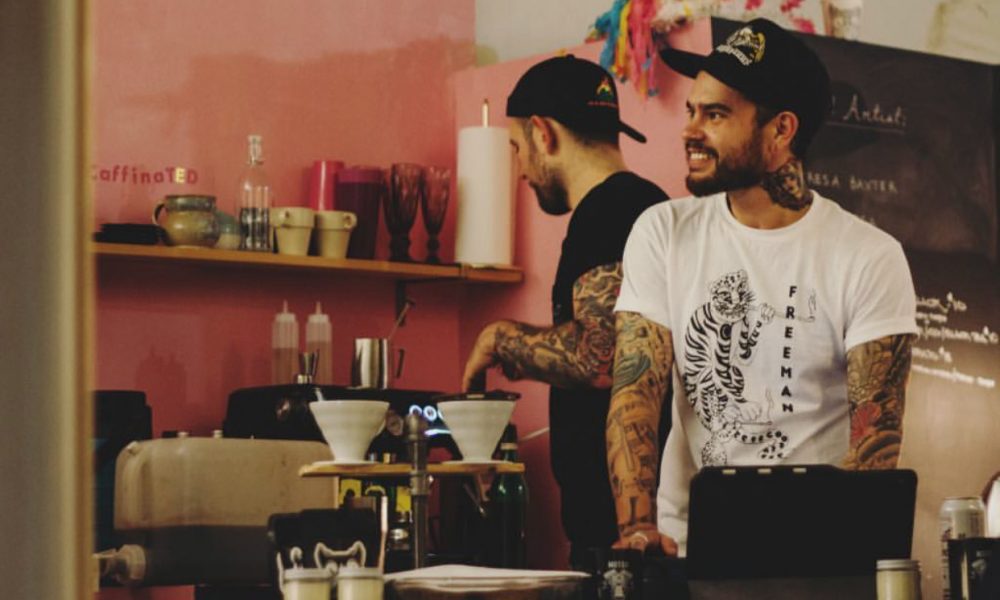 Today we'd like to introduce you to Nick Galaura.
So, before we jump into specific questions about the business, why don't you give us some details about you and your story.
BlackCat originally started as just a name that my group of friends and I had come up with for ourselves.
In 2013, all of us had kind of gone through a rough patch in our lives. The end of a relationship, loss of a job, career change; I mean, there was a lot going on, and we just happened to all live together. There were 4 of us: Myself, my now business partner Cory Linman, and our two other roommates Sean and Ben-so we were kind of like our own support group.
We kind of decided that every week, we would get together and air it all out. So we called it, "BlackCat Boys Club". The whole idea being that we were just going to embrace the bad luck we had, whether it was really a stroke of bad luck or poor circumstance. It caused us to look at anything negative that kind of happened in our daily grind and use it as material to bring up in our weekly meeting. It helped.
Fast forward to 2016. I've gotten my motorcycle license, I've got a motorcycle. I've been riding maybe 3 months and I love everything about what I have already experienced with the motorcycle community. Cory and I are on tour playing music in Portland, OR and we stop at SEESEE MOTORCYCLES: It's a rad coffee shop that also has motorcycle gear: clothing, hardware, I mean really anything you would need.
And I am SO stoked. I haven't seen really anything like this in Costa Mesa, or Fountain Valley, or anywhere really close to where we live. A place that you can grab moto gear from smaller companies and solid coffee, art showcased on walls, and a place to grab fluid, new grips, patches, whatever. I fell out. It changed how I saw coffee shops.
So I tell Cory, who also has just purchased his first motorcycle and has been riding even less than I have, that I want to start something in Orange County. Something that ties everything we love: music, art, coffee, motorcycles, friendship, community, outreach, taking care of people-all of it. I want to tie it all together under one roof.
Cory says no. He's the sensible one.
Which is fair-I've never owned a business. I have a music degree. At this point, I don't even know how coffee is ACTUALLY roasted, and I want to move into a building and run an incredible project with little to know knowledge of how any of it works. Long story short, I bully my best friend into agreeing to start a business.
BlackCat Motorcycles & Coffee was and is founded upon friendship and the desire to build a community. That community wouldn't necessarily be just for motorcycle riders or coffee people, it would be for people that love people. And originally, we just wanted to pull the trigger on a building, move straight in, quit our day jobs and hang out with people full-time (Because THAT's how things work). But after our very first Kickstarter absolutely tanked, because we asked a bunch of people we didn't know and didn't know us for $50,000, we started realizing that more than just having a "cool idea," having a following and more importantly, a hand in the community itself, was the most important thing when creating something like this. Which is why 10% of all of our coffee sales goes toward taking care of the Orange County homeless population, whether it be building self-care kits (Bags of things like socks, snacks, water bottles, and something to just help people keep going) or donating to a local cause. Eventually I want to buy a small apartment complex, work with a transitional living program, and provide jobs and job coaching for people within the BlackCat shop. I know it's a lot. I tend to dream big.
We started designing and printing our own clothing, mugs, accessories, and eventually I learned how to roast coffee. This wasn't a, "Oh this would be nice" kind of move, it was a, "Okay. We can't afford to pay someone to do this. We can't afford a building. We are on our own, fronting the costs out of our pockets and from people who can donate and if we want this to happen, we need to figure it out." We collaborate with other artists and coffee companies that have been gracious enough to help. We say, "Figure it out" a lot. It's fine.
So that's what we've been doing.
Just figuring it out. Saying yes to everything that we possibly can to make it work. We just bought a truck that we are currently building out and permitting to be a mobile coffee shop and eventually we would love to move into a building and run both-a daily coffee/motorcycle shop and a mobile coffee truck that does events and . Saving up the entire way to really fulfill everything we want to do with the shop and most importantly, provide a place for people in and outside of just the Orange County community.
We're always bombarded by how great it is to pursue your passion, etc – but we've spoken with enough people to know that it's not always easy. Overall, would you say things have been easy for you?
In a word? No.
But it has been the best. The entire road has been one of learning and growing and understanding how everything works-not only about how to operate an actual business, that has tax ID's and expense reports but how to navigate a business with your best friend and not want to kill each other at the end of the day because one person thinks it would be rad to have a $400 neon sign of a cat head and you can't afford to buy blank tees and emulsion screens to finish shirts. (It was me. I wanted the sign. I still want the sign.)
I think that's the best part of owning a business though, starting out with an idea and realizing that the idea isn't necessarily concrete. Plans can change, they can grow, and when you're coming from a place where really the most important thing is creating relationships and keeping them genuine, there's never really a negative to changing something and saying, "Okay. New game plan."
So, as you know, we're impressed with BlackCat Motorcycles & Coffee – tell our readers more, for example what you're most proud of as a company and what sets you apart from others.
BlackCat Motorcycles & Coffee is a clothing/accessories company and coffee roaster that lives mostly within the motorcycle community. One of our little sayings is, "Coffee and clothing inspired by motorcycles & friendship." Our other slogan is, "Sorry Mom".
I think it's hard to directly say what we specialize in but I would say that the coffee events are what people call us for. Wholesale, local events, campouts, we just want to hang out.
I have to say that the thing I am most proud of as a company is just the company we keep. The businesses that have decided to associate themselves with us are truly our biggest accomplishments. Companies that donate to animal shelters, foster animals in their own homes, help riders that have taken spills cover their medical bills, donate to national parks, I mean, all KINDS of things that really restore a little bit of faith in humanity, and they want to be a part of something that we're also trying to do. It's the best.
I couldn't tell you what sets us apart from others, to be super honest. I am always so surprised whenever we get orders or asked to do these incredible events we have been invited to. I'd like to think it's because I'm super funny and I post really good memes on the BlackCatMotorCoffee Instagram, or that the blog we put out every Wednesday is something that people really look forward to every week. But I think that what sets us apart is that maybe we're a little too honest with the fact that we started this company not knowing a single thing and we are figuring it all out more and more every single day. I think honesty is important. This isn't our full-time job. I mean it is-There isn't a day where I'm not working on something BlackCat related for at least a couple hours, but we both have at least one other 9-5 job at the same time. I think, I mean, I hope that's what resonates with people the most. We're just trying to figure out how to do something we absolutely love.
So, what's next? Any big plans?
We are always coming up with new ideas and events and ways to meet new people and companies and build new product and keep people stoked on BlackCat. I think the event we have been looking forward to since we attended last year is Biltwell's Kernville Kampout in October. That was our very first event. We will always be thankful for Biltwell and their willingness to giving us our first real chance.
The biggest and most tangible move right now is the mobile coffee truck. Getting a permit and parts and getting the ACTUAL work done is just so gnarly.
I always talk about this five year plan. In the most streamlined way, I want to finish our truck, save up for a brick and mortar building to be able to serve coffee, clothing, have art shows, provide jobs, all kinds of stuff, and then purchase that apartment building.
I think the apartment building is the part of the project that sits closest to me. Building a partnership with a company that has a transitional living program and being able to have the bandwidth to provide not only a place for the participants of the program to live, but to work and get direction and job experience and eventually build skills to go out into the work force and start their lives is something I think would just be so awesome to be a part of.
Pricing:
We don't charge domestic shipping or tax for orders on the BlackCat website
10% coffee sales (bags of beans and drinks) goes towards taking care of the Orange County Homeless population
We try to keep all pricing reasonable. $25-30 a t-shirt.
$18-22 for 12oz bags of whole-bean coffee
Contact Info:

Image Credit:
Errol Colandro, Jesse Contreras, & John Hebert
Getting in touch: VoyageLA is built on recommendations from the community; it's how we uncover hidden gems, so if you know someone who deserves recognition please let us know here.