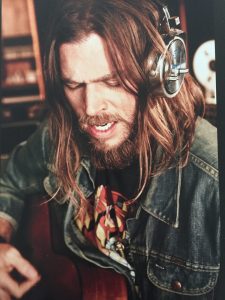 Today we'd like to introduce you to Neal Bradford Schofield.
Neal, before we jump into specific questions, why don't you give us some details about you and your story.
I am the frontman in an electronic music duo called "BXBY" with the amazingly talented Chris Hughes from Seattle. Chris makes the beats and adds layers of instrumentals, then emails the files to me and I write the lyrics and perform the vocals. Chris and I met fifteen years ago when I lived in NYC, he came for a visit with a mutual friend and we bonded immediately, a musical kinship and brotherhood was born, and we've been making music together ever since. However 2020 will mark the first time we have actually given the project a name and officially released music together, it's all very exciting! We haven't decided if we're going to put out an EP or just go for the LP, we have the material, I'm pushing for my first vinyl! You can find our first single on Spotify "Other Side" and check the website for notices www.bxbymusic.com. We have always made melodramatic rock music together but Chris and I both have electronic roots so it only makes sense we blast things off with a dance record!
I was born in New Bedford, Massachusetts and raised in Newell, NC. My father Bradford Schofield was a deacon of the Southern Baptist Church where he and my Mother Carolyn Wagemaker, were singers in the choir for 40 years, that's where I learned to sing. I transitioned into the rock n roll around age 19 after hanging around in Charlotte listening to friends band rehearsals. Got my first guitar around then and locked myself up in bathroom for years, thinking I was going to be the next Kurt Kobain! I attended West Charlotte High School in 1989 where I became Class President for the next two years, graduated in 1991. I took a partial Leadership scholarship at a small Christian school Campbell University in Buies Creek, NC. It had one stoplight and was the size of my high school and was very conservative, needless to say, I was unhappy and wanted to rock! I transferred after one year to the University of Georgia where life really opened up for me, meaning I started living like a rock star, going to shows, skipping class, partying nonstop, and ultimately leaving just short of graduation due to lack of funds. I will go back someday to claim my degree, GO DAWGS!
I moved back to Charlotte and lived at home with my folks for a few years before moving to NYC, following in my sister's footsteps, Susan Jackson, who lived in Spanish Harlem and worked at Macy's Herald Square. My first weekend in the city I was visiting Sue at work, and while walking through the store I was approached by Sam Doerfler and asked if I wanted to be a model! "A model? Excuse me Sir, I'm a rocker, I'm here to rock, not model! But can you make money?!" Sam told me to meet him for lunch the following Monday which I did and the rest is history, I signed with Ford and thus my modeling career began in the Big Apple. Sam was brand new at Ford, I think I was one of the first dudes he signed, now he's the head of the Men's Division at Ford. It was such a fun time in my life, and I can't say enough about all of the good people at Ford, especially Sam and Katherine, it was a family away from home for me.
During my ten years in NYC, I formed a few different bands and worked my way up to being represented my entertainment attorney Howard Sadowsky who was my hero. Most notable was the band "the Recovery Channel" with musicians Bo Kellam, Lasse Savola, Marcus Ferrar, and the late Deven McComb. During our hay day we were rehearsing five days a week and really going after it but I was a mess, drinking too much, doing a bunch of drugs, in a volatile relationship. Ultimately the band collapsed, and the dream died. Nonetheless living in NYC was the most amazing experience of my life and I wouldn't change a thing. Towards the end of my run there, I hooked up with my buddy from Charlotte Jonathan Wilson www.songsofjonathanwilson.com, and started building black market electric guitars with him under the Wooster Theater in Soho, his company is called GVCG Greenwich Village Custom Guitars. That was an awesome experience and amazing time working alongside this incredibly talented Bro that took me under his wing and taught me a really cool trade. Jon had lived in NYC for a couple of years and decided he wanted to move back to LA where he had lived several years before and I decided to go with. It was the end of an era, New York was done with me and I was ready for a new adventure. I packed up a van with my friend Jonah Gillego and my dog Bobby Whitefoot and we drove across country to LA and landed in Silverlake. I found a place just off Sunset Blvd. where I lived for the next 14 years. Chris moved to LA for a time and lived with me there, don't ask me what year that was, couldn't tell ya. Los Angeles, what can I say about Los Angeles … well I really struggled for the first couple of years, it was very lonely for me. New York was so fast paced and seemingly millions of people in and out of your life on any given day, that fed my ADD, and aligned with my energy on the planet. In New York the seasons are so dramatic, we literally crawled on our hands and knees out of every winter, hanging on for dear life, praying the spring would come, and when it did, boy you better watch out, life was renewed! LA has no seasons, it's always sunny, always the same, lacks soul, the people in a trance, no real friendships rooted for me, it really fucked with my head. I'm a fighter and I fought through the sadness and eventually found my place? The best thing that ever happened to me here was meeting my "person" actress Alexandra Bokova, we did the love at first sight thing on a sidewalk in Hollywood and have been together every day since, almost five years later! Her first feature film "Mermaid Down" just came out, you can stream on Amazon, and is doing well. I'm so very proud of her, that's a whole other interview. She is my heart and soul and has brought the light back into my eye, she believes in me. We recently left the city to take a break from the filth of our dilapidated apartment, and moved up the hill to a house in La Crescenta, a pretty little family town where we can focus on work and raise our boxer Chef. I'm a Union man now in I.A.T.S.E. Local 44, a professional craftsperson in TV/ Film so that takes up most of my time, a career, that I'm so blessed to have, to support my family, but it's not music. I continued to keep the momentum going with Chris, and seemingly out of nowhere something amazing happened, as if the universe heard my cries, or perhaps Chris did, for the first time in fifteen years things started to come together for us! The music started to pick up steam and blossom, things felt new, beats began to move me again, lyrics coming in divinely through a universal channel I'm connected to. Chris locked in and started pumping out songs like a madman, masterpieces! This story, my life, is a testament to sticking with your purpose no matter what, never give up, always keep one foot in the flame, and the universe will see to it that you have your moment. Thank God mine is here, at age 47, working and dreaming for this moment for 28 years, our first record is coming, and our first tour to follow! HOLY SHIT, can you believe it??!!! Mom I made it! I've always said, my life will start when I can get up every morning and make music for a living, and by God that day is finally upon us! Full circle. Thank you Jesus!
Suggest a story: VoyageLA is built on recommendations from the community; it's how we uncover hidden gems, so if you or someone you know deserves recognition please let us know here.