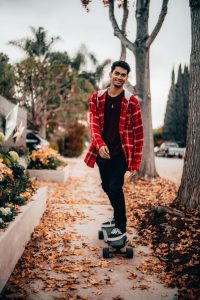 Today we'd like to introduce you to Nayan Behera.
So, before we jump into specific questions, why don't you give us some details about you and your story.
Ever since I was a kid, I've been looking for a way out of the conventional framework my parents guided me towards my whole life, which was to study hard, play it safe and become an engineer… It's funny because that "secure" path of life frightened me the most growing up because it seemed like my fate was sealed by my parent's desires with no real freedom to choose. Although it's the deviation from that framework that really helped me to find myself in college and begin dreaming with my eyes open.
At the end of the day, many of us face the same dilemma which revolves around fulfilling our parent's expectations and making them proud, but at a certain point you have to ask yourself who are you living for. Don't get me wrong I owe everything to my family, but we grew up thinking in fundamentally different ways. My parents are all about survival and the path of least resistance. They are first-generation immigrants from Orissa, India who came to California with little to nothing. My mother is an Indian Classical Odissi Dance teacher and my father does IT consulting.
Given that background, one can understand why they pushed me into thinking I should choose a safe field and settle down comfortably, but growing up here I knew there were multiple ways to succeed as long as you're passionate about what you do. My parents didn't get that and were like passion doesn't pay bills, which is true, but the way I see it is if you're truly working on something with pure intentions for the benefit of others, the universe will conspire to give you everything you desire as a byproduct of your work. It's like the money isn't what we do things for, money is a byproduct of the things we do. What I found most interesting is that the moment you take self-interest out of the picture and devote yourself to some greater cause all that you've ever desired floods in. That's a very abstract concept so I'll digress, but anyways that's the philosophy I battled my parents with all throughout college.
I ended up changing my major three times in college. My parents wanted me to study engineering but I wanted to pursue art and business. Although I did enjoy engineering and the way it trained me to think, but I found that it left me little time for projects outside of school. Most students know that succeeding at a high caliber in an engineering major is a full-time job. I made the decision to spend all my time on side projects rather than school because I felt what I was learning in school wasn't really teaching me how to successfully navigate through life. I remember feeling overwhelmed by not knowing if I should trust my own instinct to choose my own path or to follow the safe setup my parents told me to follow. I spent a lot of time introspecting while learning photography those first few years at UCSD as I was trying to find what I truly wanted to pursue. I knew it was in the realm of art and engineering its just that there wasn't a major at my school that fully encompassed this cross-section of studies. During my second year at UCSD, I ventured into San Diego's startup space. It seemed like I had found my fit because working in the startup environment had just enough structure while advocating unstructured thought to build out innovative ideas. This flexible framework peaked my interest. This framework was the perfect medium for me and a few years later after meeting a few key individuals at school our startup Sapphire was created. Four of my friends from college came together to build a weight-sensing electric skateboard because that didn't exist and we wanted one.
UCSD is a very big campus so many of us skate. Around this time the remote control electric skateboards were out but they were upwards of $1000 so my friends decided to make our own electric skateboard with better tech for less to challenge all competitors who were ripping off students. We spent half a year developing the product, running through many prototypes and finally brought it to market as of last December. Since then we have launched our second product the 01 Lite which is a mini version of the 01 Pro weight-sensing electric skateboard. Our mission is to blend the lines of art and engineering to create tech products that solve daily dilemmas. So far we have two products out the 01 Pro at $779, the Lite at $399 and we are releasing a very exciting wearable later this summer.
Has it been a smooth road?
Overall I'd say the road was smooth, we've definitely hit some bumps every now and then but that's on the path for growth. I think the most resistance we've ever faced is when we get ahead of ourselves and try to rush the timeline. That's when things go wrong because in reality no matter how fast you (or your investor) wants results, you have to go with the flow. I think the biggest issue for me personally wasn't any of the actual work of creating the framework of a business it was more so having my parents understand what I was doing and getting their support. I think that's why I worked so hard so I could prove to my parents that I could make a living my own way and that's what really motivated me.
Please tell us about Sapphire Hoverboards.
Sapphire is a collective of engineers and artists. We work together to blend those two fields in the realm of tech to make quality goods that solve everyday dilemmas. Our first product was a last mile vehicle. At UCSD it's known that parking doesn't really exist. We all park in far off neighborhoods and run miles over hills to class. My friends who skated wanted to create a smart yet affordable tech solution to this problem so we created these weight-sensing skateboards that required no remote. We built it to register the intuitive motion of leaning forward/backward to glide up and down the many hills at UCSD. The product is great for people living in cities/universities where one can cruise around faster than driving through congested traffic in a car.
On the team, the role I enjoy most is on the creative marketing side. I work with the team to strategize and produce all of our marketing campaigns and advertising. On the team despite our specialization, we all wear many hats when it comes to executing the work for our company. We are all traditionally trained in engineering/business but each have our own artistic side and its that combination which makes our company a bit different than the rest. We each specialize and do what we're best at but also can overlap in each area whether it's engineering, R&D, sales or marketing. Personally, I am most proud that as students we were able to set up our own startup while still being in school. Working for yourself comes with lots of pressure and responsibility but the freedom you earn is priceless.
What role has luck played in your life and business?
Honestly growing up in Southern California is a blessing because you have access to so many perspectives from such diverse communities ranging from San Diego to San Francisco. With that being said there are examples everywhere of who you can become if you know where to look. There's plenty of opportunity from entertainment industry in LA to the tech industry in SF. The options in California are endless so if you've got the drive to succeed the opportunities exist you just have to grab them. Despite where you live, I believe in creating your own luck. Luck is when preparation meets opportunity. As long as you're doing your best at something you love you'll always be prepared to take on the next opportunity and succeed.
Contact Info:

Image Credit:
Nayan Behera
Getting in touch: VoyageLA is built on recommendations from the community; it's how we uncover hidden gems, so if you know someone who deserves recognition please let us know here.