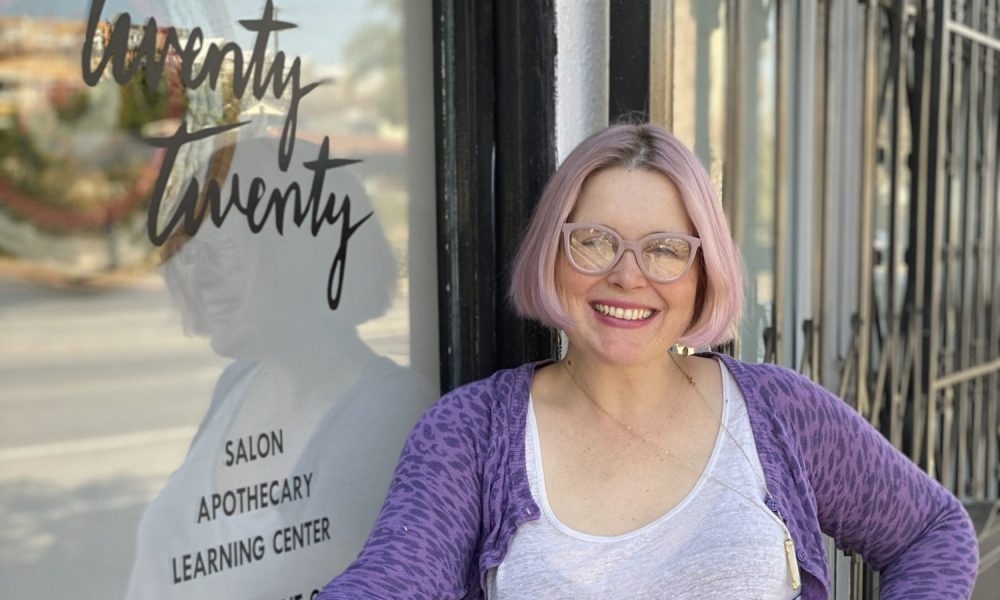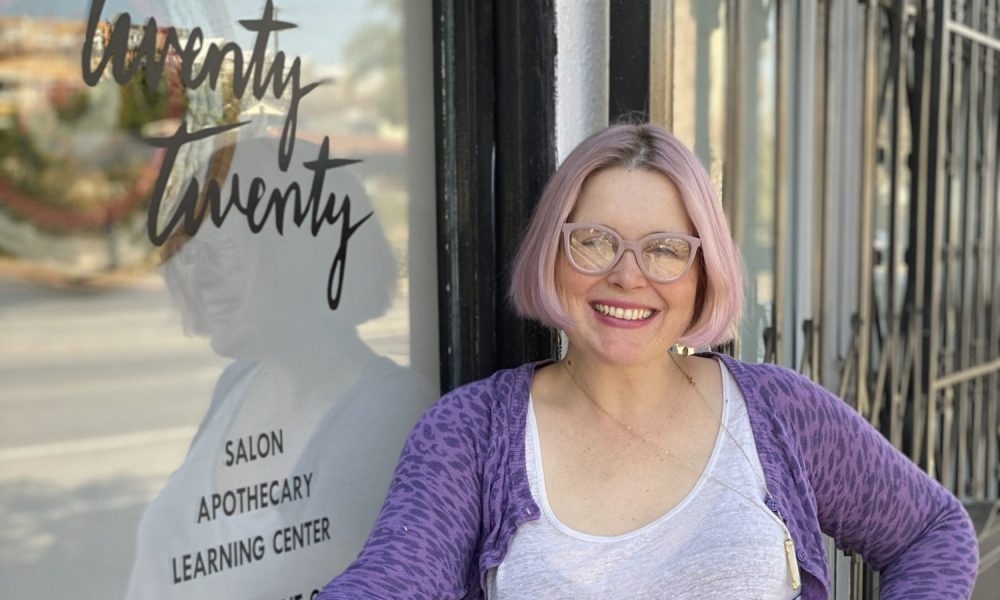 Today we'd like to introduce you to Naomi Knights.
Naomi, please share your story with us. How did you get to where you are today?
I grew up here in Los Angeles. My first memories were in Joshua Tree, it was definitely a magical place to be a kid! From there, I've lived all over LA from Inglewood to Hollywood. I started to feel like LA was my small town and I needed to get out and explore. That started in London which is the Mecca for education in the hair industry. In the 90s when I started doing hair, it was all about Sassoon, Toni and Guy, Trevor Sorbie, Vivienne Mackinder (not to be confused with Viv Westwood who is a bleepin icon). I was curious at that time how these people were education based before they had their product companies. Here in the US education at the time was completely dictated by product lines. What clients don't realize is that when you buy a product at your salon that goes towards your hairdresser's education. That's how we got education before Instagram and YouTube. Prior to this, I had worked for years on the west side starting at Carlton Hair where I was immersed in the ways of Sassoon and met my life long friends Holly Jones, Damon Footer and Trina Duarte. All incredible hairdressers and teaches I still collaborate with to this day! I didn't like the corporate structure of Carlton so I tried some independent salons on Main Street in SM to then working with a woman who taught how to do hair for Film and Television. I ended up at the Shampoo Lounge on Pico which I believe is still there! I saved my tips for two years to go to London and take classes. I wanted to stay in London but it was 2005 and the climate to get a visa was not welcoming of my ten years of experience in the industry because I didn't have a college degree. When I discovered Davines in the early 00's I was bitten by the travel bug. I went to places I never dreamed I would, from Singapore to Oklahoma. I met an incredible person named Martha Peterson through Davines. She became my mentor and dear friend. She taught me about light theory color theory and the structure of hair before she once mentioned the product itself. You actually had to be a better hairdresser to use the color because it worked so hard to replicate real hair! None of this was taught in school or by the brands after. It was all about just how to use their color, my mom had been a Tupperware lady at one point so I already knew how to burp a lid and could sniff a sales gimmick from a mile away. Martha had studied to be a Dr before deciding on hair so it's her passion for the science of hair care and color that motivated me.
In '05, I shadowed her when Davines opened up to Canada to teach and learn thinking I would work my way back to London and do the same thing there. Funny enough, while I was in Canada they had just passed a law saying you had to finish high school to get a license as a hairdresser. Every country's terms for hairdressing differ as does every state here in the US. I felt fortunate to have gone to beauty school while in high school so the first thing I did when I graduated was to get my license but I didn't know a thing about what it meant to be a hairdresser whereas most countries I visited it was the norm to apprentice at 14 so by the time they were 18 or 19 not only did they have 4 plus years of experience and structure they had no fear. And yet I needed a college degree to get a visa. The whole system is backasswards. I remember when I started, I had to lie to clients and tell them I was 20 something and I still see some of those clients to this day, that warms my heart. I am so grateful for the time I spent in London. I had been working with Davines for six years at that point and wanted to be sure that I wasn't just drinking the Koolaid. I took classes with as many brands as I could as well as going to Paris and learning from Michelle Dervyn who taught the methods of Alexander De Paris. Damon introduced me to his work and insisted we go. We were all about the iconic unspoken hair hero's. It was there that I saw real balayage for the first time even though the classes were on styling my radar was always on color. Needless to say, it was Martha's non brand approach that brought me back to Davines with the freedom to create and teach because it's what you need to know about hair and color that matters, not what you have to know about how to use a product.
It was my time in Toronto that started my bi coastal journey when London didn't work out. I went back and forth between the T. And LA for two years every 4-6 weeks to maintain my clientele. In 2007 I moved to NY. I just knew that in order to make it in LA on my terms I'd have to develop a relationship with NY. It was there that I had to make the choice of color or cut. Since I had been teaching more along the lines of hair care and color theory color seemed to fit naturally. I tried for the first year working with what I knew and that was Sassoon style hairdressing. I had just come off a tour with Tim Hartley who use to be the creative director of Vidal Sassoon in the 90s. He is a legend to me and was an unbelievable honor to color for him. Davines connected me with an Italian ex Sassoon educator Christiano Cora who I worked with for a year and when I was about to give up on NY, I met the Team at ION. Three Italian eco-conscious session hairdressers with backgrounds in Bumble and Bumble and Toni and Guy (see how important all the brand stuff was to me back then?!) They had brought with them an incredible intuitive colorist Lena Ott. At first, I was like 'no more Italians!' During my time in London and Canada, I went to Italy regularly and being that Davines was a small Italian brand at that time, I developed close relationships with the chemists and developers there. They put up with my annoying American questions and still do! It really was such a treat to see the inner workings of the company. So meeting the guys Leonardo Manetti, Marco Santini and Pasquale Ferrante was truly a breath of fresh air then add Lena to the equation and her no fear approach to hair color and curiosity were exactly what I moved to NY for and I ended up staying another six years. It was with Lena I truly learned the art of Balayage and coloring Wigs.
I was more drawn to the fashion and music elements of NY than the celebrity of LA. Funny thing is that my first major celebs here in LA were referred by NY people of course they had ties to people I knew in LA as well. I remember when I met Pamela Neal doing a music video for P!nk she was the first one of her hairdressers who would actually talk to me, colorists for some reason don't get the same regard as hairdressers in some arenas. Pamela and I geeked out on light readers and water temperature guns and I knew she was my kind of person. She's the only hairdresser I know who has been interviewed by Billboard Magazine! She has such a humble and honest approach to shape structure and the element of cool she is next level and I'm honored to color for her when I can. Then getting to work with Shon Ju coloring wigs for Katy Perry also became a dream come true. His work ethic precision and vision push me to the next level of my colorwork. I still love working with them to this day. I could go on and on about the plethora of talented hairdressers I have the privilege of sharing clients with here in LA Sera Sloane, Kristen Shaw, Jenny Cho, Teddy Charles. I feel like I'm leaving a ton of people out. I just feel so fortunate to have incredible people to collaborate with.
I moved back to LA in 2013 when I was pregnant with my son and became bicoastal in LA because east-siders rarely go west and vice Versa. We were in Venice at the time but when we decided to plant our roots I'm so happy we chose highland park. I reconnected with Martha in 2016 and we decided to open something together. She already had a successful business in OC called The Pink Door Salon and was ready for the next door to open. Since we were both so passionate about teaching we felt that HP was a perfect location and I could still be close to my family. We called it NAMA Naomi and Martha. We tried for two years but the measure of how hairdressers got education had shifted and now everything is Instagram and everyone can teach. Davines had grown and evolved as well as we had. I had an incredible assistant for four years who spread his wings at the same time Martha and I decided to save NAMA for the next phase of education and I took over the Space itself. Two years ago, I had twin baby girls. I realized that it was time for me to really sew my roots rather than fly to another country or city to find myself. It's been quite a powerful journey. I have to admit. I now have no choice but to stay put and build something sustainable for my clients and my family.
I'm so happy here in Highland Park It's close to downtown and freeways with direct access for all of my clients including the hairdressers who come to visit and take classes with me. They love to experience a new side of LA. I'm so grateful that my clients appreciate the nontraditional approach to salon vibes so I have the freedom to really hear what they need and how to make it work for them. Even when doing house calls it's all about the color and all about them! This is definitely a new phase for me, one where I have my foundation strong and I can push the boundaries of my craft while helping people understand what they are trying to convey through their hair color. I have to admit, Instagram has been hard for me, my focus is on my family first then the very vulnerable position people are in when coloring their hair, it's not always a pretty process and most of the time people run out of here with wet hair because they either don't like a blow dry or they have families of their own to get home to. So I never get the finished look captured. I also tend to deal with a lot of Hair Trauma which can take multiple sessions before it's right and again what's important to me is not in an instant it's in the relationships I build with people and help them build with their hair. My clients actually joke that when they refer people to me, they tell them not to look at my Instagram. It reminds me of one of my most long-time clients when she was referred to me was told not to look at my own hair (it was probably shaved at the time 😉 ).
I couldn't have done any of this without the incredible support of my friends and family. I never thought I would be able to manage a space on my own. The name of my space is finally on the door and the wall outside after three years of being here. My mom actually asked me today what do I tell people when they ask why I chose twenty twenty. People need something familiar and connective to remember. The term twenty twenty in regards to hindsight and clarity really fits my feelings about education. No regrets the more you learn the easier it is for you to make clear decisions. Trials and tribulations shape us and make us. It took a lot of bravery for me to sit still and say this is who I am where I will be. 2020 was the way my family would say I love you. My son calls it a love race to see who can count to 20 first after saying I love you too three four etc. or I love you more, four five, etc…I was surprised and touched to hear there are other families out there who play that game. The logo is fashioned after my mom's handwriting. No matter what, I will hold space for you here. Being that I deal with a lot of hair trauma, it takes bravery to trust a colorist again. People need to feel seen and heard to be able to let go and allow someone to help them express their true selves whether it's momentary or constant. I am here for you. I am inspired to teach and share with others and it takes a brave person to say hey maybe 'formulation is not my strength 'or 'I want to learn more about bleach and tone!' I want this to be a learning center for hairdressers to learn at whatever pace feels comfortable for them. I offer one on one education to other hairdressers, group classes and I'm working on a program right now for new hairdressers who want full-color immersion.
I never understood why people feel that you have to go to Beverly Hills or West Hollywood for good hair. You'd be amazed to see what celebrities really do when they get their hair done, it's not that glamorous. My space is always changing, a work in progress and thankfully my clients know that my focus is on their hair and well being, not the floors and the fixtures. I've literally been around the world searching for that perfect place to give people the best possible color from the most authentic space and I'm so happy it's right here at home in LA!
Great, so let's dig a little deeper into the story – has it been an easy path overall and if not, what were the challenges you've had to overcome?
I would really love to know the tricks to a smooth road to business! In this industry having children can be the death of you. I'm focusing it as one of my greatest strengths. Being off work for three months the first time and nine months the second time definitely takes some serious strategic moves and no matter how much you plan, it never goes accordingly so you have to really go with the flow. The first time I was transitioning from NY to LA and I didn't want to come back to rebuild my business only to go on maternity leave again so I waited for as long as I could and moved back when I was seven months pregnant so I was only building once rather than twice. Then with the girls, I was fortunate enough to have a partner and a great assistant to manage while I was away then had to come back sooner than expected when all of that dissolved. I think the best thing is to just always have a backup plan and a plan C after that. At least that's what I've learned from my struggles while taking risks is necessary in business, you have to learn from your failures to move on and grow. You never get past thing, you just get through them.
We'd love to hear more about your work and what you are currently focused on. What else should we know?
I now have an official name outside of the shop, twenty twenty. Most people know my work just from my name, twenty twenty is the house I operate in and share with others. I'm known for my work with hair color specializing in the most extreme natural highlights and extreme bleach and tones with fun colors. I love making fun colors look natural on people and I love helping people get to know their own hair and working with it, whether it's grey, blonde, brown or red. Like I mentioned before, I do tend to deal with a lot of hair Trauma. I somehow have patience for the process and enjoy helping others through it. I think that's also why I love teaching. Twenty twenty as a company is fairly new so I'm proud that we made it this far and can hold space for what people need.
What moment in your career do you look back most fondly on?
When my client's kids make the best comments or want to be like mommy! I had one client tell me that her son said, "you don't look like a mom" and her daughter said, "was it your goal to look younger?!" Another one was my client's daughter said to me, "you made my mom's hair yellow!" You can imagine how scared I was of that one because we were straying away from yellow as much as possible, so I asked her what color her brother's hair was as he was our inspiration with his perfect baby blonde hair and she replies "yellow" I knew I had done a good job. It was also an honor to do Pinks hair and for her to trust me enough to put pink on Willow as well. Then when I got to color wigs for Katie Perry the first time was a total blast or when Davines asked me to join the team on stage twice at the worldwide hair tour a huge event for hairdressers from all over the world. When I got called to do Scarlett Johansson for the first time, then the second time or when Feist and Amber Valetta just showed up out of the blue. Gosh, I don't know if these were proud moments or exciting moments because as an artist, I cringe at the mistakes I make all the time but these definitely stand out as ok I must be doing something right.
Contact Info:
Address: 5662 York Blvd LA CA 90042
Website: Naomiknights.com
Phone: 3105700002
Email: info@naomiknights.com
Instagram: @Naomi_Knights
Facebook: Naomi_Knights
Pinterest: twenty_twenty_la
Suggest a story: VoyageLA is built on recommendations from the community; it's how we uncover hidden gems, so if you or someone you know deserves recognition please let us know here.