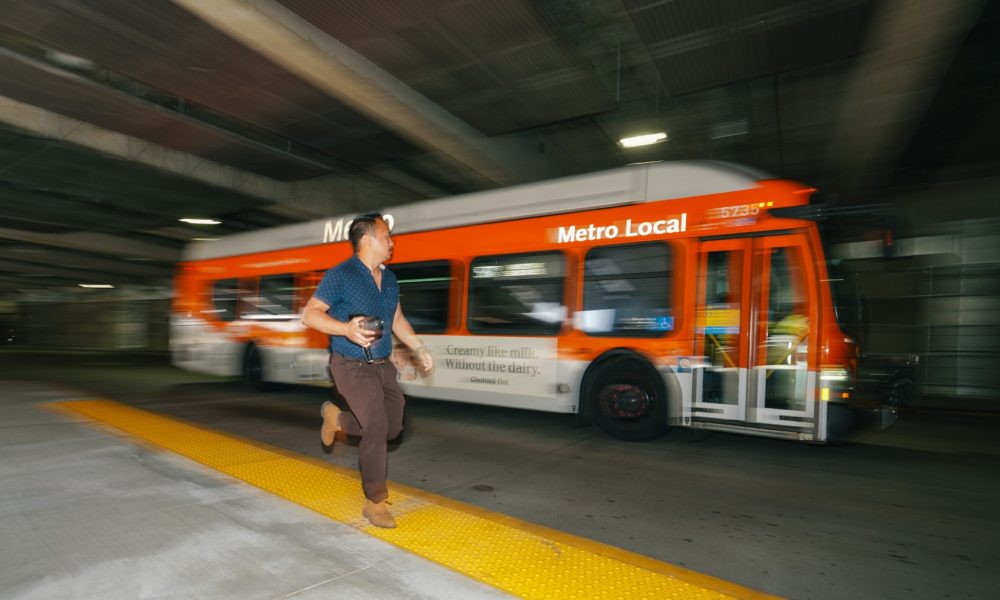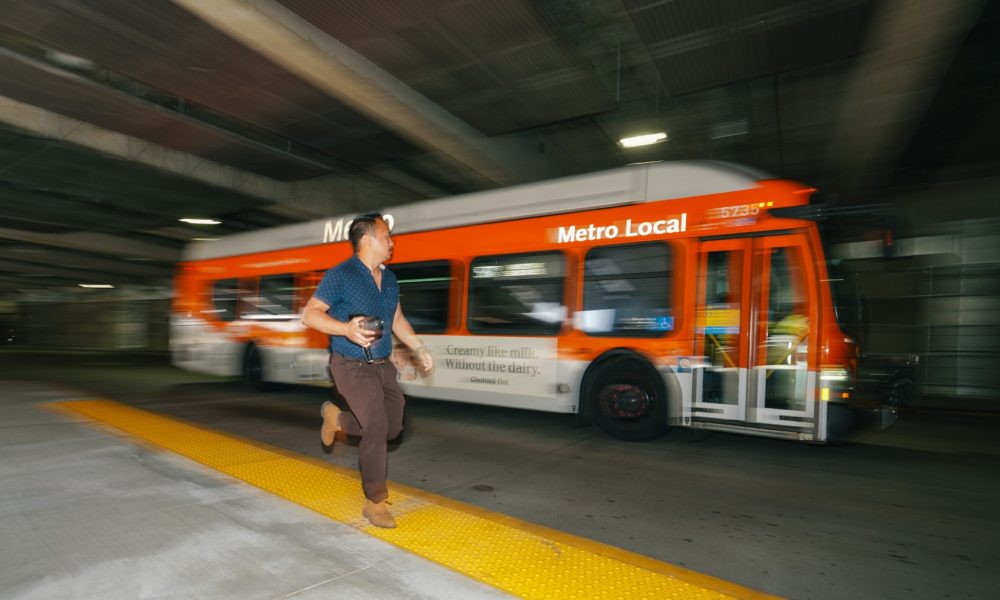 Today we'd like to introduce you to Matthew Oquendo.
So, before we jump into specific questions, why don't you give us some details about you and your story.
My show @LA_Metro_Project aka 'METRO' is an anthology of short, scripted films connected via trains and buses in Los Angeles County. The goal of the show was to create stories set in the underrepresented parts and communities of LA from the perspective of public transportation.
I'm an LA county native [from the San Gabriel Valley city of Covina]. I also work in the public sector in LA county's media services unit, so I cover government events throughout the county. I always found it strange seeing "Los Angeles" portrayed in pop culture as this sort of palm-tree haven for beautiful people, artists, and celebrities who live in big houses on the beach.
There are 88 cities in LA county and 52 CDPs (census-designated places; i.e. East LA, Marina Del Rey, etc.). And if you really want to be finicky, there are roughly 125 unincorporated communities accounting for over 10 million people who live here, most of whom have nothing to do with the arts or celebrity. This was my main inspiration for METRO—to write and direct stories purposely set in cities that don't come to mind when one touches base at LAX. What better way through our underused Metro system?
When I started working in the media industry, I realized that 95% of my peers were transplants. Many of them didn't have cars and would often complain LA wasn't "a real city" or like their *insertHometown,* which is fair because LA really isn't like any other place in the world. The sampler for a transplant is typically West Hollywood, Beverly Hills, or Santa Monica—as most of the Westside are transplant cities—but to get the full LA experience, I recommend transplants visit the other 80+ cities to get a sense of the urban sprawl. Taking the Metro is a terrific way of experiencing LA's diverse topography.
Now I'm not saying our Metro is the best and most efficient in the world, but if you're new here and got time to explore outside your comfort zone, we really do have it all: beaches, valleys, urban, mountains, desert (even an island when you count the city of Avalon). Aside from Catalina Island, you can take a bus or train to any of these parts of the county. I did nearly every day for two years and believe me, you will see the most interesting faces and witness ephemeral interactions between people that fueled this show.
So my friends and I started filming in mid-2017, juggling our 9-to-5s and social lives around this passion project every weekend. We finished filming in December 2018, completing our very first season at the start of 2019. 8 Episodes. 8 Stories. All set in the lesser known parts of LA—the catch? All the characters make cameos in each other's story sometimes even acting as a narrative catalyst. For example, in Episode 8, a character bumps into another character on a train from Episode 5 and that harmless interaction actually served as the punch for that particular story.
Much like in real life, our lives intersect unwittingly through cause-and-effect and as a result, we never know how much we've affected someone else's day through our actions. This is especially true on public transportation.
Great, so let's dig a little deeper into the story – has it been an easy path overall and if not, what were the challenges you've had to overcome?
The hardest part for any artist is the grassroots level. We had no money. No permits. What we did have were like-minded friends, equipment, and enough screws loose to board a Metro, film, and hope to not get kicked out. But with each episode, we got better and the scope of our stories got wider and more complex. Granted, we are still independent but we've got a solid engagement on social media and over 16 worldwide film festival appearances including premieres in South Korea, Philippines and Colombia in addition to screenings at UCLA and AFI.
As for struggles? This year, we began filming METRO Season 2, with an episode set in the city of El Monte. The episode was about two Asian American ex-lovers who meet again as adults and they spend a day together in the San Gabriel Valley. I chose El Monte because I read a fascinating story about LA's music history in the 1950s involving teens protesting concert segregation in the city of LA and bypassing the ordinance by going to Art Laboe's concerts held at Legion Stadium in the city of El Monte. Today, this stadium is now a Metro Bus station and an Art Laboe Mural lies up top in the waiting area. It's a beautiful little story most likely lost in history to most that I wanted to integrate into the narrative.
Sadly, CoviD-19 hit and stay-at-home orders led us to halt shooting. Given the show is about public transportation, I postponed filming Season 2 until 2021 when restrictions loosen up and masks will not be mandatory in public places.
But we shall return, hopefully with much needed help!
Please tell us about LA Metro Project.
I am the showrunner. I am also the writer, director of 6 of the 8 episodes of Season 1.
I'm most proud of moments when people ask, "Where the hell did you film that?" And me telling them which city and seeing their surprised reaction when finding out there are 88 cities in LA and more so, hearing from them later that they went out and visited a city like Azusa [or Gardena, El Monte, etc.]. This always kept my creative fire hot knowing my show was able to inspire a viewer to, one, take the Metro, and two, take the Metro to a less sexy part of LA because I get it—the San Gabriel Valley or the Gateway Cities aren't high on a tourist must-see list but there so many incredibly diverse areas, each containing their own history, landmarks and delicious cuisine that even I'm still learning about. Through art, this makes me very happy to have this cultural exchange.
An example of a 'METRO' story is Episode 7: BARKADA ("group of friends" in Tagalog) which is a crime drama set 48 hours in the life of a veteran criminal. The film is shot in English and Tagalog, with Filipino-American leads, Latino, and African-American supporting. We shot it in Santee Alley and the cities of Azusa, Covina, and Long Beach. I was inspired after taking the [Blue] Line A to Long Beach and reading in the paper about an unnamed man found in a bed of sand underneath a bridge. Other highlights include:
Episode 5: 7:47 to UNION — a romantic drama about a sketch artist (Ayinde Howell) who meets a mysterious woman (Sélynne Silver) on the [Red] Line B and ends up exploring Downtown LA all night.
Episode 4: ADMITTING THE FEET — written and directed by Carlos Eduardo Pérez — is a Latino absurdist comedy in both Spanish and English and filmed on the [Gold] L Line from the city of Azusa to the CDP of East LA.
Episode 8: PERMAFROST — our season finale about a British gumshoe (Dariush Hajirnia) who has to find a missing person via clues on Metro stops using a Thomas Guide, where he is forced to visit dozens of LA cities unbeknownst to him, eventually landing him in Tijuana. We actually went and shot in Mexico!
Stories like this were exciting and attractive to get on film. Last year, we had a lovely premiere at UCLA's James Bridges Theatre where we got to showcase our debut season.
Is there a characteristic or quality that you feel is essential to success?
I would say I'm always curious about the mundane. And this curiosity has led me to different places, faces, even meals—from an artistic standpoint, asking questions is the best way to answer one's own need to create.
Whether it's a tidbit like Art Laboe and his 1950s rock concerts in the city of El Monte, a cheap hole-in-the-wall, or cultural surveying in general, curiosity is the fuel for inspiration.
This is why I love public transportation because I'm never bored when riding it and I can truly observe life and reflect on my own. Today, we are constantly bombarded by information, it's more difficult to experience something unfettered by technology. LA's public transportation reflects a lot of why things are the way they are today like the urban sprawl, its car-centric lifestyle, and socio-economic ridership.
When you ride the Metro, you see a face and then you see a place. Or was it vice-versa?
Contact Info:
Image Credit:
Temo Reyes, @bagger5150, Carlos Pérez, @jacquiephotographyy
Suggest a story: VoyageLA is built on recommendations from the community; it's how we uncover hidden gems, so if you or someone you know deserves recognition please let us know here.