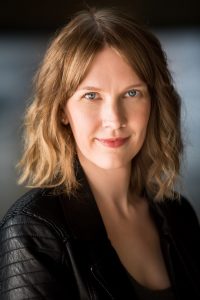 Today we'd like to introduce you to Louise Woods.
Louise, let's start with your story. We'd love to hear how you got started and how the journey has been so far.
I was born in West Covina, CA, not far from the first In-n-Out. Instead of having snowball fights we had Lemon Wars because most houses on the street had a large lemon grove tree. I studied tv/film writing and production at California State University, Fullerton, where I graduated Magna Cum Laude… during the peak of the mid-aughts recession.
I worked in international independent theatrical film marketing and distribution for many years until the start of the COVID-19 pandemic shutdowns. I started my improv journey in 2015 at the Groundlings School, where I am still a student. It's probably taken me longer than most because I didn't really have performance experience before I started taking classes. I was handed the reigns to the Star Wars inspired improv team, Wretched Hive, in the fall of 2019.
Has it been a smooth road?
My life, like many others, has been filled with challenges. I grew up in a rough neighborhood.
I grew up in what the Los Angeles County Sheriffs called a "gang corridor" in San Gabriel Valley during the peak of gang violence in Los Angeles. Spending my early childhood in that kind of situation had a lasting impact on my life, as it does anyone who grows up in those circumstances. By the time I was 14, I already had friends in juvie or using meth. I genuinely believed that I would be dead before I was 18, which I would later learn is a side effect of the trauma I experienced as a child.
I spent much of my teen years working on healing those emotional scars. I was privileged to have access to professional help because most of my peers and many children and adolescents today still do not have access to psychological care or support.
When I survived into college, I was doing much better. I was shocked when one of my childhood best friends, who went to private school thus avoiding many of the traumas experienced by the rest of us, died suddenly at the age of 19. She suffered a heart attack due to her eating disorder. While she was privileged enough to have access to medical support, her family's health insurance determined she was healthy based on her weight and pushed her out of her recovery program before she was actually ready. Her family ran a memorial 5K in her memory for ten years after her death. More information is available at http://www.jackiememorial.org/.
The type of traumas I experienced as a child, leaves people more susceptible to other forms of trauma and illness as adults. In my early twenties, I developed symptoms of a rare chronic pain condition, which left me only able to do about 4 hours of activity standing upright before being in constant sharp pain until I elevated my feet for an extended period. I was lucky my work was able to offer accommodations, however, dealing with constant pain really makes you assess what is important in your life. It was then that I decided to enroll in improv classes as a way to become a better writer, which is my biggest passion.
I managed to pass basic Improv at Groundlings while in pain almost every day of class. I am lucky that my main chronic pain condition was treated with an experimental surgery though the surgery was not covered by my health insurance. I still have limited abilities in certain ways, like I cannot run, and recovering from my surgery left me struggling to connect to my body again, something that caused challenges in the very physical Groundings style of comedy.
Only my close family and friends knew of my struggles with invisible illnesses at the time. Navaris Darson, one of my teachers at the Groundlings, shared with our class some of his personal experiences and challenges in the program. The stories he shared helped me realize I was wasting a lot of energy on hiding my truths. Throughout my challenges, my love of science fiction, fantasy, and comedy was constant. It was both a fun way to escape but also mediums where I felt most seen and understood.
Now that I am in a leadership position in improv my goal with Wretched Hive Comedy is to create an inclusive team and community where people have a space to have fun and share their unique relationship with science fiction, fantasy, and comedy.
We'd love to hear more about your work and what you are currently focused on. What else should we know?
The improv team I run, Wretched Hive Improv, performed once a month at ACME Comedy Theater In North Hollywood, second Fridays at 9pm. The show took the audience to a galaxy far far away and featured twists on short-form improv games set in a galaxy far far away. The fast-paced hour long show was entertaining for both hardcore star wars fans and people who only knew the "gold guy was annoying." ACME shut down preventative before the Los Angeles City and County-wide mandates so that show, like much of the Los Angeles, is on hold indefinitely.
While following Safer at Home recommendations, we were challenged to do a 20 minute stick puppet version of the original star wars trilogy by the Harry Potter inspired improv team, Mischief Managed Improv, who are based in the UK. David Escobedo founded Wretched Hive before moving to the UK to pursue his doctorate in improv, where he founded Mischief Managed. That video can be found on Wretched Hive Comedy's Facebook page, which has 27K likes.
We soon started discussing expanding Wretched Hive to include teams in the UK, headed by David Escobedo, and Denver, headed by A.J. Orta. My suggestion for during the shutdowns was that we could start a twitch channel. Each team can produce their own content and I would run a flagship show featuring players from all the teams. We are also looking to branch out to other forms of entertainment so we changed the name of the team to Wretched Hive Comedy.
The flagship show that I will be producing premieres live on Twitch September 27 at 9AM PST. This inovative international show features players from all three Wretched Hive teams and special guests in a game show format similar to Who's Line is it Anyway and @Midnight. We will be getting suggestions for games, characters, and joke prompts live from the virtual audience on Twitch. We will be making more announcements on September 25 in honor of Mark Hamil's Birthday.
Wretched Hive Comedy was formed in Los Angeles and is now expanding to an internationally based comedy channel on Twitch. We aspire to represent the diverse points of view of science fiction, fantasy, and comedy. We will be taking remote entertainment on a journey never seen before in any galaxy.
Let's touch on your thoughts about our city – what do you like the most and least?
Growing up where I did helped me see the benefits of diversity and different points of view. I learned about many different cultures and friends who's experience helped educate me about the world. Thanks to them I have more empathy and awareness of the struggles they face. They are not "other" people to me… they are my friends.
I also learned the importance of safe and stable learning environments and how that affects people in the long term… and how that lack of safety and stability tends to occur in less privileged areas, further putting the children who grow up there at a disadvantage. As an adult, I've interacted with people from all over Los Angeles and from outside, who were surprised to learn that my middle school was treated more like juvie than a place of learning and growth. Kids from the nice schools in the rich parts of Los Angeles hadn't even heard of police officers on campus. I dislike that in Los Angeles there is a huge income gap, education gap, and overall inequality gap.
Contact Info:
Suggest a story: VoyageLA is built on recommendations from the community; it's how we uncover hidden gems, so if you or someone you know deserves recognition please let us know here.