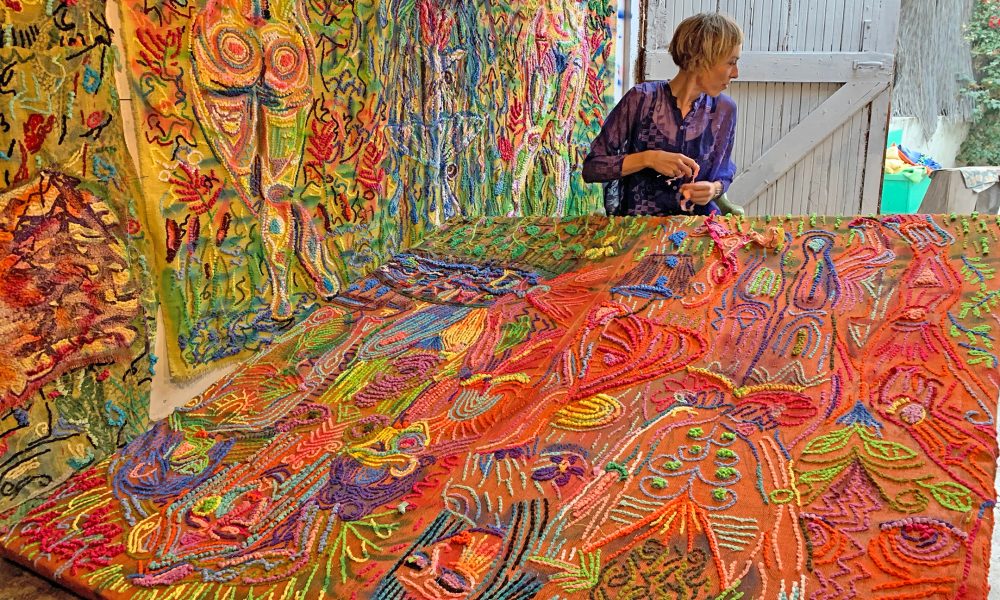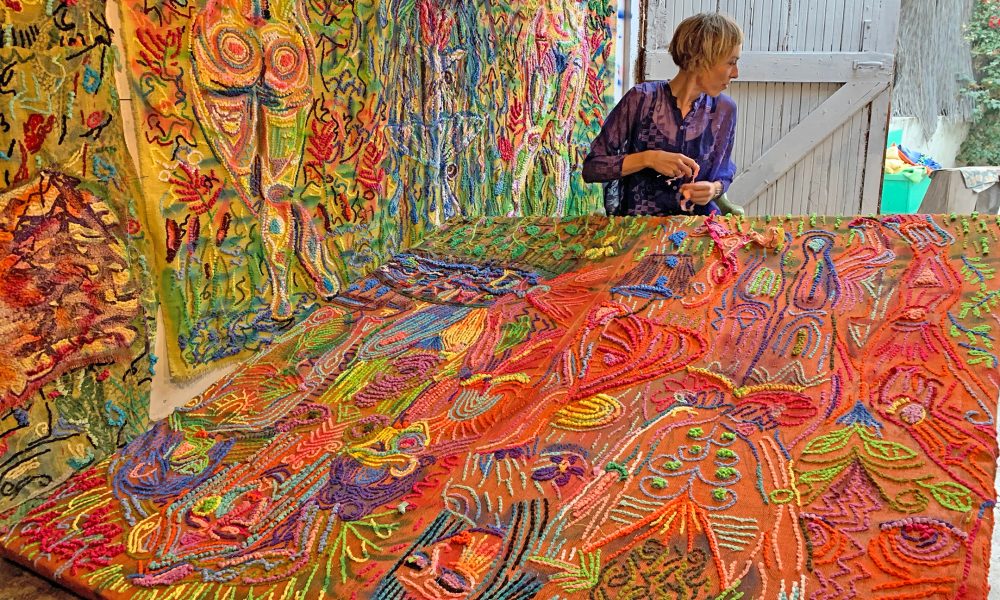 Today we'd like to introduce you to Liv Aanrud.
Every artist has a unique story. Can you briefly walk us through yours?
I grew up on a small dairy farm in rural Wisconsin. There were a quietude and tempo that seems to have shaped my understanding of life in general. There was a distinctly slower pace in observing an unmediated world that wore a path to art. I didn't have easy access to museums or cultural experiences that cities provide, but the area was also very progressive. There were a lot of environmentalists, hippies, musicians, artists, and people living off the grid. It's an unusual place full of beautiful characters, and I love it.
I overheard a girl at an art event yesterday say her mom almost married a farmer. "That would have been my life," she laughed. Yes, everything is always broken, and you never have enough money. You have to work harder to make your world. You become tenacious and a good problem solver. All of these things help me as an artist. My undergraduate degree in a painting is from the University of Wisconsin –Eau Claire, a small state school where I had one particularly dynamic professor, Steve Katrosits. He was my model for how to live as an artist driven by great curiosity, hard work, and humor, and was one of my dearest friends. He died a few years ago, and I'm not sure I've fully believed the world since!.
I spent the majority of my 20's paying off student debt. I lived in Chicago, London, Amsterdam, and back home. I have had something like 35 different jobs, including being a janitor at my old high school. I've spent a few nights wondering about the cost of making art while unclogging toilets and cleaning tobacco spit off the floor of a high school locker room. But I managed to find my way, and my blind optimism remains fairly intact!.
Eventually, I studied at Rutgers University where I received an M.F.A in painting. I sometimes hear people talk about how they hated grad school, but I loved it. Those years hustling in between degrees made me treasure that studio time, the friendships I made, and consideration of my professors. Yeah, grad school not easy, but the rest of life…. are you kidding me? (Refer to locker room scenario!)
Please tell us about your art.
Around eight years ago, I found a rag rug that my grandmother had made back in the 1940s. It was a beautiful abstract piece, such a gift. I began making paintings of the rug. My grandmother had been such a big influence on my early life; we spent many afternoons drawing together, and I wanted to find a means to connect back to her. My dad always referred to her farm as "the home place," and for me, that's both a physical and mental place I yearn for. I quickly learned this rug hooking technique was soon immersed in this process of making a painting: the tactile ticking of stitches became a form of meditation, and the labyrinthine lines a map of both the thinking and unconscious hours of making. This laborious method suits my need to keep moving even when I'm still. There's an amount of natural hyperactivity combined with the farm kid work ethic where I still hear my dad saying, "Get going!"
For a few years, I was doing abstract work, but lately, I've looped back to figurative work, mostly weaving women. Perhaps these are versions of me—emotional states given physical form. The joy in their creation is visible, I think, but there's also a duality in the allegories of these woven women. The recent piece "Scorched and Scorned" could be two sprites dancing merrily around a fountain, conversely, it depicts the terror of two statues, abruptly unfrozen and fleeing a world on fire. I'm thinking about patriarchy, abuse of power, climate change, the sense that our mother earth has been under the siege of exponential consumption. And the fires continue. It's a struggle to be positive and cherish your wild and precious life while also bearing witness to such suffering and despair. The latest piece is called "The Well of Grief" shows women gathered around a well, casting their sorrows in, yet there is a sense of beauty and solace in their solidarity. They acknowledge their pain, failures, regrets and hold fast to the vital force that lives within them that can rise above any situation.
As an artist, how do you define success and what quality or characteristic do you feel is essential to success as an artist?
Success is a sliding scale, isn't it? Some days I'm in my studio, and I think, this is a lucky life, just to be doing this. Even with several jobs, I have more freedom than previous generations of women in my family, so I try to keep this perspective. But of course, it's more complex, you need art shows, and you hope that your art will sell at some point. Success to me would be the capacity to be able to focus on my art totally, high-five my bosses and get out of the service industry, hopefully, teach someday too. In the meantime, (which is also a nice time) I have to be tenacious and keep working when it seems nothing is moving forward. I'm trying to trust the sense that I'm onto something, and listen to the small, steady voice that urges me on.
What do you think is the biggest challenge facing artists today?
There are so many! But I think the one I deal with most often is the need to find balance with social media. There's a vast universe of other artists, so there's so much to be inspired by, find a connection with, promote your practice, etc., but it's also completely overwhelming and often a time drain. This "scrollodex" of visual information is super appealing to artists, and I think we're more prone to going into the wormhole. Sometimes you dip in and come out smiling: you've seen some incredible art, someone contacts you interested in your work (hooray!) or maybe you're passing the time to study photos of basset hounds running (think Rodney Dangerfield on a Gravitron). But often when you come out of social media, you're a bit numb thinking everyone is always working, that you're not doing enough, apologizing for not being in the studio for a week.
It can be a scenario where you have this immediate audience, a chorus of "likes" or god forbid, none! I wonder how this Pavlovian voting system affects our decision making in the studio. Then you remember that it's possible that people are looking at a two-inch digital version of your art, on the phone, for two seconds while they're in line at Super King. So, chin up and keep working!! Do not be deterred by the lack of a flame emoji. You need to block this static out when you are engaging with artwork, the kind of alchemy we seek refuses this chatter, it requires total presence. When you start to worry about your art as a commodity, you deny yourself a lot of magic. Also, you have to wear a lot of hats as an artist; I wish I were only speaking literally…but it's often hard to simultaneously do work, self-promote, seek out opportunities, contact galleries, keep on top of your website, etc. You really can't do all of this well, so it's good to accept that! It's hard to combat this kind of pressure, so I try to surround myself with good, supportive people from all kinds of creative fields, with the knowledge that an art career can be a long game.
How or where can people see your work? How can people support your work?
I have a show coming up in Taiwan, but that seems like a lot to ask of the general reader here! I'm in a group show at Loyola Marymount this spring, anything that happens in between, I'll post on my Instagram.
Contact Info:
Website: www.livaanrud.com
Phone: 608-852-5523
Email: livaanrud@gmail.com
Instagram: @livaanrud
Image Credit:
Portrait by Daveed Kapoor
Getting in touch: VoyageLA is built on recommendations from the community; it's how we uncover hidden gems, so if you know someone who deserves recognition please let us know here.