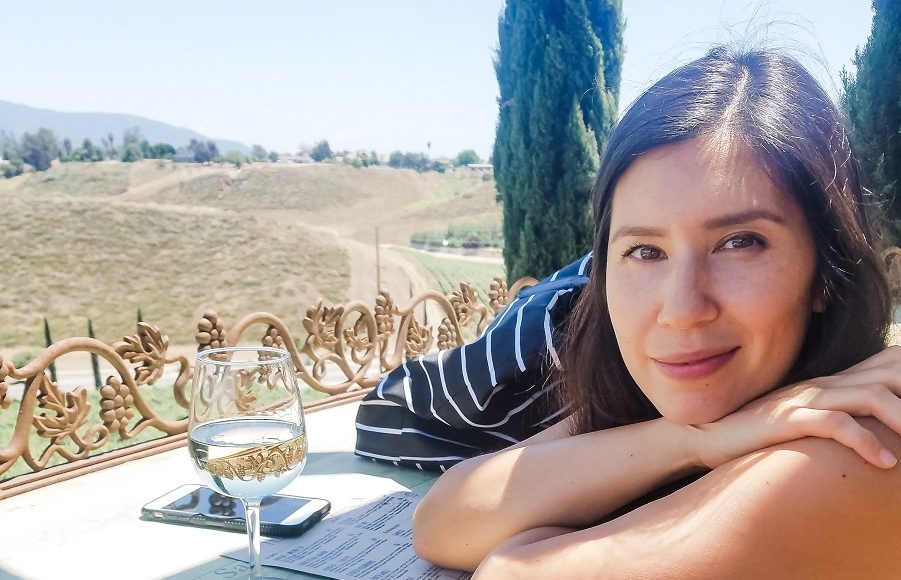 Today we'd like to introduce you to Lara Martins.
Lara, please share your story with us. How did you get to where you are today?
My life as a baker and wedding cake designer is very much intertwined with falling in love and starting a family.
I met my husband Alain in the basement of the East Harlem branch of New York Public Library a little over fifteen years ago. I was teaching English and adult literacy at the library and he had recently moved to New York City from Rio de Janeiro. We fell in love at first sight (true story!) and quickly connected over our mutual love of baking. He brought passion fruit mousse into my life. I taught him how to make a cheesecake. These were monumentally exciting things for two new bakers in love. I was also at a crossroads – unsure of whether to get a master's degree in something related to my nonprofit career or to pursue my passion for baking.
Alain and I got engaged within a month of knowing each other and decided that I would get my pastry degree at night while working during the day and that he would work bussing tables at restaurants around the city. We treated my pastry education kind of like a 2-for-1 special. Every night after class we'd talk for hours about the techniques I'd learned, snacking on what I'd made in class and studying my books and notes. We eloped about a year after meeting and focused all of our energy on working and building our pastry skills. Those were very lean but happy years for us. Finally able to work legally, Alain threw himself into becoming a pastry chef while I took jobs in bakeries. I nurtured dreams of opening up our own shop and truly felt that the schedule of bakery life would allow me to start a family without having to work nights as a pastry chef. The only thing I've ever really been certain of was that I wanted to be a mother.
Has it been a smooth road?
The journey has definitely been paved with struggles – low pay, job insecurity, long hours, kitchen indignities – all of the hardships that anyone who has worked in the food industry can attest to. My husband and I barely saw each other because I worked days in bakeries while he worked nights in restaurants. I dreamt of having a baby for years before we finally felt that we had enough income to start a family. When I got pregnant with my daughter Lila, the namesake of my cake business, I was working two jobs – as a baker and decorator at a wedding cake studio and at a well-known bakery in the DC area. After giving birth to her, something shifted in me and I struggled to leave her knowing that my pay would just cover childcare. We ended up moving to Rio de Janeiro for a year to be close to our family and to explore the possibility of starting our bakery there. We quickly realized that the fear of violence in Rio was more than we could handle. When we decided to move back to the U.S., the only place we both loved was Southern California.
We spent six happy years in LA, where I gave birth my to son Oscar. Early on during our time there, I worked briefly at a few well-known pastry shops but left because of the low pay and because I recognized that the owners didn't respect their staff. During those years, we barely scraped by on my husband's pastry chef income and I struggled against my own overwhelming desire to be productive and creative. I was a stay-at-home mother, but it wasn't truly a choice so much as a reality that I accepted because the food industry barely pays a living wage to the vast majority of workers. During those years, I spent a lot of time trying to develop entrepreneurial food business ideas. Life took an unexpected turn when my husband accepted a pastry chef job that allowed us to move and buy a home in Temecula, CA. Around this time, my son began preschool, freeing me up to finally start working again.
I got back into making wedding cakes because one of my younger cousins and his lovely wife asked me to make their wedding desserts. Prior to that, I had avoided wedding cakes because of what I had perceived to be the stress of the event – the heightened expectations and the anxiety-inducing deliveries. Those stresses are still there, but I am so thankful that my love for my family pushed me back into the cake world. I started LILA Cake Shop just prior to the pandemic and even then had very low expectations. I remember telling myself and loved ones that even if no one ordered a cake for an entire year, I'd still be grateful to be creating again.
So let's switch gears a bit and go into the LILA Cake Shop story. Tell us more about the business.
LILA Cake Shop is named after my ten years old daughter, whose kindness, grace and intelligence motivate me to keep creating. I like to call it "a cake shop inspired by nature" because my cake designs feature buttercream flowers and include a mix of roughness, refinement and my love of all things beautifully imperfect and natural. I've also taken to naming my cakes after cities – which is a nod to the places I've lived, visited and dream of visiting. My designs and flavors are also very much inspired by my mixed heritage – I am Amerasian (half Vietnamese, half American) – my husband and children's Brazilian/Portuguese roots and by the art that exists everywhere around us.
What I am most proud of as a cake designer and baker is the level of emotion and care that goes into my work. The pandemic prevents me from getting to spend time with couples and clients prior to making their cake, but I try to study their mood boards, their wedding inspiration images and then connect with the strengths and vulnerabilities that come with falling in love and committing oneself to a lifetime partner. The gravity of it all doesn't escape me and I feel truly honored to be included in this moment of their lives. Every cake is a love letter from me to them.
How do you think the industry will change over the next decade?
I don't know where the wedding industry will be in 5 to 10 years, but I imagine that it will continue to honor intimate gatherings. So much is uncertain these days. The pandemic came upon us all so suddenly and it has me feeling like there's nowhere we should exist outside of the present moment. That being said, I've watched people in the wedding industry deal with devastating feelings as couples have canceled or postponed their big days. We rely upon income from events that are booked months or years in advance. I'm coming into it all during the maelstrom and have chosen to embrace the intimate weddings and the smaller cakes. Honestly, a small 6″ wedding cake gets the same amount of love and attention as a grand 3-tier cake. As far as cake artists and bakers are concerned, my hope is that we will level up and collectively work towards being compensated comparably to other wedding vendors for the love and labor that we put into the edible art pieces we create for our couples.
I also see an important shift towards embracing diversity as more and more mixed-race and LGBTQ couples wed and I am very excited about it! We all fall in love and we all should be honored and celebrated in ways that are true to who we are.
Contact Info:

Image Credit:
Alexandria Michelle Photography, Lovely Light Imagery, Alexes Lauren Photography
Suggest a story: VoyageLA is built on recommendations from the community; it's how we uncover hidden gems, so if you or someone you know deserves recognition please let us know here.