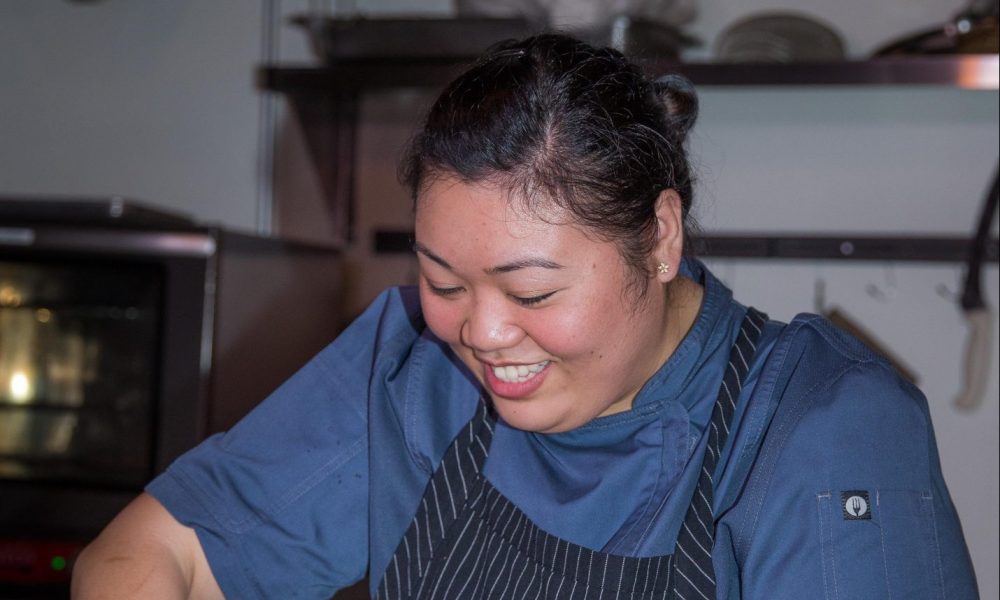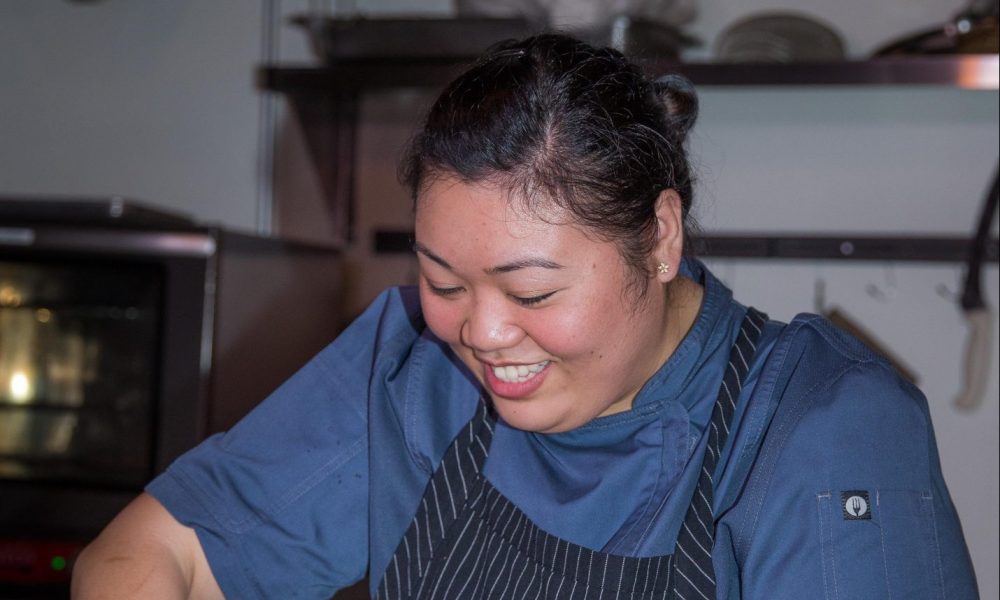 Today we'd like to introduce you to Kryssie Tinsay.
Kryssie, can you briefly walk us through your story – how you started and how you got to where you are today.
I was born and raised in the Philippines and in June of 2000, my mom, my sister and I moved to Orange County, CA at the age of 15 to be with my dad.
Cooking has always been a hobby of mine. When I was growing up, I would often watch my mom cook in the kitchen. Every summer, I would go to the grandparents' farm and my grandma would welcome me by cooking all of my favorite dishes–grilled pork belly, chicken adobo, diniguan (a type of stew made with pork innards and pork blood), etc. My grandma would also ask me what I wanted for breakfast before I would go to bed. She would even ask me how I wanted my eggs cooked–hard-boiled, poached, scrambled or fried. These were some of my best memories of her! Not only was my grandmother as amazing cook, she was also an amazing hostess.
When I moved to the states, I had to completely start over, I also had to learn to pretty much fend for myself. I knew that if I didn't like what was being served on the dinner table, that I could cook something I like for myself. I think that's how I really got into cooking.
When I graduated high school in 2002, I had no idea what I wanted to do with my life or what career I would take on. I was so indecisive. This was the year that the Food Network started to become popular and celebrity chefs were emerging. I thought it was so interesting to watch people cook on TV and all the premium ingredients at their disposal. My boyfriend, now my husband, suggested I should check out culinary schools in my area since I liked cooking so much. So I did.
In September of 2005, I enrolled at the Art Institute of CA – Orange County and in June of 2007, I received my Associate's Degree in Culinary Arts. I immediately was able to find work as a line cook for Aramark at the Angel Stadium in Anaheim. It was insane! We would feed 600-1000 people on any given night in a matter of 5 hours! I worked at the Angel Stadium for about six months before getting another job as a banquet cook at a golf course in Tustin. I worked there as a banquet cook and eventually transitioned as a line cook.
In March of 2009, I got a job at the Hyatt Regency in Newport Beach as a line cook. I was the only female associate and I was also the only associate under the age of 30. This job was a complete 180 from my previous job at the golf course. It was a bit high end and we used premium ingredients. My sous chef was also someone close to my age so it was nice to be able to relate to him and share ideas. About six months after I started working at the Hyatt, I expressed to my Chef that I wanted to become a sous chef. He started to give me more and more responsibilities and ultimately promoted me to supervisor. In 2011, I was accepted to the Hyatt's Culinary Corporate Management Training Program and was relocated in San Antonio, TX. I lived there for about a year and a half before moving back to CA at the Hyatt in Newport Beach in 2013.
While working at the Hyatt around 2015, I met up with a former schoolmate in the Philippines in LA. She was doing popup dinners and happened to need my help. So we met up in LA and I helped her with a Filipino popup brunch she was hosting. That's when I realized, I wanted to also start doing popup dinners. It was so fun and the fact that I have complete creative control over my menu and concept was really enticing to me. I came across a platform called Eat Feastly and was able to utilize them up until 2018 when they went out of business.
Eat Feastly had two venues in LA. One at the Arts District and one in Venice. My concept was "modern Filipino" cuisine and for the entire 2016, I sold out every single popup dinner I hosted. It was 20 dinners total. It was so gratifying to be able to share myself to a wide range of diners thru my vision of what "modern" Filipino food was to me. I also started to dabble a little bit of baking while I was hosting these dinners. It started with Pandesal – a Filipino dinner roll eaten for breakfast or snack. I served it at every popup. My pandesal recipe didn't start out perfect but it got better and better each time. When I was finally able to get the recipe down, I started making ube pandesal. Ube is a purple yam that is very popular in the Philippines and is used mostly in desserts. After a year or tweaking my pandesal recipe, I was able to make it perfect and consistent and I moved on to making cookies, desserts and cakes. I would sell my baked goods on the side for some extra cash but never really thought much about baking full-time.
In 2017, I left the Hyatt and joined the Hilton Costa Mesa team as a banquet chef. This job wasn't as busy as the Hyatt so it gave me plenty of opportunity to give more attention to Kitchen 1726. In January of 2020, I was promoted from the restaurant sous chef to the executive sous chef. When the Coronavirus Pandemic hit the US, I was furloughed from work in March of 2020. I have been furloughed ever since.
This was actually when my business really started to take off! I'm not sure when exactly when it happened but the week after I lost my job, I was slowly getting messages and phone calls inquiring about my baked goods. It got to the point where I wasn't even getting any sleep because all I would do is bake and deliver.
At this point, I am able to better manage my schedule and only do deliveries twice a week and I'm also giving myself days off so I don't burn out. I just hope I get to keep the momentum going for as long as possible.
Overall, has it been relatively smooth? If not, what were some of the struggles along the way?
I've had plenty of struggles along the way. When I was starting out on social media, I didn't have a lot of followers so it was difficult to get noticed. I knew I was putting out quality products–I needed people to be curious enough to try it and let it circulate amongst their circle. I wasn't gaining any traction so I even asked the same friend that introduced me to popup dinners to help promote and my products since she had quite a bit of following. At first, she would avoid the subject, I would ask her again and she would say things like "I'll do my best" and then eventually she told me that I needed to do the hustle. It was a blow to my ego, really. There I go thinking this girl is my friend but she refuses to use her platform to help me. So I just started to do things on my own. Paid for Instagram ads, posted every time I made something ube, gave samples to friends and family and eventually gaining enough followers that are actually people that help support me and my little business. They are people that have become customers and some even friends.
It's still not smooth sailing for me because I refuse to be complacent. One of my biggest pet peeves is wasting time so I'm constantly experimenting with recipes, changing my menu items and challenging myself by doing something unfamiliar.
Alright – so let's talk business. Tell us about Kitchen 1726 – what should we know?
My company is called Kitchen 1726 and I specialize in baked goods specifically anything ube flavored. I also am a savory chef so I also cater as a private chef from time to time.
I am most proud of the fact that everything I offer is made to order so it's fresh and I truly make a conscious effort thoughtfully source my ingredients especially when I am catering for a client. I also do not have an assistant. It's all me. From the grocery shopping to the prepping, baking, cooking, packaging and social media…it is all me.
Any shoutouts? Who else deserves credit in this story – who has played a meaningful role?
Of course, all of this would not be possible without the help of my mom, my husband, my customers and my former Executive Chef, Chef Leo.
I don't give my former chef enough credit and I sometimes hate to admit this but if it wasn't for him, I wouldn't have been able to "think outside the box." He was resourceful, well-rounded and super talented. He inspired me to think differently.
My husband has also been my biggest fan since day one. He has been my rock, my cheerleader and my confidant. Although he doesn't necessarily play a big role in my company, he is still as much a part of Kitchen 1726 as I am.
Lastly, my mom and my customers. My mom is also my second number 1 fan. She has been to just about every single popup dinner I hosted and she is the first in line to purchase a ticket for me. She's always there to cheer me on, push me and inspire me.
Contact Info:
Image Credit:
Photos by Steven Suarez of New Age Productions
Suggest a story: VoyageLA is built on recommendations from the community; it's how we uncover hidden gems, so if you or someone you know deserves recognition please let us know here.