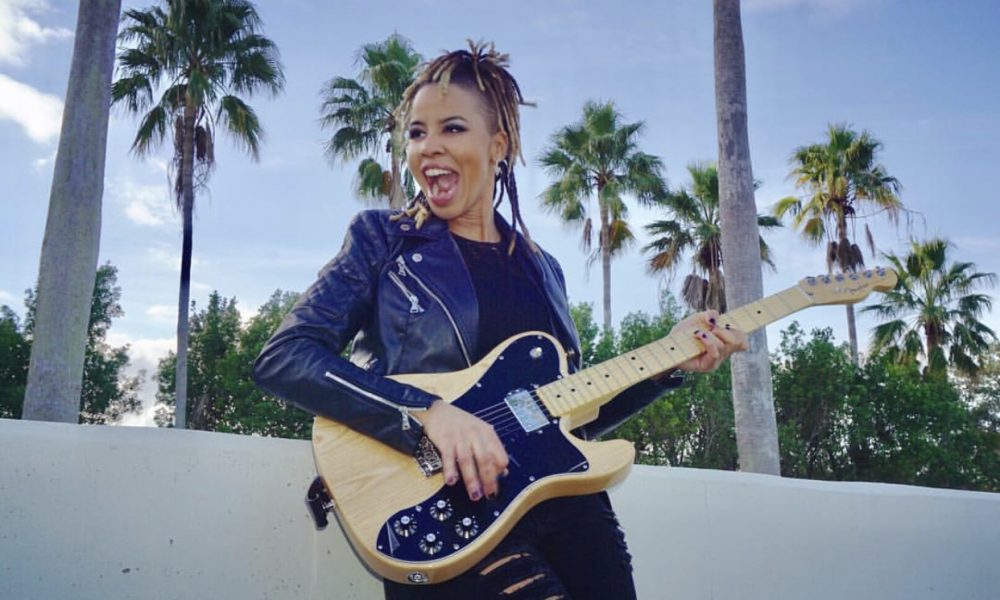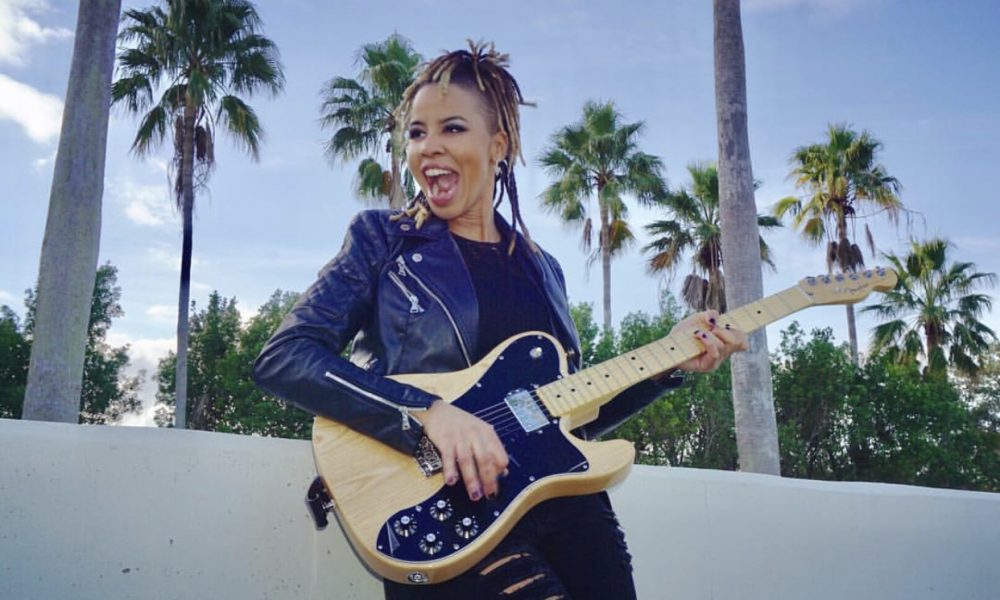 Today we'd like to introduce you to Juno TheArtist.
So, before we jump into specific questions, why don't you give us some details about you and your story.
I was raised by a single mother on the South Side of Chicago, where we played basketball, double dutch and ding dong ditch to keep busy! It wasn't until the age of 23 that I got my hands on my very first guitar. I was working at a drug rehab facility for teenagers, and it was a tough job to say the least. I had no clue that this would be my path straight into music! My first client was a 15 years old heroine addict named Jake. He had black hair, black nails, black shoes and yes—-a black guitar! In hopes to "trick" him into doing his treatment, I pretended to be interested in learning guitar—the only thing he seemed to want to talk about!!! He showed me three chords, and I don't think I've stopped playing since that day. I started posting videos to YouTube covers to my favorite songs and teaching others how to play guitar—and to my surprise, I got an email inviting me to go on tour with Fifth Harmony, the largest girl group in the world!!! I probably should have asked more questions, because I had no clue about the tour life, playing on an actual stage (before then I had been playing in my room for YouTube!) or the music business at all. I had no clue the rollercoaster ride I was about to hop on…but one thing is for sure—that kid Jake changed my life.
After traveling the world with Fifth Harmony, my perspective began to change. I realized that there was so much more to the world than what I had experienced in the neighborhood I grew up in. I was always fascinated with "excellence" but I was never really good at anything—except talking smack to my brothers while we played video games! This was different. We were in a new country every few days, eating foods I had never even heard of, and playing in rooms so big that the cell phone lights looked like stars that filled up the night sky—I couldn't believe those were actually people. I was having the time of my life, and I made a new friend who actually loved to do the same things I loved! We would play our guitars EVERYWHERE—jamming on the back of the bus, on the side of a tree at rest stops, in the dressing rooms, in the catering rooms, I mean I don't think we actually ate some days. It felt like we were two kids exploring the world and coloring it with music everywhere we went. Although she was a member of Fifth Harmony, she decided to write her own album and invited me to go on tour with her, so I gladly accepted. Her name was Camila Cabello!
Having the opportunity to open up for Bruno Mars on the 24k Magic tour as Camila's guitarist was absolutely surreal. First of all, Bruno and his band are the coolest people I've ever met and you can quote me on that. Second of all, I was surrounded by some of the greatest artists/musicians of our time, and it really pushed me to try and grow and work even HARDER! I mean really, who could keep up with these guys? In addition to practicing guitar CONSTANTLY, I began writing songs in the back of the tour bus about the different things I was experiencing in my personal life. For example, my friendship with Camila reminded me of two girls "coloring" all around the world, so I wrote a song called "Color with Me" but I had never showed anyone. I was intimidated by all the 24k magic that was surrounding me every single day on tour—surely I didn't think I was good enough to be an artist. I didn't have a plan—I just kept writing.
After the tour, I needed a break, and most importantly I needed a job! I couldn't imagine working for someone else—unless they would allow me to play guitar all day—so I decided to create a program where I could do JUST that, and I decided that I would upgrade from teaching on YouTube to teaching face to face over Skype in my program called "JUNO's Guitar Bootcamp." Over the last year, I have served over 225 students in 12 countries! Creating this program not only gave me a financial stability, but it gave me something to feel really proud of. This was my baby and to this day, I am constantly striving to de-code guitar and make it make sense for people who were just like me! My clients range from seven years old kids to A-list celebrities—but my goal for each individual is the same: MAKE THAT THANG TALK!!! It has been one of the greatest joys of my career to watch that light bulb click for so many other students!
The quarantine has been challenging in many ways, but one thing it has done—-is made me sit still and analyze my life. Remember all those songs I had written in the back of tour buses, and on the road and in between? Well, I had no clue that I was actually writing my very first album!!! After learning some hard lessons on the road and in my personal life, I had this epiphany one day while watching dishes in a dirty abandoned garage in LA—a hollow empty room I tried to make my "rent-free home." As the bubbles were going up my arms, I began to cry and feel this overwhelming feeling that things would not get better anytime soon. I went from traveling the world to THIS—what happened? And how do I get back up again? I didn't have any answers so I screamed out "HELP" at the top of my lunges. For the first time ever, I heard my scream echo and come back to me. If no one else could hear me screaming, then who was supposed to answer my cry for help? As clear as day, I heard a voice in my head say, "Help Is Not On The Way." As odd as it may sound, that was the most peace I had felt in a long time. It was in that moment that I realized that nobody else was coming to rescue me if I wanted to change my life, I had to get up and work for it myself! I am proud to say that I have just completed my first Album "Help Is Not On The Way," and on 4/24/20, I'll be sharing it with the world!
I can't help but wonder whatever happened to that young man from the rehab facility. I wonder if he knows that he gave me something you could never ever pay for. I wonder if he knows that I think about him all the time, just praying that he's still alive. I wonder if he knows that while he was at one of his lowest points, he lifted me to one of my highest! I never write anyone off, because you never know who or what they will become later. So many people told me I "couldn't" be this or I "shouldn't" do that..but at the end of the day, the one thing that has worked for me is that I have always followed my heart. She hasn't steered my wrong yet!
We're always bombarded by how great it is to pursue your passion, etc – but we've spoken with enough people to know that it's not always easy. Overall, would you say things have been easy for you?
One of the biggest obstacles has been finding a way to sustain myself financially and still get to do what I love! I've realized there will always be ups and downs to any industry, and rather than depending on other people to support me, I had to get creative and figure out how to be independent. I created "JUNO's Guitar Bootcamp" as a way to become financially independent and mentor other students, sharing my passion and love for music!
We'd love to hear more about your work and what you are currently focused on. What else should we know?
I am first and foremost an artist and the CEO of JUNO the Artist! I specialize in creating music that makes people FEEL something. I grew up on Motown and Funk, so while everyone else was listening to Biggie and Tupac, I was stuck in the house with The Temptations, Diana Ross and the supremes!!!–Now 20 years later, I thank my mother for the solid musical foundation she exposed me to at a very early age.
Secondly, I am the founder of JUNO's Guitar Bootcamp-a virtual Guitar Course! I currently serve 12 countries over Skype each week, and I am launching the "video" lessons this year! What sets Guitar bootcamp apart from every other guitar instructional course is that the heart of the program is to help people EXPRESS themselves. There is a difference between playing something you memorized, and truly understanding the LANGUAGE of music! I strive to teach of my students how to use the guitar to "talk" and sometimes even listen! Rather than a cookie cutter approach, I am able to meet each student where they are helping them achieve their personal goals in music!
What were you like growing up?
Growing up, I was a huge tomboy. I hoped so many gates and got in so many fights that my mother ordered me to stay on the porch even though I didn't listen! I was definitely a strong-willed individual at a very early age. I was also the only girl in my household, so I was very responsible, cooking, cleaning, doing dishes and even laundry since the 3rd grade!
While I was not a musician, I was very involved in anything 'artsy' at school or church. I loved acting in plays, musicals, sports and anything I could do to NOT be bored at home. If you could describe me in one word: active!
I guess some things never change 🙂
Contact Info:
Email: JUNOsGuitarBootcamp@gmail.com
Twitter: @JUNO_TheArtist
Suggest a story: VoyageLA is built on recommendations from the community; it's how we uncover hidden gems, so if you or someone you know deserves recognition please let us know here.