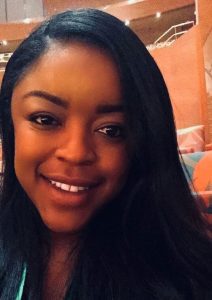 Today we'd like to introduce you to Jovanne Myers.
Jovanne, please share your story with us. How did you get to where you are today?
As far back as I can remember I have always had a love for education and even more so history. I would have to attribute my love for education and history to my parents. My mother was born in Panama City, Panama on the Canal Zone this area of Panama is rich with culture.
Growing up my mother would talk to my sisters and I about everything history, from the Haitian Revolution to Black Wall Street. She taught us Central and South American history, United States History and anything else you could think of! Fast forward to high school, I was a freshman and I went to go live with my father in Columbia, South Carolina. I would attend football games at the University of South Carolina, and I fell in love with being on a college campus, everything about it was exciting. Looking back that experience lead me to want to attend college. While attending high school in South Carolina I was able to learn about Historically Black Colleges and fraternities and sororities but while I was in California, I do not recall my friends and I at that time having a strong interest in college, it was more about the glam of Hollywood and Los Angeles. When I returned to California to finish high school, I never forgot my experience in South Carolina, and I wanted to attend Spelman College. God had another plan because when I graduated, I had just turned 17 and my mother wanted me closer to home.
Looking back, I am not 100 % sure what lead me to attend California State University, Northridge but some of my close friends from high school were attending so I decided to submit my application as well. What I was able to learn from my experience in applying to college is you must be very mindful of the people you surround yourself with. I can honestly say if my friends did not go to college I don't know if I would have gone to college right after high school. My friends that I went to undergrad with helped me with my application, financial aid and other deadlines and I have been forever grateful for this.
During my time in undergrad, I was having an amazing college experience, I did the typical change my major, I joined a sorority and I was traveling for spring and summer break with my friends. While in undergrad I can remember going to Loyola Marymount University at night time and seeing the "LMU" on the bluff lite up and in that moment I said to myself "this is a beautiful campus and I would love to go here one day." Not even thinking about this I ended up applying and being accepted to Loyola Marymount University for graduate school. Exposure, vision and our words are powerful. When I graduated from Loyola Marymount University, the race was on to get a job and my friends, and I applied at so many places. I really enjoyed sports and education, but I always found myself working with youth/k-12 populations, I eventually accepted a position with the Los Angeles County Office of Education working in the Juvenile Halls and Probation Camps as a School Counselor.
Has it been a smooth road?
You would think from the above story that everything was simple and went smoothly. It was everything but simple and smooth. My parents went straight into the Air Force after high school and did not understand the steps it took apply, let alone get into college. However, that is only the half of it, growing up in what some people would call a broken home because your parents might be divorced can also have many obstacles. While in school, mainly high school through college, I had to figure out a lot of things on my own, I did not have people there to hold my hand or parents/older siblings guiding me through the college process. I had to trust my instincts; God's hand was and still is on my life. At times I look back and think I wanted to do something completely different with my life, I did not know about social justice and the juvenile system growing up at all. It was foreign to me.
So let's switch gears a bit and go into the Opportunity Exposed Inc. story. Tell us more about the business.
Opportunity Exposed Inc. was developed after learning about the school-to-prison pipeline and a range of social justice issue effecting our youth. I believe it was in 2016-2017 school year, I learned that Los Angeles County had the highest population of incarcerated youth in the nation which means in the world! This blew my mind, it seemed like a hidden issue but I felt as if everyone should know about this. I began to brainstorm ideas to combat this issue of juvenile incarceration and the negative stigma many youth hold about their educational experiences. I remembered what made me fall in love with school, all of my experiences in college and this is what I wanted to bring to this generation of students. We specialize in college events, tours and workshops geared towards African American male youth. Opportunity Exposed Inc. is for all students however when I learned African American males are the low end of the population but makeup nearly half of the incarcerated population I decided to keep them as a target audience when planning college events.
How do you think the industry will change over the next decade?
I see Opportunity Exposed Inc. developing into summits and conferences where middle and high school students can have a chance to have the college experience prior to actually going. My vision is not only for the organization to provide college events but to expose youth to different career paths and individuals within that field.
Contact Info:
Suggest a story: VoyageLA is built on recommendations from the community; it's how we uncover hidden gems, so if you or someone you know deserves recognition please let us know here.