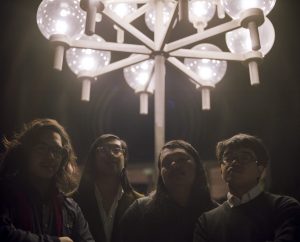 Today we'd like to introduce you to Young Lovers.
Thanks for sharing your story with us Josh, Mikey, Ford, Jonny. So, let's start at the beginning and we can move on from there.
Young Lovers' origin story is a long and storied one, but we'll try to keep it as short and as interesting as we can! The band formed in 2011 originally with guitarist Mikey Macapagal, drummer Ford Crispino, and bassist Josh Solomon, all friends who had met going to school and attending backyard shows in the Valley. Soon after, we added vocalist/guitarist Karen Herrera and got to work on our first album.
The first album's writing process was one of the most special experiences anybody in the band had ever experienced. What we wanted to do was simple, but ambitious – to try to recreate that wild, boundless feeling of falling in love, but deliver it in a real, honest way. To our surprise, the songs started to flow naturally and had a quality which we knew was unique to the group. Our first few shows were received warmly by the DIY community in the San Fernando Valley and Los Angeles as a whole, and our reputation began to grow from there for the next few years.
The recording process was a bit more challenging. At the time we didn't know anybody who'd be willing to record our album, so the solution was to record a demo of our album ourselves and keep playing shows in the hopes that we could find somebody who would be willing to work with us. Through that process, we had found our current producer, David Jerkovich (Kind of Like Spitting, Novi Split), but also had to deal with the departure Karen, who decided to focus on school as well as her own personal project (which y'all should check out here!). We did, however, find somebody who could fill the role of 4th member, and that was Jonny Higa.
Jonny's addition to the band proved to be an uncommonly natural fit and added a whole new dimension to the band. With him, we've not only refined our sound further, but we've expanded into playing in Long Beach and Orange County, as well as gotten the opportunity to play truly memorable shows at venues like The Glass House, The Hi-Hat, The Smell, and the late, great Pehrspace. We've also written a whole new batch of songs with Jonny, most of which will constitute our second full-length album.
Our reputation grew to the point that we were asked by Bay Area post-rock band Wander to go on tour in support of our 12" split single, as far out as SXSW and all the way up to Vancouver in early 2018. Since then we've finished up the final recording of our first album with David Jerkovich and are preparing for a release later this year.
Has it been a smooth road?
It's strange – our road has involved many twists and turns, but the biggest struggle has been just how long that road has been. We've gone through lineup changes, numerous personal losses, changes in recording locations, finishing up college, severe writer's block – you name it, we've gone through it. It's been a long time since we first formed as a band, and all of those issues have seen us grow and change as people.
Even so, we've fought through in spite of all that because we believe in and feel deeply about the music this band makes, as well as the one-of-a-kind relationship we have as a band. It's very rare that any musician finds a group where they truly feel at home, and Young Lovers certainly still feels like home for all of us.
We'd love to hear more about your band.
Young Lovers is a Filipino-American post-rock band with deep roots in the Los Angeles DIY music scene. Throughout our time as a band, we've aimed to express deeply and honestly our feelings of finding, experiencing, and losing love, all set against the backdrop of a fast-moving and ever-changing city and society. The band's philosophy centers around how we can best relate and connect to each other during these times – how it incredible it feels when once-in-a-lifetime relationships occur, and how crushing it feels when those relationships break down or end suddenly.
Musically, we naturally have a signature style of post-rock/dreampop that draws from whatever forms of music we're into individually, which can get as varied as slowcore, shoegaze, alternative country, 90's pop balladry, and 19th-century impressionist music. A lot of our music is instrumental, but vocals appear whenever the music calls for it. Whatever the style/method is, we just do whatever we need to express our ideas to our audience as clearly as we can.
I suppose what we're most proud of is our impact on others. Writing and performing these songs is an intensely personal, vulnerable experience, and seeing those things actually resonate with other people is the best. We've been told that our music helps people understand themselves better, helps them remember feelings they thought they forgot and gives them a new perspective on life. We've also been told that being one of the only all Filipino-American bands in the city sets us apart and is inspiring in itself, which is great! If we could expand and enrich the popular perception of Filipinos and Filipino-Americans by being in this band it would be a dream come true.
Is our city a good place to do what you do?
This is a really interesting question, especially as we are a band made up entirely of native Angelenos. I think this is an important distinction to make before answering this question, as we've been a part of LA's DIY music scene since we were all kids and have a somewhat unique point of view on the situation.
On one hand, being a musician in LA is a blessing. LA itself contains a rich tradition of music and performance that runs deep in every community. Our music travels incredibly well, has worldwide influence, and even has a certain character to it that has become famous. By growing up here, we've had the opportunity to participate in that culture from the ground up. It's given us opportunity to experience that music and art firsthand through shows both on the local stage and on the bigger stages and venues. It's wonderful to say that by being here we can express this city's culture and possibly enrich it as well.
That being said, I don't think I'd recommend LA as a starting point for a band. For every great thing about being a musician in the city, there's at least an equal amount of things that aren't great.
LA's a huge city, and that means that you can conceivably do anything on any given night. The upshot is that if you're trying to do something like promoting a show, you're competing against an unfathomable number of other events. You're not only competing with other shows in the area; you're competing with huge concerts at all the major music venues, food festivals, movie premieres, you name it. Not only does this present a problem as a band, but this presents a problem for local music as a whole. How do you get people out to your shows when they could literally be doing anything else? And how does one create the interest and support that local music needs when the bulk of the entire popular music and entertainment industry is here too and has millions more dollars to promote and sustain itself?
This inequity not only concerns individual musicians but has huge implications for the city's culture and popular perception. I suspect that LA's mostly undeserved reputation for being shallow and addicted to the idea of becoming famous comes from the popular idea that pursuing music in LA means striking it big in the center of the country's extravagantly funded entertainment industry. But when people think that and act accordingly, it completely bypasses and erases the work of the city's grassroots musicians who largely don't seek fame or wealth. Many of us are simply trying to express ourselves, cultivate a shared community and culture, and sustain ourselves while doing it, just like anybody in any other place.
The inequity also results in a misrepresentation of the city's culture (particularly of its working class) and a large-scale de-emphasis on local community. This has resulted in the loss of some of our most beloved and long-standing music venues (particularly our home venue, Pehrspace), and entire communities, which have been pushed out by more moneyed interests. Many local musicians have either had to move elsewhere or give up on music simply because they can't play music and sustain themselves in one of the country's most expensive cities. This naturally takes away the voices of working class, mostly immigrant and PoC communities, which are responsible for a large part of the city's health and culture.
This could be fixed with the establishment and promotion of city-funded community art and music centers in more neighborhoods (particularly in working class neighborhoods), better funding for community-minded nonprofits across the board, and a broad emphasis on music, art, and cultural education in all (read: all) of our schools. To us, it is simply absurd that a city known primarily for its culture and art largely chooses not to invest heavily in it at the grassroots level.
If we could tell any musician starting off in LA anything, whether local or newcomer, it's that one shouldn't look at this place as something to be conquered, or somewhere that can serve only yourself. It needs musicians that are interested in serving each other and contributing to the health of the community, not those who are just looking to exploit it and take over.
Contact Info:

Image Credit:
Personal photo: Alex McCausland IG: @alexbygirls
Performance photos: Ron Yamasaki IG: @dsstopia
Suggest a story: VoyageLA is built on recommendations from the community; it's how we uncover hidden gems, so if you or someone you know deserves recognition please let us know here.