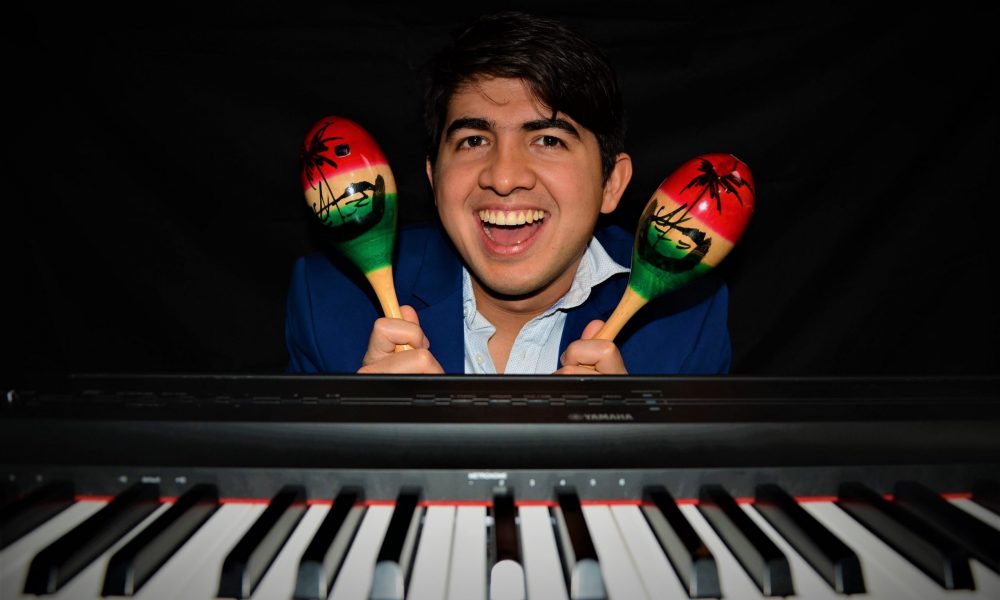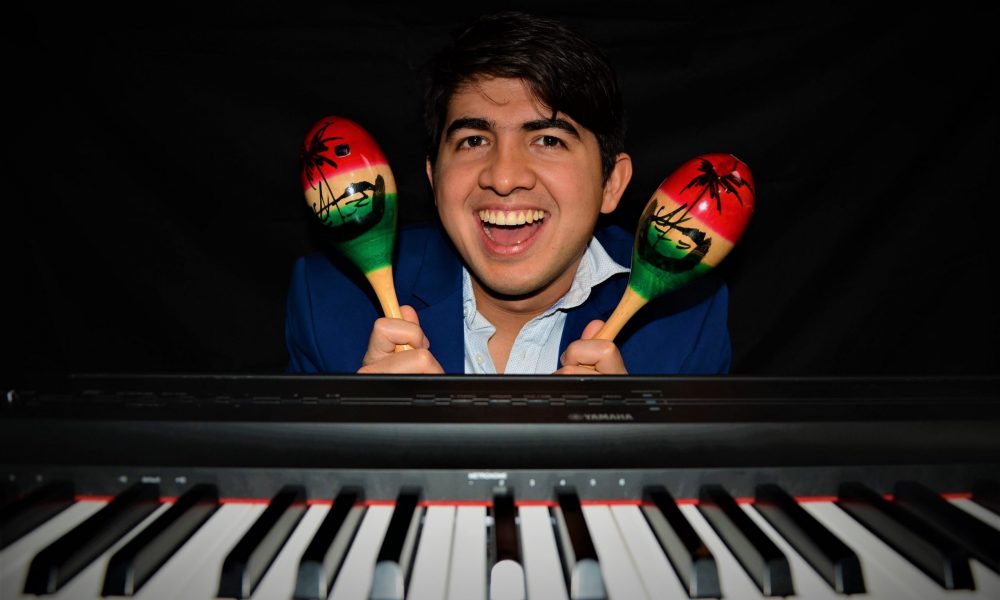 Today we'd like to introduce you to Jorge Alonso Maldonado.
Jorge, can you briefly walk us through your story – how you started and how you got to where you are today.
I was born and raised in Lima, Peru with the dream of being James Bond. I traveled around South America with my dad on many occasions and fell in love with the afro-latino sounds and culture. On a trip in South Peru, I encountered my first keyboard and diligently spent the next few hours teaching myself how to play Livin' La Vida Loca by Ricky Martin. On my thirteenth birthday, my grandma gave me my first keyboard. Soon, I became obsessed with music and playing piano, specifically Latin Jazz bands and records by Arturo Sandoval, Michel Camilo, Herbie Hancock, and Chick Corea.
Thanks to my mentor, Alfonso Lescano, and the inspiring musicians I looked up to, I followed my passion and pursued music professionally. From 2009 to 2012, I was playing piano for the Peruvian band "Big Pollo Funk" which included me achieving my dream of playing a magnificent concert at the "Monumental Stadium" (Estadio Monumental) in Lima, opening for the five-time Latin Grammy Award-winning rock band, Molotov. I spent some of this time studying communications at the University of Lima knowing I was destined for more.
In 2014, I drove to Colombia with my dad to audition for admission to the Berklee College of Music in Boston, MA. Less than a month later, my dream came true, I had a scholarship and acceptance letter to one of the best music schools in the world. At Berklee, I majored in Film Scoring and met mentors and friends that have shaped my life and my musical style. Coming to a new country with a different language and culture was a shock, but it was all so exciting.
In 2014, I performed as a pianist and arranger for Susana Baca, a sensational multi-Grammy Award-winning Peruvian singer. Together, we performed a dazzling concert with a thirty-piece band. My favorite part was creating and performing the arrangements for cajón and playing the piano for one of her most renowned interpreted pieces, "Negra Presuntuosa."
In 2017, I moved to Los Angeles to develop my career as a performer and composer. While working on a long list of projects, I spent a few months in Puerto Rico with my girlfriend who had just weathered Hurricanes Irma and Maria. While in Puerto Rico, I gave a Master Class at the Conservatory of Music of Puerto Rico, played with Salsa legends and a big Salsa band, and Jazz legend Charlie Sepulveda, as well as enjoying the mojitos and mofongo.
Back in Los Angeles, I was seeing my career grow. I was the lead composer for several projects such as El Pescador, winner of the Human Spirit award and nominated by the Dusty Film Festival, a documentary on Margaret Fuller, and a documentary series called Bucket List.
In 2018, I released my first EP as a pianist, composer and bandleader, called Inherent Roots. It is my original, innovative fusion of Brazilian rhythms and Peruvian styles with features international musicians. I was even interviewed back in Peru by Radio Filarmonia about my album, which you can listen to on all major platforms.
For the past few years, I've been working with amazing composers like Thomas Chase Jones and Philip Giffin, teaching, recording, and expanding my knowledge, practice, and projects. I love change and growth so I constantly reinvent myself. I try my best to be authentic in every aspect of life, whether music, relationships, or my comedy. The people in my life and the experiences I've had have shaped me to this point, along with funk, latin, and jazz.
We're always bombarded by how great it is to pursue your passion, etc – but we've spoken with enough people to know that it's not always easy. Overall, would you say things have been easy for you?
From knowing what I want, it has always been easy because I live by honesty and emotion; but knowing how to get there, has been and continues to be complicated. After high school, it was hard to convince my family I could be successful pursuing music professionally. Even when I received my acceptance letter to Berklee, it was hard to leave my country, family, friends, and delicious ceviche. After graduation, as with many professions, it was hard to find a steady job, stable connections, and fulfilling work. All the time, musicians look for the next job, project, or performance. It takes a lot of perseverance and emotional strength.
Looking back, I am stronger. I've grown a lot personally and professionally. I've created a community and home. I've come to accept and appreciate so many people, cultures, and creative styles. It hurts me deeply to miss my family back in Peru but it is most important to grow into who we are. It's a balance of me becoming my true self and expressing myself to the world through my art and being able to deal with the differences of the life I thought I would have.
For many people, private education is too expensive. I've been privileged enough to receive a scholarship from Berklee, have support from my family, and well paid jobs while I was studying. I've built a community that is always willing to lend a hand or help me find an apartment.
The music industry is challenging. As famous film composer Hans Zimmer once said, "the career of a composer in LA is a marathon", and I couldn't agree more. It is a profitable industry where many people thrive but many more are taken advantage of. In this industry, you have to be a businessperson and creative musician. You have to take precautions, know your rights, and know your value and worth. You need to have time management skills, goals, and integrity. You need to protect yourself and somehow manage to work well in a team and be creative.
It is a lot of hard work. Especially in the film industry, to be a lead composer for a Hollywood film, you have to work your way up. You will have to work on lower budget projects and build your portfolio. The instant gratification isn't always there but this is how you grow and understand the dynamics. Most people can be discouraged working on smaller projects for years; I recommend enjoying this process. This is your time to grow and develop your creative signature. If you have realistic goals, don't get too anxious in the process of reaching them.
I appreciate Los Angeles for its music industry. Although the high paying projects are hard to come by, you are exposed to an immense network of high quality, passionate musicians, engineers, etc. The connections you can make will help you grow, express yourself, and offer greater opportunities. To follow your passion, you need others. We all need support, creativity, and community. Although, it may not be easy to follow your passion, you get to choose if it's fun.
Please tell us about your music.
My music is purely me. I inject enthusiasm to create unique rhythms that incorporate my favorite styles, Brazilian, Peruvian, and Jazz. Every piece is something different. My music can be beautiful, funky, classic, fast, rhymatic, or silly. I love to express myself through the piano keys and every day is a different emotion. Through my pieces, you can feel my latin heritage, my optimism, and my raw sincerity.
As a musician, I present myself as "Jamamusik", combining my name with a funky, indigieous way of spelling. I thrive in energetic live performances and when I can share my knowledge and abilities. My biggest strength is my ear sensibility. I easily understand the language of music across many different styles. I work efficiently in a team and thrive where we can share our creativity. I love working on several, vastly different projects at once. Currently, I am working on creating music for a theatrical play called "Beyond The Dressing Room" while also arranging music for a Puerto Rican Salsa band. Within just this week, I am working fast, creatively, and expressing myself and talents in multiple ways. It's never dull.
My ever changing style is unique. My love of smooth jazz and afro-latino rhythms is a perfect storm to express my quirky style. I am quick to learn and pick up on musical concepts. I can quickly re-adjust to play with any musician. I love to add my musical cleverness to create pieces with style and flair. Specifically, I love to do film scores because I can use my raw emotion to create music that attaches and evokes your emotions to the pictures. For performances, I am known for my rhythmic and improvisational abilities on the piano.
Has luck played a meaningful role in your life and business?
I believe luck is a combination of privilege, actions, and optimism. I am very privileged with my support, experiences, education, and health. The rest was from me: perseverance, persistence, lack of fear, and passion. I am very spiritual and optimistic. Recently, I've been taking mindfulness courses and seeing first-hand how awareness and optimism can change our lives. It would be nice to say I'm lucky, but I then encourage others to try and create their own "luck".
In my life and business, I work very hard. I set specific, realistic goals for myself. I work with my friends and family to keep my relationships strong and healthy. I practice or produce something creative on a daily basis. I constantly seek things I don't know and find ways to grow. I work with my mind to stay optimistic and not let negative thoughts affect my emotions or work and I keep a good attitude and trust my intuition. Everything is a matter of consistency and perseverance. The harder you work and the more you put yourself into your objectives, the more chances you will be "lucky."
Contact Info:
Suggest a story:VoyageLA is built on recommendations from the community; it's how we uncover hidden gems, so if you or someone you know deserves recognition please let us know here.