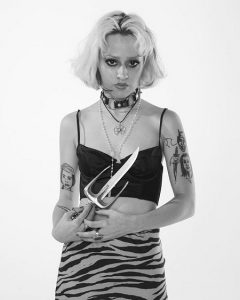 Today we'd like to introduce you to Jiselle Kamppila.
So, before we jump into specific questions, why don't you give us some details about you and your story.
I became an artist the moment I felt a fire inside me. I became an artist when I couldn't distinguish reality, felt fears of peers, grew ashamed of my existence. I developed a coping skill called "painting." I spent my teenage years worshipping Patti Smith and Arthur Rimbaud, growing passion, and an ability to escape my reality.
Through art, I created a morbid outer world. Spliced bodies, skinny, isolated, figures that told a story of anguish. I felt separate from the world. Little did I know I was painting the same portrait of dread, over and over. I had become a furious poet by the time I was 18 years old. Without knowing it, I was on a journey to becoming a performer. I became an art student at the age of 19. Before I knew it, I was trapped in a harmful, toxic environment. I spent the first three years wholly lost until I became unafraid to share my chaotic truth explicitly. I spent my time on vast pieces of canvas stapled to the wall, sharing stories of my nightmares. I took over the whole painting studio with large chunks of ripped paper, painting to my symbolist-fueled poetry.
By the time I was a senior in art school, I had exploded with a manic energy that manifested itself into a poetic performance piece. At first, I started to create art books which featured various prose/poetry pieces, collage, my photography, and self-portraiture. These books were as visceral as my poetry is. To expand the physical presence of my poetry, I started to create installations I used to do performance pieces. I have performed at Otis College of Design's "100th anniversary" open studio event. I scared many elderly visitors and children with my knife scraping my guitar on an altar-like table, with candles surrounding me. I performed at the event ironically (obviously). Soon after, I ran a show with my Belgium partner in crime, Antje Bots. It was called "Bliss in Nature." This performance was a collaborative installation, overlayed with Antje's video of footage from a transformative school trip we went on together. It also featured sculptures by Rosie Galanis, Hacer Sifanur, and Jose Cruz.
So it was a full-on art show. I performed on that same altar table, with scattered objects, including pages of my poetry. I recited my prose "Bliss," which was a vivid, ruminative piece influenced by Rimbaud's "A Season in Hell." I did this paired with my knife scraping against my guitar, creating a distorted humming that filled the room with cognitive dissonance. I continued performing knife-guitar when Don Bolles invited me to play at Hyperion Tavern. That was my first show. Soon after, I played Peter Kalish's "Queer Space" with my wonderful sister and loved performer: Celeste XXX. My hospitalization that took place in March created a hiatus. For now, I am creative in confines of a safe space, my room with a ton of books.
Has it been a smooth road?
I daily struggled with getting along with the art school environment. As a strong-willed, outspoken woman being vocal about my darkest emotions, of course, it was a challenge to be taken seriously. I was, at many times, being forced into characterization. Male professors mostly told me that I was "too aesthetically pleasing and constantly performing." Whatever that could mean. I was forced to elaborate my work so thoroughly it was psychologically taunting. The incredible amount of pressure to fulfill an identity to please the "art world," led to a severe manic episode.
Throughout my art career, I have struggled with my mental disorder. Combating the symptoms of my illness and coping with school and the ability to make art was extremely challenging. I was recently diagnosed with Bipolar. I didn't finish school because of "mania." I felt like I was on fire. I felt a light spark in my soul, and I was fearless in the most destructive of ways. I worked so hard, an incredible amount of energy filled me every day. My work indeed kept track of this irregular energy. Art school almost corroded my sanity. A few months ago, I felt so much rejection and crippling pressure, I was hospitalized. I had active suicidal ideation and was admitted on a 51/50 at Las Encinas Mental Hospital. I didn't finish school and had to take a break. That is the biggest challenge of my career. Through this experience, I have acquired the strength to keep working on my art even more. I have an insightful story to tell.
We'd love to hear more about your work and what you are currently focused on. What else should we know?
I'm a poet, painter, and performer. I believe that my work is rooted in literature. I spend a hell of a lot of my time reading/studying to inform my work further and further. I started my studies based on symbolist poetry, the word experiments of 19th-century French poetry is my whole world. The sensational elements of symbolist poetry/prose furthered my investigation of a language: the alchemy of words. My work creates an emotional world that is a catalyst to a fever of words, images, and actions. I have a passion for words, words about words, creating a world out of words. I believe this is all rooted in obsessive thoughts and images I experience in my day to day life. I think I spent most of my life trying to encapsulate the meaning of my work, and most of it cannot beget an exact definition.
I do a lot of prose, poetry, and imagery my second Instagram @Pitch_a_fever. I spend time on that account experimenting with imagery and words. A lot of my artwork is on there. I also do scatter installation, which is usually a chaotic environment shrouded in books and broken items that I have had in my studio. I like to perform with my noisey knife guitar in that environment. I also, of course, perform the guitar/knife getup outside of my old studio at Otis when I have to opportunity. It's setting me apart because I am not afraid to be uncomfortable and share a world of disgust and trauma. I am incredibly proud of where this has taken me and where it can take me.
Let's touch on your thoughts about our city – what do you like the most and least?
I like how performing my ideas is even possible. I love that. I love that I have had to opportunity. I love the creative space I am allowed to have. I also really love the people I have met along the way. I guess what I do not like is the expectation of fulfilling specific roles and of being categorized. I hate how success is measured.
Contact Info:

Image Credit:
Kaylie Choi, Scott Free, Genevieve Marie, Danny Mirko Kadum
Suggest a story: VoyageLA is built on recommendations from the community; it's how we uncover hidden gems, so if you or someone you know deserves recognition please let us know here.