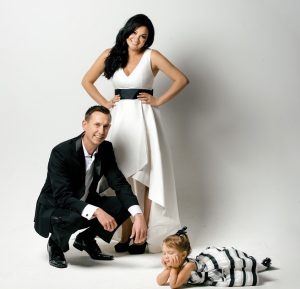 Today we'd like to introduce you to Jasmine and Brody Dernehl.
Jasmine and Brody, can you briefly walk us through your story – how you started and how you got to where you are today.
I started working in Beverly Hills doing hair and makeup when I was 18 years old. which taught me that I really had a passion for the beauty business. I went from working at a couple different salons over the years to finally opening my own at age 24.
Opening my own salon was very tough, but also so exciting, especially because I had the love and support from my family. My father is a contractor and so is my wonderful brother, they constructed my salon with me. I had so many people give me tips and tricks that I really appreciated, but I couldn't believe how much I actually learned by opening the doors.
Over the first year, we definitely had our ups and downs in the salon, but through the process, we quickly became number one in our area and I couldn't have been any happier!
A week after I opened my salon I met my now husband Brody who was a contractor-go figure! He was a fantastic addition to the crazy life of a business owner, and he really helped me to realize you need a great team and a great partner in order to succeed.
As my career grew, I became a celebrity hairstylist and makeup artist. While working with my clients, I realized there was a lot of undiscovered potential for a makeup line that was easy on the skin. I began to develop my makeup line, XXV Beauty. However, it is not just makeup-there is skin care solution in every product to ensure that the makeup enhances your naturally beautiful skin. I carried my products in the salon and now I sell them online.
As my business grew, so did Brody's. As an extremely skilled contractor, he received an offer to build some of the largest homes in Buckhead, Atlanta. At that point in my life, I had decided that I was ready to have a family. My newest passion had become taking care of Brody and my daughter Lilly. Although it was hard for me to leave my salon, my clients, my family, and LA, I realized that it was time for me to invest time into the growth of my husband's company. If living in Los Angeles taught me anything it was to never be afraid of what your life can be, go for it! Be fearless, you might surprise yourself.
I'm working to grow XXV Beauty which continues to thrive every day. It's still great to be able to have something that is my own passion, and that I know my daughter could continue the love for in the future.
One thing that opening the salon taught me was that you never truly know what to expect, something that I soon found out also applies to become a mother. Although it is my favorite job in the entire universe, it is also the hardest job I have ever had. Finding the right balance between work, motherhood, and helping my husband run the business has been very fulfilling. Over the past 6 years, Brody and I have grown Dernehl Company into one of the most well-respected large custom home contracting companies in the country.
Overall, has it been relatively smooth? If not, what were some of the struggles along the way?
Well, if there is anything that I've learned, is that it's never a smooth road, but it is always worth it if you pour your blood, sweat, tears and everything else you've got, into something you really believe in.
When I first began looking for a place to open my salon, I got declined by 6 landlords because I was too young and didn't have enough experience. At that time, I found out my dad was sick and I was not sure if he was going to be able to continue working. So, I had no option but to succeed!
Once I finally found a location where I wanted my salon, I had to track the guy down all the way to Downtown LA and march in his office demanding he sign the lease because he would not have done it otherwise. Then, I found out I needed more money to finish building my salon, so I had to find an investor. I wrote a business plan and showed it to anyone who would read it. Luckily, one of my clients, who I can not thank enough, came through for me.
I had only 3 weeks to get my salon up and running because the salon I was at sold and the new owner wanted us gone. We hustled and worked around the clock to make sure it would be ready in three weeks time. Once I got the salon open, of course, my next passion became makeup! Trying to find different companies to work with, figuring out the right way to create the products with the right feel and the right smell all posed a threat, lots of trial and error, but I finally have created XXV BEAUTY to be everything I was looking for as a woman that has very sensitive skin yet who needs a makeup that can last all day and keep me looking fabulous!
Luckily XXV BEAUTY has now helped so many other people who were struggling with the same things and that is the true goal for me! It's always amazing to me what can happen when you keep pushing to get something done. You will achieve your goal. A lot of people would ask me, "Why are you doing it?"
"It sounds like a lot of work…" and that's the beauty of it! It's my goal, not anyone else's. If I want it to happen then all I need to do is work for it! This is something my husband Brody has taught me.
Brody grew up in a construction family, he started working at the young age of 16 so by the time he was 20 he was running jobs by himself. He struggled to acquire the proper respect on the job site that some of the more experienced contractors would have. But He learned quietly that to get respect you have to grant respect and he continues to earn the respect that he so greatly deserves.
Please tell us about Dernehl Company and XXV Beauty.
XXV Beauty is a luxury makeup and skincare line designed to take care of your beautiful skin. It is hypoallergenic, paraben free, fragrance-free, and non-comedogenic. It is the perfect blend of nature and science because the truth is, you want a makeup that lasts all day and night, and keeps you looking radiant.
When I was growing up, I had bad skin and was constantly trying to find products that would cover it up. When I realized it was the makeup, I became a skin nerd which helped me to develop XXV Beauty later on.
XXV is different from other brands because it allows your skin to breathe, and also hydrates your skin which helps to keep it looking its best. One of my favorite parts about the line is the lipsticks. They have no bad aftertastes because we use pure oils while helping to keep your lips luscious. Our skincare is all natural and simple, while hydrating, exfoliating, and helping to rejuvenate your cells for the healthy glowing skin.
Brody and his father run Dernehl Company, which has grown into one of Atlanta's most prestigious construction companies. Brody came to Los Angeles well to find me… Just joking, ok not really Lol! He came to work on a project that one of the Architects he works with sent him out to do. He quietly fell in love with the different construction designs that LA has to offer and of course me too…
He decided to stay and work in LA for a while and I loved that. He worked with my dad and brother who have their construction company Quaranto Construction, which he has told me how much he has learned from working with them. Brody realized that if you can make it in LA you can make it anywhere.
With nearly 20 years of experience in the construction industry, Brody currently manages large construction sites for luxury estates and mega homes in the Atlanta area and the mountains of Northern Georgia. After living in California for five years, (where he became a licensed contractor and focused on high-end remodels and commercial build-outs) he returned home to Atlanta in 2012, where he continued to manage projects across the US.
With the birth of his daughter in 2015, he decided to narrow his focus to the Atlanta area. He has completely elevated and upgraded the administrative level of The Dernehl Company, resulting in the ability of the company to take on larger and larger luxury estates and projects.
If you had to go back in time and start over, would you have done anything differently?
Well, we believe everything happens for a reason, but if we had to start all over we would get rid of all fears and go straight for what we wanted. If anything was to get in our way we would put less attention on the problem and more attention on the end result!
We believe that the right team is priceless! You can't do everything on your own, you need a hardworking, dependable, dedicated team. If someone doesn't fit on your team, be sure to get rid of them fast! One of our biggest lessons learned is, don't waste energy on someone who is bringing you down. There are so many amazing people out there who could be a valuable asset to your team. If you find your attention stuck on a person instead of growing your business, that's when you know it's not the right fit.
The goal in any business is to grow, take care of the people involved, and to create an excellent product that is desirable to other people. It's an incredible game to play!
Contact Info:
Getting in touch: VoyageLA is built on recommendations from the community; it's how we uncover hidden gems, so if you know someone who deserves recognition please let us know here.