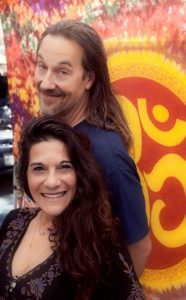 Today we'd like to introduce you to John Griggs and Dot Boyle.
Thanks for sharing your story with us John and Dot. So, let's start at the beginning and we can move on from there.
Although we didn't know it at the time Hippie Dippies Crystal Candles began in late February of 2015 with a broken grow light that John purchased online, which left us both ill with mercury poisoning. Mercury poisoning is like having a nervous breakdown, think "The Mad Hatter" kind of breakdown, and for the sake of you dear reader, we'll skip the destitute – lost our jobs, living in the boonies eating mac and cheese part and go straight to: Both of us are highly creative people, and in the process of healing our bodies from the mercury, we stumbled across what is believed to be an EMF blocker known as organite. We were both drawn to the highly artistic variations of organite, copper wrapped crystals points on top of layered crystals and metal shavings, then embedded into a clear resin.
Well John, having been a licensed Mosaicist for a number of years, started playing around with this resin and let's just say it didn't feel right to us to make it. So, we kept thinking… what would be a better medium for people to interact with the crystals, to experience them in their natural form… Dot is really into the metaphysical aspects of crystals, and we both love meditating with crystals as well. Then, one night a couple of months later, when we were falling asleep, in that deep alpha- early theta place, John had a vision of a lit candle filled with crystals illuminating the light from the flame of the candle. That was in late July 2015. The night Hippie Dippies Crystal Candles was born.
With that vision the floodgates were open and thus came many more visions. With Dottie's eye for design and her culinary background, and John's Mosaicist and Mixology background it took about two years to develop the idea into an invention with a skill set that allowed us to develop the several different lines of crystal candles that we have today. Dottie also is an old school SEO which has allowed us to build many platforms to sell online retail and wholesale, as well as organically positioning our website, photographing our crystal candles, and marketing through Social media, etc. Basically, John does the really fun candle-making chores and the less exciting management duties, stocking, budget, P and L, etc. Dot does all the- not as fun as making candles- SEO and social media/hours on the computer stuff, as well as the really fun crystal affirmation breakdowns. We both take turns, and have a lot of fun, designing all of our candles.
Great, so let's dig a little deeper into the story – has it been an easy path overall and if not, what were the challenges you've had to overcome?
The biggest one has always been capital, especially the capital to properly showcase such a unique, never before seen product. Fortunately for us the crystal candles sell faster than we can make them and we have a very high ratio of returning customers. So, with that in mind we'd just like to say, if any investors happen to be reading this, we are primed and ready to take the big leap from Mom and Pop to facility and staff. Mmm, yummy!
We've come to learn that the good thing with challenges is: it's all in your head and heart as to how you emotionally vision the challenge. We know any obstacle is an opportunity to expand our awareness and if we find ourselves caught up in the moment and being reactive, then we just don't rush to solve it. We meditate. This is our baby and we don't want to make any decisions from a place of reaction where our stomachs are wrenched up and our vision is short-sighted. We want to approach it, if at all, from a place of clarity, emotional awareness and the joy of alignment with our greater selves. There have been times when the financial challenges have been overwhelming and our stomachs are in knots and we are pacing the floor, complaining to each other, and the dog is barking at us because of the vibration we are creating… That's why we think it's a great choice to hold up on doing any problem solving or future planning or decision making (or vision work, metaphysically speaking) until we take the time to love ourselves up. It might be as simple as a nap or a favorite meal, then, ideally we meditate, clearing our minds so we can in-vision the life and business we want from a perspective of wellness, clarity and again, alignment with our greater selves. Joyful hearts, pumping thoughts of abundance and well being into our perfectly wonderful world.
Please tell us about Hippie Dippies Crystal Candles.
Hippie Dippies Crystal Candles are designed to core down and illuminate the crystals, gemstones and geodes from within while the candle burns…
It's a unique, joyfully interactive piece of handcrafted art, that is a much easier sell in person than it is online. It's why we love vending at markets, we are so blessed to meet so many amazing people. Our candles surprise you in the most wonderful way the first time you see them. It's the subtle aromatherapy of our candles that lures you into our booth for the first time. Many people don't actually see the crystals and geodes in the candles for a moment because it's something they've never seen before. It's so much fun for us to see a person's face light up with such excitement when they realize for that first time what they are looking at. They will spend twenty to thirty minutes with us, filled with joy and smile after smile, as they pick up and smell candle after candle, oohing and ahhing at the crystals and geodes as we explain to them that the candle will illuminate it's light through those crystals and geodes as it burns for hundreds of hours while retaining its shape. Coring, not dripping. Illuminating that flickering flame, making the crystals dance in the light. Lighting your Soul. Lifting your heart. Smile after unconditional smile.
All of our handcrafted crystal candles can be repurposed locally at half price and come with a breakdown of the metaphysical aspects and affirmations of each crystal. They are the perfect gift, as they create the perfect love vibe and cover the spectrum of exotic home decor to creating a sacred space for a personal metaphysical practice, The person you gift this candle to will reciprocate your loving thoughts back to you every time they pass by their hippie dippies crystal candle.
The candle wax is a 140 degree melt point, which allows for a much longer burn than an ordinary candle. Our small crystal candles burn up to a hundred hours and our large crystal candles burn 200-300 hours depending on the shape. The higher melt point also locks the essential oil scents we use into the candle for the life of the candle, yet the scent is never overwhelming, rather a pleasant wiff of heaven when passing by.
Our candles are made of 100 percent pure vegan food grade paraffin, non toxic with a much larger cotton lead free wick than an ordinary candle.
Our crystal Chakra candles come in 4 different sacred geometry shapes and three varieties; Classic, pastel, and tie dye… Our crystal cluster and geode candles come in 4 different geometric shapes and a variety of colors, sizes and scents, as well as unscented.
Do you look back particularly fondly on any memories from childhood?
John – I used to love melting wax and clay under a heat lamp as a kid. I also would love to combine all of Mom's make ups and powders and perfume into a dixie cup filled with stones and put it under the sink for a week to see what it looked like when it dried out. I used to love coloring but not in coloring books. I would take a black crayon and draw a bunch of lines, crisscross, on a piece of paper and then I would fill the different shaped spaces with colors. I loved paint by numbers and my brothers etch a sketch too. When I was eight, I planted my first garden by myself. I have always loved art. I always wanted to create something unique, something that I could bring to humanity that would lift hearts and remind a person of who and what they truly are. Yippie for my inner child, We did it kid, we did it.
Dot – I spent many hours as a child reading, drawing & organizing my extensive crayon collection by color hues, gradients and shades. coloring large groovy posterboards from the 70's of flower scenes, unicorns & mandalas, creating geometric masterpieces with my spirograph and painting by numbers, especially on velvet! I have always loved exploring in nature, collecting stones, sparkly rocks & seashells, and art in all forms, especially music. I have fond memories of listening to my Uncles' record collection every Saturday night in a cool space filled with albums from floor to ceiling. My early exposure to music in a variety of genres was the theme of my childhood and music has always inspired me. I have always dreamed of creating something that incorporates music, art and nature to bring peace, love and light to my fellow earthlings-Blessed Be!
Pricing:
Small Crystal Candles (burn up to 100 hrs.) $15-$35
Large Crystal Candles (burn up to 250 hrs) $40-$100+
Contact Info:

Image Credit:
Personal Photo of John & Dot -Tim Courtney Photography
Suggest a story: VoyageLA is built on recommendations from the community; it's how we uncover hidden gems, so if you or someone you know deserves recognition please let us know here.