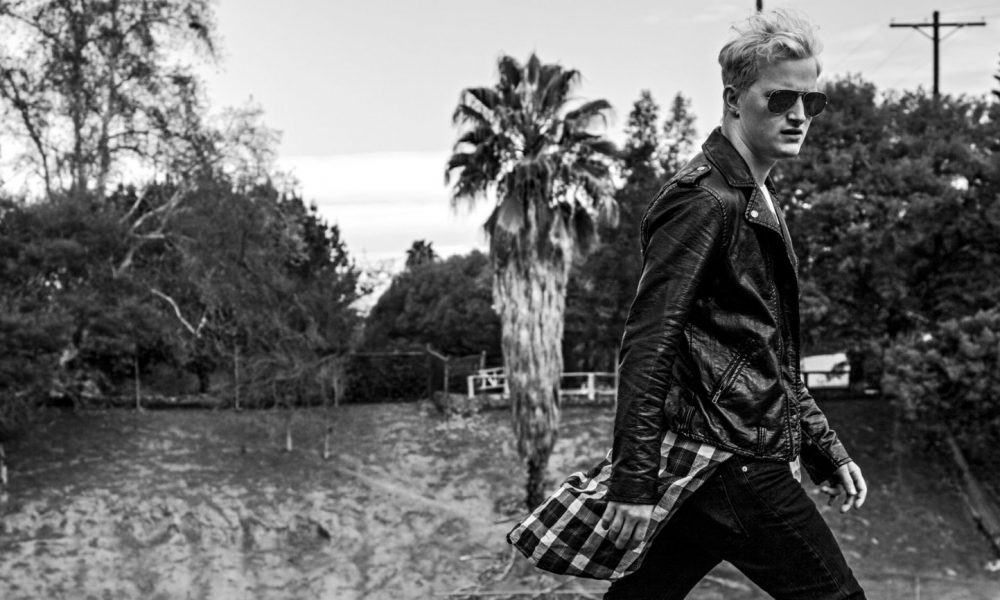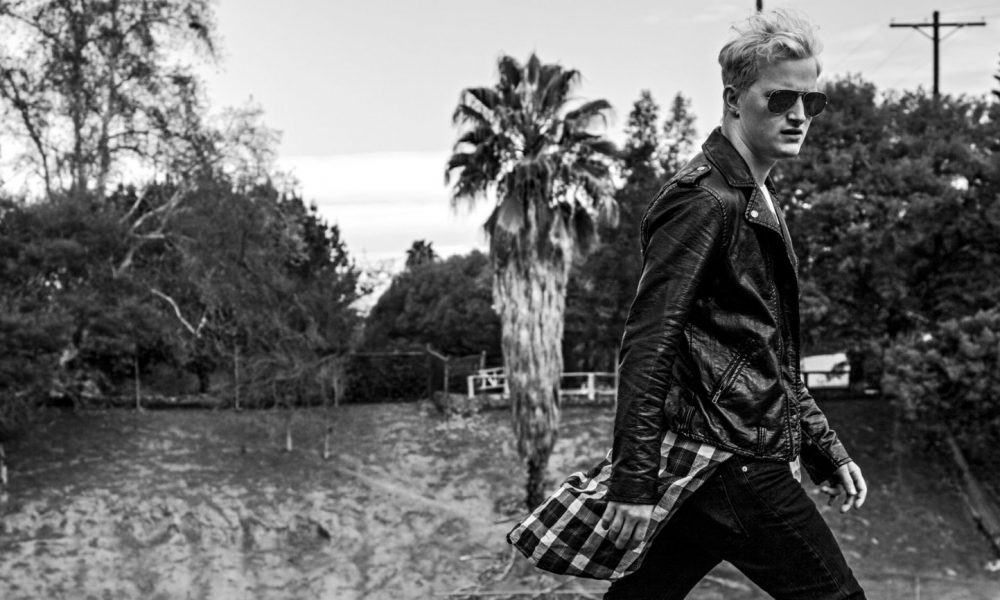 Today we'd like to introduce you to Gabriel Langenbrunner.
So, before we jump into specific questions about the business, why don't you give us some details about you and your story.
You know my whole life I have been someone who was the black sheep of my family. My brothers and sister were the big sports players and that was everything to them. The only sports I seriously played was Soccer and Volleyball – but the one thing I was always keen on what the arts. I was in art classes from a very young age working with multiple kinds of mediums to paint, charcoal, pastels etc.
But, as much as that sounds like a normal life it really wasn't. I was heavily bullied throughout all the way up until high school and into it that I had to be sent away for suicide prevention, with huge depression and anxiety, to an at-risk boarding school for teenagers. It was there I found fashion. We were very sheltered with what we were exposed to outside in what we would call our "normal" lives. There we were on a strict schedule, and it was the same schedule every day.
One day I saw a kid there sketching and I knew that was my outlet. I loved art. So when my mother and father sent me over pencils and a sketch pad and I started to sketch clothing. I got a lot of my inspiration from my Aunt Sandy who at the time was the designer of SheBeads which was worn by celebrities like Michael Jackson, Randy Jackson, the Chicago Seahawks, Michael Jordan, etc. When I completed my program about a year and a half later I was finally able to explore the real world and the dreams of becoming a Fashion Designer.
I had my first fashion show – which when I look back at it was…. interesting. But with what I was given I tried to make the most of it. I went to a college search where I met with art colleges from all over the country. DAAP in Cincinnati Ohio, FIT in New York, PARSONS in NYC, FIDM in Los Angeles, and it came down to the luck of the draw. I still don't know if my parents know this but I only applied to ONE college. That was FIDM.
Two weeks after my senior graduation I moved to what would be my new home in Los Angeles, California. When I was going to FIDM – I was always telling people I hated stylists. They were stuck up, self – centered, and I felt there wasn't a lot involved with the job. Instagram just started then and that's when social media was showing what we call the "GLAM" life of being a stylist. Little did I know that five years later from graduating a the age of 20 I would be at the start of my styling career as a celebrity stylist to the clients I have now.
But things were never that easy. Coming from a family at the time that was we only move about 5 miles from another. I was the one who decided to move as far as I could go. Being a gay kid from a Roman Catholic family in a small town of Cincinnati and one of the first kids to come out in the high school I was in – going back home was not an option. I was moving hostel to hostel working a few jobs from Starbucks to Universal Studios to working at a restaurant in Beverly Hills just to make ends meet to try to figure out what to do next. I didn't feel I got everything that FIDM had to offer me. And I hate to be the person to say something bad, but that was just my experience. I have learned way more with this industry by BEING in the industry.
While working at Starbucks I met costume designer Gamila Smith, I became friends with her and started to intern with her – working from sometimes 8 am to 11 pm at night. I was fully committed to learning everything that I need to learn and she's one of the ones who has taught me everything about Costume Designing. I got my first car ever and was ecstatic. Then some financial situations happened with moving out of an apartment and for this reading this, we all I know is how high the rent is out here and at that time the jobs weren't paying enough and interning was taking up a lot of time I had to move in my car. The thoughts that were going through my head at that point was I was willing to do WHATEVER it took to NOT move back to Cincinnati Ohio. It was 6 months into living in my car when I met another person from Starbucks.
I met Liz Imperio and Chad Carlberg. They became amazing friends of mine and now to this day they are my mentors. They hired me for my first big job. I was costume designing the Telemundo Mexican Billboard Awards that was being held at the Dolby Theater in Hollywood, California. They were the NICEST people I have ever met out here in LA.
They knew I was living in my car and working out of my car during this job that they let me sleep on their couch and I used half of the garage to help me organize and put the whole show together. Seven numbers (I think … haha so far back I forget how many numbers it was), twelve dancers, and only 2 weeks to prepare for this.
I remembered back to when I was talking about how I felt about stylists, and from that point, I had a completely different perspective. I learned about the 90% Schlepping and the 10% Glamming of the job. It was that moment I was able to get my first laptop, I was able to finally get the help from my parents after showing them it was what I was meant to do and they finally realized their son was not going to move back home. Moving forward to today. Actually, as I am writing this on July 3rd, 2018 – this is my 10 year anniversary of living in Los Angeles, so I guess that means I am officially a resident.
I can say within the course of the last five years I have had clients grace the red carpets of the Oscar parties, The Primetime Emmys, the Critics Choice Awards, Teen Choice Awards, A ton of Galas, movie and TV show Premieres. They have graced covers and spreads for Variety, Elle, Vogue, Teen Vogue, Hollywood Reporter and It's never-ending. I was faced with a ton of challenges while being here in LA and as you read a lot of what these stories are saying. If you don't have the skin and the determination, this town is going to chew you up and spit you right back out a DOZEN times.
I am obviously sharing A LOT I this as you never know when the next time it's going to be I would be able to share my story. But I will say this. To anyone who is getting bullied, to anyone who has anxiety, to anyone who thinks that are not good enough. TRUST ME – if you are able to seize the day and POWER through that portion of your life IT GETS BETTER. LITERALLY. Take all of that self-hate, insecurity, self-loathing, and any negative feelings towards yourself or others, turn it into something that will FUEL that fire.
I mean I'm living in Los Angeles, a small boy from a small town. The kids were HORRIBLE to me when I was young and what are they all doing now nothing, really…. nothing. What am I doing I'm living my dream I dreamt of since I was a little kid.
Great, so let's dig a little deeper into the story – has it been an easy path overall and if not, what were the challenges you've had to overcome?
Smooth road? What were your struggles: Like I said in telling my story. And as I say the FIRST sentence to this question is probably going to be the same but, for sure, the road was not as smooth as I thought it would be.
When I first started to style, I went the route of not styling ANYONE, not KNOWING anyone, not even having the contacts to even know where to start. I was offered a movie that my boss was unable to costume design and that's where the person "celebrity styling" started. And from there it leads me to my first big client at the time, Christina Wren. Most you will probably recognize her from the Yahoo Hummus commercial – but me, I knew her from Superman: Man of Steel. She was the quirky girl who at the very end of the movie mentioned how hot Superman was. And at that time I was like OMG IM.
TOTALLY WORKING WITH THAT GIRL. IT was hilarious. From that, she introduced me to her Publicists. Now at that point, I had nooo idea what they were there to do. So I just sat back and listened. While I was working for her I was also assisting a smaller, at the time, stylist Ambika Sanjana. That girl was a go-getter. She was someone that taught me a lot about how to resource and how to find the proper clothing and what mood boards were, the ins and the outs of celebrity styling. Which, side note – totally different from Costume Designing. I worked with her for like 3 to 6 months and I was working enough from the PR that I was forming my own restart of clients. Other publicists were starting to see my work and they started to reach out to me. Photographers started seeing my work and I was given that chance.
At that point, fashion styling was an afterthought. I loved having the sense of making someone, who never thought of themselves as beautiful, walk a red carpet and feel AMAZING!! That's the high I get when working in this industry. Another struggle along the way was getting the contacts for brands. I think that's another misconception of when people start this industry and I can say this first hand of the interns I take on. Which I sadly say now I rarely do.
Social Media is a double edge sword, when you look at our Instagrams and when people see a stylist and their clients you don't get the full grasp of how much this job is. Finding the Brands and especially getting through all the Phipps to get the right person to speak with to see if they would want to loan to your client can be tricky. Which is where social media does help. A lot of brands how to have business profiles where you can see and email or some form of contact that's how I really do it now. And as I have Ethan and become friends with a lot of other stylists we are all willing to share and trade contacts.
Like I said these are just some of the hoops and the struggles along the way. I think everyone needs to learn that whatever job it is you do there will be things that you will have to rely on yourself rather than other to help you out. In the end, it's really great to look back and say I did that and I was able to do that. BOO YEAH!
Please tell us about Gabriel Langenbrunner.
Tell us about your business and company? What are you most proud of? What sets you apart: So when you look at my Instagram or website I predominately work with the celebrity world. Clients that I work with are Shannon Purser, Chyler Leigh, Willow Shields, Andrew J West, and others. My fashion is made of celebrity fashion, I don't have a huge roster of models. Which I am actually starting to get into.
Little note. If you want to be a celebrity stylist don't do what I did and start with the celebrities – build your book with fashion and get to know the brands etc and then go to celebrity.
The most thing I am really proud of is really all of the work I have done in the last year. I think with all of the rises and grind attitude and just bulldozing past and trying to at least, ignore all of the negative crap that people have to say. And trust there will be a lot of that. When I look back at my work I am so proud of where I was then to where I am now. It's literally a 180.. or is it 360? Oh well, I don't know ha. It's a totally different perspective.
It all started really when I was sitting down with Liza Vassell over a Brooklyn PR. I was having a rough day on the job when I was working with a client and I wasn't able to have a lot of luck on getting items for them. I sat down while I was waiting for my items to be checked out and I asked her what she thought about my work. Now anyone in this industry knows when you ask her a question. – she's not going to hold back and she's for sure going to tell you what she thinks and that's what I love about her. And I'll never forget what she told me.
She said,"Your work is great, but it's all over the place. When you look at stylists that have the big clients they are creating a brand they are creating a story. Instead of you styling a client event by event think ahead and look back. Does this all go together? Does this create a brand?"
I sat on that and I thought OK well this is what I am going to do. And I kid you now when I started to think like that the rest of the brands and the contacts started to fall into place. I was working with brands I never thought I would work for. I was also getting bigger clients! That's always exciting is seeing the clients your working with and getting bigger and bigger. And even that – the clients you worked with from day 1 – you see themselves grow! THATS the rewarding part!
In regards to what sets me apart from other stylists. It's hard to say, I know what does set me apart for sure. I think personally for me, I like working with anyone and everyone as long as it fits my brand. I love working with eh underdogs. Trust me if J Law walked up and said I want to work with you I would drop what I was doing and be like DONE where and when. But I will tell 2 examples, First one will be a dream girl I worked with that I never thought in a million years I would have the chance to work with her.
At the beginning of the year, I am sure a ton of people watched this move which was SOOOOOOOO BRILLIANT and it was "A Quiet Place." I was completely enchanted by Millicent Simmonds when I was watching her and the best part about it, she was deaf. Now we have had so many actors and actresses TRAIL BLAZE the industry in the deaf community, Marly Matlin, Nyle DiMarco, and so many others.
I left the theater and literally said to myself – I am going to work with this girl one day. A month came along and what do you know I get a text message from her Glam team that they want me to work with her and next thing you know I was on set. It was everything I imagined and I still look forward to the day I get to work with her again.
The second Example, Plus size men and women are also under-represented within the acting community and not just the FASHION world. There was a TV show I was watching on Netflix, "Stranger Things" and that's where I spotted Shannon Purser AKA BARB!
When drew me to her was I literally felt for how that character was treated by the bullies and it immediately took me back to the feelings of grade school for myself. I told myself – I want to work with her! I met her publicist on a shoot and I just decided to grow balls and be like – I want to work with her. I followed up a few times and that lead to working with her last year for the MTV Movie Awards. We got best dressed on MANY lists and we got a shoutout from ELLE Magazine which then led to her and I do a full 6 page editorial for Elle.com.
I was on that set and I was seeing a girl who was a size 16, not a size 0/2, a size 16 model for Elle.com. She and I have worked now with another for almost a year and a half and we are just getting started. Last year she was nominated for an Emmy and I knew I had to hit it out of the park. I am proud to say I work with a girl who doesn't fit the "fashion" stereotype of what people define Pretty, or SExy. I said to her we are going VA VA VOOM! I put her in this STUNNINg Tadashi Shoji gown with a slit that was fit to her body. I remember her telling me, in her whole life she never has worn anything that hugged her as much as that one did and she loved it and that same night I was interviewed by Elle on a story about styling a Plus Size girl.
That what sets me apart I think from the other stylists. Of course, I would take on a girl and a guy who is sample size. But, I love working with the talent who people in the very beginning would ride off. I love doing what Liz Imperio ALWAYS taught me, "BREAKING BARRIERS". Doing things that others aren't willing to try or do. The fashion industry, especially for the Plus size and the size, exclusively has such a long way to go! You look at the Fashion pieces on the runway, not one of them is made in a size fit for someone in America. The average size is 10/12 that's the AVERAGE.
And that's what I am proud of the most. Breaking the barriers each day and just doing me. I am doing it all by myself, it's not easy but its totally worth it!
Contact Info:
Images of self:
Photography: Ryan West
Grooming: Chris Rosso
1. Shannon Purser – Emmy Nominee
2. Amber and Andrew Stevens West – TCA's
3. Cory Hardict – AOL Build NYC
4. Willow Shields – Work Morais Collection 7 Runway
5. Devin Druid – Daman Magazine
6. Michael Yerger – Work Morais Collection 7 Runway
7. Chyler Leigh – The Wrap
8. Shannon Purser – Elle Magazine
9. Millicent Simmonds – Photography by Kremer&Johnson Photography
Getting in touch: VoyageLA is built on recommendations from the community; it's how we uncover hidden gems, so if you know someone who deserves recognition please let us know here.