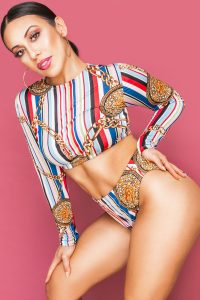 Today we'd like to introduce you to Ellie Soto.
Ellie, let's start with your story. We'd love to hear how you got started and how the journey has been so far.
My story, as an artist, began with a three year old me- I would go with my mom to pick up my sisters from dance and gymnastics classes and I would BEG her to sign me up for dance. Although my parents couldn't afford for all of us to be in lessons at the same time, my parents made it their priority to sacrifice anything and everything they could to make sure they gave us the opportunities they never had- the ones that would lead us to living a better life than they had.
So, for my fourth birthday, my parents granted my wish and signed me up for dance class in our hometown of Mesa, Arizona. Dance and performing immediately became my greatest loves. The same year I started dance, I insisted that my Mom tell my dance teacher that I needed her to choreograph a solo for me to perform in the end of the year recital. It needed to be to the "Free Willy" song, the one that Michael Jackson sang. I was very persistent, and I was four years old. At age 5, I recruited my friends and self choreographed dances for the school talent show. I was setting full production numbers on my entire 4th grade class for the school musical and I started teaching dance lessons to friends and neighbors on my front lawn by the time I was ten. I was so deeply in love with dance, movement, and creating from such a young age that I always had this laser/tunnel vision focus on training and following the path that would lead me to become a professional dancer. Dance was my safety, my outlet, how I was able to express and communicate. Dance was and still is when I am the most genuine, authentic, most free version of myself.
I started touring the country assisting professional dance choreographers by the time I was sixteen. I graduated high school number 16 out of 950 students and was awarded a full-ride Academic Presidential Scholarship to Arizona State University. I didn't really want to go to college, but I knew that my parents wanted me to further my education. Neither of my parents had the chance to go to college, yet alone finish high school. My entire life, I heard stories of how my mom wanted nothing more than to get to go to school, but because she came from Mexico at age 12, she wasn't able to. She had to go to work and make money for her family. Similarly, my dad dropped out of high school to work the family business. I felt guilty knowing I had an opportunity to get a college degree for free and knowing how much my parents, along with a few other important people in my life wanted me to go to college so that I could have a stable career or a backup plan.
I ended up staying home, going to college and assisting for a national touring dance convention on the weekends. At this same time, I auditioned for the brand new TV Show "So You Think You Can Dance." I made it to the last group of 20 girls at the end of the Vegas week but didn't make the show. One of the choreographers from the show let me know that I needed to better play the role of the Latin girl because I am a Latina, aka act more fiery and sexy and spicy. This was my first introduction to the world of television and typecasting. This was such a difficult concept for me to understand because I grew up in Mesa, Arizona- a predominately white, very very conservative city. I auditioned for the show and made it to the end of Vegas week four more times, but never was picked as a top 10 female. I started to fall into a very negative, dark mental state. I was confused, unhappy, heartbroken, and had lost my light. All I wanted was to be in LA dancing next to an artist, living out my dreams.
After a very long, difficult four and a half years, I became the first college graduate in my family. I graduated Summa Cum Laude with a minor in Political Science and a Major in Communications. I immediately made the move to Los Angeles. I lived with my aunt and uncle in south LA for a year, signed with an agent, danced for Ariana Grande a few times, but still wasn't feeling fulfilled. I decided to give New York a try, so I applied for The Alvin Ailey Professional Summer Program and spent three months in New York. Still feeling lost, confused, and unhappy, I went back home to Arizona for half a year while I tried to decide what it was my heart wanted to do. I was in therapy, trying to figure out what happened to my light, trying to figure out my life, and about to completely give up dance. One day, my best friend whom I had toured with, assisting for dance conventions called me and told me that one of her roommates was moving out and that I had to come live with her. She pretty much told me I had no choice, I had to give LA one more try. I moved in with her a month later and have never looked back. Her name is Annie Gratton. She is an angel on earth. She is the brightest light and I am forever grateful for her.
LA is all about finding your people and yourself. You have to find the ones who inspire you in every way, who are motivated and have hearts of gold. Find the people who love what they do and stay true to who they are. Those are your people. LA is my home. It is where my heart is. I'm coming up on my 8th year living out my dreams here in LA. I've danced in music videos for JLO, Taylor Swift, Ariana Grande, and John Legend to name a few. I've performed on TV shows and Award Shows, and I've assisted some Dance Industry Legends including Tyce Diorio, Kyle Hanagami, and Galen Hooks. There is still SO much more that I want to accomplish as a dancer, choreographer, and creative director. I believe in thinking outside the box, not living by societies ideas of what is normal is. I want to create in ways no one has before. I want to choreograph for an artist in the complete opposite way that you would expect their show to be. I want to give back to underprivileged communities. I want to share dance with the whole world because it has done so much for me. I want to show young Latinas that you can be and do anything all while staying true to yourself and being a good human. A current affirmation that I live by is 'there is enough greatness for all of us." I truly believe it. Surround yourself with people with beautiful hearts and continue cheering for them just as much as you are rooting for yourself.
Has it been a smooth road?
Smooth is not quite the word I would use to describe my journey 🙂 but I know that each and every bump has been a necessary lesson. Along my journey, I've been told that I'm too short to be a dancer, my legs aren't long enough or thin enough, I'm too thick to do ballet, and I don't look Latin enough for Latin roles. Some of the earliest struggles I encountered were not having enough money to keep up with the being a competitive dancer. As I mentioned earlier, my parents sacrificed EVERYTHING to give me opportunity and for how much we didn't have, they never let us know we were struggling. The only place their money went was to their five children's extracurricular activities. Many dancers would fly to multiple conventions and competition weekends so that they could make sure they won the prestigious titles, were well known, and so they could establish relationships with choreographers- which in turn would bring them more success and more opportunities. I was able to attend two, maybe three competitions each year that came to my hometown and would only be able to afford to go the next year if I was lucky enough to win a scholarship which meant I could attend the convention for free the next year! And traveling to attend events was out of the picture. I had this optimistic naivety about me when I was younger though. Instead of dwelling on my lack, I was always able to focus on how much joy dance brought me and how cool it was to be at events with other incredible dancers. Arizona was a breeding ground for insanely talented dancers and I still feel lucky to have grown up in that magic.
Later on in life, right around the time I began college and experienced rejection from the TV show SYTYCD, there was a huge shift in my mental state. As noted earlier, I became very unhappy, uninspired, and confused. I truly LOVED learning, but the only thing I wanted to be doing was auditioning and dancing professionally in LA. I wasn't able to focus or be present in any moment. I felt like I was a robot going through day to day actions- go to school, teach at my home dance studio, then travel on weekends to assist conventions, come home, repeat it all over again. I felt stuck. By the time I graduated and moved to LA, I felt completely lost. There were small moments where my spark and my light where present while I was performing next to Ariana Grande, but besides that, everything felt heavy. One of my mentors had strongly wanted me to go in more of the concert dance direction and my parents, while being my biggest supporters and always instilling in me that I can achieve anything, they wanted me to continue school. They wanted me to get my masters and have a normal/stable career at home in Arizona. I was also experiencing other issues within my family during this time and was urged by one of my sisters to begin therapy. I honestly don't know where I would be without my sister intervening out of the love she has for me and her wanting to see me succeed. I also remember my oldest sister, who passed away this past year, sitting me down during my period of darkness and asking me a simple question that has impacted my life in every way. She looked at me and said "Even though things haven't gone the way you wanted so far, have you looked back at some of the good things you have experienced and felt grateful for those things?" I miss you, I love you both and thank you.
Through therapy and the help of my family, I quickly realized that I wasn't living my life for me. I was floating along, doing things that other people wanted me to do and engaging in toxic relationships. I was choosing to do things because I was seeking approval from the important people in my life. As a result of how unhappy I had become, I began self-sabotaging any opportunity that would come my way. My thoughts were harmful. There were times where I couldn't get myself out of bed. I started telling myself that it was too late to be a professional dancer. I would imagine something negative or dangerous happening that would give me a reason to stay in bed and not have to deal with life. It was dark. I was pessimistic about everything. I didn't know who I was anymore. It took a lot of work for me to learn that I had to make decisions for myself, the ones that would fulfill my heart. And I was capable and worthy of living the life I dreamed of. Most powerful of all was learning that my decisions and whatever happens as a result of my decisions, is solely my responsibility. Looking back, these all seem like such simple concepts, but sometimes you need the unbiased, objective opinion of an outsider to help you see things clearly, to help shift your perspective. The moment I understood this and began to live life for myself, everything changed. I slowly evolved back into a version of myself that I recognized. The work is constant. But I have become the woman who loves her life and herself. A woman who is grateful and brave, who believes in herself and doesn't let fear stop her from anything.
We'd love to hear more about your work and what you are currently focused on. What else should we know?
I am first and foremost a dancer, always a student, and then a choreographer. I am a Professional Assistant for the National Touring Velocity Dance Convention. I demonstrate, teach dance and fitness classes, judge competition and have the chance to mentor young dancers. I am represented by Go2Talent Agency- shoutout to my agents Julie and Lisa whom I am extremely grateful for! I am thoroughly trained in many styles of dance and am a member of a contemporary/hip hop company called UNITYLA.
I am known for specializing in classical ballet, yet I don't fit the mold for what a "ballerina" is supposed to be- tall, very thin, and long legs. I am 5'3", I love my curves, and I'm thoroughly trained in classical ballet. I am thankful that the commercial dance world along with some lovely mentors, specifically Melissa Sandvig from Season 5 of So You Think You Can Dance, are able to look past the norms and celebrate my talent and training. This is the same theme I use for creating and choreographing. There are no rules or labels that I follow. I like to put a fresh spin on things. I challenge myself to create outside the box and never limit myself to the way something is supposed to be done- classical ballet movement to 2pac- that's the kind of thing that excites me. I have learned a huge amount from being behind the camera and behind the table while assisting legendary creatives such as Kyle Hanagami, for TV, Film, Videos, Live shows, etc. This has added to my versatility. I fuse all the knowledge I have gained and my training in different styles of dance together, and then I pull from aspects of cultural dancing for my choreography. It's never anything you would expect or have seen before. There's a risk of my work not being understood but these are the things that make me different, that make what I do standout.
In addition, wellness and fitness are a huge part of my life and my business. I am a certified barre and Sugarfoot Therapy Instructor. Sugarfoot is an injury prevention/strength program specifically for dancers, created by a professional dancer and a physical therapist. It has taught me more about my body in the past couple of years than I've ever known before. Knowing and strengthening your body is the secret to longevity in a dance career and to a healthy mind. I believe that health is wealth and that fitness is the way to maintaining a healthy mind, body, spirit connection. I weave all of these elements together into my teaching. I want to create for artists and creative direct for the big screen and live shows, but what would make me most proud will be when I find a way to share dance and wellness with people worldwide, especially those in underserved areas.
How do you think the industry will change over the next decade?
This one is tough to know and attempt to answer being in the midst of a global pandemic. This is the question I've been discussing in depth with the few of my friends and peers who haven't had to already move back home and make a career change. I think this reason alone is forcing our industry to reinvent itself, as if it hadn't already begun doing that on its own or as if it wasn't already difficult enough to truly make a career and be financially stable being a dancer or choreographer. Industry leaders have thankfully been educating dancers how to stand up for ourselves and fighting to improve dancer's rights, working conditions, and pay rates. And then, our industry and the arts were completely shut down for a full five months! Quite a few of the most influential LA dance studios have closed down within the last month due to the pandemic and it has been extremely difficult for our community. We don't know what the LA dance industry will look like when things fully open back up. With arts/entertainment slowly tiptoeing in the direction of opening back up, jobs are scarce and at half capacity.
EVERYTHING is virtual. Social Media matters more now than ever. Social media is now your resume. This is such a new concept for anyone over age 25. None of these are necessarily negative, but can definitely make it more difficult for the 'underdog' or if you never had a computer in your home until you were in middle school, or an iPhone until you were in college. Some of the changes are that auditions are done by video submissions, self-tapes, or zoom calls. We are having to invest in at home equipment so our submissions look great, so we can keep working. I feel that this will remain for the next couple of years and then our industry will slowly go back to something that looks familiar, but not necessarily the same as it was before. Nothing will ever compare to the energy or feeling of a live show performance in front of a large crowd and I am hopeful that this will be possible again within the next five years.
Another difference I predict within our industry is that artists will be creating passion projects more than we've ever seen before. We aren't working as many jobs or choreographing for a job right now, but the fire to create inside of an artist is always there. This is exciting to me because artists will be creating art that comes from the deepest parts of themselves. I have had tons of concepts and visual projects in mind that I want to bring to fruition and they've been in my mind for at least five years! I've always been too "busy" with jobs, being an assistant choreographer, and traveling for teaching to actually take the time to create for me. Right now, we are reinventing ourselves and our industry, and I can't wait to see how this all plays out.
Contact Info:

Image Credit:
Lindsay Rosenburg, Zachary Kemper, Makayla Sammonds, Valerie Noell
Suggest a story: VoyageLA is built on recommendations from the community; it's how we uncover hidden gems, so if you or someone you know deserves recognition please let us know here.