Today we'd like to introduce you to Dr. John Diaz.
Dr. Diaz, can you briefly walk us through your story – how you started and how you got to where you are today.
I was one of those kids who said they wanted to be a doctor since the age of 5. This is not unusual except that my parents were immigrants from the Dominican Republic and did not have a formal education. No one in my family was a doctor or had advanced degrees. However, there was something in me that always wanted to succeed. I did well in school, and was recommended to apply to one of the most prestigious private high schools in New York City. After a grueling application process that included a long application form with essays, letters of recommendation, an exam and several interviews, I was finally accepted. That school changed my life.
My classmates represented the best and the brightest from around NYC. Many of them came from families where academic success was expected from an early age. I was amazed by how mature and articulate these students were. It was a completely different environment than what I was used to growing up in Queens, NY where every family was working class and no one I knew seemed to care about school. Every student around me in this new school was ambitious and had lofty goals of getting into an Ivy League school and becoming a doctor, lawyer, scientist or leader of finance.
I was initially intimidated and felt like I didn't belong. I was quiet and usually stayed to myself. I observed everyone around me and what I learned from watching them was a lesson I never forgot. I noticed that the most popular students in this school were not the jocks, or the class clowns. It was the student with the best grades and the most leadership positions. The ones that got into Harvard or Yale were like rockstars to everyone. I realized that in this school, it didn't matter where you came from, or who your parents were. What mattered is what you accomplished. I set my mind to being the best student I could possibly be.
Very few students in that school worked harder than I did. I woke up every morning at 5:30 am to take 2 buses and 2 trains into the city from Queens so I can get to school in time. I studied and read every free minute I had. I would start studying for exams weeks in advance because I knew I had to work 10 times as hard as anyone else if I wanted to succeed there. The hard work paid off. By the time I graduated, I was one of the top students in my classes. I also had leadership positions in many clubs and organizations at the school. It all led to me being accepted into Cornell University.
I never looked back. I continued to push myself to study more and work harder than anyone around me. Although everything about my upbringing and childhood environment would have predicted I would have an unremarkable future, I was determined to make my life as extraordinary as I could. I had an unbreakable faith and belief that as long as I worked as hard as I could, I could make all of my dreams come true.
I went on to attend medical school and graduated in the top 10% of all medical students in the country. While exploring careers within medicine, I fell in love with the specialty of Plastic Surgery. I was fascinated by the diversity of surgical procedures and by the fact that it is one of the few specialties in medicine where you can immediately and permanently improve some aspect of a patient's life. Whether it is reconstructing a cancer defect, or a burned victim, plastic surgery is constantly taking the human form and making it better. It also happens to be one of the most desirable and competitive specialties to be accepted into. I was fortunate enough to be accepted into an accelerated and advanced training program in plastic surgery. At the time I applied, there were only approximately 30 positions of this kind in the entire country.
During my training in plastic surgery, I excelled in cosmetic surgery. I always had a great sense of aesthetics and art, and this served me well as I performed procedures and obtained great results. I was also drawn to helping people change certain parts of their appearance. Many patients would tell me that they felt judged or discriminated against because of their aged look or unsightly feature. I gain tremendous satisfaction in knowing that I can level the playing field for them so that they are judged not for what they look like on the outside but instead for what they are on the inside. My decision to pursue this field was one of the best professional decisions I have ever made.
Great, so let's dig a little deeper into the story – has it been an easy path overall and if not, what were the challenges you've had to overcome?
Becoming a plastic surgeon is one of the most difficult and challenging career paths one can take. Every step needed to make it requires achieving high scores on some of the most difficult exams that were ever created. It's not only about scoring high on the SAT. There is also the medical school admissions test (MCAT), and then the medical licensing exams and finally the board certification exams. The worst part is that each exam is harder than the one before it. At every step of the way, you are competing with increasingly smarter and more talented individuals and struggling to find a way to stand out.
The exams, however, are just the tip of the iceberg. What is not seen is all of the personal sacrifice one has to make to excel in this career. There are tremendous emotional and physical costs to this. My training in surgery consisted of 5 years of a brutal work environment. I was on call every 3 days which meant that I had to spend the night in the hospital every 3rd night, in addition to working during the day. It basically meant that I often had to work 36 hours or more in a row, and it didn't matter if it was a weekend, or a holiday. I spent many birthdays, Thanksgivings, Christmases, and New Year's working in the hospital. I remember vividly how painful it was to call my parents on a Christmas Eve only to hear all of my family in the background enjoying themselves. I would have to end the call knowing that night I would be eating stale cafeteria food, all alone, and that I would not be able to get home until the following night.
Most residents, including myself, are in their mid to late 20's during this training period. While many of my friends at this time were earning good salaries, traveling and enjoying themselves, I was working over 120 hours a week and earning less than minimum wage. Slowly but surely, after declining invitation after invitation to go out to dinner, or a party or some fun vacation, the offers began to dry up. So did many of the friendships.
Worse, the culture of surgery training at that time was very militaristic. Many of the older surgeons I worked for served and trained in the military and this greatly influenced their methods of teaching. It was common practice for them to berate and humiliate us if we said the wrong answer or made a mistake. Praise was never given. You knew you did a good job if you were not yelled at.
During the 5 years of my training, I was pushed to my emotional, mental and physical limits. There were innumerable times I considered quitting and I saw many fellow residents break apart under this system. By the time I graduated, I had several colleagues transfer out of surgery or leave medicine entirely. As miserable as this period of my life was, it did transform me. Although it was an incredibly difficult struggle, I know that I am capable of handling any challenge or test that may be put in my way.
We'd love to hear more about your business.
I am a Board Certified Plastic Surgeon in solo, private practice in Beverly Hills. My practice provides luxury cosmetic surgery services, including everything from skin care to complete surgical rejuvenation procedures. Over the past decade, I have developed an expertise in breast surgery and facial surgery. I recently published a book on breast augmentation and wrote a comprehensive scientific article describing how to achieve superior surgical results.
What has been the proudest moment of your career so far?
What I am most proud of is the stellar reputation for patient care that I have developed. Since I began, I have made the patient experience my priority.
Over the course of over a decade, I have refined and perfected patient consultations so that patients are empowered and informed about their procedure.
I also invested in cutting-edge 3D technology that enables me to accurately simulate potential surgical results. The experience I create for patients leads to not only superior satisfaction, but also superior results. I believe it is this dedication to every step of the patient's surgical journey that sets me apart from others.
Contact Info: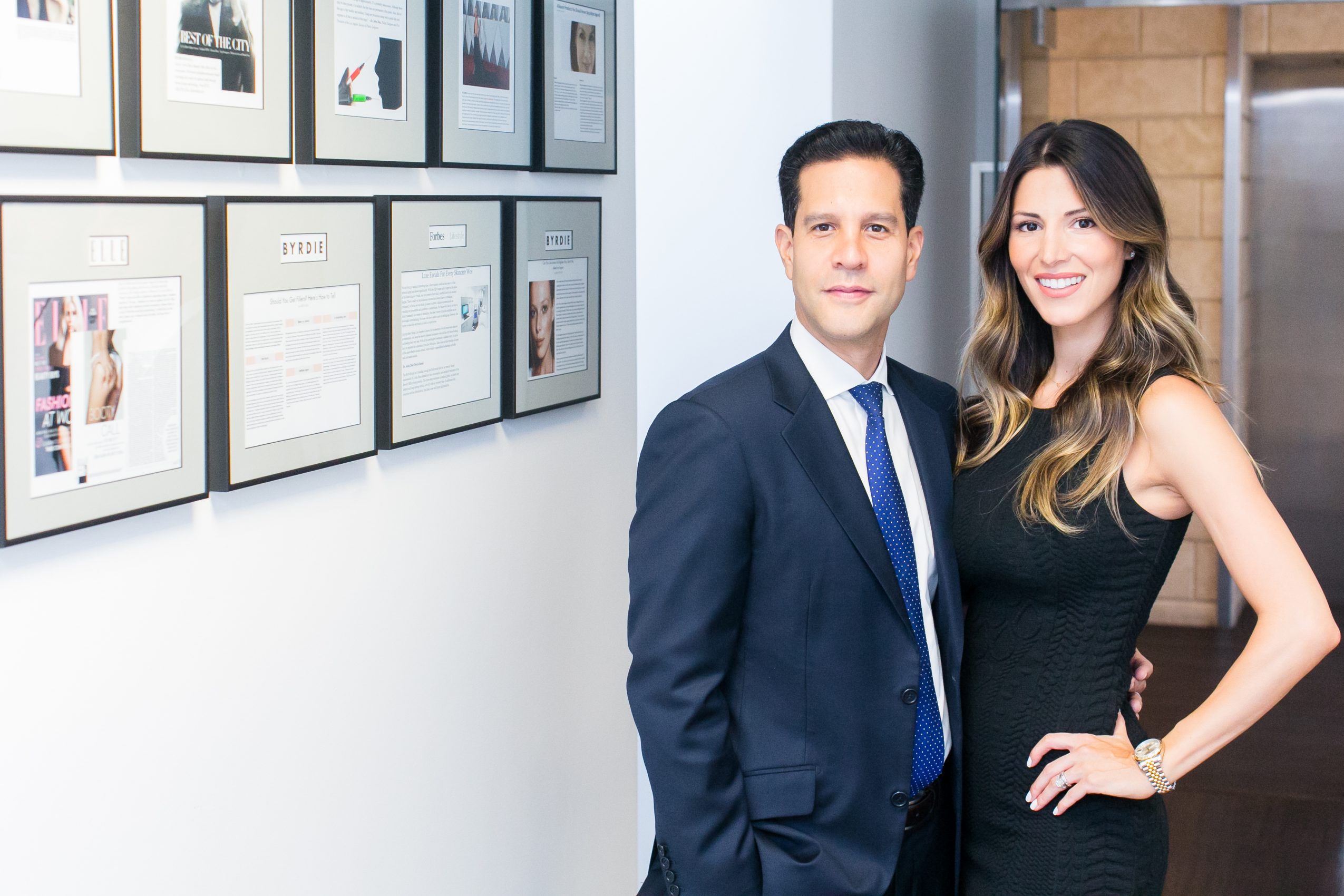 Image Credit:
Katharine Hauschka
Getting in touch: VoyageLA is built on recommendations from the community; it's how we uncover hidden gems, so if you know someone who deserves recognition please let us know here.