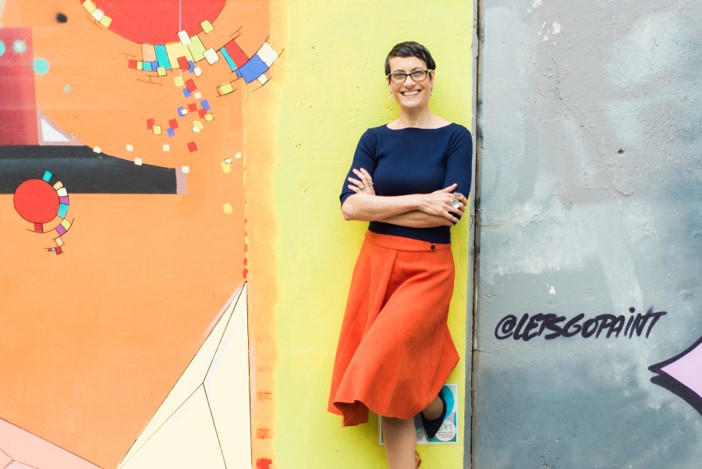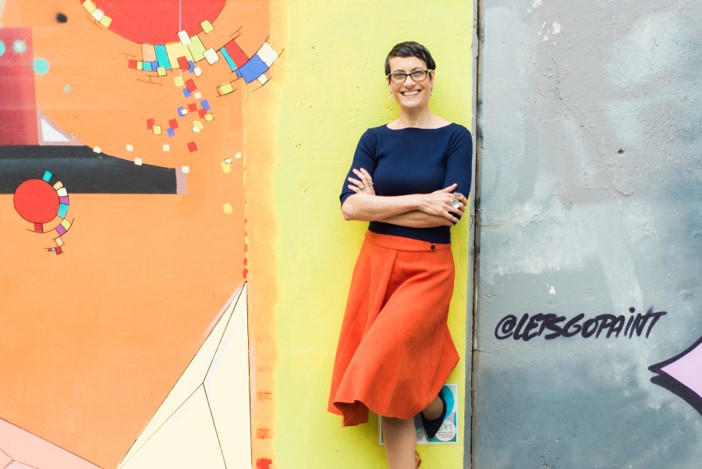 Today we'd like to introduce you to Dawn Smith-Camacho.
From an early age, Dawn felt committed to social justice issues. She left university for two years to dedicate herself to the service-learning and leadership programs City Year and Public Allies. She then returned to university to further develop her knowledge in the arts and social service, graduating with a degree in Psychology from the University of Vermont in 1996. After several years of community outreach and organizing around youth, media, the arts, and politics, Dawn, with the assistance of her board, developed and launched Justice by Uniting in Creative Energy (J.U.i.C.E.), a hip hop focused community center, inspired specifically by her work with incarcerated youth. Since 2001, J.U.i.C.E. has offered breakdancing, deejaying, emceeing, mural and graffiti art and music production instruction, mentoring, and practice sessions. The center recently opened it's second site, and is on track to open four more over the next two years.
Around the time of 9/11, Dawn realized she was burnt out and had never found her core community and sense of purpose. When her son was born, she decided to enter seminary. Since her ordination as an interfaith minister, she has officiated over 500 ceremonies. Early on, she realized it was the first time in her life she was waking up every day loving what she was doing, still finding it to be meaningful work, she was good at it and making a living at it. And yes, she was hearing a common theme from her clients when it came to work- they felt frustrated, disillusioned, had fallen into something after school, and now weren't sure if this was their end-all-be-all, but didn't know how to change without potentially risking too much.
Whole Life Solutions emerged to flip the traditional model of career coaching in two ways: 1. To start from a place of core values and passion, and to then develop a career path from that place. 2. To provide an integrated approach to navigating change that takes into account the emotional and practical, and career and personal goals. Dawn's specific niche of research and focus the last five years has been in the arenas of effective decision-making and successfully navigating major change. Her speaking clients include Vistage, UNICEF, the LAPD, Team Rubicon, The City of Los Angeles, UCLA, National Association of Catering Executives (NACE), Wedding International Professionals Association (WIPA), and Oracle. A percent of all proceeds is donated to philanthropic organizations and Dawn also donates her time to co-producing the monthly social enterprise speakers series, Catalyst & Coffee.
Has it been a smooth road?
It took some time to identify how best to reach clients who are the best fit for this work (established, overwhelmed professionals in high-stress industries), and the categories under which to promote this business, as it is not traditional life or career coaching.
An ongoing challenging lies in the pricing arena– coming from a counseling background, I was so turned off seeing how many of the 'big-name' coaches require prospective clients to commit to large sums, often thousands of dollars, right up front. I've always set up this business with a complimentary initial consultation, followed by a 'one-off' paid initial session, so both parties can make sure that this ultra-personal work is the right fit.
So let's switch gears a bit and go into the Whole Life Solutions story. Tell us more about the business.
Non-traditional Career Coaching + Business & Entrepreneurship Coach | Executive Coaching & Training | Motivational & Keynote Speaker | Decision-Making and Effective Major Change | Legacy & Purpose
Whole Life Solutions offers tools to assist overwhelmed professionals ready to shift the status quo towards greater purpose and efficiency.
Dawn is a motivational speaker and career coach offering talks and sessions on mastering chaos, making the "right" choice, radical work-life balance, making and breaking habits, and handling major crossroads effectively. Her specialty is in offering very simple, scientifically proven tools for making major change through small daily shifts. Clients gain clarity on their greater purpose and support developing time management, motivation, and accountability.
Whole Life Solutions was created to flip the traditional career counseling model. Rather than looking at clients' background and resumes and suggesting the next closest fit, Dawn assists you to find what you value, to identify your purpose, and to then make a living at it. Her holistic approach addresses not only the emotional and practical aspects of the process, but, with career as the center focus, we also address all other important areas of life management, including finances, relationships, and wellbeing. Dawn uses her own experiences with ADD and anxiety to share simple tools that are effective for creating concrete, manageable change.
How do you think the industry will change over the next decade?
Our society continues to perpetuate a bit of a mixed message — on the one hand, America as the land of opportunity- the country where anyone can do anything. On the other hand, a more traditional mentality still exists for individuals to be implored to go to a 'good' school, get a 'good' job, earn good benefits and pay, and if you like your job, more power to you. I believe the scales are shifting in favor of individuals recognizing that one can pursue a unique passion and make a successful living while being purposeful and giving back– but often individuals feel paralyzed with possibility and indecision. I believe the shift will be towards a more inclusive and expansive approach to the possibilities of what a viable job or career can be, and to recognizing the difference between pursuing more than one viable passion, versus diluting one's pursuits with multiple endeavors solely out of financial fears, insecurities, or indecision.
Pricing:
Private Coaching begins at $160/hr
Speaking engagements begin at $750
Contact Info:
Website: www.wholelifesolutions.biz
Phone: 626-644-2786
Email: Dawn@WholeLifeSolutions.biz
Instagram: @wholelifedawn
Facebook: @revdawn
Twitter: @wholelifesol
Image Credit:
https://leahandmark.com/portfolio/
Getting in touch: VoyageLA is built on recommendations from the community; it's how we uncover hidden gems, so if you know someone who deserves recognition please let us know here.