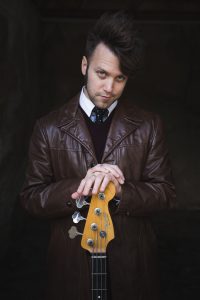 Today we'd like to introduce you to Darren McGuire.
Thanks for sharing your story with us Darren. So, let's start at the beginning and we can move on from there.
My story begins in Allentown, Pennsylvania. My parents met working together at a record shop in the 1970s, and they were huge fans of rock music, especially The Beatles. They also loved Elton John, Billy Joel, Led Zeppelin, The Police, Pink Floyd, Michael Jackson, and Dire Straights. So I grew up listening to these bands and artists.
With my parents, there was no way I wouldn't become a musician! I'm told that whenever Sting or The Police would come on the radio in the car, I would start bopping in my baby/toddler seat. Pink Floyd's Dark Side of The Moon would make me run in circles in the living room until I fell down out of dizziness! Music is in the fiber of my soul.
In grade school, I started on the clarinet at nine years old, then quickly picked up the saxophone after a couple of years. But I really wanted to play a "rock band" kind of instrument. I gave guitar a try at 13, but it was very strange to me after only playing wind instruments that can only play one note at a time. I can do six notes at once and I don't blow into it?? How bizarre! At this age, I got into my first rock band with my best friends, rehearsing in my parents' basement to start. We began trying to write our own music, being very influenced by grunge rock since this was the mid-1990s. I recall our middle school having a talent show that they ran like "The Gong Show," and my band signed up. We played an original song and weren't very good because we were between 11 and 13 years old and hadn't been playing our instruments for more than a few months. I remember the crowd of hundreds of pre-teens booing us. But we finished our song and received a lot of encouragement and support from our wonderful teachers.
After that experience, I put the guitar down. But that need to play in a rock band was still there, and it led me to the love of my music life: The Bass. At 15, my parents gifted me a candy apple red Fender Precision Bass for Christmas, and it was love at first pluck! I was in a punk band in no time, and since nobody in the group was a true lead singer, we all traded lead vocals between us. Four strings and no chords felt right to me. Within a year, I found myself performing professionally in pit bands for musicals at local community theaters. Getting paid to play music?! Yeah, that'll work.
Fast forward to the year 2000, my senior year, where our high school did a talent show. We love our talent shows in PA. My band at this time, Filament, featured the same best buddy on drums from the middle school talent show, plus a far more talented guitarist than myself, the best singer in the school choir, and myself on bass and backing vocals. We signed up, went out there and covered Blink-182's "All The Small Things" and Creed's "Higher." It was 2000, ok?! We remembered the middle school booing and used that as motivation to practice and rehearse almost militantly in preparation. We killed it, got 500 of our peers to go crazy for us like a huge rock concert, and we won the talent show. Nice reversal, right? This moment made me realize that I had to be a professional musician for life.
I went to college in PA, was in and out of a couple of bands over the next four years, recording a few EPs. I went on an East Coast tour with a central-PA based band named Kingsfoil and played many live shows with them in the Northeast. I eventually moved to Brooklyn, New York in 2008, immersing myself in the singer/songwriter and indie music scenes there. I remained in a PA-based band while working full-time at The Apple Store on West 14th St. in Manhattan. But I wanted a full-time career in music and had been California dreaming for some time. Shortly after moving to NYC, I took my first trip ever to California, landing in LA. During that trip, I heard a radio ad for Musicians Institute (MI) on KROQ. I thought to myself, "This sounds like the perfect place for me to take that next step in my music career!" Two years later, I applied to MI's Bachelor Degree program for Bass Performance, and was accepted! I moved to Hollywood in September 2010.
My experience at MI was transformational. Coming from the Northeast, to be in Hollywood studying not just music, but the music industry is huge. I learned so much more on bass and was turned on to all styles of contemporary music, which really made me a much better overall musician. I still played rock, pop and singer/songwriter genres, but also was turned on to soul, Motown, funk, R&B, jazz, Latin styles, country, K-Pop, and gospel music. I also took classes in Songwriting, learned all about music publishing, copyright law, how to run your business, and I also wound up taking the audio engineering program and learning everything about the recording studio. I also took my music theory game to heights I never imagined, my ears became highly trained, and I learned how to become an arranger, even writing full scores of sheet music. But, the best part of attending MI was the network of amazing musicians and industry folks from all over the world that I got from being there.
I later worked at MI as a bass and vocal teachers assistant, plus a bass, guitar, piano, music theory, ear training, and Pro Tools tutor. I even worked as an admissions advisor for a short time and made many outreach trips for the school all over the US. It allowed me to further nurture my connections there, which led to me becoming a music teacher, plus directly landing auditions and gigs with countless artists across all contemporary genres. Every music gig I've ever had in LA, I can easily trace back to a connection from MI. It's amazing. I played the biggest show of my career shortly before graduating as a student, to a crowd of 17,000 at the Santa Monica Pier, for the Summer Twilight Concert Series back in 2013. I played with original rock band Troup, opening for The English Beat. Experiencing the roar of the crowd from the stage is otherworldly! It takes your breath away.
As I started racking up gigs all over the US, and more specifically all over California, especially Southern California, my personal catalogue of songs I knew soared. I played in both "black" and "white" church as they are known in musician circles, I toured the country playing country music, and I did a lot of rock and pop in both LA and Las Vegas. One summer, I recall playing rock and pop covers, plus originals in Vegas with WWE announcer Lilian Garcia every Saturday night, then driving back to LA throughout the night so I could make my gig at The Family Church International of Pasadena each Sunday morning. Suffice to say, Sundays were an early night that summer! I was tired, but I loved it.
During this time, teaching private lessons became an increasing source of income for me. Working as a TA and tutor at MI helped launch me into that. It's funny because, in the last six years, I've taught more guitar lessons than anything, even though I didn't have the greatest beginning with the 6-string. I'm grateful for that, because through teaching, I've become a guitarist, and that has helped me in songwriting tremendously. Teaching has become one of the pillars of my music career, as I now teach bass, guitar, saxophone, piano, ukulele, voice, and drums at SoundCheck Music School in Canoga Park, CA as well as Sierra Madre Music in Sierra Madre, CA. I also am the director of student bands at SoundCheck Music School; a position I love dearly! Beyond that, my biggest teaching credit is as a video bass instructor on Fender Musical Instrument Corporation's educational app, Fender Play. I've always played Fender basses and guitars, so it's an honor to merge my love for their instruments with my knowledge of music.
All of these experiences have led me to the current moment, where playing thousands of shows across just about every genre of music, and learning many thousands of songs and pieces along the way inspired me to create my own events entertainment company, Cover Story Events. I'm still teaching, performing as a freelance bassist/vocalist in church, musicals and all different types of venues and concert settings in Southern California. I also write original music and plan a wide range of events with my partner Jessica Coffman, including one original project entitled "Slaps and Taps." She's a tap dancer (Taps) and I'm a bassist (Slaps, as in slap bass!) among our other various skills. I also collaborate on original rock music with the band, Electra, with my Cover Story and SoundCheck Music School colleagues Electra Barakos (vocals) and Dan Welby (drums).
Overall, has it been relatively smooth? If not, what were some of the struggles along the way?
There have been many challenges. I would have to say that earning consistent money has been the most present obstacle for me. I am so very far from alone in this. I have more than $100,000 in student loan debt, and it's been difficult at many times to handle what would be $1400 a month in payments just to those, on top of handling the ever-increasing living expenses in Los Angeles. This is not a complaint. I knew LA would be pricey coming in, though it was more affordable than New York, which is where I lived for two years right before I moved here in 2010. I do realize of course that this is all a product of the decisions I have made in my life, and I own that. It is up to me to figure out how to deal with all of this. I cannot blame LA being expensive, or my student loans being too large a sum.
That being said, I've encountered many situations professionally playing in bands where pay is low, but they want you to commit to the group and not take work from other bands. That doesn't help. There have also been a number of times where bands are slow to pay and don't honor their promises to pay. I've been stiffed on gigs, and that's frustrating and depressing because I gave my all on those performances: I put in the work to prepare, I gave so much energy onstage to the band and to the audience, and I've worked two decades at my craft to earn being paid for what I do. It's almost insulting. But what needs to happen here is doing better business on my part. These were all handshake-type agreements.
A big challenge I experienced was losing an admissions and outreach advisor job at my alma mater, Musicians Institute. This happened in April of 2015, a little less than two years after I graduated from the bass bachelor degree program. I held this position for about six months, and it was the first time in my life I had a $50,000 a year job. I thought I was finally free of my money issues. But at the end of the day, this was a sales job (getting new students enrolled at the school was the bottom line), and I did not do well enough closing sales. I was great at the outreach portion, telling prospective students all about what the school has to offer and getting them excited. But it's kind of a cutthroat business, and I was demoted back to being a TA. I went from full time with a lot of overtime and travel to $10.50 an hour and a very part-time and inconsistent schedule, even though I liked the work so much more because I was playing bass and assisting in educating. To this day, I still haven't gotten back to that level of income, and it's been difficult to navigate. I made a promise to myself to stay in performance, writing and educating since then. It was a tough blow mentally and emotionally not only because of the money factor, but because I was being rejected by the school that I had loved so much as a student.
It was also another tough challenge in October 2016 when I had lined up a 4-month cruise ship contract as a bassist and vocalist, and it paid fairly well. $3,000 a month with room and board, plus food covered. That $3,000 would play much bigger. But then it abruptly ended after one month, when our lead vocalist was medically disembarked from the ship due to nodules on the vocal cords. The gig was demanding: 3-4 hours of live performance as the party band seven days a week. We would often rehearse during the day as well. After the singer left, the band was given one day to find a new singer to join us the end of the week for the remaining three months. Suffice to say, that did not happen, and we were sent home four days later. We did receive pay for the next 26 days, as our contract stipulated that we were to be given 30 days notice of an early contractual termination, for which were only given 4. But the $12,000 I was expecting to earn from this got cut down to just under $6,000. It was even more tough because my car had been totaled right before leaving, which was a nightmare of its own, and I also did not have an apartment. I had much to figure out upon returning with a lot less funds than I had planned for.
What I might consider to be my biggest challenge thus far is currently ongoing. Someone approached me about partnering to help me launch Cover Story in the early going. I had been making calls to people who had experience in the events entertainment industry looking for advice, and this person was one of the calls I had placed. They approached me a couple of months after my initial contact. To make a long story short, after close to a year of partnership, they did not deliver on their end, and through doing the background research I should've done at outset of the partnership, I learned this person had falsely represented themselves and was basically a fraud. The worst part was they convinced me to secure investment funds from my family, and then immediately requested money for personal reasons from those funds. They also assured me they would safely handle all the money, but after some time, I realized that they had spent it. The remaining investment funds from my family still have yet to be recovered from this individual, even though I terminated our partnership six months ago at the time I write this. I was naive, and I take responsibility for that.
It's been challenging to find stability financially speaking, but it all comes down to proper planning, despite not always having a routine. It is imperative to keep focused, and that has been difficult at times. It is something I am mindful of and always checking in with myself to make sure I am not too distracted. In our world with the internet and social media, it is easy to be constantly distracted and lose focus on ourselves and what we are after. Self-care and self-love are so important.
One final note I'll add to the struggles is that the romance department has been tricky. It relates to the overall instability. Personally, I've always wanted to one day get married to a wife who is my partner creatively and in business. That's fairly specific, but I know in my heart it's what I seek. There has long seemed to be a struggle between love and career. Traveling a lot and not having a set routine makes things more difficult, and it's not easy for most to understand that kind of lifestyle, even if they are creative too. I certainly haven't been perfect in my actions in this area either, because it always takes two in the matter of love. I'm 36 years old and have strongly pursued my music career over all else. I've never been married or even engaged, despite the fact I've always sought that. However, the love and romance picture in my life has become clear just within 2019, thanks completely to a special someone I have met. If love is what you seek, make sure you write down what you are looking for in a detailed way; the kind of person, their qualities and also what type of relationship you want. Gaining clarity is key, and I did that during my last period of being single. That was a great thing that I did, and I believe it made a huge difference in my love life.
Please tell us about Cover Story Events.
Cover Story (CS) is an event entertainment company based in Los Angeles, California, providing high-energy, high-quality, and high-touch live music performances. CS tells their client's story by delivering a custom arrangement of popular songs through a powerful & professional mix of music, props, and/or other visual techniques. We are all about YOU!
This custom approach is achieved by a unique interview process that takes place with each client. There are songs for every occasion. For example, if you're getting married, we want to know your unique love story! What songs are attached to those seminal moments in your relationship? Such as when you got together, your first date, when you got engaged, etc. Along with those songs, we will utilize the details of your story, along with our vast knowledge of contemporary music to create a playlist that tells your story in a most personalized way. To connect the dots and musically tell a coherent story, we write script into our sets for our front people in our bands and our DJs. It's a personalized type of emcee style.
CS is able to effectively cater to a wide range of clients and occasions such as but not limited to weddings, concerts, engagement parties, divorce parties, festivals, corporate events, holiday parties, company launch parties, and more. CS provides diverse entertainment catering to various budgets, venue sizes, demographics, and locations.
With a roster filled with the most talented musicians in Los Angeles, CS is able to perform music of any genre, from any time period. Pop, rock, country, R&B, jazz, Latin, disco, and funk from all contemporary decades is within our ability; we pride ourselves on this.
CS is committed to our core values of character, integrity, and excellence both on and offstage, delivering sober performances, proficient communication, and overall professionalism.
If you had to go back in time and start over, would you have done anything differently?
I always wonder what it would have been like to move to LA at 18 versus 28.
I would do my background checks going into business with anyone. You need to trust in business, but you cannot trust blindly.
Get everything in writing.
Self-love and self-care are paramount. If I am good with myself, then I can truly care for others.
Know that Fear is the Great Indicator and use that to take action. The things you fear are the things you need to do.
Not take on an overwhelming amount of student loan debt.
Manage my finances much more closely.
Don't take on so much to where my plate is overloaded. Maintain focus.
Don't get in my own way/don't overthink it. Be prepared, but then take action.
However: life has went the way it was meant to go. I can no longer look back, but instead, be in the present, and continue to move forward.
Pricing:
$3,000 to book a 5 piece band for an event
$1,500 for a DJ
$600-$1000 to add on PA, sound engineer and lighting package
$200 each per additional performers (horn players, dancers).
Contact Info:
Image Credit:
Tyler Miles of Tyler Miles Photo. Nicole Lemberg.
Getting in touch: VoyageLA is built on recommendations from the community; it's how we uncover hidden gems, so if you know someone who deserves recognition please let us know here.