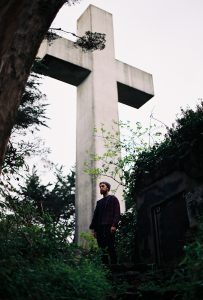 Today we'd like to introduce you to Conor Grebel.
So, before we jump into specific questions about the business, why don't you give us some details about you and your story.
Well, its kind-of a tumultuous history. Only in recent years have I felt confident in my life decisions. I was born in Long Beach, then raised on the less flattering side of HB, spent most of my youth in sun and saltwater. Around ten years old, my family moved to a very small town in Wisconsin, not a very nurturing environment for individuality or creativity.
My high-school didn't even have an arts program, it was built to turn out farmers and beat up kids like me. I left school with a D average and zero hopes of being an artist, I think Wisconsin literally beat the thought out of me. I traveled a lot after school, I didn't think I was smart enough to go to college. I ended up picking up Japanese as I traveled…and since I was a kid, and an idiot, It made sense to go to college to study Japanese. At that point, it felt like college was a necessity, and I had found one thing I was good enough to go to college for. I got into college via a second chance program my teachers set up, then eventually transferred to a top-ranked school for Japanese language.
The rest of my story, like the start of the story, is me being misguided and misled by my own lack of trust in myself. I spent a while in Japan, thinking that's how I could make sense of losing all my time and money towards a college degree. I worked as a toy developer for a large Japanese toy company. It was miserable. I can go into the details later but this became the single most important catalyst and transformation event in my life. I came home to America beaten and broken; all I had left was that kernel of a dream I held onto since I was a kid. I wanted to be an artist, a musician, and I wanted to be free.
Great, so let's dig a little deeper into the story – has it been an easy path overall and if not, what were the challenges you've had to overcome?
The truth is I was born broken, and I'm still broken, but the pieces are starting to fit together. I don't want to take all the responsibility out of my hands, but being bullied most of my life and not having exposure to an artistic community played a hand in a lot of my decisions as a young adult. However, none of it compares to what happened in Japan. My experiences working in Japan were like the thematic opus to a lifetime of misguided decisions and low self-confidence. At the time, I viewed it as a purely destructive force, an undeserved assault on my mind and body without purpose. It took many years for me to take an informed look at why I ended up there, and more importantly, where I am now because of it. What was once viewed as an evil force intent on taking me apart, I now view as an inevitable outcome of my nature, and the final blow in breaking the layers between the real me and the walls I built up around it.
I'll try to keep it brief, but I should touch on the key accelerant in all stages of my adult life: panic attack disorder. It always lived somewhere deep inside of me, and only after it became a surface level part of who I am was, I able to look back and see the signs of its imminent arrival. In College, I was also struggling and unhappy, constantly feeling like I'm wasting my time and money doing something I feel no attachment to, only a pressure to conform to what's expected of a high school graduate. There was this bizarre phenomenon I experienced every day on my bus ride to campus; If I had to stand while riding the bus, I would start to sweat, feel dizzy and lightheaded, my heart would race, and I would often feel like I might vomit. The feeling would go away instantly as soon as I sat down…it was an extremely curious and fleeting sensation as it was gone as soon as I stepped off the bus. I've also never been sick from drinking alcohol because I would only be capable of drinking to a point where my anxiety would kick in, a sensation I couldn't place at the time. I was always slowly drinking towards a panic attack, which felt very different than being sick from over-drinking. It almost served as a safeguard. So the clues where there, the beast was building slowly over the period of my youth, but it took Japan to help it break through and transform my life.
In Japan…I won't go into a lot of detail, but I experienced a long and painful period of adult bullying and abuse. I was singled out by another American (my superior) in the company and continually embarrassed in front of my office. I was continually forced to enact and say things designed to humiliate me in front of my coworkers. In private, of course, it was much worse. I was often given impossible tasks to this purpose. For example, I was once given an 800+ page book on company policy to translate to English overnight. This was, of course, an impossible task, and not really related to my job at all. I was forced to admit I was a bad employee for not completing it. Creating problems and making me apologize for them was a weekly thing. He once orchestrated a narrative in which he accused me of stealing company secrets and exposing them to competing companies. He brought this narrative as far as he could, threatening me every other day that he has the power to send me away…I honestly think that's as far as he wanted to take it, I was in his pocket at this point. He also really enjoyed comparing me to other people, pointing out my flaws in contrast to theirs. Some of this was even extended to not liking how I looked or dressed, I was forced to buy new clothes often. It's important to note that in many old companies in Japan, this sort of behavior can exist unchecked. Selfish and self-preserving actions by a superior, however abusive they may be, cannot be questioned by subordinate.
I started having daily panic attacks, full on panic attacks. However, halfway through my time at this company, something inside of me snapped. Whereas my mind was constantly screaming, "this is wrong! Run away! Stop!", that voice had suddenly disappeared. I can't honestly look back and tell you what I was thinking at all at that point, my mind broke and my thoughts turned off. I simply did what I was told and I didn't let any other thoughts in…I felt like a broken ghost. He didn't stop humiliating me, but I stopped resisting in my mind. Eventually, he used all the things he made up about me as reason to fire me, and I went home to America. Two months later, my mind and body shut down, and I started treatment for PTSD with panic attack disorder, a recovery I still am battling today, 15 years later.
For almost two years, I was stuck indoors. I attended parties or events on rare occasion, but the entire world was a panic attack waiting to happen. My fight or flight broke in Japan, and I was surviving on fight alone for the second half of my employment. After returning home, all I had was flight, something as simple as my leg tingling, or standing in a line would trigger a reaction in my body/mind equivalent to facing death. This is the key to creating the artist I am today. I had gone too far against the grain of my dreams, and this was my punishment. All I had left was a selfish desire to be an artist and a newly tuned sensitivity to the world. The next few years I spent in front of a computer, relearning how to be an artist using after effects, illustrator, a camera, and ableton. Panic attack disorder made me hyper-aware of everything in the world. I was no longer a person who could suffer any amount of uncomfortable sensation or situation. The world was now made up of newly exposed sights, sounds, and tactile feedback. Everything was split into two largely contrasted categories, that which made me feel like I would die, and that which helped me step off the ledge and breath again. It was a double-edged sword, but the appreciation for the world that was born from it outweighs everything I lost. Now when I touch the leaf of a lavender plant or hear the sound of empty wood knocking together I am not only recognizing that I love these sensations….they cure my disease. I may not be able to spend 10 minutes at a party, but now the world is awakened with a symphony of life-saving sensation.
As I said before, this is a perspective I've been able to appreciate in recent years, and I'm absolutely proud of myself after everything. For many many years, my life was hopeless, daily panic attacks so severe that life seemed like it wasn't worth living. I honestly thought I was so broken that it was impossible to see a way out, my mind was slipping away from me and I had no control over it.
I will never stop being an artist, and I will never stop rejecting the doctrine that the world prescribes to me. I have found my voice after what felt like a lifetime of struggle, and all I care about is helping others find theirs. The best compliments I receive are people sharing how my music/art has helped them through their own struggles with depression and anxiety. I avoid industry and definition in my work, as there is nothing more valuable than finding that personal seed of inspiration, free from societal influence, and sustaining your happiness from it.
Please tell us about Bedtimes.
Well, I started in 2D animation, but I think I really picked up steam when I started creating practical SFX. This means creating imagery using chemistry, smoke, light, and liquids as opposed to digitally on a computer. It was inspiring, making surreal art that rode the edge of "wait, did you render this?". Somehow my career flipped to 3D design, and I started sculpting and rendering everything on a PC. I've made all my money, and I guess my career, in this field. What started as focusing on 3D animation shifted to concept art and art direction. I will probably continue this work as long as I'm getting paid, but my passions are shifting again. I haven't looked at Vimeo in years, and I rarely ever find inspiration in this field anymore, my eyes have turned elsewhere.
Right now, I view myself as being in a chrysalis state. This last winter I decided to shift all my efforts over to creating interactive experiences and games. My career has slowly been shifting over to the games industry, as well as the most inspiring art I've seen lately. I came to this realization when facing the early production stages of a personal film. I've been conception and planning this animation for half a year, and it carried a lot of baggage with it. When it came down to it, I could not make myself excitedly work on this film. I opened up the 3D design/animation software and I became exhausted by the idea so quickly. It was so hard to design and feel creative in this context, and I couldn't figure out why without blaming myself for being lazy. It wasn't until I was having a conversation with a friend of mine in which we were both complaining about the same feeling, that I realized my heart wasn't in it anymore…I should just turn this idea into a game. It would take so much more work and thought, but its the first exciting idea I've had in years.
For the past few months, I've been in a cocoon, learning and creating, trying to reinvent myself as a game dev/artist. Every day I'm driven to create experiential art combining music and 3d Design, a new platform to interact with the dreams that drive my artistic career. I've been a gamer my entire life, and this was yet another goal I underestimated my abilities on. Bottom line is I'm having a blast, I'm learning a new language and finding out how good it feels to express my feelings in this creative tongue.
Is there a characteristic or quality that you feel is essential to success?
Everything I do, music, film, game, every aspect of my career…things change and my focus shifts, but there has always been one compass guiding me. It has to be fun. I have to enjoy what I'm doing. It's kind-of Alan Watts-y but, all that matters is how much you are enjoying the task while you are doing it, you cannot be chasing a goal or a standard set by anybody else. Anybody who tells you that they are trying to get better, or become a whatever…that's all bullshit, they are trapped, you should pity them. Nobody should ever try to get better, nobody should ever try anything with the goal being a defined future image of themselves. All of your creative decisions should be defined by how close it comes to tickling that inner excited, inspired, child. I discovered I was doing the right thing with my life years ago when I finally realized this: Life is full of things that take minutes to do, but feels like a day. You need to find that thing that takes all day to do but feels like minutes. Switching from 3D animation to games added hours, and more realistically years to each project, but its sooooo much fun. I literally will spend an entire day designing without realizing it.
My therapist from many years ago helped me see this path. At the time, I was struggling with making music, trying hard to be a good producer/musician, and it was really bringing me down. I was spending lots of time writing and tweaking, but so much of it was painful. He helped me realize all I was thinking about was getting my sound up to a standard, trying to "make it sound better", trying to achieve a certain sound that I loved in other people's tracks. I was so wrapped up in achieving a goal that making music became a stressful experience of trying to "be good". He gave me such simple advice, he said, "why are you TRYING to do anything? Why don't you just think about some nice sounds you like…and play that!"…don't do it with a goal, just do it because you like it. It doesn't matter if you never play it again or if you get bored of it, just have fun! This has dramatically changed my process as an artist, and it drives how I work. I also make effort to spread this advice to any creatives I meet.
Trying at all to be better, or setting that as a goal, is a mistake in its own. Don't start any creative process with the notion that you aren't good enough, because that's all you are doing. If you do, then you will never be truly happy with yourself, that goal will never be reached. Just have fun, focus on trying to see and hear what your real voice is, and learn how to mute out everybody else's. They have no say in what you should be, and what you should make.
Contact Info:
Getting in touch: VoyageLA is built on recommendations from the community; it's how we uncover hidden gems, so if you know someone who deserves recognition please let us know here.